Alumni
HAA Awards
Six alumni were recognized with HAA Awards for outstanding service to the University during the HAA board of directors' fall meeting.
Leila T. Fawaz, Ph.D. '79, of Cambridge, was a member of the Board of Overseers from 2006 to 2012, where she served on its executive committee, chaired the social-sciences committee, and was elected president for the 2011-2012 term. Appointed an Overseer member of the HAA board of directors' committee to nominate Overseers and elected directors from 2009 to 2016, she ultimately served as committee chair. In 2014, Fawaz received the Harvard Arab Alumni Association's Lifetime Achievement Award.
Catherine A. "Kate" Gellert '93, of New York City, has co-chaired the Harvard and Radcliffe College Class of 1993 reunion-campaign committees since her fifth reunion, led the Harvard College Fund as co-chair from 2006 to 2009, and was president of the HAA for the 2013-2014 term. A current member of the Dean's Advisory Council at the Radcliffe Institute, she is also a trustee of the American Repertory Theater and an active member of the Harvard Club of New York City.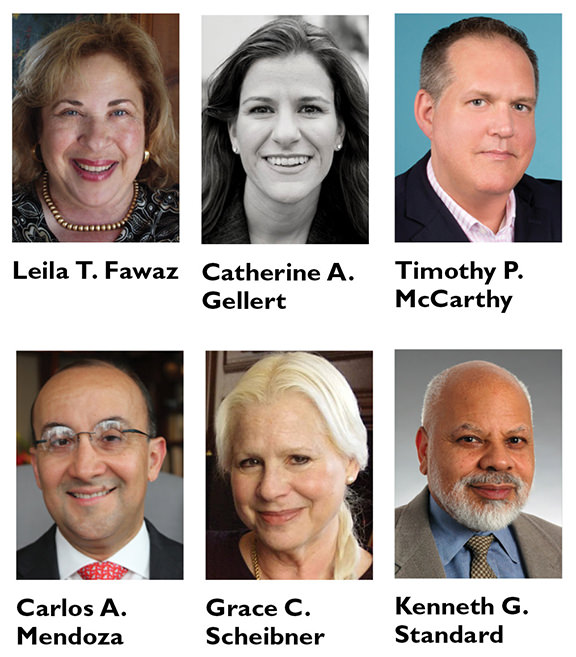 Timothy P. McCarthy '93, of Cambridge, has held numerous positions on the HAA board of directors, including secretary and vice president for College alumni affairs from 2010 to 2013. As class secretary, he has served on each of his class's reunion-program committees, and as president of the Association of Harvard College Class Secretaries and Treasurers from 2009 to 2011. He has also contributed to other projects associated with the Harvard Gender and Sexuality Caucus and the Phillips Brooks House Association.
Carlos A. Mendoza '88, M.P.P. '90, of Panama City, Panama, established and became founding president of the Harvard Club of Panama in 2006, and served as a director and treasurer until last year. At his urging, the HAA began holding Latin American regional meetings to develop clubs and foster Harvard communities in the region. On the HAA board of directors, he has served as both a director for Latin America and as a committee member; in 2011, he received the HAA clubs and SIGs committee's Outstanding Contribution Award.
Grace C. Scheibner, A.L.B. '90, originally from New York and a former resident of Mexico and India, began at Harvard as an administrator at the program committee for the International Conferences on AIDS and STD World Congress. In 1992, she became Harvard's first Commencement director, in charge of the planning, execution, and management of the Morning Exercises. She retired last year. From 2006 to 2010, she also served as president of the Harvard Extension School Alumni Association.
Kenneth G. Standard '58, LL.B. '62, has long been active in the Harvard Club of New York City. As president from 1999 to 2002, he led the planning, financing, and building of an eight-story addition, and as chair of the club's athletics committee in the 1970s, he appointed its first female members. He is also a former director of the club's foundation and a longtime alumni interviewer for the College admissions office, and has served on his College class's reunion-campaign committees.