Tastes and Tables
Comedor
A homey Chilean-American restaurant in Newton
Photograph courtesy of Comedor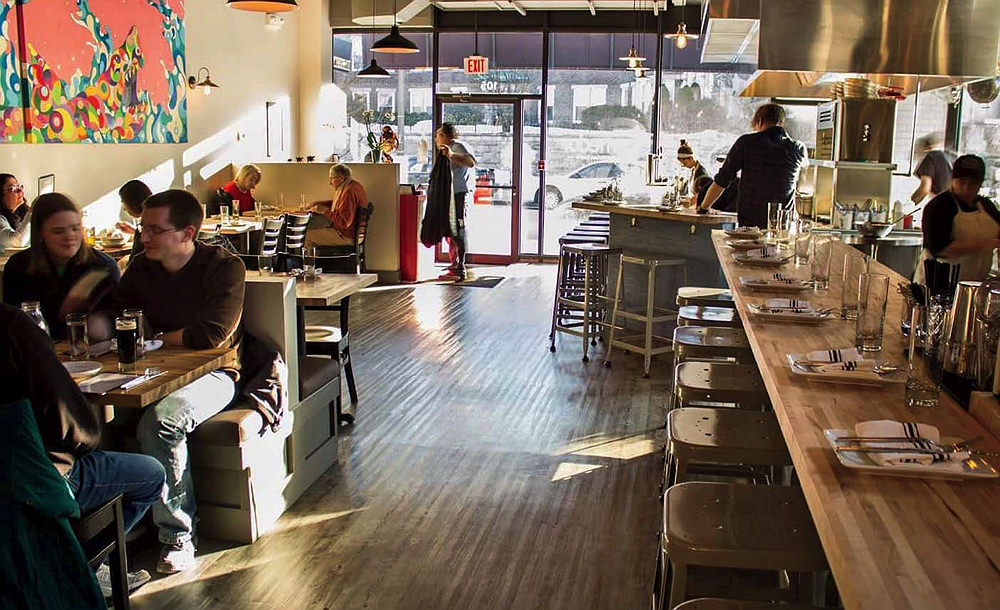 Photograph courtesy of Comedor
Photograph courtesy of Comedor
Photograph courtesy of Comedor
Billed as "creative Chilean cuisine mixed with a dose of American ingenuity," the dishes at Comedor begged to be deciphered. It turns out that the restaurant's owners, Jakob and Fernanda White, freely cook what they like—and we mostly did, too.
The husband-and-wife team met as culinary-arts students at Boston University, and play with food inspired by their respective backgrounds: his American, hers Chilean. But they also happily incorporate other culinary influences, like Greek and Middle Eastern. One evening, the specials featured fried chicken ($13) cooled with a dollop of Meyer lemon labne and a zippy, fresh strawberry salsa (we'd gladly have brought a pint home). Two skewers of lamb anticucho were less successfully paired with chili butter (perhaps too oily for such fatty meat) and a dauntingly peppery "baby cress" salad with too few chunks of nectarines and avocados ($16).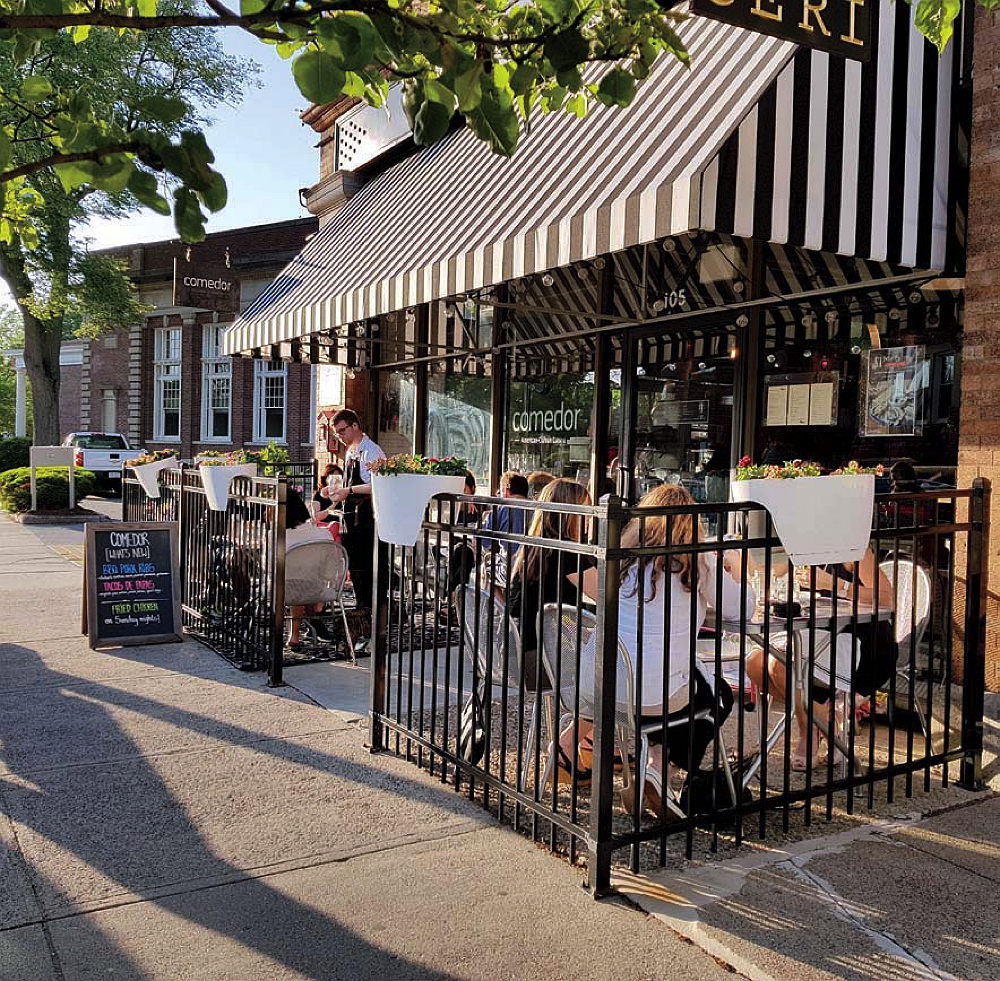 Photograph courtesy of Comedor
The couple's flexibility is embodied in their tidily decorated, one-room storefront space. The open kitchen, which includes part of the street-side wall of windows, is surprisingly calm and quiet, and the bar is a welcoming strip of stools at a wooden countertop. Shelves hold liquor bottles, spices, and pickled goods like ginger, lemons, and celery, that are enticingly arrayed along a brick wall with high arched windows. Tables for diners take up the other side of Comedor, but the layout fosters easy rapport among those consuming, waiting, and cooking, lending a chattering warmth to the place, which can draw a crowd for Sunday brunch.
The interior is all muted tones of brown, gray, and vanilla except for the artwork. One painting features a swath of sugary pink horizon and a toothy shark cresting the surf, depicted with splotches of color like a pop-art patchwork quilt. The work is by the international artists known as the Couto Brothers, who also created the world map by the bar. An image of the U.S. and the Chilean flags spliced together hangs nearby, but little else at Comedor seems to explicitly reflect Chile. And for a place so thoughtfully designed otherwise, the background music might lend more of a South American flavor. Instead, we heard only overplayed pop tunes.
Maybe that's because so much attention has been poured into the drinks. Try the autumnal Black Unicorn, a milk punch of bourbon, brandy, cardamom, and black tea, with a touch of figginess ($12) or the Prince of Cats, a sultry mix of rye infused with urfa biber (Turkish chile pepper), chocolate and vanilla liqueur, and sour-cherry mash ($12). The house-made white or red sangrias ($12, or $29 for a pitcher) are always refreshing, and we also liked the non-alcoholic honey rosemary limeade ($5). The bartenders, meanwhile, seem game to concoct whatever cocktail or mocktail suits your mood.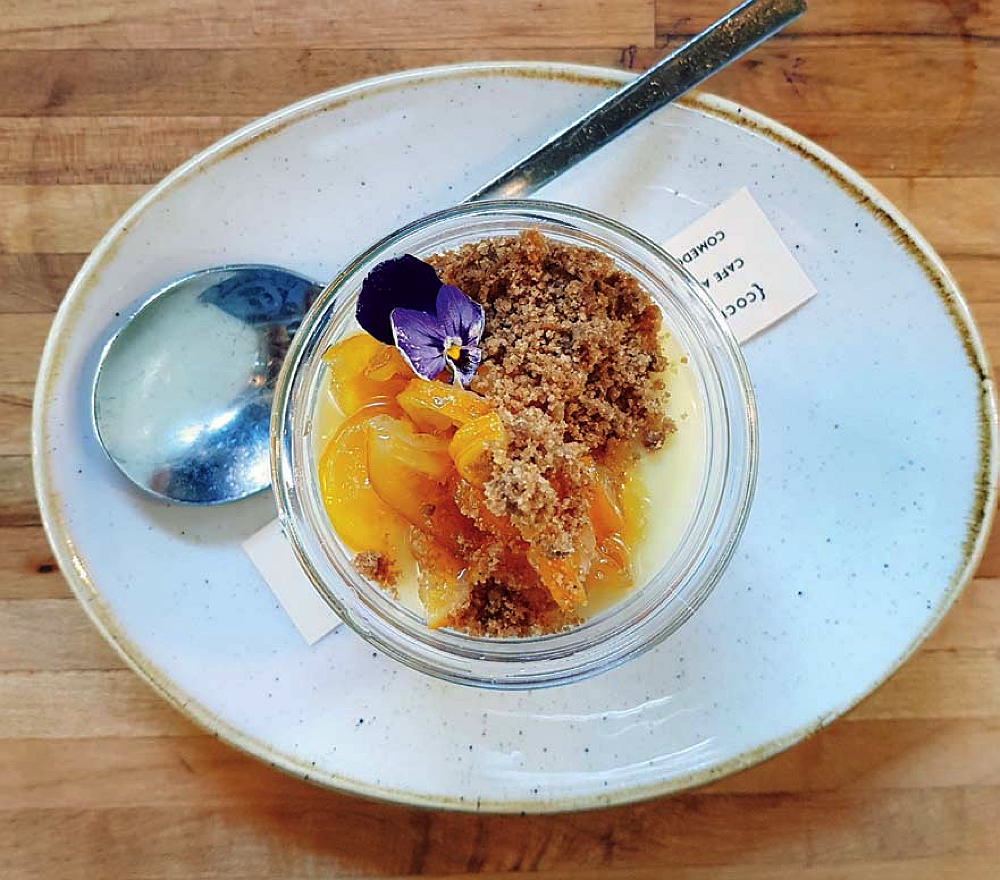 Photograph courtesy of Comedor
Menu standouts include the Chef's Burger ($13) with rotating toppings and sides, and the salmon with a basil tzatziki and almond couscous ($15). The carrot dip, with walnuts and cardamom ($11), was too sweet alone, but came alive when spread over house-made black-sesame crackers. The French fries ($7) will make the "extra-crispy" groupies happy, but the salty scallion and cotija-cheese crumble (a zesty alternative to the standard ketchup offering) wouldn't stick to them; we had to resort to a tricky press-it-on-with-your-greasy-fingers maneuver.
Desserts were a highlight. "Jakob's ice cream" ($7) is reliably delicious, as is the quivering cup of buttermilk panna cotta ($9) with Meyer lemon jam. That's another foodstuff worth bottling for take-out, along with the strawberry salsa.
The service is fine—the wait staff is knowledgeable and relaxed. Everything was appealing. But we couldn't help but hope that this talented couple who promise creativity push for more from themselves, and for us.