Tastes and Tables
All About the Food
Boston Public Market's year-round cornucopia
At lunchtime, Law of Pasta owner Avery Perry darts around his Boston Public Market shop, stopping just long enough to explain himself: "They call me the 'bad boy of pasta,'" he says, gesturing to cases of freshly extruded noodles, "because I do semolina and whole-wheat—but then I go crazy—throwing in garlic, roasted beets, spicy cocoa, cranberry, blueberry. My limit is my imagination!"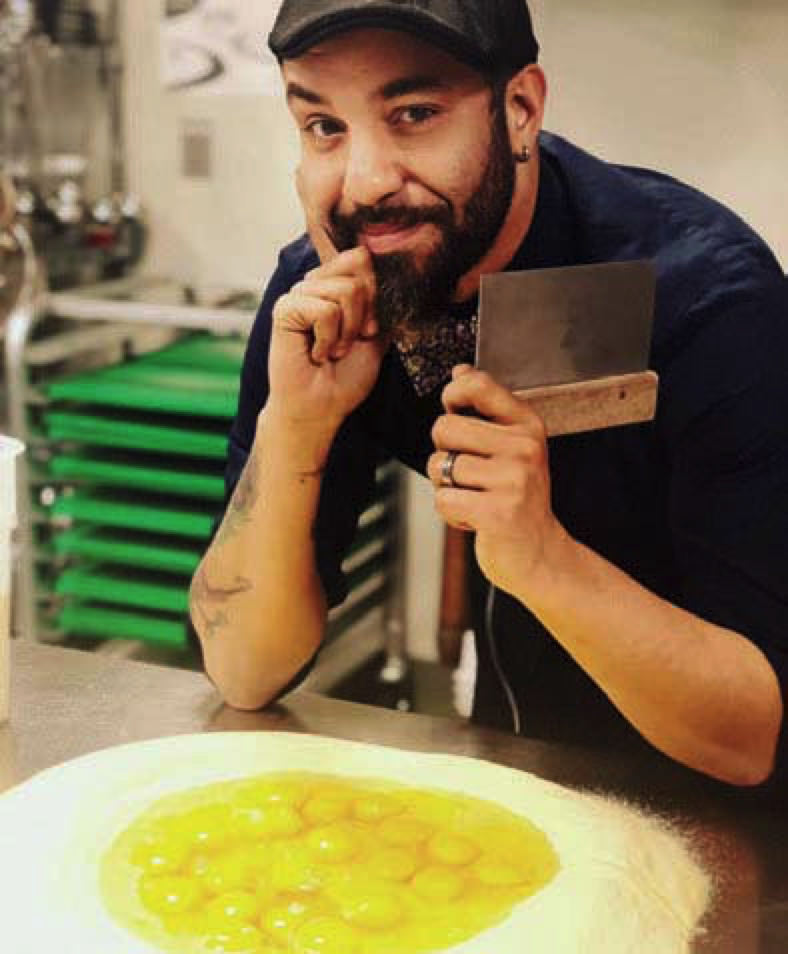 Photograph courtesy of Law of Pasta
Perry, who's been cooking since he was a child and now teaches pasta-making at the market's KITCHEN (see below), is just the kind of spirited culinary entrepreneur whom the nonprofit, year-round venture promotes. "Our mandate is to support New England farmers and food producers," says marketing coordinator Tim Johnson, "so we are always going to have a balance of vendors."
The Public Market's 34 shops fill the first floor of a building at the busy nexus above the MBTA's Haymarket station, amid City Hall, the North End, and the Freedom Trail. Adjacent outdoor tables and chairs on the Rose Fitzgerald Kennedy Greenway offer space to eat and relax—or you can carry food to the seating or steps of City Hall Plaza, a terrific spot to watch thronging humans.
More than a decade in the making, the marketplace finally opened in 2015. Focused on seasonal goods, it offers everything from prepared and take-out meals to meats, dairy products, fish, and produce, to flowers, herbs, nuts, and chocolate, to hand-crafted wooden bowls, stone platters, lotions, and woolens.
The family-owned Chestnut Farms, in Hardwick, Massachusetts, began with the 2004 reinvigoration of a former dairy farm, and now operates a community-supported-agriculture (CSA) program as well as the marketplace shop. It sells grass-fed, pasture-raised beef, pork, lamb, goat, and poultry, and underscores the environmental reasons to buy local with a posted chalkboard diagram that asks: "How Far Does Your Meat Travel?"
Across the way, Red's Best sells regionally sourced fish and shellfish, including lobsters and other raw-bar-quality seafood. Founded in 2008 by Jared Auerbach, the company works with a network of about 1,000 fishermen, processing their daily catches and locating buyers—eliminating expenses related to the traditional wholesale-auction system. Red's also tracks the fish loads, so the origins and processing are traceable, which helps monitor environmental sustainability. Red's marketplace menu extends to classic New England crab cakes, lobster rolls, salmon burgers, and fried calamari laced with cherry peppers. For dessert, head to the counter of Crescent Ridge, a family-owned creamery in Sharon, Massachusetts, for ice cream made with milk from the St. Albans Cooperative Creamery in Vermont.
"We get a lunch crowd and a tourist crowd," Tim Johnson says, along with hordes of downtown-area workers who stop by on their way home, via the subway at Haymarket, and pick up groceries or dinner.
Inna's Kitchen features take-home fresh or frozen entrées, like chicken and vegetable pot pies and sweet-and-sour brisket, along with other "Jewish cuisine from around the world," like knishes, latkes, and the inevitable chicken noodle soup. Don't miss the trade-marked "Shakalatkes"—potato pancakes topped with shakshuka (poached eggs in a sauce of tomatoes, garlic, paprika, and chili peppers) and sprinkled with feta cheese. Next door, as the weather cools, try the nutritious rice, ramen, or noodle bowls loaded with toppings—enoki mushrooms, silky tofu, pork loin, bok choy, or soft-boiled eggs—at Noodle Lab. For bagel sandwiches smeared with deluxe salmon and bluefish paté, check out Boston Smoked Fish Co., or try the smoked-salmon and -haddock soft tacos slathered with a cumin-lime-spiced purple-cabbage slaw and cilantro crema.
The marketplace also attracts sports fans on their way to the nearby TD Garden, Johnson says, "but our sustaining crowds are area residents who are doing their grocery shopping here and at our outdoor farmers' markets. We're in what's called the 'emerging market district,' one of the fastest-growing areas in Boston."
Currently, the three farmers' markets are held at City Hall Plaza and in Dewey Square (both open through November 19), and at the Seaport (through October 30), but the organization is eager to expand its outdoor locations. Later this year, it will open a second indoor hub at Logan Airport's Terminal C. Five vendors offering prepared and take-out food will form a "food court-style experience," Johnson explains. There will also be a market bar with local beverages.
Alcohol is also sold at the Haymarket location's Massachusetts Wine Shop, operated by the Massachusetts Farm Wineries & Growers Association. Some 90 varieties of reds, whites, and sparkling wines, along with mead and hard ciders, are stocked, and rotating daily tastings feature products from Westport Rivers, Plymouth Bay Winery, and 1634 Meadery, among others.
Other local products at the marketplace, along with produce, are sold by Siena Farms, owned by Chris Kurth and his wife, chef Anna Sortun, in Sudbury, Massachusetts. Artisanal items include Mi Tierra's corn tortillas, Buenas's chimichurri and spicy Chilean pebre sauces, and ginger and turmeric-honey syrups from Old Friends Farm. Or try fermented products made in Maine: miso by Go-en Fermented Foods, and the hot kimchi and gingered carrots from Thirty Acre Farm.
For bouquets of fresh-cut blooms and foliage (which can also be custom-made and sent to loved ones), stop by the floral design studio and shop Field & Vase, run by Stow Greenhouses. More than 90 varieties of flowers and plants are grown, without pesticides, on the 14-acre Stow, Massachusetts, property, including inside a one-acre-sized greenhouse heated with bio-mass (wood-chip) boilers.
A few blossoms would sit nicely in a hand-crafted "bowlder"—bowls crafted from boulders—produced by another marketplace vendor, American Stonecraft Inc., based in Lowell, Massachusetts. The company depends on about a hundred farmers throughout New England to salvage stones from the land that might otherwise be discarded as junk. "We're up-recycling those stones and making them into objects to use in the home," says the helpful saleswoman. Company owner Gerald Croteau began "foraging" for heirloom-quality stones, and then founded American Stonecraft in 2012. "We do all the cutting, shaping, and polishing—everything—in our studio, and I emphasize studio because we want these to be used, but they are also artistic products," she adds. Croteau carefully assesses organic vein-patterns, shapes, colors, and heft in selecting the raw materials for trivets, cooking slabs, and platters that stand the test of time.
For those eager to learn more about such regional natural resources and sustainable horticultural practices—or just get news about the local New England food community—Boston Public Market is a hub of information. It hosts speakers and workshops, along with special events like summer's Fermentation Festival and winter's Fiber Farm Festival. "Beyond just being a food market, a place for people to be nourished," Johnson explains, "we are also a guide to the local agricultural system."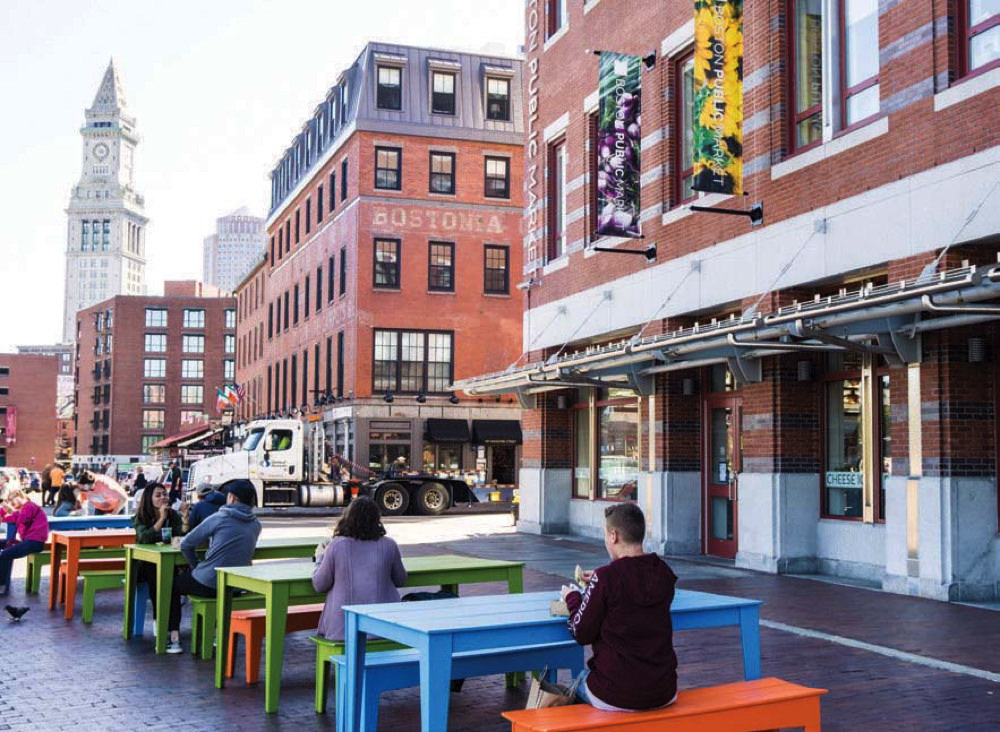 Photograph by Melissa diPalma/Boston Public Market
One founding member of the marketplace, the nonprofit Trustees, oversees The KITCHEN, a "community gathering place" featuring regional chefs and other culinary innovators. In addition to periodic workshops taught by Law of Pasta's Avery Perry, experts from the Everett-based Short Path Distillery will teach a craft-cocktail mixology class on September 27—and on September 30, chef Peter Ungár, of the haute-styled Tasting Counter, in Somerville, offers a three-course vegetarian cooking class. There's a session on baking hardy, healthy breads on October 6, and a chance to learn creative meatless-cooking techniques with Epic Vegan author Dustin Harder on October 19.
The marketplace invites anyone to join its volunteer ranks, and/or attend its October 24 Harvest Party fundraiser. Proceeds support community engagement efforts. "We are a place where people come to learn new skills—about the science of food and agriculture," Johnson notes, and to get any help they might need "to make sure they are making intentional choices about their food."