Learning, and Teaching, As Peers
The eighth annual conference of the Harvard Initiative for Learning and Teaching
How can professional teachers and educational institutions integrate peer learning into their pedagogy? This was the subject of the eighth annual Harvard Initiative for Learning and Teaching (HILT) conference, which convened hundreds of professors, administrators, and learning and teaching specialists from around the University—and beyond—on September 27 at Harvard Law School's Wasserstein Hall. "Every year, the attendees of this conference have found that we all have a lot to learn from each other," began Provost Alan Garber. Noting that there is "all kinds of exciting work going on around the University," as well as "some channels to learn about what other people are doing," Garber nevertheless singled out HILT's effort: "I doubt there is any other channel as consistently effective as this conference is for drawing people together and learning from each other." 
Setting the larger social context, he pointed out that "liberal education is being questioned" with new intensity "by broad segments of the American population in ways that were not true two or three years ago." Simultaneously, he said, there are concerns about how higher education can prepare people for a future where work is certain to change at a very rapid pace. 
Harvard itself is changing, too, Garber continued, citing widespread innovation in the curriculum. He thanked dean of undergraduate education Amanda Claybaugh for the successful execution of a new General Education curriculum in the College, and cited additional examples of reform, including the Pathways curriculum introduced at the Medical School in the past five years, an ongoing curricular reform effort at the Law School, the Business School's overseas FIELD program, and the School of Education's revamping of its master's programs. "It's truly extraordinary," the provost asserted. "These are major reforms that we are undertaking."
The Power of Peers in Music and Sport
Government professor Dustin Tingley, faculty director of the HILT conference and deputy vice provost for advances in learning, introduced the conference's morning panel, on peer-learning practices beyond the classroom. Erin Driver-Linn, dean for education at the Harvard School of Public Health, moderated a discussion with award-winning music educator Cecil Adderley, chair of Berklee College of Music's education department, and Mike Way, head coach of Harvard's squash program.
Asked to describe a meaningful peer-learning experience, Adderley recalled a moment when he was having difficulty explaining a concept to students in a musical ensemble. At first, he sought insight from older professors, but still wasn't able to achieve a breakthrough in conveying his meaning. So he turned to his brother, also a music educator, for help. "I can hear it better than from other people," Adderley said, "because I trust him."
"I've noticed that…in other activities as well," he continued. "Outside the music realm." When he first moved to the Boston area, he recalled, he was learning the Argentine tango and having difficulty learning a particular move. A person whose dancing he admired took him aside, explained the concept, and described how to do it. Then he actually "moved me through the motion. And because I respect him and admire his dancing, I was able to emulate what he was doing and internalize that. No matter how much we as authority figures may try to impart information," he summed up, "sometimes learning it from someone we trust and feel comfortable with can make a huge difference in how we internalize it."
Mike Way, whose men's and women's squash teams were undefeated during the 2018-2019 season (the women's team didn't lose a single match, noted Tingley's introduction), said that he had struggled in his first year as a coach at Harvard, and his teams had a poor record. Eventually he realized that he had been coaching the game as an individual sport, rather than focusing on having his players compete as a team, or dealing with the cultural and academic stress of an institution like Harvard. Athletic director Tim Wheaton and men's tennis coach Dave Fish had helped him navigate the place, he added; he said he wouldn't have made it if it hadn't been for this peer support. 
As for student athletes, Way said that he regards his job as developing their confidence. "Athletes who believe in themselves," he observed, "are more resilient and…try harder for longer." Developing such confidence in a ladder sport like squash or tennis is challenging, because players are ranked according to ability and everyone knows who plays in the number one or two spot, and so on down the line. Each week, internal challenge matches in which teammates play each other can upend that order. As Way explained, "We put them under stress. The stress is public. There's no hiding place. Cracks will appear—and then we give them answers." 
"How," asked Way, "are you going to handle this with a teammate" whom you are trying to beat but who may also be "your best friend?" Peer learning takes several forms in this process. Some relates to team culture ("Neutral [engagement] is not an option," Way said, "because if you are neutral, you're actually stealing from the program"), some to emotional learning (such as getting through an injury, getting over the loss of a match, coping with academic stress, and handling relationships within the team), and some to mental learning that translates to physical skills. "Post-match," the peer learning involves being respectful, showing empathy, and suppressing your ego, he explained. But he also uses peer competition for mental training—"a key approach that allows the athletes to execute the skills that they practice"— so they are ready for their outside matches.
Way expanded on that mental training through a guided peer-learning process in which an athlete on the team teaches a mental "program" to a teammate. The programs are designed to help the athletes react in an effective way when confronted with stress. Way calls an undesirable mental state "Oh My God!" (OMG): OMG, the lineup changed; OMG it's raining. The aim is to train athletes to interrupt this unproductive reaction and replace it with something Way called IQ—inner quiet—so that they are free to compete. "This awareness is not just about sport," he pointed out. It applies to their academic lives as well.
Adderley described his approach in training students to teach music at levels ranging from pre-kindergarten to twelfth grade. Instead of hierarchy, the emphasis is on collaboration and teamwork. Student teachers initially practice by teaching their peers, which he said is a powerful experience: "That peer is taking on the role of learner," and the "teachers" get feedback on what their peers like and don't like. Adderley noted that the congratulations or criticism from the other student teachers observing their peers' successes or failures in the classroom are "a little more meaningful" than those that come from the course instructors. Later, Adderley said, he can frame those peer responses in order to help the student teachers succeed during their next session in a classroom.
For example, one student teacher, working in a school with many English language learners, was struggling to gain those students' trust. A peer asked, "Have you ever thought about learning what their community is like or what language they actually speak?" The student teacher hadn't, even though Adderley had covered such a scenario a semester before. Now the lesson, coming from a peer, was reinforced. The network of relationships that develops among these freshly minted teachers, he stressed, is an important source of further support and growth.
Adderley's approach when teaching students to play music together, as in an ensemble, seems quite different from Way's—at least at first. As in squash, there is a natural hierarchy: someone gets to play the first part, and parts two and three will fall to others. But because the musicians are coming together to create a sound that won't exist without all of the parts, Adderley asks each student to learn to play every part. The idea, he said, "is for them to be able to take leadership positions, for them to feel the pressure of being up front, because they need that opportunity to be able to step in when someone else can't do it. So you're developing a different working relationship within that group, that I found much better than having one set hierarchy that you keep for the entire year."
He added that it took time to change the culture in the community where he was teaching because "parents would come in and say, 'Well, my child should be playing first.'" Instead, he cultivates leadership with an "each one, teach one," philosophy—in which students who have mastered the material help those who are struggling—"because when they work together as a team, we all benefit, we all improve."
In summing up, Driver-Linn pointed out that despite the differences in their teaching strategies, peer learning, for both Adderley and Way, "is a very useful tool for creating an environment of inclusive excellence and allowing people from diverse backgrounds to connect with one another" around the attainment of mastery.
Peer Learning in Practice
Six breakout sessions followed, each exploring different applications of peer learning: 
"Engaging with Colleagues: Faculty Peer Learning about Teaching" focused on approaches and strategies for creating and leveraging a teaching-focused peer community of practice.
"Learning from Each Other, Learning Online: Peer Learning in Online Environments" shared models and best practices from Harvard's online education programs for making peer engagement effective. 
"Making Peer Learning Accessible: Tools and Practices" explained how to make peer learning work for students with disabilities. 
"Making Peer Learning Effective: What Does the Research Say?" summarized key findings from education research into why and how peer learning works. 
"Peer Learning in the Classroom" explored methods of activating students' natural inclination to teach and learn from each other.
"Student Perspectives on Peer Learning: Learners are Teachers, Too" let students share their insights into when peer learning is most effective, and when it isn't.
A College Run by Students 
After lunch, conference attendees heard about an experimental college run largely by students, during a plenary session in which Harvard College dean Rakesh Khurana spoke with Robyn Gittleman, former associate dean of undergraduate education and director of Tufts University's Experimental College (ExCollege). Founded in 1964, ExCollege was unusual from the outset, Gittleman explained. An equal number of faculty and students served on its board, all without pay, until, after 40 years, it was formally integrated as a department. Students design and teach courses, evaluate course proposals, interview prospective visiting lecturers, and select courses to be offered. Classes are small, with 20 or fewer students, offered on a pass/fail basis, and don't count for concentration credit at Tufts. 
Subjects taught in the ExCollege often proved to be ahead of the curve: Gittleman described students teaching the programming languages COBOL and FORTRAN in 1971, well before those were offered within the standard curriculum. 
Asked by Khurana how she got the faculty to feel comfortable with notion of having students running the college and teaching, Gittleman admitted it was not easy. What persuaded them, she suggested, was that they could see that expertise in an avant-garde area sometimes didn't come with a Ph.D. or a B.A. The teachers were people who were interested and excited about their subject, and the subjects they wanted to teach didn't overlap with offerings already in the curriculum. In fact, the ExCollege "incubated a lot of things," said Gittleman: "women's studies, black studies, environmental studies, peace and justice, all came out of the experimental college." These were fringe topics that are integrated into Tufts's curriculum now, she explained. 
Khurana noted that this participant-centered learning helps develop an environment where students feel they can take risks, because making a mistake will not lead to a corrective moment, but rather to a productive, learning one. 
In the closing question and answer period, Khurana and Gittleman were asked if they thought there might be more ways to give Harvard students agency in their own education, without going so far as to establish an experimental college.
Gittleman, now retired, said that she used to tell visitors to the ExCollege that it had been founded during a special moment in the broader culture of the early 1960s, and she didn't think it could happen again. Khurana observed that today, academic legitimacy is largely determined through quantification and assessment. At the same time, he wondered, how do you create something that is not in conflict with the liberal arts and sciences ethos of learning for learning's sake? 
Summing up the opportunity for Harvard to learn from ExCollege, Khurana said that "we'd have to do something process-wise very similar to what happened at Tufts, which is we'd have to…bring students, faculty, staff, some external stakeholders together and, and I think have a conversation. What are the areas that we're doing well? What are the areas where there are opportunities…." What, one wonders, could be learned in such a conversation, convening as peers?
You might also like
The Crimson springs a major upset.
Harvard officially installs Claudine Gay, its thirtieth leader.
A half-dozen symposiums feature Harvard research on AI, climate change, inequality, and more
Most popular
A profile of Harvard's thirtieth president
Life decisions en route to Massachusetts Hall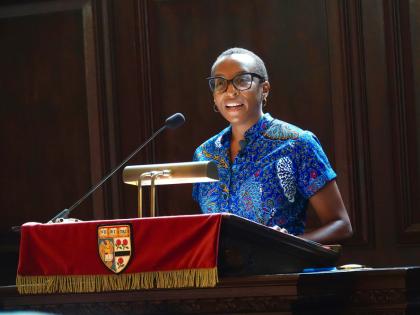 President Claudine Gay's first semester-opening Morning Prayers
More to explore
A test can identify these productivity-boosting personnel.
Ancient history professor studies coins, ceramics, and Zelda.
Anwar Floyd-Pruitt's wildly profuse art