News
A Commitment to Radicalism
10.31.19
On Tuesday morning, Elizabeth Hinton told everyone to get ready. The second and final—and fullest—day of a Radcliffe Institute  conference honoring radical activist and global icon Angela Davis was about to start. Davis herself was seated in the front row, smiling beneath her instantly recognizable afro, now a shade of silver-gray. A capacity crowd filled the Knafel Center behind her. Hinton, halfway through her welcoming remarks, was talking about the difficult issues and "contested truths" the rest of the conference would grapple with. "If you are not uncomfortable at some point during the day," said the Harvard historian, who chaired the event's organizing committee, "then we're not doing our jobs."
For the next eight hours, the panelists—scholars, activists, educators—would discuss revolution and liberation and the fight against violent oppression. They'd talk about feminisms (plural) and blackness and queer solidarity; they'd talk about anti-capitalism and the prison-abolition movement. They'd talk about Palestine and apartheid South Africa and northern Syria. And Brazil, where Davis traveled a few weeks ago and met with the family of Marielle Franco, the human rights activist and Rio politician who was assassinated in 2018, a few months before repressive politician Jair Bolsonaro was elected president.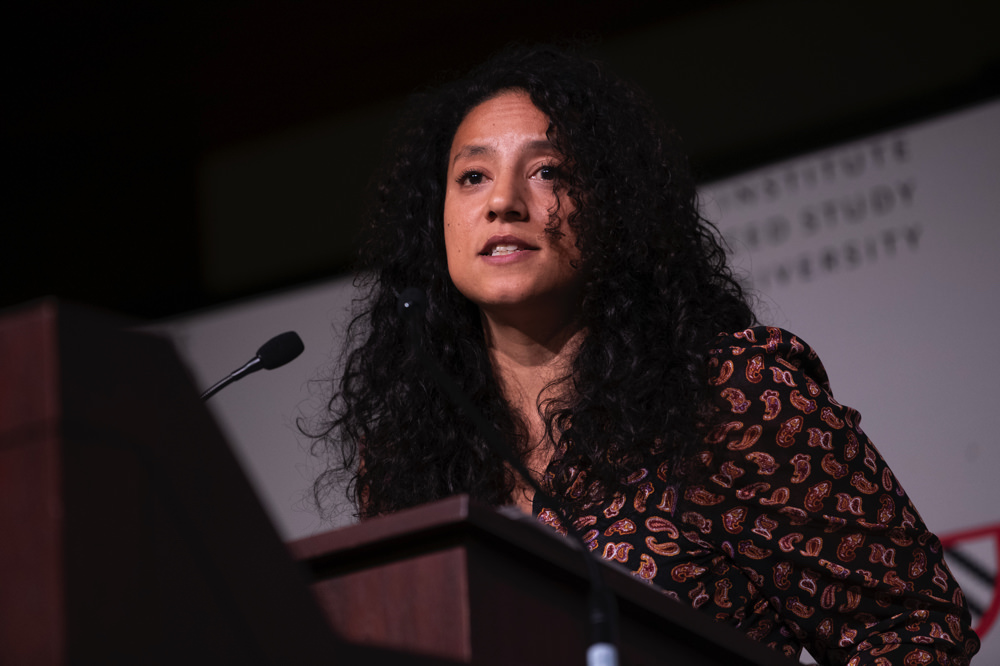 Photograph by Tony Rinaldo
And the panelists would also talk about Harvard, whose recent acquisition of Davis's papers—now archived in the Schlesinger Library and available to scholars starting this week—catalyzed the conference. Hinton praised the increasingly prominent University-hosted discussions like this one, but she also pushed back. "We can't be in a space confronting Angela Davis's life's work and its implications," she said, "without recognizing the struggles against racism and oppression that are very much alive on this campus." She described a recent incident in which Harvard police confronted a group of students of color in the Yard as they were preparing a poetry installation for a class. And she cited the Harvard Prison Divestment Campaign, whose leaders have been demanding that the University withdraw its investments from prison-related industries. For more than a year, the campaign "has engaged the entire campus in thinking about the kinds of investments Harvard can and should make to advance social justice and equality, including expanding educational opportunities for incarcerated and formerly incarcerated people," said Hinton, whose scholarly work focuses on the carceral state. She has been pushing Harvard to provide education in prisons since she first arrived in Cambridge six years ago. 
Other speakers, too, declared support for the Harvard divestment campaign, including Davis herself. "Of course I would support your efforts to persuade the University to divest from the prison-industrial complex," Davis replied to a student who stood up late in the program to ask whether she would take a stand. (She also brought up the Harvard Graduate Student Union, which remains at odds with the University in its contract negotiations; the union voted overwhelmingly last week to authorize a strike. "I want to offer them support and solidarity," Davis said, referring to the union. She echoed panelist and UCLA historian Robin D.G. Kelley, who earlier in the day had urged Harvard to come to an agreement with the students.)
Ruth Wilson Gilmore, a co-founder with Davis of the prison-abolition organization Critical Resistance, also answered a question about the Harvard divestment campaign. "Everyone should fight how they need to fight," she said. "But: plan to win." She explained what she meant: "Let us say that the divest committee gets Harvard to divest tonight. What changes for anybody in a cage tomorrow morning? Nothing." Divestment, she explained, can be a fight worth having, but she admonished students to be cognizant of the limits of its effect, and also to think about how to build and extend that campaign not only to achieve a circumscribed goal, but also to change public consciousness about prison. "Fight what you're fighting, but think about what happens the next morning." 
"That said," she added, "a multi-, multi-, multi-, multi-billion-dollar empire like Harvard … could use its economic clout" to pressure banks not to issue bonds to state and municipal governments to build new prisons. "If Harvard said, 'We won't do business with any bank that will write a bond to build any prison, whether public or not,' that will be meaningful."
Much of the day seemed to unfold that way: discussions of Davis's work kept turning into the work itself. In part, that's because many of the conference participants were old friends and comrades who'd stood alongside Davis for decades in one struggle or another. Some were her very oldest friends. On Monday night, Bettina Aptheker, a childhood companion and fellow radical, recalled meetings with Davis and other members of the youth socialist organization they belonged to in high school. The group would gather in the basement of Aptheker's parents' home in Brooklyn, where, under the clothesline in the boiler room, stood a row of metal filing cabinets containing the papers of W.E.B. DuBois. "In that time of McCarthyism and House committees on un-American activities and virulent racism and anti-communism," she said, "no university library would touch DuBois's papers." When DuBois departed for Ghana in 1961, "he left them with my father"—Marxist historian Herbert Aptheker, who would later serve as executor of DuBois's estate—"until they could be properly housed in a university library." (They are now at the University of Massachusetts-Amherst.)
Davis's sister, Fania Davis, an activist for restorative justice—a practice that seeks to repair the harm of criminal behavior through reconciliation between the offenders and victims—recalled growing up in Birmingham, Alabama, in those days nicknamed "Bombingham" because of the dynamite explosions that targeted black residents moving into white neighborhoods. She recalled the sisters learning to read their earliest words—"colored" and "white"—and playing pranks on racist white neighbors and shopkeepers. "Just being African American growing up in the fifties and sixties in the South can, itself be radicalizing," she said.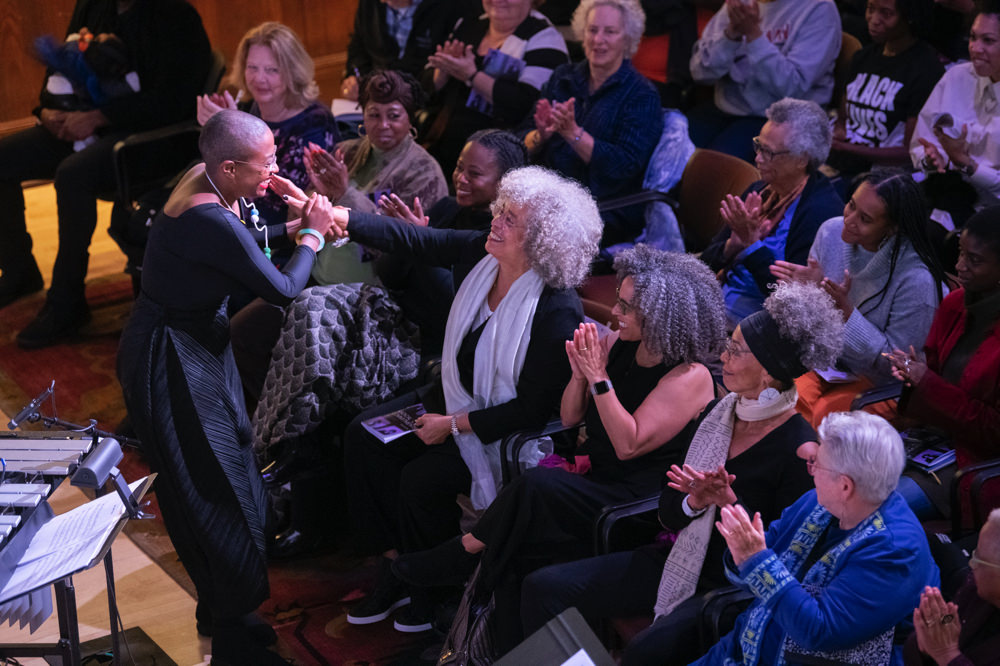 Photograph by Tony Rinaldo
Attorney and law scholar Dorothy Burnham, who defended Davis against murder charges in the trial that made her world-famous, reflected on the case against her friend that followed a deadly 1970 shootout between police and the Soledad Brothers outside the Marin County courthouse. Burnham, a lifelong friend from Birmingham—whose 104-year-old mother, the scientist and civil-rights leader Dorothy Burnham, was in the audience—recalled Davis's imprisonment and trial and how it not only cemented her fame, but profoundly shaped her activism and political philosophy for the rest of her life: the concepts of freedom and oppression, of solidarity and resistance. In prison, Burnham said, "She grew her voice. She grew her confidence."  
Earlier in the evening, there was a jazz performance arranged by percussionist Terri Lyne Carrington, another longtime friend of Davis's, whose setlist included a Herbie Hancock song inspired by the activist's ordeal during her trial. Harvard music professors Vijay Iyer, a pianist, and Esperanza Spalding, a bassist, played alongside Carrington, trumpter Nicholas Payton and singer Cécile McLorin Salvant.
Again and again, conversations came back to the work. Moderating a panel titled "Revolution," Brandon Terry, a Harvard assistant professor of African and African American studies, exhorted students to nurture their own "revolutionary practice" and to take the risks required, reminding them that Martin Luther King Jr. was only 25 when he organized the Montgomery bus boycott. "A revolution is not just armed struggle," he said at one point, quoting from a speech by Davis. "It's not just a period in which you can take over.…. The society you're going to build is already reflected in the nature of the struggle you're carrying out." 
Film director and Spelman professor Julie Dash, who is working on a biopic of Davis, found herself brainstorming ideas from the speakers' table. "I'm interested in redefining how African-American women are depicted in historical dramas, reimagining lives in bold and cinematic displays," she said. "Where do we begin the story of the making of a revolutionary? How do we show the seeds of black radicalism taking root?" 
Gilmore, on stage with Kathy Boudin, a formerly incarcerated woman who codirects and cofounded the Center for Justice at Columbia University, fell into a discussion about the importance of confronting the real harm and violence committed by many those who are behind bars. "People in the movement are afraid to talk about that," Boudin said. And they also discussed the tension between the need to invest in prison reform to improve inhumane conditions and the importance of preserving the long-term goal of abolition. 
Many who spoke noted the power and potential in the Davis archive—a vast collection of writings, speeches, photographs, and artifacts filed away over a lifetime. "I just knew I shouldn't throw it away," Davis said. Historian Jane Kamensky, the Schlesinger's director, hoped the materials would allow "gatherings in far off years to make connections we have not yet thought of and ask questions we have not yet dreamed of." Hinton curated an exhibit on Davis's life and thought drawn from the papers, Angela Davis: Freed by the People, on view at the Schlesinger through March. "The collection was so stimulating for me and so rich," Hinton said. "I left no box unturned." 
Lehman College historian Robyn Spencer weighed the Davis archive against "all the violence and erasures and silence, all the things that have shielded black women's lives from really being known." She called the collection an act of "self-preservation and self-determination," by an "unapologetically feminist, blues-loving Afro-wearing, left-leaning black woman. Black women are so rarely allowed universality, unboxed breath." Her papers will provide "oxygen," Spencer said, "to people, to movements, and ideas that definitely need to be aired."
"The Davis papers are not a place for nostalgia," Spencer concluded. "They demand action." 
As the evening wound to a close, Hinton and Elsa Hardy, a graduate student, and Abbie Cohen, a Radcliffe staff member, shared poetry and other thoughts produced by a reading collective of incarcerated women they work with, who were granted special access to the Davis papers last summer and among the first to study it. Kaia Stern, Radcliffe practitioner-in-residence and visiting lecturer at the Harvard Graduate School of Education who cofounded the Harvard Prison Studies Project and has taught incarcerated people for years, recounted conversations with some of the women she has worked with inside: "Human connection is contraband in jail and prison," Stern said. "We don't say that out loud; it's not written in our policy, but anyone who has spent time in a jail or prison know this. Sharing is punished as extortion.…Yet education in prison is transformative precisely because it is about human connections—to history, to science, to art, and to people."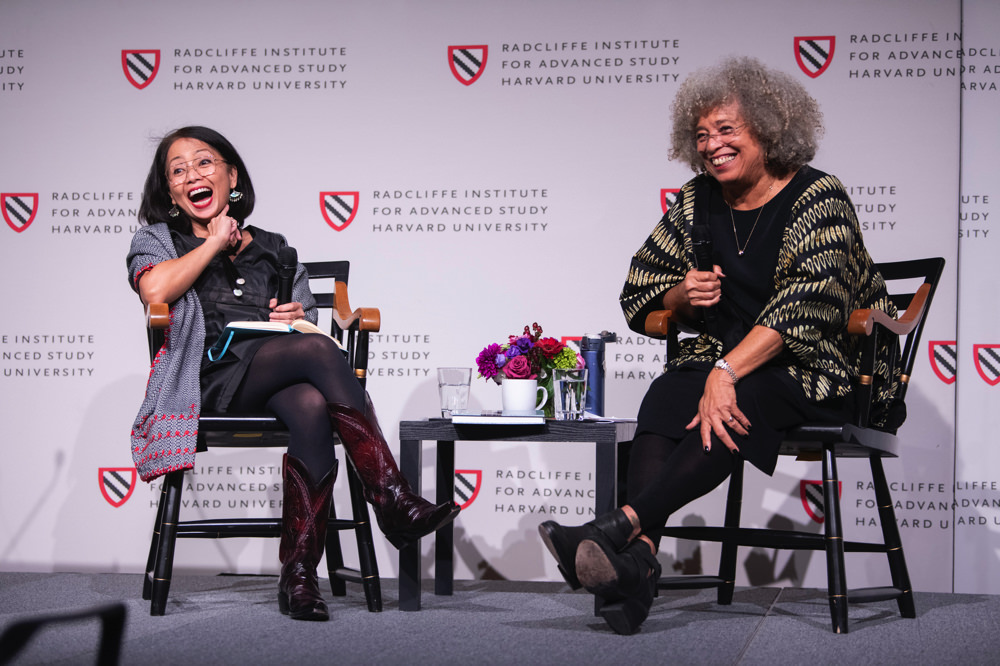 Photograph by Tony Rinaldo
Afterward, Davis herself took the stage, interviewed by her friend and former colleague Neferti X.M. Tadiar, now professor and chair of women's, gender, and sexuality studies at Barnard. They talked about philosophy and politics and jazz, and the power of art to fortify and inspire and understand. "Art can produce knowledge that nothing else can approximate," Davis said. Then Tadiar asked her about hope: "When you say we're at the beginning, I feel like you're already formulating a way for us to generate hope." 
Yes, Davis answered. "Historical perspectives are important.… Sometimes we're too short-sighted; we assume that what is happening right now is what will forever be." Her mother, Sallye Davis, had trained her to always keep in mind other possibilities, other outcomes, other openings: "That is one of the primary articles of our movement. We have to generate hope." 
One of the last questions of the night came from a high-school student, who asked Davis how she would define success for movements like hers and newer organizations like Black Lives Matter: "What does success look like?" "It's a very complicated question," Davis said. More complicated, for her, than is used to seem. Partly, she said, success is figuring out how to ask the right question in a particular moment, and partly about making new mistakes, not old ones. "I don't think there's an ultimate point where you could say, 'This is freedom, we're there.'" She paraphrased Nelson Mandela on the long walk to freedom: "Each time one thinks that one has reached the top of the mountain, there is another ahead....If someone had asked me to define freedom 50 years ago, I would've said, 'We have to free the black man.' That would have been my answer. Now it's so much more complicated."