News
Harvard Chooses Allston Commercial Zone Developer
12.19.19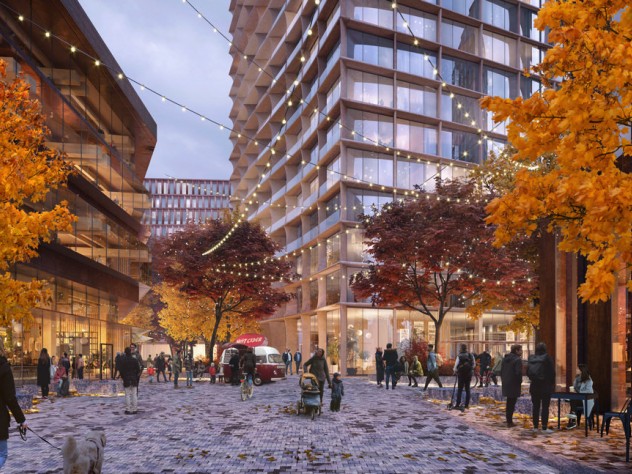 A conceptual rendering of a portion of the Enterprise Research Campus
Rendering courtesy of Tishman Speyer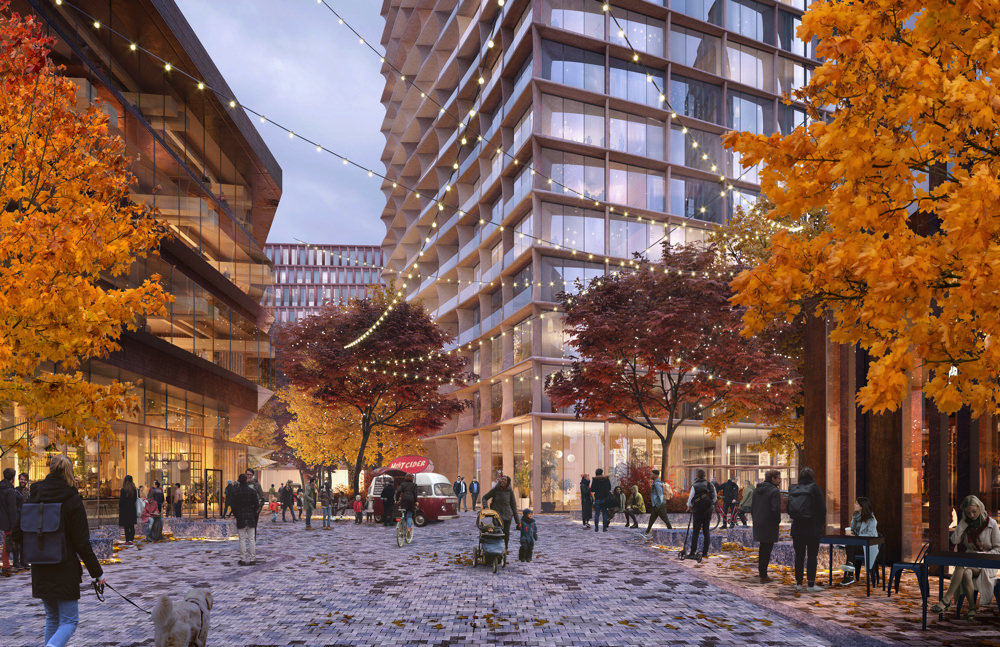 A conceptual rendering of a portion of the Enterprise Research Campus
Rendering courtesy of Tishman Speyer
The University's Harvard Allston Land Company (HALC) announced today that Tishman Speyer, led by president and CEO Rob Speyer '91, has been designated to develop the initial 14 acres of a 36-acre "enterprise research campus" along Western Avenue, opposite Harvard Business School and adjacent to the facility, now nearing completion, where much of the School of Engineering and Applied Sciences will be located next year. Tishman Speyer was chosen because the firm's proposal "reflected a commitment to many of the goals set out by HALC in its initial request for proposals," according to a University statement, including "a strong focus on bold and innovative architecture; attention to creating a robust, sustainable public realm; an ability to include affordable housing that exceeds municipal requirements; a focus on creating space for life-science and tech start-ups to flourish; a diverse and experienced development team; and assurances that the firm is committed to ensuring project equity for minority investors." 
Tishman Speyer, a global developer of large mixed-use projects, will be working with architect Jeanne Gang, M.Arch. '93, founding principal of Studio Gang, an international architecture and urban-design practice based in Chicago, New York, and San Francisco. Gang has worked with Tishman Speyer previously on several projects, including the 28-acre mixed-use Mission Rock project in San Francisco, which includes parks, open space, residential, commercial, and retail elements. A building that Gang designed for Kalamazoo College was reviewed by The New York Times in 2014.
An initial request for proposals to develop the parcel was circulated last June; the field of respondents was narrowed to three earlier this fall (see the link for background on each, including their Boston-area projects, and the criteria the HALC used in winnowing the applicants): Alexandria Real Estate Equities Inc. in partnership with National Development; Breakthrough Properties, owned by Tishman Speyer and Bellco Capital; and HYM Investment Group.
The University had earlier secured Boston planners' approval for the parcel, encompassing 900,000 square feet of development, distributed among office/laboratory facilities (400,000 square feet), a hotel-conference center (250,000 square feet), and residential space (250,000 square feet), with surface parking for 800 to 900 vehicles.
"Tishman Speyer will bring to Allston a wealth of experience shaped by extraordinary work around the world, and we look forward to the further development of the Enterprise Research Campus," said Harvard president Lawrence S. Bacow. "The convergence of art, business, and engineering in a new urban district will create opportunities for creativity and innovation that will drive achievements in research that none of us can imagine." Nitin Nohria, chair of the HALC board and dean of Harvard Business School, said that "The ideas and concepts put forth by the Tishman Speyer team were very much in line with the local Allston community's, the City's, and the University's goals for the neighborhood, as well as advanced and forward-thinking. Their focus on these shared goals and aspirations will result in an innovative ERC—that will complement the cutting-edge institutional research and teaching taking place at Harvard and throughout the region, and that can be integrated into the already thriving community."
The development proposal announced today represents an agreement in principle between Tishman Speyer and the University on the terms of a lease for the land over time, and the kinds of likely designs and users for the buildings now envisioned—including the share of housing units that qualify as affordable, their desirability for faculty members or other affiliates of Harvard and nearby institutions (Boston University and MIT, for instance), and an envisioned timetable for construction. HALC hopes to have a development agreement finalized by April, and the terms of the ground lease hammered out by July. The latter depends on detailed planning and permitting reviews for the project under Boston's procedures, including participation from the Allston community.
Today's announcement makes clear that "Over the next several months HALC and Tishman Speyer will be working with the local community, elected officials and City Hall to develop and refine a project proposal so that it can be shared and formally submitted for review," according to HALC's CEO, Thomas Glynn. According to the news release, Tishman Speyer "has developed initial thinking and offered preliminary concepts and designs [but] there is no formal proposed project at the present time, nor any identified tenants."