News
One Hundred Years of Educating Educators
1.31.20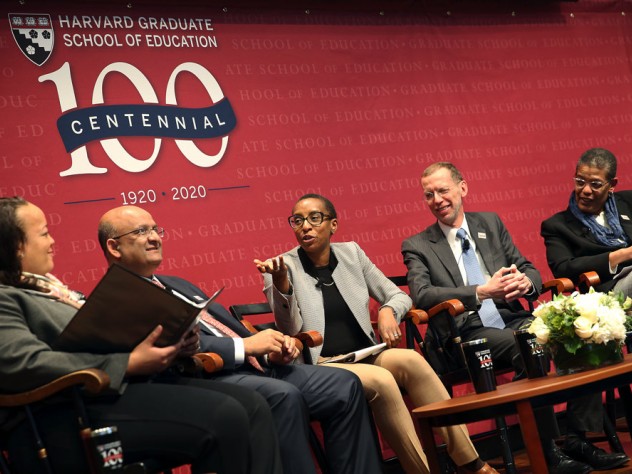 Five Harvard deans—Bridget Terry Long, Nitin Nohria, Claudine Gay, Douglas Elmendorf, and Michelle Williams—discuss the importance of education.
Photograph courtesy of Harvard Graduate School of Education
Five Harvard deans—Bridget Terry Long, Nitin Nohria, Claudine Gay, Douglas Elmendorf, and Michelle Williams—discuss the importance of education.
Photograph courtesy of Harvard Graduate School of Education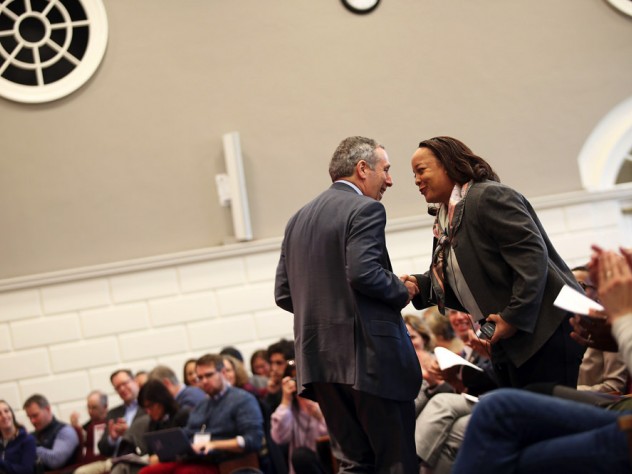 HGSE dean Bridget Terry Long greets President Lawrence S. Bacow.
Photograph courtesy of Harvard Graduate School of Education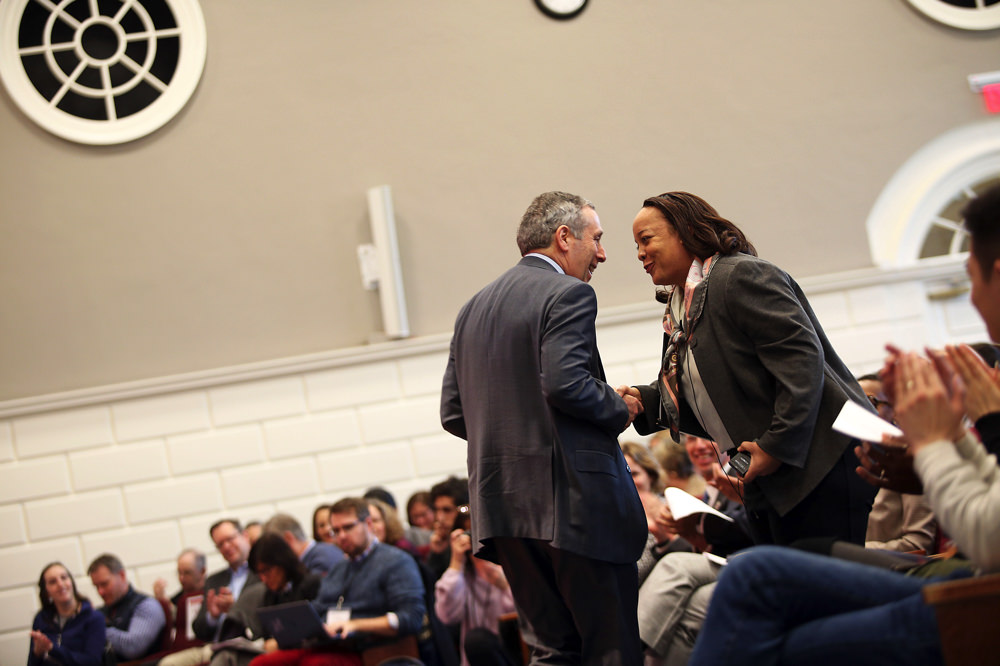 HGSE dean Bridget Terry Long greets President Lawrence S. Bacow.
Photograph courtesy of Harvard Graduate School of Education
On Thursday afternoon, students, faculty and staff members, and educationally minded visitors packed into the Harvard Graduate School of Education's Askwith Hall for the HGSE Centennial Kickoff Celebration.
After a video montage tracing the school's 100 years of history—and featuring cameos from HGSE visitors ranging from the Dalai Lama to Big Bird—Dean Bridget Terry Long took the stage. "Well, good afternoon, everyone!" she began. When the response wasn't appropriately enthusiastic, she embraced her inner educator ("One more time, come on!") before reflecting on the school's past, addressing current challenges, and providing a vision of its future. 
"When I look back at HGSE's past, it almost seems as though this day was inevitable, but it wasn't," she said, pointing to the school's origin at a time when education wasn't always seen as a "profession in its own right…a specialized body of knowledge distinct from other areas of intellectual inquiry." And, she said, "It was people here who were courageous enough and bold enough to question the deeply held assumption that only some students could learn."
There's more work to do, she acknowledged, citing gaps in opportunity at all levels—from access to early-childhood education to disparities in graduation rates and college debt. 
Looking ahead, Long stressed the importance of "research that is grounded in practice and policy" and "empowering our students to be innovators in a constantly changing world." She mentioned the Zaentz Early Education Initiative—a large, population-based study on children's learning and development—as one example among many that she hopes to continue. 
A third theme of the school's centennial—after research and looking forward—she said, would be extending the school's reach beyond Appian Way: using its 30,000 alumni to take the research and actually apply it. 
Following Long, President Lawrence S. Bacow stressed the themes she had outlined, and reflected on how his time as the 2011-2012 president-in-residence in HGSE's Higher Education Program (after his decade as president of Tufts) had affected his career. "It gave me an opportunity to do something which I think all of us need to do more, and which I came to understand and appreciate is absolutely essential to what the Ed School does for so many professionals: and that was to reflect on my own practice as a university president." 
Partnerships to Advance Education
After Bacow's remarks, Long introduced and moderated a panel featuring four fellow Harvard deans: Nitin Nohria (Harvard Business School), Claudine Gay (Faculty of Arts and Sciences), Douglas Elmendorf (Harvard Kennedy School), and Michelle Williams (Harvard T.H. Chan School of Public Health).
"I've had the great privilege of also living through the centennial of Harvard Business School in 2008," Nohria said, alluding to the most recent financial crisis. "You timed your centennial much better," he continued, drawing laughs from the crowd.
The group's discussion centered on partnerships between HGSE and the University's other schools. Gay, calling education one of the "red threads" that link every school at Harvard, cited the undergraduate secondary field in educational studies, approved in 2018, as a major opportunity that gives College students "the first opportunity…to be connected in any formal way to a professional school." 
Nohria commended the work of the Public Education Leadership Program, a 17-year-old HGSE-HBS program that trains school superintendents. "In many ways superintendents have a job that may be even more complicated than the CEO of a large multi-unit enterprise," he said. Long nodded. "Yes," she said simply, with a slow nod. The audience applauded.  
Making a Difference in Schools
After the panel concluded, the event split up into several "breakout sessions" discussing key challenges in education—from "Data for Impact" to "Innovation and Entrepreneurship in Education"—and how the school can make a difference.
In "Leading Systems for Excellence, Equity, and Impact," a panel of former superintendents—Deborah Jewell-Sherman, Ed.D. '95 (Richmond, Virginia, Public Schools); Mary Grassa O'Neill (Milton, Massachusetts, Public Schools); Drew Michael Echelson, Ed.D. '13 (Waltham, Massachusetts, Public Schools); and Jennifer Perry Cheatham, Ed.D. '10 (Madison, Wisconsin, Metropolitan School District)—discussed how they opened opportunities for children in their districts by leveraging relationships inside their districts. O'Neill recalled a moment when her own children were excluded from their high school's honors Spanish classes. Though she accepted the decision, another teacher ended up approaching her and suggesting O'Neill's kids move up into the honors program. That got O'Neill thinking about the kids for whom this kind of intervention didn't occur, who ended up in classes below their capabilities. She decided that students themselves should be able to decide whether they take honors classes—a controversial decision that she stands behind today.  
Toward the end of the event, Deborah Jewell-Sherman discussed how to create systems within a district to get things done. She talked about a rookie mistake she'd made in the past—entering a district without being fully cognizant of her predecessor's relationships and operating style. She emphasized the importance of looking for "roots of entanglement," paraphrasing an idea from Florence McKenzie, Australia's first female electrical engineer and an advocate of technical education for women: "When we think about the system that we're working on, we think of it as flowers above ground. And when you look at these flowers, they all look distinct. But if you can get underground and look at the roots, you'll find out that this is connected to that, which is connected to the other thing." 
As HGSE pushes forward to improve education, such connections—within Harvard and beyond—will be crucial.