Brevia
Would-Be Honorands
Before COVID-19 postponed the May 28 Commencement exercises, Harvard announced that its guest speaker, following the morning exercises, would be Martin ("Marty") Baron, executive editor of The Washington Post since 2013—perhaps the nation's leading newspaper journalist during an era of traumatic change within the industry and of unprecedented attacks on journalism by leaders here and abroad. See harvardmag.com/baron-commspeaker-20 to learn more. The following day, the Radcliffe Medal was to be conferred on Melinda Gates, co-founder of the Bill & Melinda Gates Foundation with her husband, Bill Gates '77, LL.D. '07 (co-founder of Microsoft). The initial program and honorand are detailed at harvardmag.com/mgates-radcliffe-20.
Corporation Headliner
Diana L. Nelson '84, former vice chair of the executive committee of the Board of Overseers, returns to Harvard service, effective July 1, as a member of the Corporation. Her appointment, announced in February, fills the vacancy created when venture capitalist James Breyer, M.B.A. '87, stepped down at the end of one six-year term last June. Nelson was a co-chair of The Harvard Campaign (concluded in 2018), and has co-chaired her class reunions since 1994. A fine-arts concentrator, she is now president of the board of the San Francisco Museum of Modern Art. Until last summer, Nelson served as chair of Carlson Inc., the travel-services conglomerate; she will become chair of its parent company, Carlson Holdings, Inc., in May. Read more at harvardmag.com/nelson-corp-20.
Admissions Lawsuit, Round 2
On February 18, Students for Fair Admissions (SFFA) filed its brief appealing the district court ruling in its case alleging that Harvard's race-conscious, holistic undergraduate admissions policy discriminates against Asian-American students. Judge Allison D. Burroughs ruled in the University's favor last October, after an extensive trial (see "Harvard's Admissions Process Upheld," November-December 2019, page 21). From the outset, the litigation has been seen as an attempt to get a case before the Supreme Court, where the plaintiffs hope to secure a decision outlawing consideration of race in admissions, so the appeal was expected. On February 25, the U.S. Department of Justice filed an amicus brief supporting SFFA, characterizing Harvard's procedures as "illegal race discrimination." The University's response is due by May 14, with oral argument, if granted, and a subsequent appellate decision ensuing several months after.
New University Professor
Oliver Hart, co-winner of the 2016 Nobel Prize in economic sciences, has been appointed Geyser University Professor. A member of the faculty since 1993, he has made contributions in diverse fields ranging from contract theory and corporate finance to law and economics. Announcing the appointment in early March, President Lawrence S. Bacow hailed Hart's scholarship for having "not only deepened our knowledge of economic theory but also driven its application in a range of contexts." He succeeds William Julius Wilson, who retired last September.
Faculty-Dean Departures
With the February announcement that Xander University Professor Douglas Melton and Gail O'Keefe would conclude their service as Eliot House faculty deans at the end of the academic year, Harvard College dean Rakesh Khurana faces searches for successor faculty deans at five of the undergraduate residences. The others are Cabot (from which Khurana and his wife, Stephanie Ralston Khurana, are stepping down), Kirkland, Quincy, and Winthrop Houses.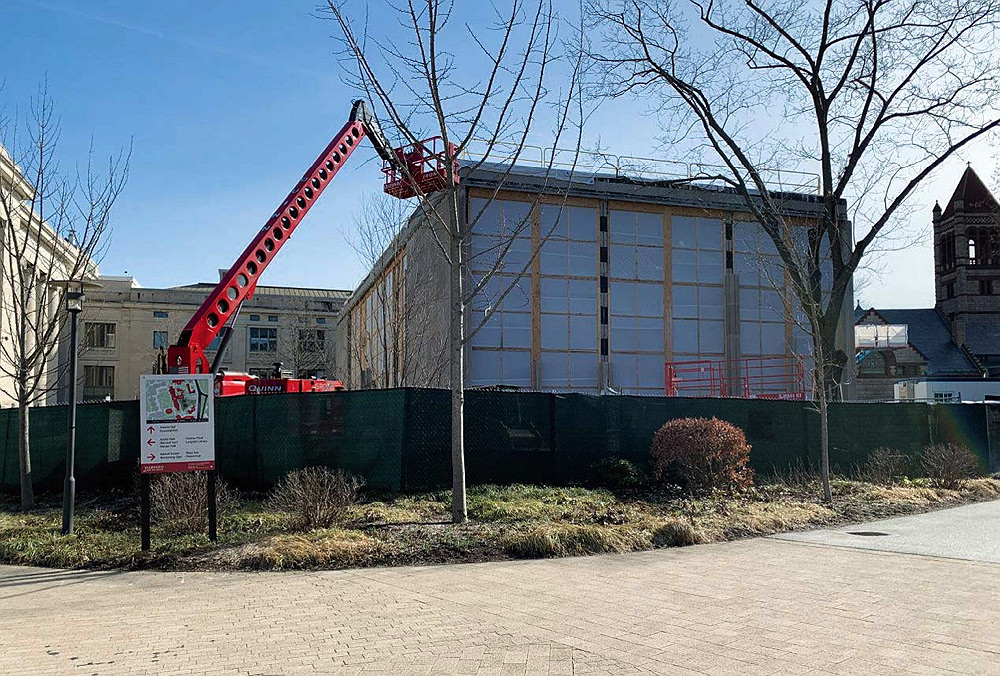 Photograph by Kristina DeMichele/
Harvard Magazine
Capital-Project Compendium
The University planning office's annual "Town Gown Report" to Cambridge for 2019 documents the continuing renewal of Adams House (now scheduled for completion by the fall 2024 term); the Divinity School's Swartz (née Andover) Hall renovation and expansion (delivery in early 2021); Houghton Library; and, shown above, the renovation and skyward extension (a fifth floor) for the Law School's Lewis International Law Center. (That school's decanal residence, on Irving Street, is also getting a makeover.) On deck is renovating and expanding Gund Hall (home to the Graduate School of Design), for which planning continues—plus, ultimately, renewal of Eliot and Kirkland Houses, for which planning apparently has not yet begun.
AI, Ethics, CS
Harvard's peers are actively pursuing intellectual and practical fields also of lively interest here. Among them, Stanford—intimately associated with Silicon Valley—has launched an Ethics, Society and Technology Integrative Hub to engage all its schools in exploring the ethical challenges (privacy, bias, and so on) associated with innovation. Its Institute for Human-Centered Artificial Intelligence, also new, is addressing these matters in that rapidly developing, but contentious, field as well.…The University of California, Berkeley, launching its $6-billion Light the Way campaign on February 29, kick-started the effort by announcing an anonymous $252-million gift—the largest in its history, and about half the funding sought to build, staff, and support a "Data Hub," its new home for its division of computing, data science, and society.…Union College, beginning a $300-million capital campaign, announced a $51-million gift, the largest in its history, from graduates Rich and Mary Templeton (he is chairman and CEO of Texas Instruments), to create an eponymous institute for engineering and computer science.
On Other Campuses
Stanford alumnus John Arrillaga, a real-estate developer and significant supporter of his alma mater, committed $55 million to its school of medicine. The gift doubles the financial aid available to students with demonstrated need during the next decade, and will be combined with other resources to eliminate medical-school debt for "qualified" incoming students.…Yale, in the quiet phases of a capital campaign expected to focus heavily on science, has begun planning a new building devoted to quantum science, engineering, and materials research.…The University of Wisconsin-Madison received $70 million from alumni and major donors John and Tashia (Frankwurth) Morgridge (he is the former chairman of Cisco Systems); it will be used, on a matching basis, to encourage further endowment gifts to support faculty recruitment and retention.…Princeton, already building two new residential colleges to expand undergraduate enrollment, has announced plans to construct a new university art museum beginning next spring, and to launch new environmental-sciences and bioengineering facilities the following year—to be followed by renovated quarters for computer science. The capital campaign to pay for everything debuts this fall.…The University of Virginia has committed to building 1,000 to 1,500 units of affordable housing during the next 10 years, with development partners, on land it owns in and around Charlottesville.
Clinical Reach
Harvard Law School has augmented its roster of 46 legal clinics and student practice organizations, announcing two new ones in February. The Voting Rights Litigation and Advocacy Clinic—focusing on voter suppression and redistricting, plus election administration, campaign finance, ethics, and other pertinent issues—is led by lecturer on law Ruth Greenwood and requires enrollment in "Election Law," taught by professor of law Nicholas Stephanopoulos, who joined the faculty in January from the University of Chicago. On deck is the Religious Freedom Clinic, dedicated to action on cases involving the rights of vulnerable clients to practice their religion; according to HLS, it is modeled on Stanford's Religious Liberty Clinic.
Nota Bene
Endowment taxes. A February Inside Higher Education report on universities' assessments for the excise tax on certain endowment investment income, enacted in late 2017, indicated that Stanford's estimated $42.9 million obligation is roughly comparable to Harvard's estimated $37 million levy during fiscal year 2019. Among the 15 schools that replied, only a handful could provide estimates (the implementing regulations for the tax are incomplete); most foresaw assessments of $1 million plus or minus. Since some of the calculations are based on unrealized investment gains, actual cash payments by Harvard and Stanford, and presumably others, may not be due until future tax years.
Artist actor activist. Rubén Blades, LL.M.'85, the salsa musician who has also acted in movies and televisions series, and ran for president of Panama in 1994, has been named the 2020 Harvard Arts Medalist. He was scheduled to be honored April 30, at the beginning of the Arts First celebration, now a casualty of coronavirus.
Admissions. The College admitted 1,980 of 40,248 applicants to the class of 2024: 4.9 percent. And their nominal term bill (before financial aid) will be $72,391—up 4 percent from $69,607 this academic year. Details are available at harvardmag.com/2024admits-20.
Adams House update. The renewal of Adams House, complicated by its separate buildings and narrow Cambridge streets, has now been extended. The original schedule called for work to begin in June 2019 and to conclude before classes resume for the fall 2023 semester (see harvardmag.com/adams-renewal-19). Based on the work already under way, and Greater Boston's tight construction market—workers are in short supply—completion has now been extended to August 2024. The huge Eliot-Kirkland House renewals, an especially complicated and costly undertaking, have not yet been planned or scheduled.
A lifetime of giving, continued. As reported, the sale of collections from the estate of David Rockefeller '36, G '37, LL.D. '69, yielded additional gifts to Harvard, among other beneficiaries (Brevia, May-June 2019, page 30). The Harvard Crimson has now reported, and it has been confirmed, that the proceeds were $50 million or more.
Decanal news. Harvard Business School dean Nitin Nohria, scheduled to step down at the end of the academic year, will remain through 2020, easing search pressures during the coronavirus crisis; see harvardmag.com/nohria-stays-20.…Jones professor of American studies Lizabeth Cohen, the Radcliffe Institute dean emerita, won the Bancroft Prize, the highest honor for American history, for her recent book Saving America's Cities (reviewed in September-October 2019, page 64); it was her second Bancroft. Read more at harvardmag.com/cohen-bancroft-20.
Miscellany. Harvard University Employees Credit Union president and CEO Gene Foley, who joined the organization in 1979 and has led it for the past quarter-century, will retire in July.…Craig Rodgers, a counselor at the Bureau of Study Counsel for nearly two decades, has become program manager for military student services, a new role, within the College's dean of students office. He is responsible for working with ROTC students and others interested in military service.…Knafel professor of music Suzannah Clark is the new director of the Mahindra Humanities Center, succeeding interim director Sunil Amrith, Mehra Family professor of South Asian history.…The Harvard Law School Library has begun releasing papers from its Antonin Scalia, LL.B. '60, collection. The late Supreme Court justice's papers will be made available to researchers during the next 40 years. Dean John F. Manning clerked for Scalia in 1988-1989.…In a bit of painful timing, the only faculty member appointed to the National Academy of Engineering this year, per its announcement February 6, was Friedman University Professor Charles M. Lieber; as reported (News Briefs, March-April, page 24), he was arrested on January 28 and charged with misleading the U.S. government and Harvard about his work for and compensation by programs in China.
You might also like
Harvard officially installs Claudine Gay, its thirtieth leader.
A half-dozen symposiums feature Harvard research on AI, climate change, inequality, and more
A musical and poetic "prelude" to Claudine Gay's installation festivities
Most popular
President Bacow on humility, Prime Minister Jacinda Ardern on democracy and social media, and Attorney General Merrick Garland on civic engagement and threats to U.S. democracy
The new police chief introduces a new policing culture.
Recent books with Harvard connections
More to explore
A test can identify these productivity-boosting personnel.
Ancient history professor studies coins, ceramics, and Zelda.
Anwar Floyd-Pruitt's wildly profuse art