"Not Meant to Be"
Injuries—and the coronavirus—lead to disappointing basketball seasons.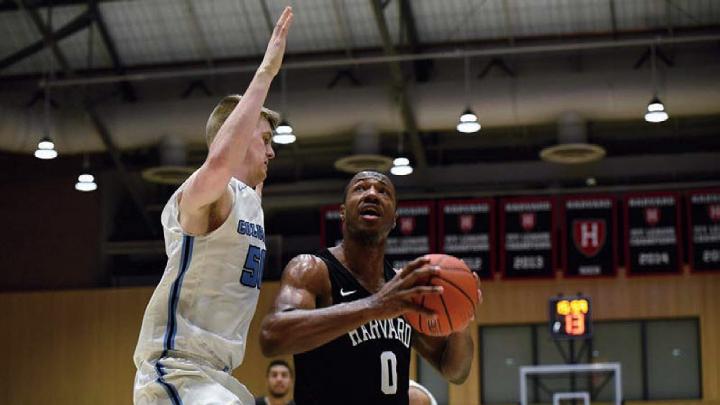 When the Ivy League announced that Harvard would host the 2020 conference basketball tournaments, it appeared to set up an ideal situation for the Crimson teams. Both would be led by talented seniors playing in a gym where they had a combined 80-18 career record. But the women—weakened by injuries and attrition—failed to qualify for the tournament for the first time, and the men, who earned the number two seed, never got to participate after the event was canceled.
After losing to Yale in last year's tournament championship game, the team adopted an ambitious motto for this season: "Best Ever." That would mean reaching the Sweet 16 round of the NCAA tournament—an admittedly lofty goal, but an attainable one if seniors Seth Towns, the 2018 Ivy League Player of the Year, and Bryce Aiken, a 2019 first-team all-league honoree, were healthy. That never happened.
Towns, who missed the 2018-2019 season with a knee injury, had surgery in December, ending his Harvard career. (After the season, he announced that he would play as a graduate student at Ohio State for the next two years.) Aiken—who missed the first half of the 2018-2019 season with a lower-body injury—didn't fare much better. He sat out the first four games with a calf strain and, after scoring 18 points in his return against Buffalo, injured his foot against George Washington just before Christmas. Stemberg coach Tommy Amaker anticipated having Aiken back in Ivy play, but that game would be his last. After the season, he announced a post-graduate commitment to Seton Hall University (updated 4/21/20). 
The Crimson still had plenty of talent, led by Noah Kirkwood '22, the 2019 Ivy Rookie of the Year. But after the team closed non-conference play with a 77-73 win over UC-Irvine, Amaker suggested that his squad (then 11-4) needed more mental and physical toughness if they wanted to win the league.
Indeed, the Crimson began conference play with a pair of single-digit wins against Dartmouth before losing at Penn and Princeton by a combined four points. The margins were not concerning, but the first-half deficits were (19 points against Penn and 16 against Princeton). After splitting taut contests at Yale and Brown, the team found its footing during a four-game homestand. Harvard began by demolishing Cornell 85-63 before besting Columbia 77-73 in double overtime. Then, Amaker's squad slipped by Princeton 61-60 and Penn 69-65. The close wins, aided by stronger starts, revealed a tougher team with a deep bench: backup center Mason Forbes '22 tallied 11 points, seven rebounds, and four blocks—including a game-winning swat—to secure the victory against Princeton.
But the injuries kept coming. The weekend after the wins over Princeton and Penn, Christian Juzang '20, Aiken's replacement at point guard, injured his ankle at Columbia. This forced the Crimson, as guard Justin Bassey '20 said, to play "point guard by collective," requiring numerous players to change positions. The disruption was clear in a 64-55 home loss to Brown on Senior Night.
That setback knocked the team out of contention for the regular-season Ivy title but by no means ended the season—a point that senior co-captain Henry Welsh emphasized in a speech to teammates the next morning: if they could beat Yale that night, they'd have momentum heading into the conference tournament. The Crimson responded, dominating the Bulldogs defensively, and throwing down a flurry of emphatic dunks (including a 360-degree slam from Chris Ledlum '23) on the way to a 83-69 victory that gave them the series sweep.
After the game, the seniors lingered on the floor, snapping photos and looking forward to their chance to earn an NCAA bid the following weekend. Three days later, the Ivy League canceled the conference tournament, ending their Harvard careers. Kirkwood, who averaged 12.1 point per game, ended the season as the team's leading scorer and was named first-team all-Ivy.
After falling to Penn in last year's Ivy tournament semifinals, the women's team hoped to contend for the championship this year on the strength of two seniors: point guard Katie Benzan, a three-time first-team all-Ivy honoree, and center Jeannie Boehm, who earned second-team all-conference honors in 2018.
In August, Benzan (who will compete as a graduate student for the University of Maryland next year) left the team. And when the pre-season began, the entire frontcourt was injured, including Jadyn Bush '21, who led last year's team in rebounding before undergoing off-season shoulder surgery. Friends coach Kathy Delaney-Smith had to install a new five-guard offense, a challenging switch for any team, let alone one now heavily dependent on underclassmen. "There's no quick road to experience," she lamented.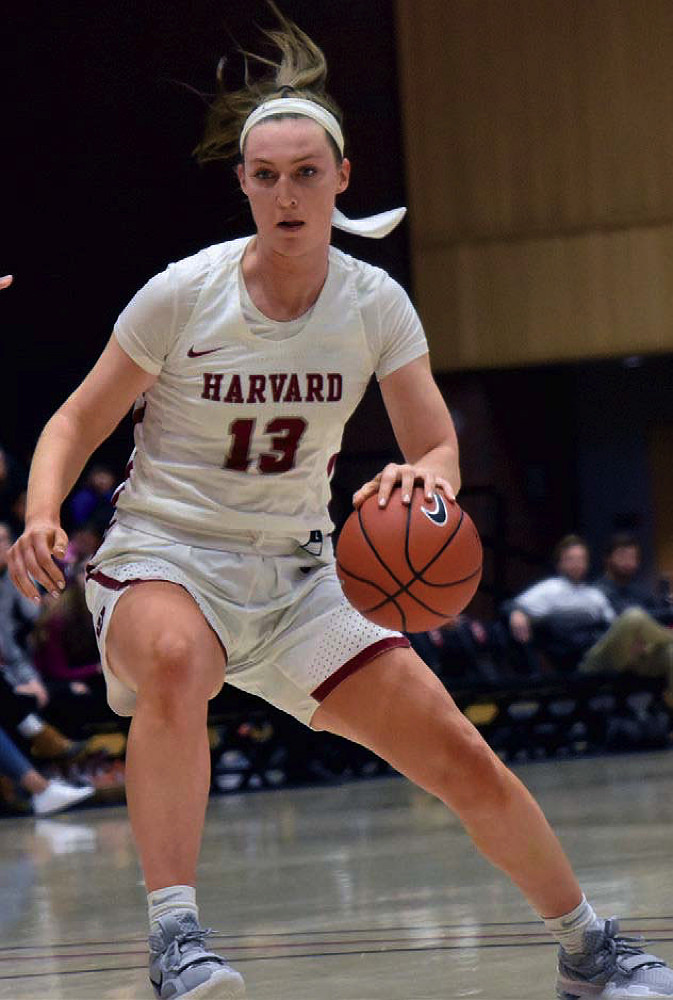 Senior Jeannie Boehm led the Ivy League with 9.1 rebounds per game. She earned second-team all-conference honors.
Photograph by Erica Denhoff
Initially, the retooled Crimson thrived. In the opener at Northern Illinois, Lola Mullaney '23 drained six threes and Boehm posted 16 points and 14 rebounds in a 59-53 win. That momentum carried through non-conference play as Harvard posted a 9-4 record, including a victory over the University of California, Berkeley, the second-straight year the Crimson knocked off the PAC-12 opponent.
The team felt confident. "We're going into [the] Ivy League quite possibly as the underdogs," observed senior co-captain Mackenzie Barta after a 61-58 overtime win over the University of Rhode Island. "People don't expect us to be as good as we were in years past, and we know we're much better."
As if to prove the point, after dropping its league opener at Dartmouth, Harvard won five of six. But they'd go on to lose six of seven to finish 15-12 overall and 6-8 in Ivy play, good for fifth place—one spot out of the tournament. Injuries contributed to the collapse: early in Ivy play, Barta suffered a season-ending knee injury, and Bush never returned. Responding to the Crimson's lack of depth and the absence of a traditional point guard, opponents routinely applied a punishing full-court press. Harvard suffered, turning the ball over 17.9 times per game in Ivy play and forcing only 13.9 giveaways, the league's worst margin.
"We're too young. Not meant to be," Delaney-Smith glumly concluded after losing to Cornell on the season's penultimate weekend.
If there was one bright spot to the injuries that afflicted this year's teams, it was that younger athletes gained more experience: Kirkwood, Forbes, and Ledlum for the men; the women have a strong backcourt in Maggie McCarthy '22, Tess Sussman '22, and Mullaney, who averaged a team-best 15.1 points per game. The Crimson will rely on those players—and hope for better health—when they return to Lavietes next season.
You might also like
The Crimson springs a major upset.
Harvard officially installs Claudine Gay, its thirtieth leader.
A half-dozen symposiums feature Harvard research on AI, climate change, inequality, and more
Most popular
A community letter as the new administration begins
Solving legal challenges at MoMA
More to explore
A test can identify these productivity-boosting personnel.
Ancient history professor studies coins, ceramics, and Zelda.
Anwar Floyd-Pruitt's wildly profuse art