Montage | Open Book
A Lone Star Saga
Fiction about "the power that comes to us when we uncloset ourselves"
"The best I can describe it," says Justin Deabler, of the years he spent writing his semi-autobiographical debut novel, "is that I was trying to answer questions that nobody was around to answer anymore. And that I couldn't let go of."
Those questions—about his parents' lives, his family's history, and his own identity—eventually gave rise to Lone Stars, a sprawling and powerful family epic published this February. Set largely in the Houston suburbs, where Deabler grew up, the novel unfolds across three generations. Its main protagonist is Julian Warner, a young gay man with an absent Vietnam-veteran father and a devotedly attentive mother. Julian navigates the turbulence of his early life, including the violent assault of a gay classmate and his own coming out, to find marriage and fatherhood in a city far from home.
At the heart of the book is a narrative about migration, meaning, and "the power that comes to us when we uncloset ourselves," says Deabler, J.D. '01. His characters' lives are shaped by the massive, sometimes shattering societal upheavals of the late twentieth and early twenty-first centuries: economic crises, the Vietnam War, the movements for women's rights, civil rights, gay rights. And although there are antagonists in the novel, whose damaging flaws reverberate across generations, there are no real villains; Deabler narrates even moments of cruelty and anguish with a kind of unflinching tenderness.
Lone Stars opens in the 1950s, with the Eisenhower administration's anti-immigrant border raids and the story of a white ranching family whose stern matriarch hides a painful secret about her Mexican origin. Her daughter Lacey becomes Julian's mother, who, after her marriage falls apart, comes into her own as a forceful parent and working woman and, in many ways, the book's emotional center. Later still, Julian goes to Harvard College, where he meets and falls in love with Philip, with whom he moves to New York City. All these characters are migrants of one kind or another, Deabler says, "whether it's people who cross national borders to find a different kind of life, or queer and non-conforming people who are not safe where they're born, and migrate to safer land, as so many gay people do."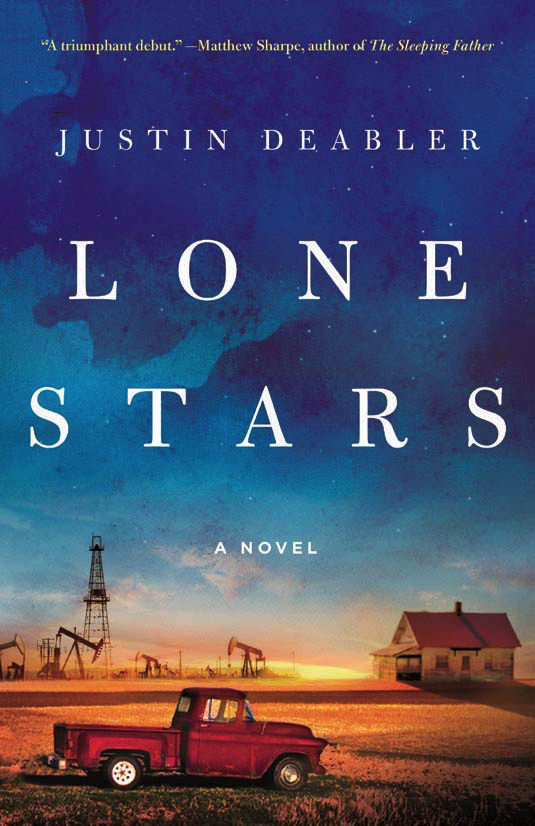 Now an attorney for the Queens Public Library who lives in Brooklyn with his husband and their two-year-old son, Deabler was bullied so severely as an adolescent that he dropped out of school at 15. "High school becomes tough in a lot of ways for so many people," he says. Being gay made him a target. "I feared for my safety at times, but I think more so I feared for my mental health." His mother, the model for Julian's mother in Lone Stars, taught psychology at a local community college. When he began feigning sickness to skip school, she took him to her classes instead. She must have known the real reason for his reluctance, he says—when he came out to her after dropping out completely, she was lovingly unsurprised—but if so, she never said. She died in 2008, and "to this day, that's one of the brightest memories I have of her: sitting in the back of her classroom watching her teach.…She was so funny and so supportive, of kids from all different places and backgrounds." (In part, those memories—along with the experience of being bullied—led Deabler to study civil-rights law; as an attorney for many years in the New York attorney general's office, he worked on the Dignity for All Students Act, a statewide anti-bullying law.)
Deabler's escape from his hometown was a scholarship to Simon's Rock in western Massachusetts, a unit of Bard College that allows students to enroll before finishing high school. "It was probably the most transformative couple of years of my life," he says. "I don't know who I would have become if I hadn't gotten out to there." It was there that Deabler met his husband, Mark O'Connell—although they didn't become a couple until several years later, when Deabler, as a second-year law student in 1999, took a break from Harvard to star in a season of MTV's The Real World: Hawaii. O'Connell spotted him on the show and wrote him a letter. "I saw the handwritten return address, opened it, and called him that night," Deabler says. "And we've been together since then."
Their courtship was partly what led him to writing. "When I was a kid, I wanted to be a lawyer and I wanted to be a writer," he says. "But I kept the writer part secret." When they began dating, O'Connell was an actor working toward an M.F.A. at Trinity Rep in Providence (now a joint-degree program with Brown University). Deabler sometimes sat in on O'Connell's classes, and eventually began writing scenes, which then became whole plays. For his third-year law-school paper, he submitted a play imagining an afterlife for Matthew Shepard, the young gay man famously tortured and murdered in Wyoming in 1998. A small New York theater company co-founded by O'Connell later produced it, along with another play Deabler wrote, about "parenting and loss" in the story of the first child born from the genetic material of two men.
With Lone Stars, "I was just trying to piece together stories about where I came from, who my parents were, where they came from," he says. Neither his mother nor father had ever talked much about their own lives. He knew the bare facts of how they had met—as pen pals during the Vietnam War, a narrative poignantly reimagined in the book—and he had strong memories of his maternal grandmother, a Cuban immigrant who refused to speak Spanish or talk about home, even with her own sister. He researched parts of the book, especially where it intersected with broader historical events, but other parts he made up, finding meaning in invention. "The very basic discovery for me was that, when you're obsessed with something from your past, when it keeps coming back to you in your dreams, you have to follow it. You have to see where it takes you."