Brevia: Harvard News in Brief
New police leader, top teachers, and an excellent economist
Top Crimson Cop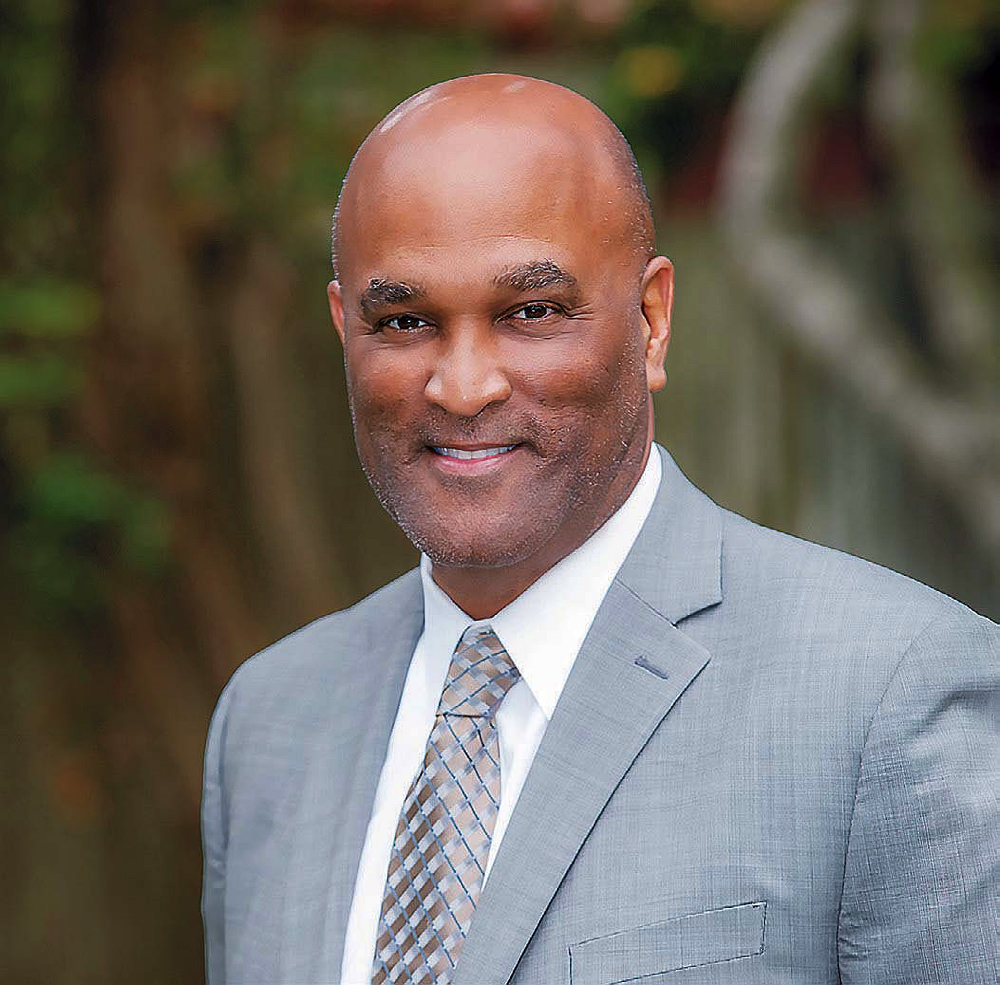 Photograph by Curtis Dahl
Victor Clay has been appointed chief of the Harvard University Police Department (HUPD), effective July 26. Following 28 years with the Los Angeles County sheriff's department, Clay served as chief of campus safety at Occidental College and then chief of campus security and parking at Caltech. The appointment follows an external review of the HUPD last year, which recommended a new approach to public-safety services (including, for instance, deployment of mental-health professionals rather than uniformed officers to deal with behavioral-health issues), and changes in policy and culture (see harvardmag.com/police-review-report-20). Announcing the appointment, President Lawrence S. Bacow and Executive Vice President Katie Lapp said Clay "understands the challenges and opportunities of reimagining public safety," citing his prior higher-education successes in working to "create spaces where people could listen to and learn from one another, enabling changes that improved campus life by strengthening bonds of understanding, respect, and affection."
Overseers Leaders
Helena Buonanno Foulkes '86, M.B.A. '92, former CEO of Hudson's Bay Company and president of CVS's pharmacy operations, has been elected president of the Board of Overseers for the 2021-22 academic year. P. Lindsay Chase-Lansdale '74, Willard professor of human development and social policy at Northwestern University, will serve as vice chair of the board's executive committee. Both were elected as Overseers in 2016, and are entering the final year of their six-year terms. See page 55 for results of this spring's election.
Museum Maestro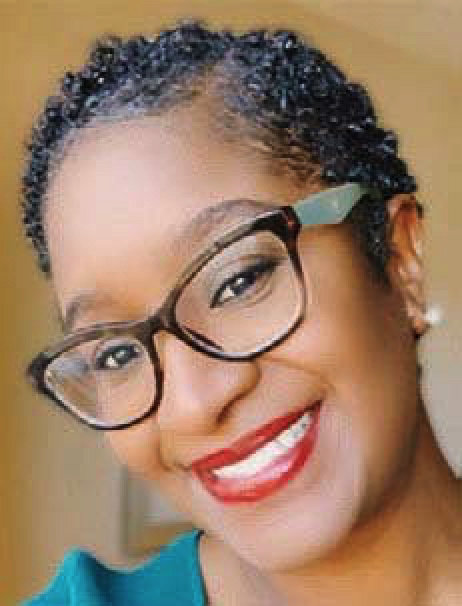 Photograph courtesy of Brenda Tindal
Brenda Tindal, who was founding director of education and engagement at the International African American Museum, in Charleston, South Carolina (opening in 2022), in May assumed her new role as executive director of the Harvard Museums of Science & Culture. She had previously been director of education at the Detroit Historical Society. Announcing the appointment, Faculty of Arts and Sciences dean Claudine Gay cited Tindal's "heartfelt belief in the power of museums as profound sites of connection and new learning."
Top Teachers
The Faculty of Arts and Sciences conferred Harvard College Professorships, its highest honor for undergraduate teaching, on: Stephen Chong, McKay professor of computer science and faculty dean of Winthrop House; Sean D. Kelly, Martignetti professor of philosophy and faculty dean of Dunster House; Deidre Lynch, Bernbaum professor of literature (see "Feelings Ought to Be Investigated," January-February 2017, page 50); Andrew Murray, Smith professor of molecular genetics and director of the Rowland Institute; and Leah Somerville, professor of psychology. For details, and a list of other teaching awards, see harvardmag.com/fas-rulings-and-awards-21.
On Other Campuses
Johns Hopkins University and its Health System announced in May that they are adopting a $15 minimum wage, four years earlier than required by a Maryland law enacted in 2019 (and backed by the institutions, which are jointly the largest private employer in the state). According to Hopkins, more than 6,000 employees will benefit directly from the increase. Temporary and student workers, and full-time contract workers, are also covered.…Caltech has announced that the name of its founding president, Robert A. Millikan, along with those of several other individuals, will be removed from campus buildings, assets, and honors. All participated in the eugenics movement through the Human Betterment Foundation, which promoted eugenic sterilization in the early twentieth century. Harvard's committee on renaming principles, lead by Drew Faust, president emerita, is expected to report its recommendations soon (see harvardmag.com/renaming-committee-20).
At Adams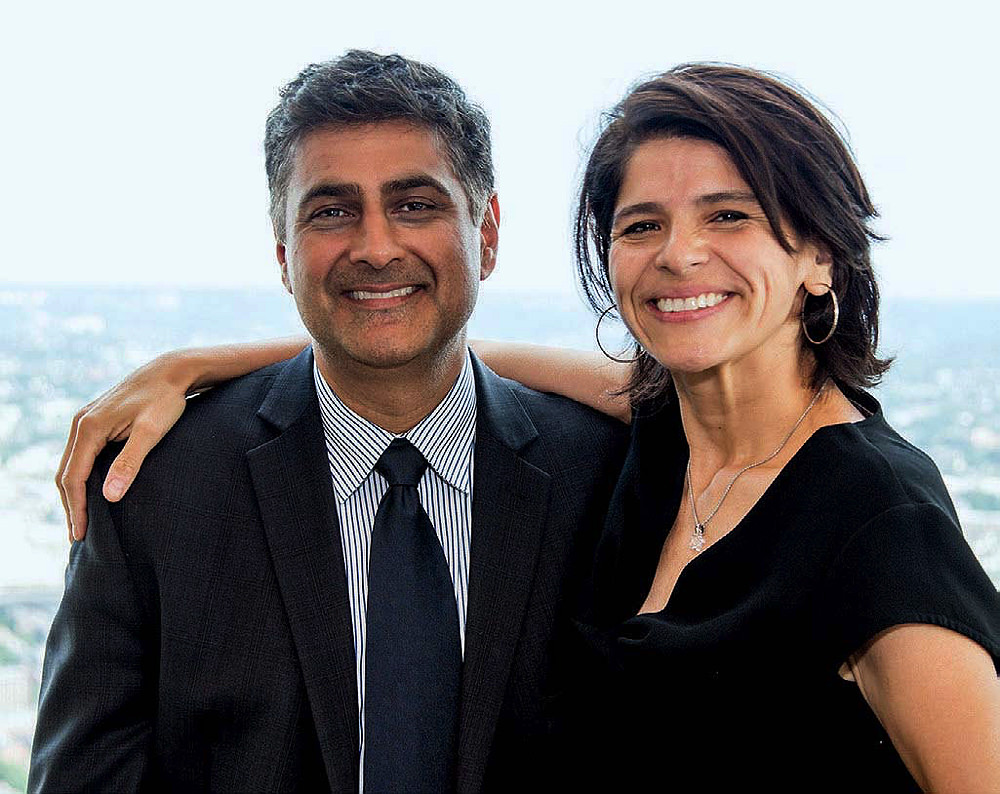 Photograph courtesy of Mercedes Becerra and Salmaan Keshavjee 
Mercedes Becerra '91, S.M. '93, S.D. '99, and Salmaan Keshavjee, S.M. '93, Ph.D. '98, each a professor of global health and social medicine at the Medical School, have been appointed faculty deans of Adams House. They succeed Judith and Sean Palfrey (both 1967 graduates of the College), who announced last December that they would step down this June 30, concluding service that began in 1999 (see Brevia, March-April, page 19). Keshavjee, whose doctorate is in anthropology and Middle Eastern studies, is an affiliate of the anthropology department (he earned his M.D. at Stanford). He has worked with Partners In Health on tuberculosis and other problems, is on the staff of Brigham and Women's Hospital, and co-teaches a General Education course on global health. Becerra, also active with Partners In Health, is an epidemiologist; she has worked on TB in her native Peru and has co-founded a network of researchers and clinicians working to improve care for children.
Catalytic Gifts
Eric Schmidt, former CEO and executive chairman of Google and then of its parent company Alphabet, and Wendy Schmidt, have donated a $150-million endowment to the Broad Institute of MIT and Harvard to establish a center devoted to research at the intersection of biology, data science, and machine learning. Partners will include the founding institutions, Broad scientists, and collaborators from Harvard-affiliated hospitals and numerous corporate and academic research institutes, although no explicit links to Harvard's data-science or other initiatives have been detailed….Financier George Soros pledged an endowment-challenge gift of $500 million to Bard College, which must raise a matching sum within five years; the school's current endowment is about $220 million.…Michael R. Bloomberg, M.B.A. '66, LL.D. '14, who recently committed $150 million to Harvard for urban-leader training and research (News Briefs, May-June, page 27), has created the $150-million Vivien Thomas Scholars Initiative at Johns Hopkins. It will provide fellowships for graduates of six historically black colleges and universities to pursue doctoral studies in science, technology, engineering, and math programs, many of which continue to underrepresent such students. The gift brings Bloomberg's cumulative support for Hopkins, his alma mater, to $3.5 billion.…Georgetown has received a second $100-million gift for its school of public policy from Frank H. McCourt Jr. (after whom the school is named). A Georgetown alumnus, he formerly owned the Los Angeles Dodgers, and was a Boston real-estate developer.
Nota Bene
Academy accolades. Four faculty members have been elected to the National Academy of Sciences: Alan D. D'Andrea, Fuller-American Cancer Society professor of radiation oncology; Vadim N. Gladyshev, professor of medicine; David M. Knipe, Higgins professor of microbiology and molecular genetics; and David R. Liu, Cabot professor of the natural sciences.
Excellent economist. Professor of economics Isaiah S. Andrews has been awarded the John Bates Clark Medal, conferred on the American economist under the age of 40 who is judged to have made the most outstanding contributions to the field. An econometrician, Andrews develops statistical models and tools used widely in economics and related disciplines. He is also a 2020 MacArthur Fellow.
Class of 2025. Given the pandemic, Harvard and other colleges did not require applicants to provide standardized-test scores—and they responded with enthusiasm. A record 57, 435 sought admission, and 1,968 were admitted: 3.4 percent. The term bill, before any financial aid, will be $74,528 for 2021-2022, up 3 percent from the year just ended. Complete details appear at harvardmag.com/2025-admits-21.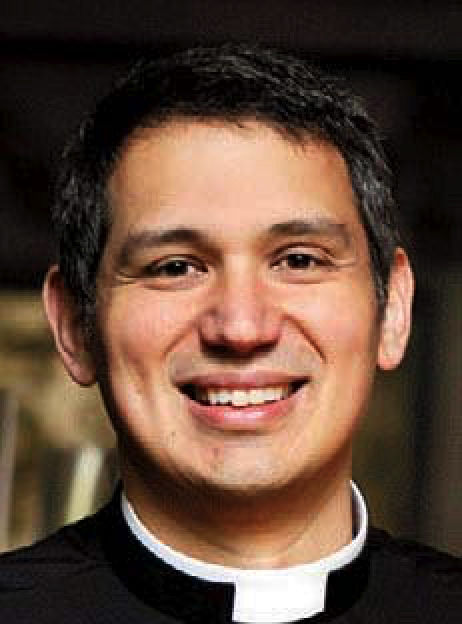 Photograph by Stephanie Mitchell/HPAC
Memorial minister. Matthew Ichihashi Potts, an Episcopal priest and professor of religious studies and literature, has been appointed Pusey Minister in the Memorial Church and Plummer professor of Christian morals, as of July 1. Stephanie Paulsell had been interim minister since Jonathan L. Walton departed in 2019 to become dean of Wake Forest's School of Divinity. Read further details at harvardmag.com/potts-pusey-minister-21.
Maths…and science. Professor of mathematics Melanie M. Wood has received the Waterman Award, the National Science Foundation's most prestigious prize for scientists under the age of 40. She is the first woman mathematician so honored; the award comes with $1 million to support her research during the next five years. (Professor of chemistry and chemical biology Emily Balskus, profiled on page 36, won in 2020.)…Weld professor of atmospheric chemistry James G. Anderson won the Dreyfus Prize in Chemical Sciences for his work in environmental chemistry; it carries a $250,000 prize.
Radcliffe fellows. The Radcliffe Institute, hoping to welcome its fellows to campus after this past virtual year, named a cohort of 52 for 2021-2022, including seven Harvard faculty members: Caroline Buckee, associate professor of epidemiology; Erica Chenoweth, Stanton professor of the First Amendment; Elena Leah Glassman, assistant professor of computer science; Oliver Hart, Geyser University Professor; Anthony Abraham Jack, assistant professor of education; Tiya Miles, professor of history; and Sandra Susan Smith, Guggenheim professor of criminal justice (see "Jobs and Jail," May-June, page 32). For more information on other Harvard affiliates, with links to the complete cohort, see harvardmag.com/rias-fellows-21.
Athletics org chart. Nichols '53 Family director of athletics Erin McDermott has created deputy directorships for external and internal operations, effective July 1. Yulander Wells Jr. assumes the former position, responsible for communications, ticketing, marketing, alumni relations, and development, among other areas. He comes from the University of South Florida's athletics operation, where he most recently oversaw business, finance, administration, and development. Nathan Fry, who joined Harvard athletics in 2003 and has been senior associate director since 2014, will oversee internal operations, including compliance, recruiting, events, and so on.
Top earners. Among University administrative leaders, President Lawrence S. Bacow was the most highly compensated in calendar year 2019, his first full year in Massachusetts Hall, with reported income of $1,046,906, plus other compensation of $177,983 (principally for the value of his official residence, plus medical and retirement benefits). Among the investment professionals, Harvard Management Company CEO N.V. Narvekar was the top earner (adjusted for one-time items), at $6,252,291. Full details are at harvardmag.com/harvard-top-earners-21.
Club construction. The Harvard Club of Boston and Trinity Financial have proposed two buildings, one 11 stories tall, on the club's annex and parking lot facing the Massachusetts Turnpike. They would accommodate subsurface parking, new athletic facilities, and 133 residential units.
Miscellany. Richard McCullough, vice provost for research and professor of materials science and engineering, has been appointed president of Florida State University.…The 2021 Warren Alpert Foundation Prize—a preeminent honor for biomedical research, administered by the Medical School—has been awarded to Lynne Maquat, professor of biochemistry and biophysics at the University of Rochester, and Joan Steitz, Ph.D. '67, Sterling Professor of molecular biophysics and biochemistry at Yale, for discoveries about RNA.…Pierce professor of psychology Daniel T. Gilbert was awarded an honorary Doctor of Social Science degree by Yale during its commencement on May 24.…Diane Borger, executive producer of the American Repertory Theater for a dozen years (and co-leader with Bloom artistic director Diane Paulus), stepped down effective June 30 to return to London, where she was based for the preceding three decades. She has been the ART liaison to the Harvard-Radcliffe Drama Club and producing associate in the College's concentration in theater, dance, and media.…Meeting demand—and capitalizing on its pandemic and other expertise—the Harvard T.H. Chan School of Public Health is offering a certificate in public health and business leadership, running from September through next May; tuition is $30,000.…Sociologist Roberto Gonzales, an expert on the lives of undocumented youths, who was profiled in "From Neither Here Nor There" (July-August 2020, page 32), has departed Harvard for a University Professorship at Penn.
Published in the print edition of the July-August 2021 issue (Volume 123, Number 6), under the headline "Brevia."
You might also like
Harvard Chabad, IDF, and Bill Ackman screen October 7 Hamas footage
Toward another apartment complex on Harvard-owned land
Stepping down after 30 years of University service
Most popular
After a multiyear renovation, Harvard Art Museums make ready for a November reopening.
Fall travel to New England's seacoast offers art, history, biking, and great restaurants
Harvard's Art Museums reopen, poised to fulfill their pedagogical purpose.
More to explore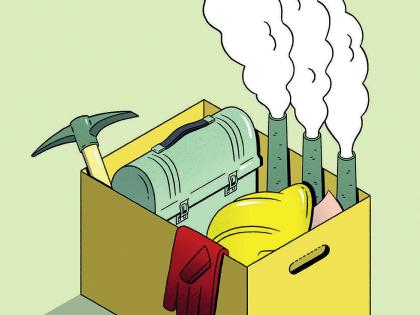 Expect massive job losses in industries associated with fossil fuels. The time to get ready is now.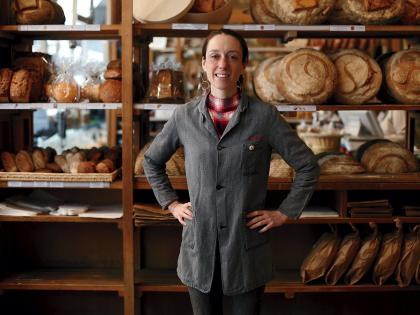 A third-generation French baker on legacy loaves and the "magic" of baking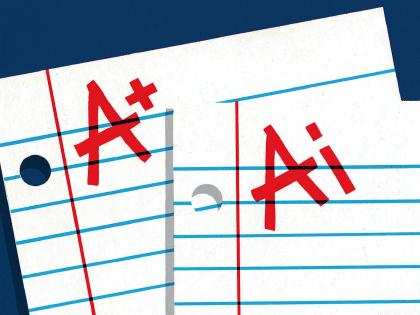 Generative AI can enhance teaching and learning but augurs a shift to oral forms of student assessment.