Off the Shelf
Recent books with Harvard connections
Reason and Politics: The Nature of Political Phenomena, by Mark Blitz '66, Ph.D. '71 (University of Notre Dame, $45). In a society that has become politicized to the point of exhaustion (and violence), the author—Claremont McKenna's Jones professor of political philosophy—offers a guide to freedom, rights, power, property, virtue, and more—not only in theory, but as lived experiences. This is philosophy, not light verse, but perhaps a timely, calming antidote to current vexations and confusions.
Do Not Erase: Mathematicians and Their Chalkboards, by Jessica Wynne (Princeton, $35). A gift to anyone who doesn't do high-level math (nearly everyone): portraits of the boards where things are worked out, accompanied by the practitioners' explanations. Among the Harvard examples, Benjamin Peirce Fellow and postdoc Ana Balibanu diagrams work on Hessenberg varieties, a family of complicated geometric objects. Her board documents "lists of speculations," of which, it turns out, "some of them are true and some of them are not"—an exciting moment of "many possibilities."
Against Silence: Poems, by Frank Bidart, A.M. '67 (Farrar, Straus and Giroux, $25). A new collection, serious and even elegiac in tone—"Why the Dead Cannot Answer," "On My Seventy-Eighth" ("There will be just two at/table tonight…")—and often complex in form, by the Pulitzer Prize- and National Book Award-winning poet.
Humane: How the United States Abandoned Peace and Reinvented War, by Samuel Moyn, J.D. '01 (Farrar, Straus and Giroux, $30). Moyn, the Luce professor of jurisprudence and professor of history at Yale Law and Yale, explores the problem that "In our time, swords have not been beaten into plowshares. They have been melted down for drones"—of the sort that, say, bomb targets, sometimes civilian, in Afghanistan. As "the United States has made a clear choice to make war more humane," it has also made war more "tolerated by audiences for that very reason." The unwanted result is that "one antiwar candidate then another became an endless-war president."
Stoic Wisdom: Ancient Lessons for Modern Resilience, by Nancy Sherman, Ph.D. '82 (Oxford, $24.95). A University Professor in ethics and moral philosophy at Georgetown, Sherman applies an ancient school of belief to contemporary challenges ("I am writing in the midst of a raging pandemic"). It is uncertain how Epictetus would react to a chapter on "Lifehacks," but the work is accessible, not dumbed-down, treating Stoicism as "a way to endure and cultivate inner virtue when tight control from outside threatens your very being."
Intelligent Love: The Story of Clara Park, Her Autistic Daughter, and the Myth of the Refrigerator Mother, by Marga Vicedo Ph.D. '05 (Beacon Press, $28.95). An historian of science at the University of Toronto unpacks the celebrated 1960s case of Clara Park '44, David Park '41, and their daughter Jessy, a foundational moment in overturning the paradigm of blaming mothers' (presumably excessively intellectual and unemotional) behavior for their children's autism. Vicedo is intellectual and emotional herself: Clara Park, she writes, is a valuable guide to navigating life's troubles "with logic and love, with science and literature…. No dichotomies." 
Geniuses at War: Bletchley Park, Colossus, and the Dawn of the Digital Age, by David A. Price, J.D. '86 (Knopf, $28). The British success in cracking the Nazi Enigma coding machine is widely known. The hero of that tale, Alan Turing, along with fellow mathematician Max Newman and engineer Tommy Flowers, also featured in the untold story of the Colossus machines, apparently the world's first digital electronic computers, used to decrypt vastly more complex coding technology—and thus gain access even to Hitler's messages to commanders detailing their defenses ahead of D-Day. Gripping stuff.
Genomic Politics: How the Revolution in Genomic Sciences Is Shaping American Society, by Jennifer L. Hochschild, Jayne professor of government and professor of African and African American studies (Oxford, $27.95). How will, and should, Americans think about applications of genomic discoveries—to personalized, even racially differentiated, medicines; ancestry testing; forensic databases; and prenatal testing and gene editing? A rigorous, analytical approach, by someone who deems herself an "Enthusiast," albeit one whose sentiment  is "fully considered…but also conditional."
Stranger Care: A Memoir of Loving What Isn't Ours, by Sarah Sentilles, M.Div. '01, Th.D. '08 (Random House, $28). An extremely personal memoir about being the foster parent to an infant, knowing that the child "isn't ours" and is most likely destined to return to birth parents. One can sign up to foster, but then, "I couldn't stop thinking about having to give her back…couldn't stop picturing people coming to my door, making me hand her over, watching them drive her away."
Read Until You Understand: The Profound Wisdom of Black Life and Literature, by Farah Jasmine Griffin '85 (W.W. Norton, $26.95). A thematic immersion in black literature, in the form of a memoir (the title is from a note the author's father wrote to her), by the Ransford professor of English and comparative literature (among many other roles) at Columbia. Although deeply informed by scholarship, this book has deep emotional resonances. Encountering Romare Bearden's paintings of dressmakers, Griffin recalls the seamstresses in her own family, who "make something from nothing, they make magic"—transformations, in service to others.
People Love Dead Jews: Reports from a Haunted Present, by Dara Horn '99, Ph.D. '06 (W.W. Norton, $25.95). In this provocatively titled collection of essays, the celebrated novelist (see "A Novel Take on Eternal Life," January-February 2018, page 55) probes what it means, and feels like, to be Jewish in a world where "most people…had only encountered dead Jews: people whose sole attribute was that they had been murdered, and whose murders served a clear purpose, which was to teach us something. Jews were people who, for moral and educational purposes, were supposed to be dead." With a clear vision, she pursues "the many strange and sickening ways" this plays out today.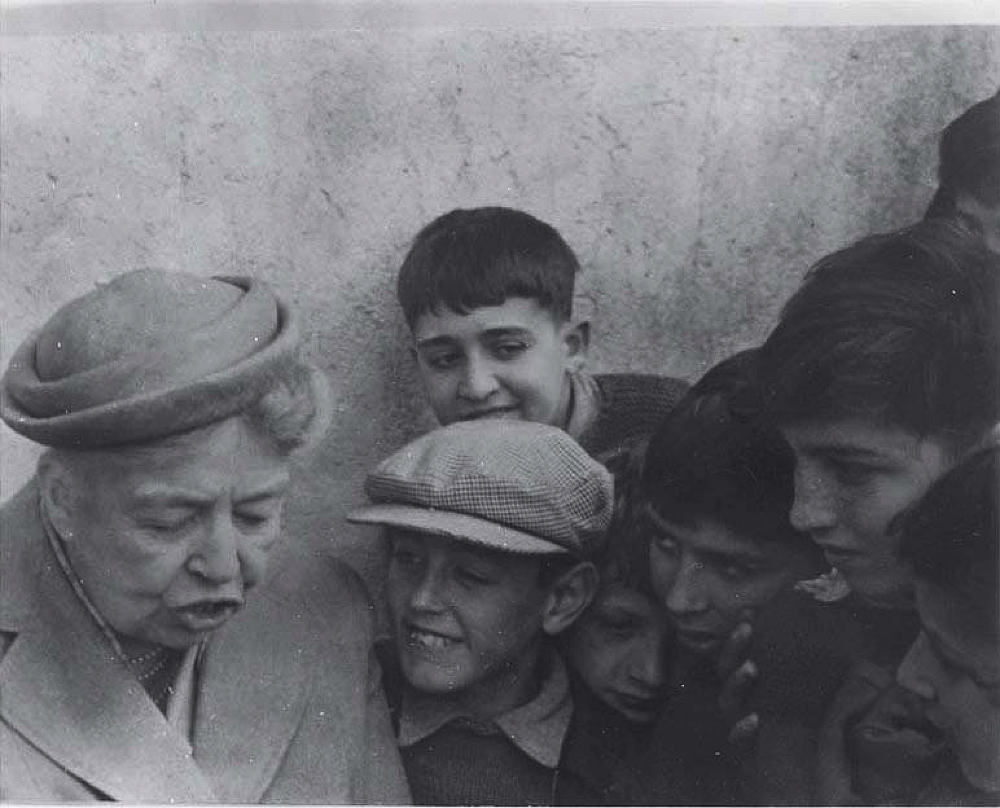 Franklin D. Roosevelt presidential Library
Refuge Must Be Given: Eleanor Roosevelt, the Jewish Plight, and the Founding of Israel, by John F. Sears '65 (Purdue, $39.99 paper). The former associate editor of the Eleanor Roosevelt papers recounts her evolving thinking on the persecuted Jews of Europe during World War II, her involvement in refugee policy, and her advocacy, at the United Nations, for partitioning Palestine and subsequently championing the new state of Israel. Sears acknowledges that ER's humane instincts were shaped by her "strongly Western perspective on the world [as] evident in the paternalistic and demeaning attitudes she expressed toward the Arabs." Useful context for today.
Cranial Fracking, by Ian Frazier '73 (Farrar, Straus and Giroux, $25). It is always good to have a new collection from The New Yorker humorist/journalist (profiled in "Seriously Funny," September-October 2008, page 40), including a few new pieces. Who hasn't had the experience of being put off by a company, as in "In the Mail": "Dear Sir, Your check has been cut and is ready to be mailed to you. The person who will mail it to you is currently being mailed to us. We will keep a close eye on our mail, and as soon as it arrives, with him in it, we will transfer the check to him to mail to you immediately."
You might also like
Viet Thanh Nguyen urges moving beyond the "sob story."
The context for Harvard Management Company's 2023 results
The Crimson outlasts the Bears in an Ivy nighttime shootout.
Most popular
The Faculty of Arts and Sciences announces disciplinary actions.
The Undergraduate learns about making knowledge mutual.
Boston's Piattini Wine Café 
More to explore
A test can identify these productivity-boosting personnel.
Ancient history professor studies coins, ceramics, and Zelda.
Anwar Floyd-Pruitt's wildly profuse art