John Harvard's Journal
Brevia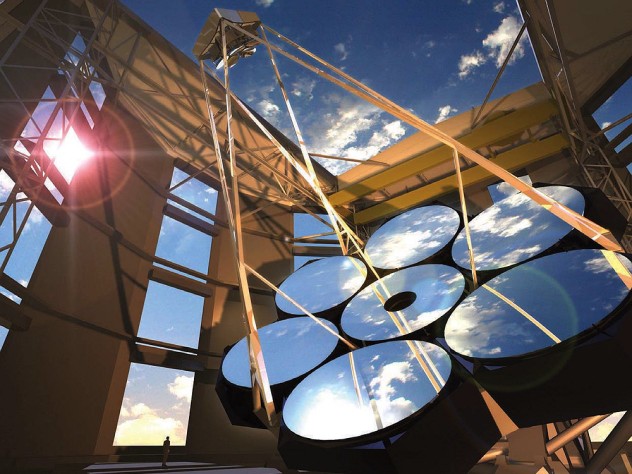 Image courtesy of the Giant Magellan Telescope/GMTO Corporation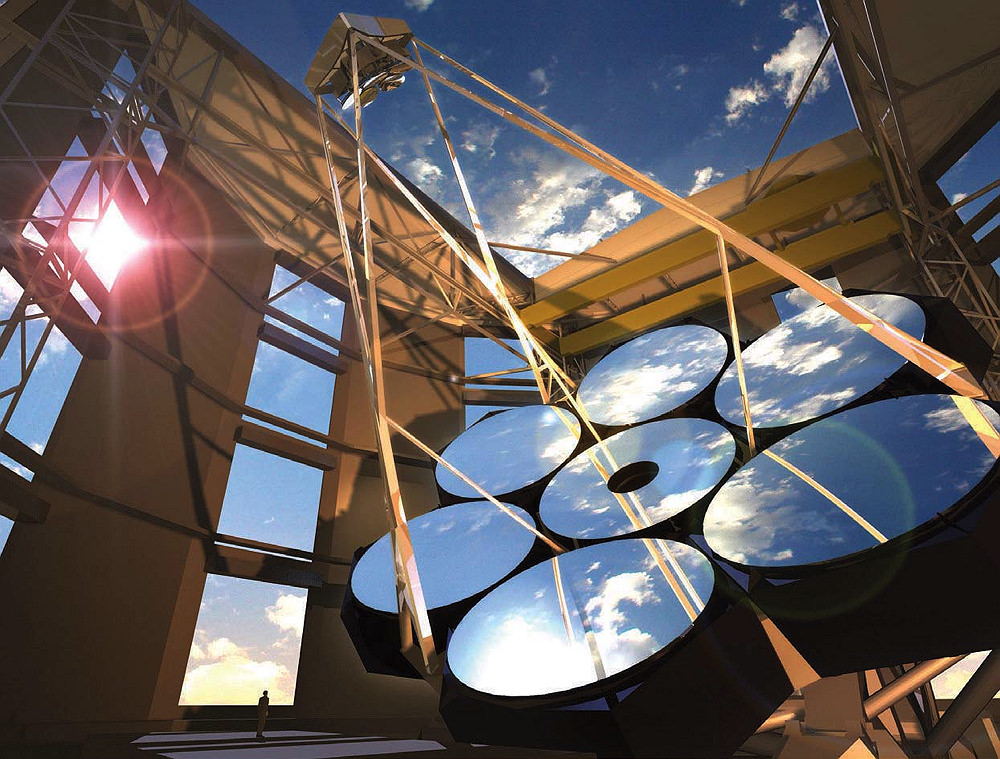 Image courtesy of the Giant Magellan Telescope/GMTO Corporation
Astronomy agenda. 
The next-generation, 24.5-meter (aperture) Giant Magellan Telescope—supported by a 13-member consortium of universities and science institutions, prominently including Harvard—has been recommended for federal support as part of the U.S. Extremely Large Telescope Program. Such funding, advocated in the National Academies' recent Decadal Survey on Astronomy and Astrophysics 2020, could secure completion of the project (described in "Seeing Stars," May-June 2013, page 32). Site preparation, at the Las Campanas Observatory, in Chile, has begun, and six of the seven enormous primary mirrors for the instrument have been cast in Arizona. The telescope's size and instruments will make it the most powerful ground-based optical telescope available for astronomical research at the beginning of the next decade.
Teacher-Training Transitions
The Harvard Teacher Fellows program, unveiled in 2014 as a path for undergraduates into careers in middle- and high-school classrooms (see "Educating Teachers," November-December 2016, page 34), has been closed. Seniors could take Graduate School of Education course work in their spring semester, do further coursework and summer-school teaching upon graduation, enter a supervised half-time placement come the fall of the new academic year while continuing professional-development work, and then conclude with another summer of work leading to certification and, if wanted, a master's degree. Now, those interested are directed to HGSE's Teacher and Teacher Leadership master's degree program, opening next fall, with the summer foundation courses common to all the school's master's offerings (see "Education, Reschooled," May-June 2021 page 17), and optional licensure.
Connections to Slavery
As the Presidential Initiative on Harvard and the Legacy of Slavery, run by the Radcliffe Institute, prepares to report to the community this winter or spring, similar work proceeds at other institutions. Yale President Peter Salovey led a three-day conference there in late October, at which he acknowledged "that slavery and the slave trade are part of Yale's history—our history." Among the findings: that enslaved Africans' labor helped to construct the iconic Connecticut Hall; prominent Yale and New Haven leaders stopped a proposal to build a college for black students in New Haven in 1831; and Memorial Hall's rotunda gave equivalent prominence to the names of Confederate and Union soldiers, during a university campaign to recruit Southern students and donors. Yale intends to memorialize enslaved and indigenous people, meaningfully increase direct financial support to New Haven, and collaborate with historically black and tribal colleges and universities. Separately, Brown published a fifteenth-anniversay edition of its landmark 2006 "Slavery and Justice Report," with reflections on its impact and implementation.
Campaign Commitments
Even as they reported astonishing endowment gains (see page 15), some Harvard neighbors and peers announced outsized fundraising news. MIT concluded a campaign on September 30, having raised $6.24 billion (initial goal: $5 billion). The next day, Princeton revealed Venture Forward, coyly named "an engagement and fundraising campaign," but with no public multibillion-dollar goal nor end date. Priorities include expanded access and aid (Princeton is again expanding its student body) and research in data science, bioengineering, and the environment. Yale's "For Humanity" effort, unveiled October 2 with half its $7-billion goal in hand, heavily emphasizes research investments in neuroscience, data science, quantum science and engineering, biomedical aspects of inflammation, and climate change. Having concluded a $6.36-billion effort in December 2015, Cornell began the sequel on October 22: a $5-billion "To Do the Greatest Good" campaign. Harvard-affiliated Massachusetts General Hospital is seeking $3 billion, part of which will pay for its recently approved, $1.9-billion campus expansion.
COVID-19 Compliance
Leaving no doubt about Harvard's compliance with the federal order that employees of federal contractors be fully vaccinated, President Lawrence S. Bacow advised the community on October 18 that no matter where employees work (on campus or remotely), the rule covers them: apart from medical or religious exemptions, "Individuals who do not have a legal exemption and are not fully vaccinated by December 8, 2021, will no longer be eligible to work at Harvard." As of mid October, visitors to the Harvard Art Museums and those attending American Repertory Theater shows or indoor Harvard Athletics events were required to submit proof of full vaccination or a timely negative PCR test. And to monitor any fallout from renewed virus exposure, upon their return from Thanksgiving-break travels, residents of on-campus undergraduate housing were again subjected to thrice-weekly COVID-19 testing, effective November 28.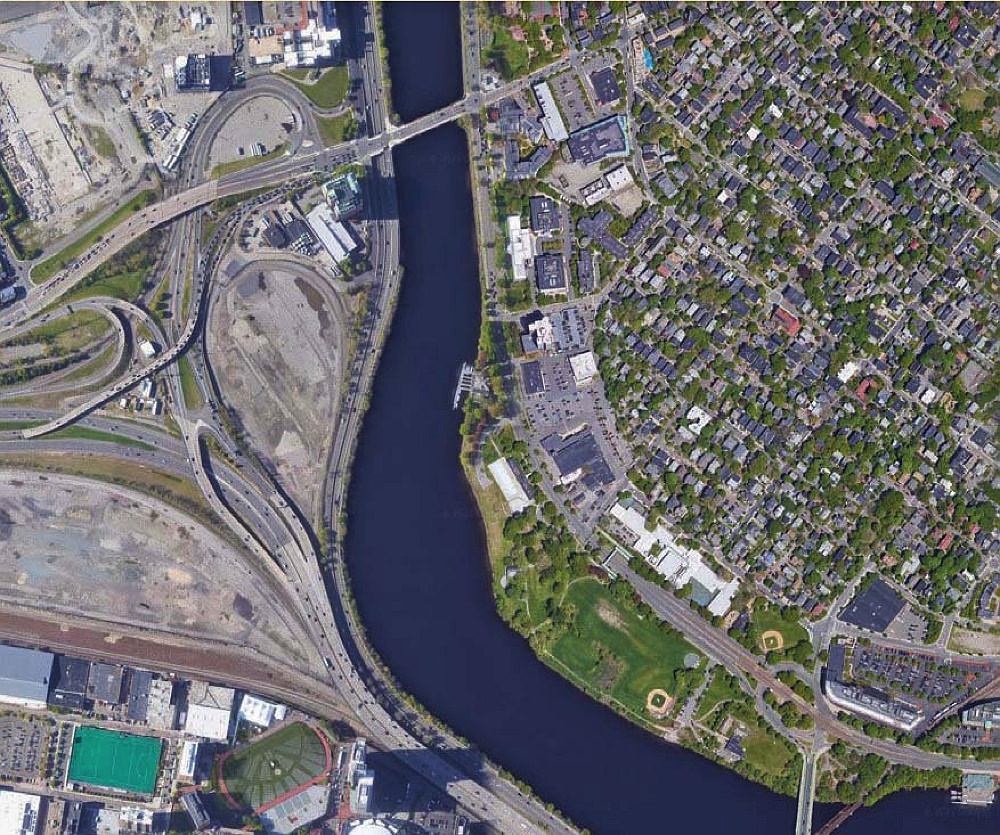 Google Earth
Mass Pike Plans
After much deliberation, the Commonwealth has settled on a ground-level reconstruction of the Massachusetts Turnpike and Soldiers Field Road in Allston, in a tight corridor alongside the Charles River and the Boston University campus. The work, intended to straighten the highway (which now curves around on an aging viaduct), is expected to cost as much as $1.7 billion, and to take a decade to effect. Harvard has offered to help pay for a new commuter-rail and multimodal transit station within the project. The University owns the 91-acre Allston Landing South (former railyards—the largely vacant space shown left center), which will become available for development when the transportation infrastructure is rebuilt. 
On Other Campuses
The University of Wisconsin-Madison has secured a $125-million philanthropic commitment, plus $50 million from its affiliated alumni research foundation, to underwrite its new, collaborative School of Computer, Data & Information Sciences.…Insurance executive Patrick G. Ryan and Shirley W. Ryan, both graduates and already the largest donors to their alma mater, have upped their giving to Northwestern University by $480 million (pushing a capital campaign to a total of $6.1 billion), in support of biomedical and other research efforts and a renovation of the eponymous football stadium.…Rice University received a $100-million grant from the Moody Foundation, matching the largest gift in its history, to build a new student center designed by David Adjaye.
Nota Bene
Stanford extension ambitions? Stanford has agreed to purchase the campus of Notre Dame de Namur University, in nearby Belmont, California, a potential site for expanding its continuing-education, professional, and extension programs. Such programs, which generated $500 million of tuition and fees at Harvard in fiscal year 2019, have been a major focus of the University's ambitions for revenue growth.
Asian-American studies. As the Faculty of Arts and Sciences pursues hiring multiple faculty members focused on ethnicity, indigeneity, and migration, it has announced $45 million in gifts to support Asian American studies. According to the Harvard Gazette announcement, the fundraising effort, organized by Joseph Y. Bae '94 and Janice Lee '94 and supported by a dozen other alumni, will endow professorships and graduate fellowships, and underwrite research.
Art assist. Emily Rauh Pulitzer, A.M. '63, a lead benefactor of the Harvard Art Museums (see harvardmag.com/pulitzer-boosts-museum-08), continued her support of the arts in her hometown by donating 22 major works, principally European and American twentieth-century paintings and sculptures (Picasso, Braque, Brancusi, and others) to the St. Louis Art Museum.
Drug-development deal. National Resilience Inc., the newly formed company that purchased the former Genzyme manufacturing plant at Western Avenue and the Charles River, has entered into a five-year, $30-million research and development agreement with Harvard's Office of Technology Development. According to the announcement, Resilience will fund faculty-initiated research focused on novel therapeutic and biomanufacturing technologies emanating from University labs. New companies formed by Resilience may pursue commercially promising candidates for clinical refinement.
Honored environmentalist. The National Academy of Engineering has conferred its Arthur M. Bueche Award on John P. Holdren, Heinz research professor of environmental policy at the Harvard Kennedy School and in the department of earth and planetary sciences, recognizing his contributions to technology research, policy, and international cooperation. Science adviser to President Barack Obama (see harvardmag.com/climate-solutions-15), Holdren is an authority on environmental and energy policy.
Miscellany. In the wake of the College's abandoned policy sanctioning members of single-gender social organizations, The Harvard Crimson reported that the all-female Bee Club has purchased the Bow Street building long known to patrons as Cafe Pamplona's venue, and so has its own clubhouse again.…Given constraints on operating in Beijing (and against the backdrop of the broader chill in Sino-U.S. relations), Harvard Summer School has relocated its Chinese-language immersion program to Taiwan and renamed it the Harvard Taipei Academy.…The Schuler Education Foundation began a $500-million program to expand underserved students' access to liberal-arts colleges. The initial recipients include Bates, Carleton, Kenyon, Tufts, and Union. Schuler ultimately hopes to support recruitment and enrollment of undocumented and Pell Grant-eligible students at 25 institutions.…Harvard is suing its excess insurance company to recover the costs of defending itself in the Students for Fair Admissions anti-affirmative action litigation. In the complaint, the University says its costs have exceeded the $25 million (minus a $2.5-million deductible) covered under a primary policy, and so seeks reimbursement under a $15-million excess policy.…Professor of history Tiya Miles won the National Book Award for All That She Carried; for more on her work, see harvardmag.com/tiya-miles-21.