Over the River Dept.
Branding. Even when at play, apparently, the M.B.A.s-to-be at Harvard Business School (HBS) are also at work. The lawn between the spiffy Klarman Hall (HBS's terrific conference facility) and the Schwartz Pavilion (for covered outdoor lounging) is equipped with casual seating and—who knew?—cornhole gear.
Lest this be thought too down-market or frivolous, it turns out to be a continuing lesson in branding: the target boards are crimson, with prominent HBS initials. Who gets the credit for that?
No word on who the champions might be, or whether this qualifies for inclusion on a résumé submitted to Goldman Sachs recruiters.
The soul of an engineer. Across Western Avenue, the science and engineering complex—home to much of the School of Engineering and Applied Sciences faculty—looms large. Inside, the building is as cutting-edge as can be: exposed cables and piping overhead; glass-walled working spaces so passersby can see students manipulating apparatuses; an acrophobia-inducing central atrium (somewhat buffered with newly installed glass panels on the surrounding railings); a mini-library to which books are shipped from elsewhere on campus and await their users in tiny lockers; and many colorful, casual seating areas where ideas presumably spark.
This is not, however, solely the preserve of secular tinkerers. Just down the hall from the casual cafe (sandwiches, bowls, etc.), room 1.306 (in an MIT-styled locating convention) is a dedicated Prayer and Meditation Room. And to be sure novices know how to pray and meditate, there are seven rules for use posted on the glass wall: hours 7 a.m. to 7 p.m., occupancy by no more than four people at a time, a 30-minute limit, etc.
Call it the applied science of prayer and meditation.
Metrical Mineralogist. Cornelius Searle Hurlbut Jr., who was professor of mineralogy and a widely published author on that subject and gemology, was memorialized by colleagues on December 6, long after his death (in 2005!). He was also recalled for mineral-inspired compositions, making him perhaps the foremost—or only—poet of crystallography. Hence, "Crystal Problems":
When first I studied crystals/I didn't have the knack/Of three dimensional thinking:/This skill I seemed to lack.
I'd turn and twist the crystal round/In hope that I could see/At least one axis or a plane/Of crystal symmetry.
The prism, pinacoid, and dome,/The rhombic pyramid/All looked the same to me,/No matter what I did.
But now I've studied long and hard,/And think I'm somewhat wise,/For in no length of time at all/The cube I recognize.
Sunstruck. Few Harvard College class secretaries rate the back-page obituary in The Economist (plus substantial write-ups in the New York Times and Boston Globe), but Jay M. Pasachoff '63, Ph.D. '69, did. Not for his services to his fellow alumni, of course (nor for his pungent letters to this magazine), but for his five decades of astronomical science and teaching at Williams College, in which capacity he observed most of the 75 solar eclipses he took in during his 79 years—the first of them as a freshman, aboard a DC-3 off the Massachusetts coast, with Donald H. Menzel. Pasachoff, already into astronomy, was hooked.
The Economist notice of his death November 20, in the December 10, 2022, issue, said chasing eclipses, students in tow, to observe the corona and share his passion, "took him all over the place. Every 18 months or so, the usual time-lapse between total eclipses, he would fly off, packing hundreds of pounds of equipment and his orange trousers, and on his return he would be planning the next excursion, scraping funds together, scanning the 'paths of totality' across the globe, and poring over cloudiness statistics to be sure of an unobscured view" in Mexico, Rajasthan, Bucharest, and elsewhere.
The obituary noted that a terrific eclipse was forecast for 2024: "He wanted everyone to observe it. As for him, he was already plotting hotel reservations in Sinaloa, the place with the best view." It won't be the same without him. Nor will the class's sixtieth reunion this June. 
You might also like
The Crimson springs a major upset.
Harvard officially installs Claudine Gay, its thirtieth leader.
A half-dozen symposiums feature Harvard research on AI, climate change, inequality, and more
Most popular
A profile of Harvard's thirtieth president
Life decisions en route to Massachusetts Hall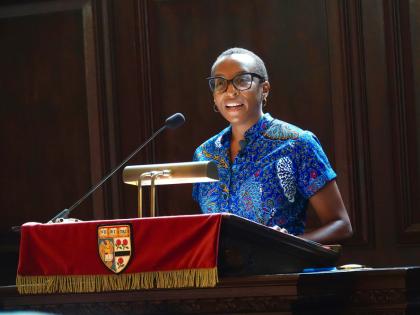 President Claudine Gay's first semester-opening Morning Prayers
More to explore
A test can identify these productivity-boosting personnel.
Ancient history professor studies coins, ceramics, and Zelda.
Anwar Floyd-Pruitt's wildly profuse art