News
Readying for a Reckoning
2.24.23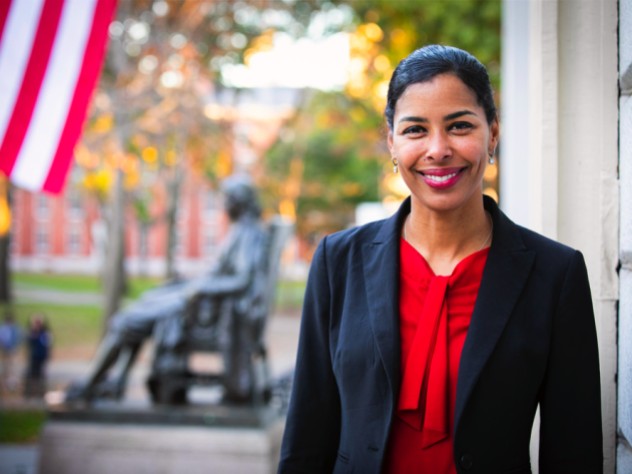 Photograph by Stephanie Mitchell/Harvard University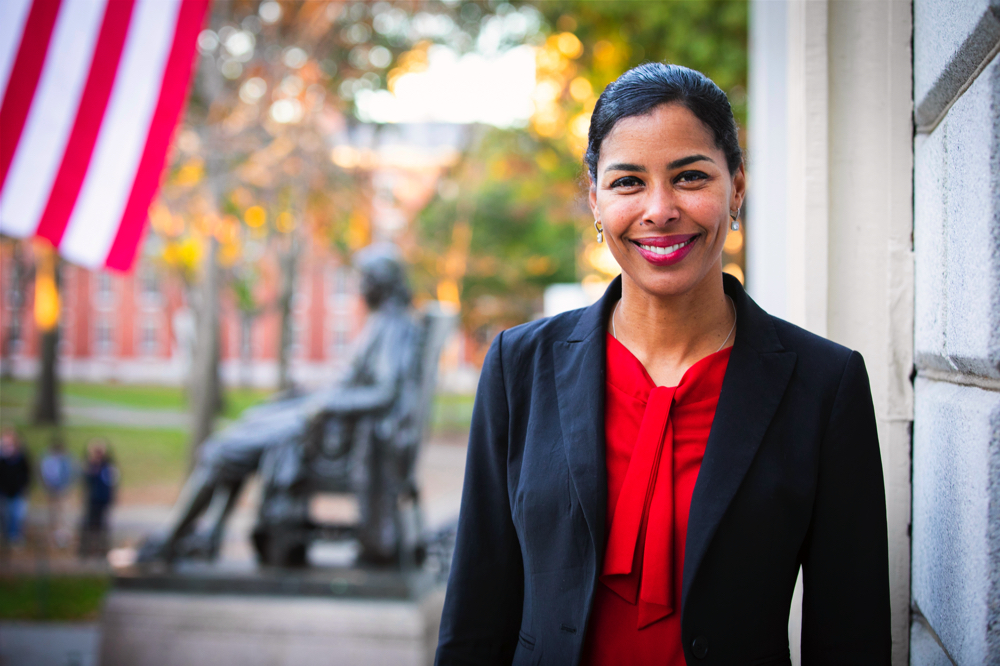 Photograph by Stephanie Mitchell/Harvard University
In late January, health policy expert Sara Bleich stepped into a newly created role at the University, as vice provost for special projects, charged with overseeing efforts to implement the seven recommendations laid out last year in a detailed report on Harvard's historical ties to slavery, produced by the Presidential Committee on Harvard and the Legacy of Slavery. This week, Bleich spoke with Harvard Magazine about her first few weeks on the job: what she's learned, what priorities have taken shape, and how she sees this work progressing. "This is the kind of project," she said, "that has the ability to change Harvard for the better in the long term." 
For Bleich, the position was a return to campus after two years in Washington, D.C., where she worked with the U.S. Department of Agriculture on projects related to COVID-19, nutritional security, and health equity. As professor of public health policy at the Harvard T.H. Chan School of Public Health (she's also Pforzheimer professor at the Radcliffe Institute and a faculty member at the Harvard Kennedy School), Bleich studies diet-related diseases, particularly among at-risk populations. Her research often relies on asking what she calls "simple, meaningful questions" that yield important knowledge. A similar approach, she has said, guides her in the new role—asking the right questions, then taking  action. Key among those questions at this early stage: "What is already happening, and how can we build on that?"
Many of the priorities for the upcoming 2023-24 school year involve creating what Bleich calls "institutional muscle" to drive the work forward: hiring staff in communications, administration, and project management whose jobs are dedicated full time to implementation; building tools for communication and collaboration (Bleich's office recently debuted a website that will be updated with news and information); strengthening institutional infrastructure. "A key step" in the early process, Bleich said, "is listening to leadership and understanding how we can, with our resources, be most effective. And that is a series of conversations we will undertake in the months to come." 
The University has taken some steps already. Last summer, Three Hundredth Anniversary University professor Martha Minow was named chair of a six-member faculty committee focused on implementing the report's recommendations. Then, in October, Minow's committee announced that Richard Cellini had been appointed to lead a remembrance program tasked with identifying the descendants of people who were once enslaved on Harvard's campus or by Harvard affiliates. (Two of the report's recommendations involve finding and engaging direct descendants.) An attorney and scholar, Cellini had founded and led the research institute that helped locate direct descendants of the enslaved people sold in 1838 to raise funds for Georgetown University. 
In December, not long after Bleich's position was first announced, the University hired Roeshana Moore-Evans as executive director of the Harvard and the Legacy of Slavery Initiative. Previously, she had been an administrator and advisor at the Broad Institute of MIT and Harvard, serving as chief of staff to the director of a patient-partnered research project. Her professional experience includes leading conversations and activities around health equity and structural racism. She is now part of the team working with Bleich, Cellini, and Minow.
In early February, Harvard named a 13-member committee to lead efforts to build a memorial for the enslaved (among the report's recommendations was that the University "honor the enslaved people whose labor facilitated the founding, growth, and evolution of Harvard through a permanent and imposing physical memorial, convening space, or both"). The committee is co-chaired by Tracy K. Smith, professor of English and African and African American studies and Wallach professor at the Radcliffe Institute; and Dan Byers, the Robinson Family director of the Carpenter Center for the Visual Arts. The group's work, Bleich said, "is just getting under way," but has held its first meeting. "The memorial is one important piece of the recommendations," she added, "and we are moving forward on it in a very deliberate and thoughtful way."
Beyond University-wide steps, Bleich also stressed more localized efforts taking place within individual schools at Harvard to incorporate the report and its recommendations. The Law School recently announced a new partnership with the Royall House and Slave Quarters in Medford, which includes a $500,000 gift to support the museum. The Harvard Divinity School has been holding a series of online public conversations, exploring religion and the legacies of slavery. "This type of work is so important," Bleich said, "because for us to propel this work forward, we need to embed these activities in the DNA of the University." 
Bleich also noted work toward another recommendation from the report: to develop partnerships with historically black colleges and universities (HBCUs). Some of the efforts currently under way, she said, are an extension of existing ties. "We are really continuing to… deepen meaningful relationships with HBCUs, and build on long-standing partnerships." One such partnership brings together the neuroscience communities at Harvard Medical School and Morehouse School of Medicine in Atlanta, which have collaborated for years on various research and educational initiatives. In addition, the Paulson School of Engineering and Applied Sciences, the Graduate School of Arts and Sciences, the Faculty of Arts and Sciences, Harvard Business School, Harvard Graduate School of Education, Harvard Kennedy School, and the Radcliffe Institute all have participated in partnerships with HBCUs, in which faculty and students collaborate. "And so that is an area where we will be looking for different ways to engage in ways that will make an impact on HBCU communities," Bleich said. 
And she is trying to ask simple, meaningful questions. In thinking about engaging with HBCUs, she asks, "What do effective solutions look like? The answers are not going to come from Harvard—the answers need to come from leadership at those institutions."  She added, "I don't think we have the answer to that yet … but I think it's very exciting." 
Another set of questions occupying Bleich involve the report's first recommendation, which calls on Harvard to "leverage its scholarly excellence and expertise in education to confront systemic and enduring inequities that impact descendant communities in the United States." This is "probably an area where we have the most opportunity," she said. The report encourages the University to fulfill this charge by partnering with K-12 schools, community colleges, tribal colleges, universities, and nonprofit organizations that are already working in this field. Bleich said she is especially interested in what Harvard can do "in the online space," which could take many forms, including courses taught online, or making course content more widely available beyond Harvard's physical campus—though the specific strategies are still under discussion. "There's so much possibility for how Harvard can make a difference here. And so I'm asking myself, What does that look like? How do we effectively partner… as we are thinking about reckoning and repair?" 
One element uniting all these questions—and their eventual answers—is the scale and scope, and the importance, of the work. Last year, Harvard pledged $100 million to carrying out the report's recommendations. "Slavery is a very difficult thing to grapple with," Bleich said. The revelations contained in the report are enormously painful and complex. "The path we are going down is one for which we lack a roadmap," she said. "We have to figure out—based on our history, based on our resources, based on the conversations that we are having—[how] to drive into this white space, and do it in a way that really allows us to reckon with our history, but then also puts us on a path to repair. And the fact that there is no agreed-upon way to do this is scary. But I also think it's a huge opportunity….I don't know of another opportunity where there is a chance to change Harvard for the better the way this initiative has the potential to do."