Master Watercolorists
Watercolors, vulnerable to damage from overexposure, rarely leave climate-controlled museum storage vaults. Often, they are so delicately composed that what's omitted can make the most dramatic visual impact, as in the case of John Singer Sargent's 1917 Muddy Alligators. The famous portraitist was also a master watercolorist. In this case, Sargent traveled to Miami to render a pair of Rockefellers and became entranced by the tropical plant life and animals, producing, among other works, the primordial image of five reptiles lounging in the sun and shallows, says Nancy Kathryn Burns, Stoddard curator of prints, drawings, and photographs at the Worcester Art Museum (WAM), where the painting is now on display. "The weightiest thing in the work is the tonnage of these alligators in a swampy, lagoon-like setting. And yet they are almost exclusively composed of just the paper with minimal marks," she says. "The most realized parts of the alligators are these staccato-like strokes that evoke the ridges of their backs. But you can feel their massive weight, their potential to lash out."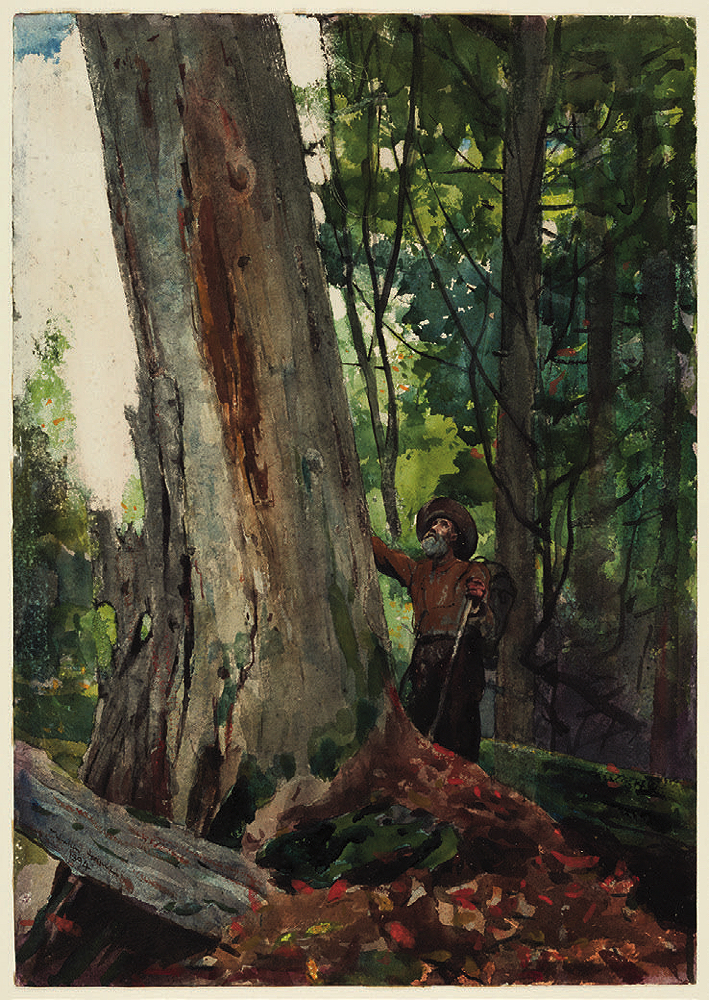 Image courtesy of the Worcester Art Museum
The painting's reputation is well-deserved, she says, and is one reason she included it among the 40 works in "Watercolors Unboxed," at WAM June 10-September 10. Dating from the 1870s through the 1950s, the paintings on display include works by Childe Hassam, Rockwell Kent, and Winslow Homer, among others, and reflect the meticulous art form's evolution in America—and near limitless flexibility. The exhibition also highlights techniques by European artists like Amedeo Modigliani and Ernst Kirchner, "who embrace portraiture as a primary vehicle for watercolor as opposed to the Americans who favored landscape," says Burns. She maintains that "heavily influenced by British practitioners, Americans embraced watercolor as a medium after the Civil War, especially after the first exhibition of the American Watercolor Society in 1867." Homer first displayed one of his watercolors in 1873, but it was after a long stay in the northeast England coastal village of Cullercoats, in 1881-82, where he was exposed to British artists, "that he becomes serious and especially adept with the medium."
The exhibit traces his artistic development, examining the early Boys and Kitten, "which has awkward parts, evident in a shifting approach to scale and perspective midway through the work," she says, which shows that he worked to improve over time. Contrast that painting with Crab Fishing, completed a decade later, however, she says, and note the deeper level of detail and meticulous control of the brush and color-flow. Look further forward to the 1894 Old Friends (above), where Homer employed opaque watercolor on thick paper and used a scraping device to remove paint, she says, "creating the illusion of a cloud in the sky and created a depth of perception so your eye can move around the tree trunk." Rum Cay, too, painted during one of his trips to the Bahamas, features opaque saturations, but "now you also have this open, exceedingly pared-down presentation of watercolor. There's a thin wash of color," she adds, "and he has just three bands of color that convey sand, sea, horizon, and that's it. I think most of Homer as an artist with thick paints and churning seas. Rum Cay presents us with Homer as a minimalist."
The Worcester show happens to coincide with some 100 works in "American Watercolors, 1880-1990: Into the Light," on display at the Harvard Art Museums (May 20-August 13). Works by an array of artists, including Lyonel Feininger, Maurice Prendergast, Beauford Delaney, and even Zelda Fitzgerald, emphasize the art form's fluid nature in rendering subjects, both outward and inward. 
You might also like
The context for Harvard Management Company's 2023 results
The Crimson outlasts the Bears in an Ivy nighttime shootout.
The first in a series of public conversations about Harvard and the legacy of slavery
Most popular
First-years Ngozi Musa and Gabby Thomas help set the pace for track and field.
A negative investment return and annual spending reduce the endowment's value 5.1 percent.
The director of Head Over Heels and The Star, on animation's different dimensions
More to explore
A test can identify these productivity-boosting personnel.
Ancient history professor studies coins, ceramics, and Zelda.
Anwar Floyd-Pruitt's wildly profuse art