Harvard Kennedy School Dean Elmendorf to Step Down
Plans to conclude service at end of academic year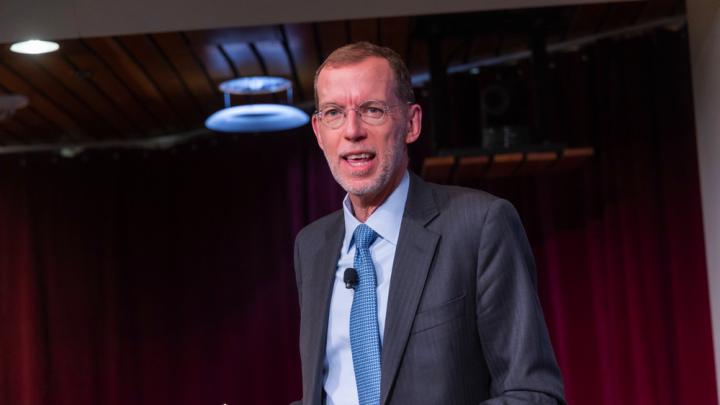 Douglas W. Elmendorf, dean of the Harvard Kennedy School (HKS) since January 2016, announced this morning that he would conclude his service at the end of this academic year, June 30, 2024. Claudine Gay, University president since July 1, has already appointed her successor as Faculty of Arts and Sciences dean(and that dean has named a new engineering and applied sciences dean), and a new Divinity School leader, but now has two major professional-school deanships to fill (a search continues for the School of Public Health). She thus will have a significantly refreshed cohort of faculty and school leaders early in her administration.
Elmendorf, Ph.D. '89, a macroeconomist who directed the U.S. Congressional Budget Office before becoming HKS dean, intends to return to teaching and research as a member of the faculty. His expertise may be much in demand, as concerns rise about the size of the federal deficit and debt, and the costs of servicing it in an era of higher interest rates (read an analysis of "The Federal Fisc," written by Elmendorf and his wife, Karen Dynan, professor of practice of economics and of public policy and former assistant secretary of the U.S. Treasury, from the May-June 2020 issue).
In a statement in the news announcement, Elmendorf said, "Being dean of Harvard Kennedy School has been even more enlightening, challenging, and rewarding than I imagined when I accepted the position in June 2015." Gay hailed his "boundless grace, good humor, and an unwavering commitment to rigorous scholarship for the betterment of society." She cited his own public service and said Elmendorf "has been a champion for principled, effective public policy and leadership in the face of considerable challenges to those ideals. Under his guidance, HKS has expanded its engagement across Harvard and beyond, helping researchers and practitioners translate knowledge into policy and impact."
In a more expansive message emailed to the community, Gay said further, "Doug has also taken great strides toward strengthening HKS from within, working with colleagues to refine the school's degree programs and curricula, and to enhance collaboration among research centers and between centers and the HKS core." She continued:
I first came to know Doug when I served as social science dean in the Faculty of Arts and Sciences, but our opportunities to collaborate expanded after I was appointed to lead the FAS in 2018. From the start, I was struck by his calm, measured approach to leadership. He is guided by a strong sense of integrity and fairness, and he inspires trust and admiration in those around him. I have benefited from his wise counsel on many occasions, and I will miss his contributions to the academic leadership council.
During his deanship, the reconfigured HKS campus was unveiled, promoting new opportunities for community interaction and accommodating faculty renewal and growth. Among the roughly 40 faculty appointments during his deanship, according to the news announcement, were scholars and practitioners with expertise in social policy, democracy, race and public policy, public management and leadership, technology and governance, international relations, economic growth and development, and civil society. With its heavily international student body, the school faced special challenges in maintaining teaching for degree and executive education students during the pandemic, but managed to sustain its academic programs.
In light of the public-service trajectory of its graduates, the school has put special emphasis on bolstering financial aid. According to the news announcement, unrestricted funds for financial aid have increased by 50 percent during the past five years, and HKS seeks substantial additional support by the time it celebrates its ninetieth anniversary in 2026.
Among program initiatives during his tenure, the Bloomberg Center for Cities, established in 2021, anchors a significantly enlarged University presence in public management, with augmented research and education for practice for urban leaders across the world. A 2023 gift expanded support for the HKS-based Project on Indigenous Governance and Development.
Given the nature of its work and its structure, HKS can be a challenging place to lead. Much of its research is conducted through semiautonomous centers, and as Provost Alan M. Garber said in the announcement, "The mission of HKS often situates it in the middle of some of the most contentious issues facing society today, and Doug has not shied away from this challenge." The school and Elmendorf came under wide criticism in 2022 when he decided not to appoint human-rights activist Ken Roth as a fellow in the Carr Center for Human Rights; he subsequently told the community that the experience had exposed flaws in the process of choosing and appointing fellows—and also concluded that his decision was in error, and that a fellowship offer would be extended. In another procedural decision, he brought to an end the disinformation research led by Joan Donovan because the program was not under faculty supervision (she has subsequently joined the Boston University faculty).
Neither decision was well received at the time, but both are consistent with Elmendorf's efforts to regularize HKS processes and policies, to enhance the scholarly and professional credentials and expertise of the faculty, and to promote rigor in its teaching and the value of its degree programs—continuing challenges, perhaps, but also work that a successor dean is likely to appreciate. In the news announcement, Black professor of political economy David Deming, who is HKS's academic dean, said "Doug's wise stewardship of the school during a global pandemic and his extraordinary efforts to build our faculty have put the school in a much stronger position than before he began as dean."
President Gay said she and Garber will share information about the search for a successor dean in coming weeks.
You might also like
The first in a series of public conversations about Harvard and the legacy of slavery
How to encourage free speech and inquiry on campus
A new play at the A.R.T. provides a modern take on ancient mythologies   
Most popular
Brief life of a formidable anthropologist: 1903-1991
First-years Ngozi Musa and Gabby Thomas help set the pace for track and field.
A negative investment return and annual spending reduce the endowment's value 5.1 percent.
More to explore
A test can identify these productivity-boosting personnel.
Ancient history professor studies coins, ceramics, and Zelda.
Anwar Floyd-Pruitt's wildly profuse art