News
FAS Dean Michael D. Smith to Step Down
3.19.18
Photograph by Stephanie Mitchell/Harvard News Office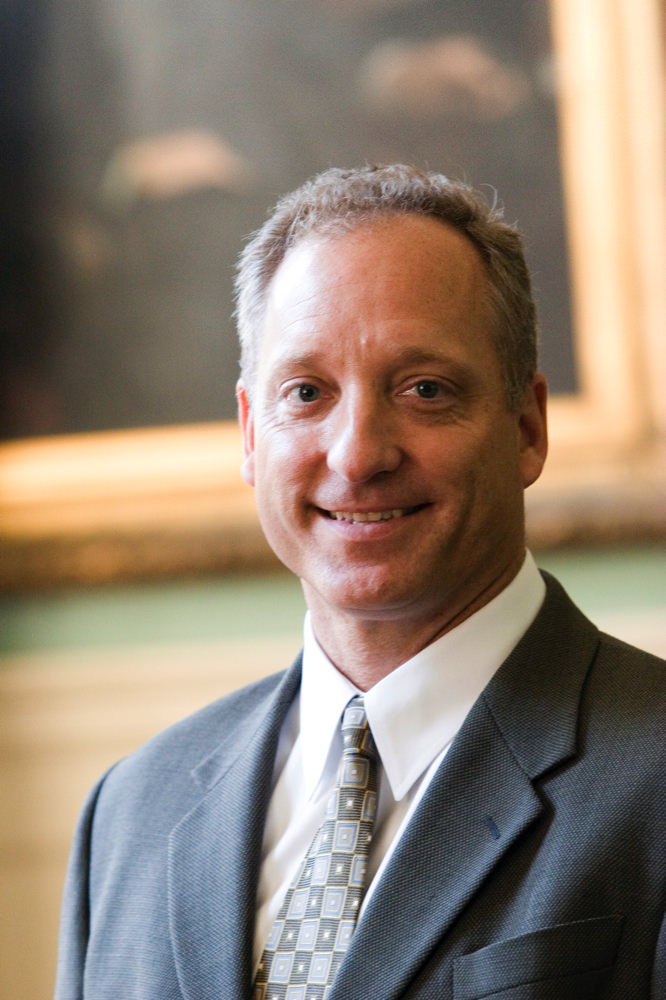 Photograph by Stephanie Mitchell/Harvard News Office
Michael D. Smith will step down from his post as dean of the Faculty of Arts and Sciences (FAS) after 11 years in the role, he announced in an email to the FAS community today. Smith will serve until incoming president Lawrence S. Bacow [4], who assumes office July 1, names his successor—a lengthy process that involves a search committee and listening sessions with faculty colleagues, alumni, and students.
"While I am genuinely excited by the promise of incoming President Bacow's tenure, after more than a decade serving the FAS, I am very much looking forward to returning to the classroom and a life of new academic and personal pursuits," Smith wrote. He continued:
The Faculty of Arts and Sciences is an amazing collection of smart, dedicated, and driven individuals who work collaboratively toward one of the most consequential missions ever. During the past decade, our community has responded collectively to a new and stringent set of financial and normative expectations for higher education. And it has adapted quickly to a world that has become increasingly interconnected.

I am extremely proud to be part of this community, which has constantly strived to ask the ever bigger, ever more important questions, from climate change to inequality. Especially in our learning mission, through an embrace of making, doing, and performing, Harvard has remained anything but passive. It has been an undeniable privilege for this simple engineer to have had a front-row seat as our community built a foundation within the FAS that will continue Harvard's commitment to excellence and truth now and into the future.
Smith will return to his research and teaching role as Finley professor of engineering and applied sciences. His announcement isn't especially surprising—Smith has held the position since 2007 [5], when he was appointed by University president Drew Faust, who had herself assumed office that summer.
During his tenure, Smith has had to contend with FAS's financial challenges: 50 percent of the school's operating budget comes from distributions from the endowment, which was constrained during the 2008 financial crisis and, more recently, following the loss of 5 percent of the endowment's value [6] in fiscal year 2016. The faculty's own endowment is still below its peak value in fiscal 2008, and FAS has struggled [7] to support the undergraduate House renewal project and fund new academic initiatives. Last fall, FAS's social sciences division announced a modest academic initiative focused on inequality in America [8] (a research area Smith wanted to prioritize), which includes resources for symposia, postdoctoral fellowships, research grants, and course development.
Undergraduate financial aid has remained a priority: its budget has increased from $103 million in 2007-8 [9] to $180.1 million in the 2016-17 academic year, after presidents Larry Summers and Drew Faust significantly expanded aid and family resources [10] became constrained during the recession (tuition, of course, grew during that same period [11], from $43,655 to $60,659). Smith's tenure has also seen a small but significant shift in the makeup of the faculty, after the School of Engineering and Applied Sciences was promoted from a division to a school in the fall of 2007. In 2016-17 [12], 27 percent of ladder faculty were in the arts and humanities, 33 percent in the social sciences, and 40 percent in sciences and engineering and applied sciences—compared to 2006, when those numbers were 30 percent, 35 percent, and 35 percent, respectively. Smith is also widely known for his interest in the diversity of the faculty; he has overseen significant increases [13] in faculty diversity in terms of gender and race.  
"Mike has guided the FAS through more than a decade of remarkable challenge and change, and all of us owe him our profound thanks," President Faust wrote in a separate email to the Harvard community. "For nearly eleven years now, he has been a steadfast partner, an enthusiastic collaborator, and an institutional citizen always focused on the progress of the FAS and the University.  He has approached all he does with a keen intelligence, a humane concern for others, a bedrock sense of integrity and fairness, a deep appreciation for the growing diversity of our community, and a paramount devotion to educational and scholarly excellence."
"[T]he FAS faculty has grown in breadth and strength, and both the College and the Graduate School of Arts and Sciences have attracted students of unsurpassed talent and promise," she continued. "The FAS has elevated its commitment to innovation in teaching and learning, while continuing to shape the leading edge of scholarship in disciplines both traditional and new. The doors of the FAS have opened wider; internal boundaries have become more permeable; the tenure track has become a reality; active learning has flourished; student residential life has been enriched; and novel academic initiatives have taken root across the arts and sciences, thanks to new resources and careful financial stewardship." 
Faust invited FAS members to email Bacow with thoughts on the decanal search at [email protected] [14]. Bacow "has asked me to underscore that he sees the search not only as a way to identify a new dean, but also as a timely opportunity to learn more from many of you about the hopes and views of faculty, students, staff, and alumni throughout the FAS," she wrote.
Read the University press release here [15].