Montage
Grace Notes
Why the vineyards of New York called Kelby Russell home
Every September and October, Kelby James Russell '09 spends seven days a week walking through sloping vineyards above New York's Seneca Lake. Vine canopies arch above his head, seven or eight feet tall. Bands of golden grapes cascade down. Russell, head winemaker at Red Newt Cellars Winery, picks a grape and tastes it. It's incredibly sweet, much more so than a table grape, not at all like the wine it'll become. "A Riesling grape tends to taste like beautiful floral notes and tangerine and peach," Russell says, "almost a honey-like sweetness."
The exact notes he tastes get him thinking about his plan for the rest of the harvest: when to send in the mechanical picker, and "what the different parcels are going to want to be as wine"—dry or off-dry, destined for a reserve wine or for Red Newt's house style.
Ever since Russell graduated, he's embraced the challenges of winemaking in the Finger Lakes region, where he grew up. Now 31, he's a specialist in the art of cold-climate white wines. Working with the East Coast's fickle climate "allows you to throw out the false idol of a perfect wine," he says. "You come to understand that your job as winemaker is to artfully direct what comes into the winery into the best thing and the most honest expression of the year that you possibly can."
In November, after the harvest, Russell's work shifts indoors. The grapes are pressed, and the juice settles and starts to ferment. "You hear this gentle chorus of things bubbling away," he says: 50 to 60 tanks of Riesling, and a few barrels and tanks of cabernet franc and other varieties, burble as carbon dioxide escapes through water locks. "A lot of [tanks] smell beautifully of fruit, whether it's peaches or strawberry ice cream," he says. "Sometimes in our cellar you get a lot of grapefruit and things that almost smell like basil, these really interesting herbal green aromatics." For Russell, it's the most fun part of the work year. "My job is to taste them every day," he says, "and decide to gently try to steer [their] direction"—with more oxygen, perhaps, or more heat.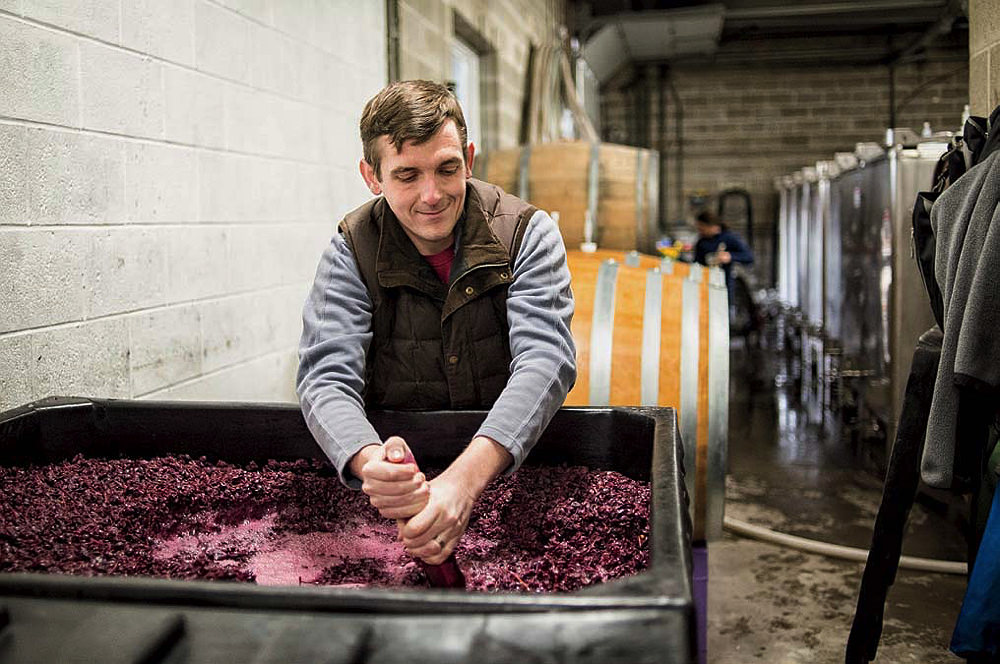 Photograph by Robyn Wishna
At Harvard, Russell concentrated in government, minored in economics, threw himself into the Glee Club, and planned a career in orchestra management. Like many college students from the exurbs or the country, he never thought he would move back home. But during a foreign study tour in Tuscany, he made wine for the first time. "I could never forget how much I enjoyed working with my hands, and the creative side of winemaking," he says. The autumn after graduation, when a job at Jazz at Lincoln Center didn't pan out, he visited Fox Run Vineyards near his hometown. He thought he had an interview, but the staff was busy with the first day of harvest. "They were knee deep in grapes," he recalls. "They handed me a shovel: 'Here you go. You can help out on the crush pad if you'd like.'" He kept showing up, completing an unpaid internship.
Fascinated, he began an accelerated set of apprenticeships in winemaking. For three years, to double his harvest experience, he spent winters in New Zealand or Australia, and autumns in the Finger Lakes. He started his first year-round salaried job in spring 2012, as Red Newt's assistant winemaker. By year's end, Red Newt co-founder and longtime winemaker David Whiting stepped out of the wine cellar to oversee the winery's bistro—and promoted Russell to head winemaker. "Right from the start," Russell says, "[he] gave me tons of freedom to pursue the winemaking in the way that I saw fit."
In the Finger Lakes, that means exploring the possibilities of Riesling, the best fit with the local climate. Russell considers Riesling a misunderstood grape. Americans, recalling mass-produced wines such as Blue Nun, tend to think of Rieslings as sweet, simple, and uninteresting. It's "our cross to bear," he says, "to prove to people that that isn't true, and that Riesling can be a great grape." His own generation of wine-drinkers, he says, is shifting the market toward the Finger Lakes' strengths: lower alcohol, more finesse—"They're far more interested and open to new wine regions and new expressions."
Six harvests into his position as head winemaker, Russell not only masterminds the Red Newt's house styles and reserves, he's in charge of his own Kelby James Russell label, which features small-batch wines, from a dry rosé to an Australian-style dry Riesling. He helped found and oversees the Empire Estate wine project, a Riesling label that distributes more than 10,000 cases of wine from several Finger Lakes vineyards to 48 states. He met his wife, Julia Hoyle, thanks to their shared love of wine: when he was a Fox Run intern, she worked in the tasting room. Now she's head winemaker at Hosmer Winery on Cayuga Lake.
Though he's dedicated his career to the art of winemaking, Russell has also returned to his love of music. He travels 90 minutes from his home in Geneva to sing as a tenor in the Eastman Rochester Chorus. His private wine label suggests song pairings instead of food pairings: music by Janelle Monáe, Radiohead, and Parliament Funkadelic.
"Winemaking is such a puzzle," he says. "There's thousands and thousands of decisions, and there's no right or wrong answer." It's a natural fit with his social-theory training at Harvard, he says: "how to grapple with an impossible number of inputs and navigate through what makes sense."