John Harvard's Journal
Brevia
March-April 2020 [1]
Allston Developer Designated
Harvard Allston Land Company announced in December that Tishman Speyer, led by president and CEO Rob Speyer '91, has been chosen to develop the initial 14 acres of the 36-acre "enterprise research campus" along Western Avenue, opposite Harvard Business School and adjacent to the new engineering and applied-sciences complex. With this agreement in principle in place, the developer is working with architect Jeanne Gang, M.Arch. '93, on proposed plans for the site, where Boston has approved 900,000 square feet of buildings, including office/laboratory facilities, a hotel/conference center, and 250,000 square feet of residential space. Read more at harvardmag.com/allston-developer-19. [5]
Coming to Terms with Slavery
As this and other universities probe their founders' and early supporters' connections to slavery (see harvardmag.com/slavery-initiative-19 [6] for details of Harvard's $5-million initiative on "the legacy of slavery"), the University of Cincinnati announced in December that it would remove the name of slave owner Charles McMicken from its College of Arts and Sciences, its largest school. And Harvard Law School dean John F. Manning has appointed a "Shield Working Group," led by Warren professor of American legal history and professor of history Annette Gordon-Reed, to devise a new school shield, following the 2016 retirement of the prior device, which was based on the family crest of Isaac Royall Jr., an eighteenth-century benefactor whose fortune derived from slave labor [7]. The task force includes representatives from the school's faculty, staff, student body, and alumni. Harvard is an institutional member of the Universities Studying Slavery consortium organized by the University of Virginia (slavery.virginia.edu [8]).
On Other Campuses
The Eli and Edythe Broad Foundation, founding supporter of the MIT-Harvard Broad Institute (for genomics research), has made a $100-million gift to the Yale School of Organization and Management to train future K-12 education leaders, provide advanced training for current school-system executives, and underwrite research on public-education leadership.…Separately, Yale renewed its existing $50-million program to augment and diversify its faculty with a new $85-million, five-year commitment; it also leased space for a 240,000-square-foot multidisciplinary neuroscience facility.…Columbia announced a university-wide scholarship providing full tuition, housing, and expenses for up to 30 refugees or other displaced students annually; it is open to displaced foreign nationals with refugee status; those who have received or applied for asylum in the United States; and U.S. residents under temporary protected status.
The Federal Fisc
Even as the U.S. House of Representatives focused on impeachment, Congress staved off a government shut-down in the week before Christmas by passing an omnibus spending bill. Higher education fared well. The maximum award for Pell Grants, vital for lower-income families, increased by $150 (to $6,345). And, of greatest interest to Harvard, an additional $2.6 billion was allocated for the budget of the National Institutes of Health, the principal source of University researchers' sponsored-support funds. There was also a provision for $25 million to support research on gun violence after such work had been banned for decades (see "Doing Less Harm," [9] January-February, page 43).
Around the Medical Quad
In a flurry of appointments, professor of developmental biology Vicki Rosen was named interim dean of Harvard School of Dental Medicine effective January 1, succeeding Bruce Donoff, who has concluded 28 years of service. Presley professor of global health and social medicine Anne E. Becker becomes the Medical School's dean for clinical and academic affairs, effective April 1, succeeding Wang professor of radiation oncology Nancy J. Tarbell, who returned to research and clinical practice last July. And Roberta Herman, who was most recently executive director of the Massachusetts Group Insurance Commission, became president and CEO of Joslin Diabetes Center on January 9, succeeding Peter S. Amenta.
Fake News News
Fake news—not the reports in leading journalistic enterprises, but misinformation campaigns, hacking, and social-media scams—have become so pervasive and powerful that the Shorenstein Center on Media, Politics, and Public Policy has launched the Harvard Kennedy School Misinformation Review, an online, peer-reviewed journal. The first issue, posted January 14—just in time for the presidential campaign year—covers Russian Twitter misinformation campaigns, the limited reach of "fake news" beyond true believers, and more. Follow the sad stories at misinforeview.hks.harvard.edu [10].
Leaving Legacies Behind
Johns Hopkins University has quietly phased out legacy preferences (for children of alumni) in its admissions. As The Chronicle of Higher Education reported in January, Hopkins president Ronald J. Daniels revealed that the institution had altered its policies on legacy admissions, given their inhibiting of social mobility. The freshman class entering in 2019 had 3.5 percent legacy members, down 9 percentage points from 2009, and the legacy benefit has been formally "extinguished" in admissions. During that period, the share of students eligible for federal Pell Grants (an indication of low family incomes) increased from 9 percent to 19.1 percent. According to admissions and financial aid vice provost David Phillips, the resulting classes are "much more diverse, much more high achieving," in part because eliminating the preference enabled admissions officers to cast their net more widely. As Daniels noted, "the very significant largess" of alumnus Michael R. Bloomberg (Harvard M.B.A. '66, LL.D. '14), who in 2018 gave his alma mater $1.8 billion for undergraduate financial aid, helped some, too.
Valuing Liberal Arts
For those despairing of liberal arts, Georgetown University's Center on Education and the Workforce telegraphed the findings of its new research in the title of a report published in January: "ROI of Liberal Arts Colleges: Value Adds Up Over Time." Amid the usual academic caveats, the researchers found that the median return on investment for acquiring an education at a selective liberal-arts college is nearly $200,000 more than the median for all colleges. And although it takes a good long while for these advantages to appear (the liberal-arts grads lag a decade out), the 40-year median liberal-arts return, $918,000, is similar to that from a four-year engineering or technology education—or from many leading research universities.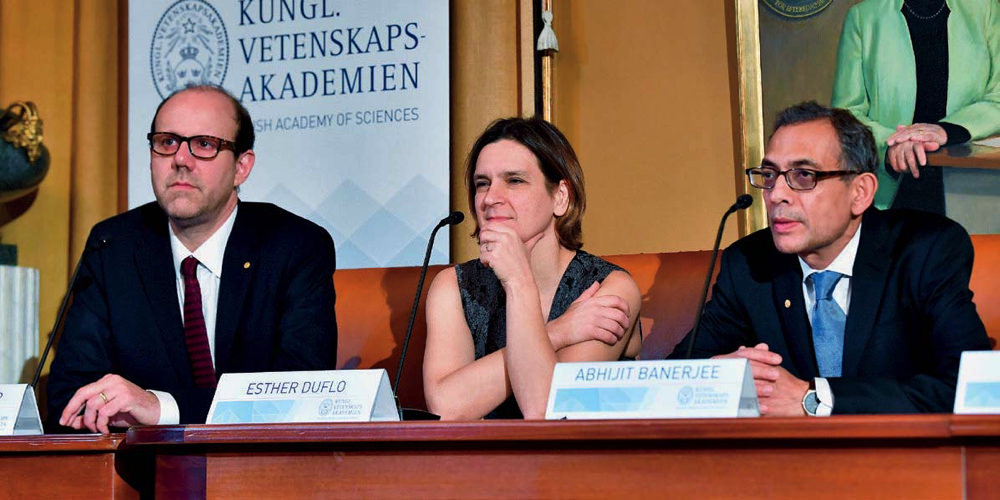 Photograph by Jonas Ektromer/AP Images
Modern Magi
 At the Nobel Prize ceremony in Sweden last December 8, economics laureates Michael Kremer, Gates professor of developing societies, and his fellow honorands Abhijit Banerjee, Ph.D. '88, and Esther Duflo, of MIT, donated their prize money to the Weiss Fund for Research in Development Economics, thus augmenting that pool of resources, administered by Harvard, by approximately $916,000. (For more on Kremer, see Brevia [11], January-February, page 27.)
Nota Bene
Students' studies. Economics continues to rock, apparently: it was the concentration choice of 639 undergraduates last academic year—the favorite course of study. Next in order were computer science (503), government (328), applied math (299), and social studies (271). Nary a humanities field among them.
Medical studies online. Harvard Medical School has unveiled HMX Pro—online courses on subjects such as genetics and immunology, aimed at customers in the scientific and business communities. The units, designed to take 10 to 20 hours to complete, are priced at $800 apiece, with significant discounts for enrolling in multiple offerings. The school's strategy seems similar in many ways to the fee-based Harvard Business School Online courses unveiled about five years ago.
Esteemed educators. Harvard Graduate School of Education professor of education Jal Mehta and Sarah Fine, Ed.D. '71, have received the 2020 Grawemeyer Award in Education and a $100,000 honorarium for their research and book, In Search of Deeper Learning: The Quest to Remake the American High School. Their work was featured in these pages in "Rethinking the American High School [12]" (May-June 2019, page 11).
Poet of promise. Amanda S.C. Gorman '20, the U.S. Youth Poet Laureate, who delivered an original poem at President Lawrence S. Bacow's installation (see harvardmag.com/bacow29-poet-18 [13]), has won a 2020 Poets and Writers' Barnes & Noble Writers for Writers Award. She is in good company: a fellow honorand is Oprah Winfrey, LL.D. '13.
Early admissions. The College admitted 13.9 percent of early-action applicants to the class of 2024 (895 of 6, 424)—up marginally from the 13.4 percent of applicants in the prior year. Further details appear at harvardmag.com/early-action-19. [14]
Title IX. The fiscal-year 2019 annual report of the University offices responsible for receiving and hearing complaints of sexual and gender-based harassment reflects a 20 percent increase in disclosures of such incidents, to 500, continuing a multiyear trend. The number of formal complaints brought forward for resolution remained relatively constant, at 43—consistent with the two prior years, but still up nearly threefold from 2015, when the office for dispute resolution was established. The full report is available at https://titleix.harvard.edu [15].
A leader lost. Quincy House faculty dean Deborah Gehrke died December 25, of breast cancer. She is survived by her husband Lee Gehrke, professor of health sciences and technology and professor of microbiology, and other family members. He announced in January that he would step down as faculty dean at the end of the academic year.
Miscellany. As part of its Stephen A. Schwarzman [M.B.A. '72] Centre for the Humanities, the University of Oxford has created an Institute for Ethics in AI—a subject of wide interest on this campus as well (see "Artificial Intelligence and Ethics," [16] January-February 2019, page 44).…Keeping current, Harvard's Campus Services holiday breakfast (for staff members ranging from dining services to facilities maintenance and this magazine), served December 20 in Annenberg, offered a "plant-forward" station, including delicies such as quinoa "hash," to go with the traditional eggs, lox, bagels, and more. (See "Eating Greener," [17] July-August 2019, page 22, on related programs.)