Destinations
The New England Folk Festival
March-April 2020 [2]
Why not launch your day with a rousing ukulele workshop? Then waltz over to sessions on English hand-bell ringing and South African choral music before hitting a Balkan dance party.
This year's New England Folk Festival (April 24-26 at Acton-Boxborough Regional High School) offers well over 200 dance and music events during a marathon 25 hours. The majority—like English and Scottish country dances, Italian tavern tunes, and Yiddish songs—are participatory. All ages are welcome, and no expertise is required, says Janet Yeracaris, president of the nonprofit New England Folk Festival Association. "The main aim is to actively preserve living folk traditions and culture, bringing people together to build a shared sense of community through them."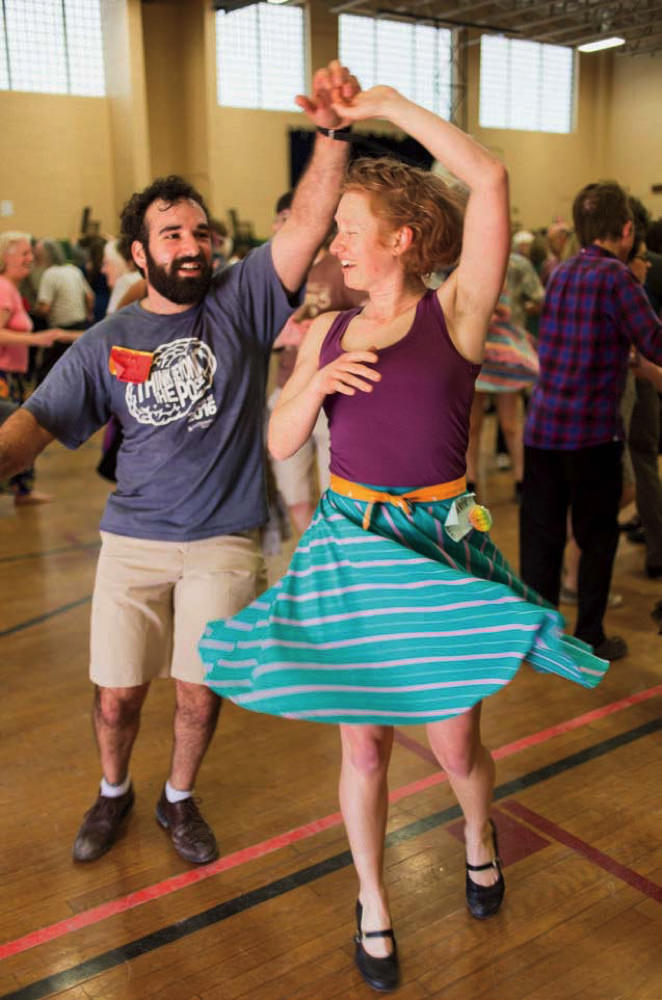 Photograph by Ryan Carollo
There are loads of lively musicians—fiddlers, banjoists, and accordionists among them. They jam together, accompany dances, and play impromptu concerts out on the lawn. Enthusiastic singers also turn out for NEFFA's sessions on 1950s and '60s American folk classics, Shaker songs, ballads, hymns, and much more. "People are singing all the time," Yeracaris asserts. "Anyone can join in singalongs," and plenty of the dance and music activities are specifically geared for beginners. (NEFFA also runs some weekend events, and its regular Thursday Contras sessions in Concord, Massachusetts, with introductory lessons before the dances.)
At the festival, it's also possible to just watch. Among the dozens of performances are the popular Morris and rapper-sword teams. A rambunctious bunch, Yeracaris explains, they generally dance outdoors, "and heckling is encouraged." Morris dance, dating to fifteenth-century England, typically features white-costumed members sporting hats, shin bells, flowers, and ribbons who perform to traditional melodies. Rapper-sword teams emerged in northeast England's coal-pit region: five dancers in percussive shoes hold bendable "swords" at both ends and move in artful, military-tight configurations, often accompanied by fiddle and drum.
About 3,000 people attend the festival, most drawn by the large-scale contra dances (akin to square dancing) and the international folk dancing. Balkan music and dance is Yeracaris's particular passion, but popular, too, are dances from Eastern Europe, Scandinavia, and elsewhere.
NEFFA's first festival was held in 1944—as an outgrowth of weekly square dances at the Boston YWCA, partly as a way to ease wartime duress and foster cross-cultural understanding. A fiftieth-anniversary history reports 24 dance performances, including those reflecting local and regional ethnic communities connected to Ireland, Lithuania, Poland, and Sweden—many of whom still attend NEFFA today.
This year, Yeracaris will teach Bulgarian village dances and an introduction to international folk dancing. She also sings with Zdravets, a Boston-area Bulgarian band whose repertoire includes songs drawn from field recordings. The haunting polyphonic sounds exemplified by adherents of old traditions, like Trio Bulgarka, have a mesmerizing droning quality coupled with harmonic intervals unfamiliar to many Western listeners. It projects an inistent immediacy that "hits at the heart," Yeracaris says. "I really can't explain that—what it is that resonates in the human ear that feels like it resonates in the human soul."
For those who enjoy foot-stomping, familiarly rhythmic fiddle-heavy Americana music, NEFFA's many contra-dancing sessions are the focus. The dances originated in English, Scottish, and French styles from the seventeenth century: callers lead couples in patterned movements—do-si-do, butterfly whirl, promenade, in set formations—without prescribed footwork.
Folk dancing, Yeracaris declares, is a natural, safe, and joyous form of human contact. "Getting people together to play music and dance and sing—participating, holding hands, being face-to-face—these 'old' traditions keep something primal alive, and connect us in powerful ways," she says. "And this seems like an antidote to so much of what is isolating and digital about the world we live in."