Alumni
"One Community, One Harvard"
HAA president John West promotes interconnections within the University.
Photograph by Stephanie Mitchell/Harvard Public Affairs and Communications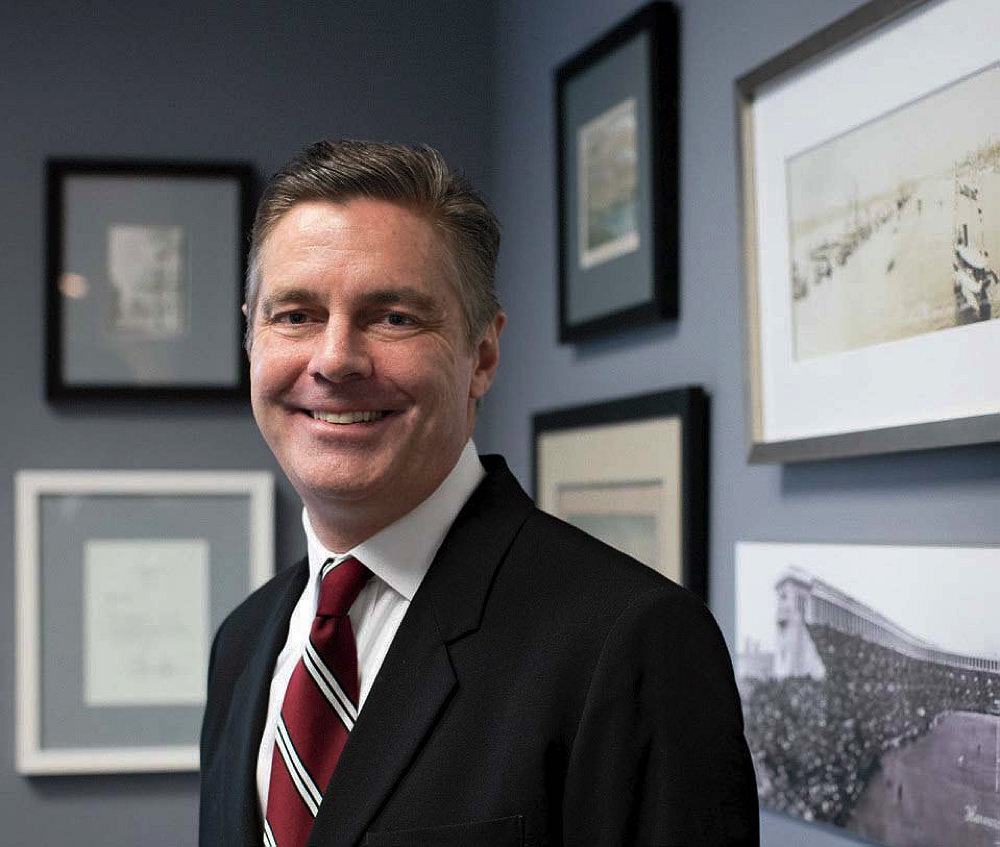 Photograph by Stephanie Mitchell/Harvard Public Affairs and Communications
Standing alone on a Nantucket beach during a spectacular sunrise, Harvard Alumni Association president John West, M.B.A. '95, tilted his iPhone camera to share the stretch of golden sand and blue Atlantic Ocean with viewers of his Class Day speech to graduating seniors. West had woken up at 4 a.m. and driven from his seasonal island home to the deserted beach. Struck by the beauty of the scene, COVID-19's pervasive threat, and the momentousness of the occasion—Harvard's next generation to enter the world—he chose to be candid.
"Five years ago I was on a plane from Boston to Los Angeles and I had a heart attack. The plane was grounded in Phoenix and they took me off, and I was fine," he told the class of 2020. "But in those moments, life was simplified for me down to one word, which is love—which you're not going to hear from a lot of HBS guys." He smiled. "Love yourself, mentally and physically. Love your family, love your friends. Love people that you don't intellectually agree with—which is hard. And love the planet, which my generation has not done very well—but I'm very hopeful yours will."
In discussing this speech later, West said he hadn't necessarily intended to "go there—get down to love." In fact, he'd contacted the HAA's director of volunteer leadership, Rachel Lamson, asking if he should re-do it. Was the message too much? Too mushy? No, she said.
Considering the fractured state of American society, the speech [6] is a spontaneous response, positing hope. The imminent graduates, prematurely ousted from campus, facing a viral threat, and moved not long after by the national outcry against police brutality, have now joined nearly 400,000 Harvard alumni across the globe. "A powerful, large community of people that is doing amazing things in every field," West declared. "We are 'one community, one Harvard.'" This theme of unity and connection, of mutual support, occurred to him pre-pandemic, but the idea took on new meaning while he sheltered in place with his wife and three children, in the face of the looming global health and economic crises. This Harvard community "will provide support and guidance as we all navigate this new world," he told the class. "So, welcome to the alumni base…and just know that you've got support."
West, a Cambridge resident, was in the midst of his own transitions. As of June, he had not been on an airplane in seven weeks, which was nice, he said, "considering I've flown 3.4 million miles in the last 10 years." An entrepreneur with a background in environmental science and financial services, he is the founder and CEO of Whistle [7], a sports and entertainment digital-content company geared to twenty-somethings.
His Harvard service began in 2007, when he joined the board of the Harvard Alumni Entrepreneurs Shared Interest Group, serving a term as its president. He has been a member of the HAA's board of directors since 2010, serving as treasurer (2018-2019), and then as vice president of the executive committee. "What I absolutely love about this work is the diversity of the people who are involved," he noted, "and just the passion about Harvard in whatever way they knew it, or know it. To me, that's been awesome."
That fertile sharing of perspectives was also pivotal during West's time as a Business School student. In cross-registering for a Kennedy School course on mergers and acquisitions, he found himself studying alongside business, law, and government students. "It was a normal class and we'd go in and discuss case studies," he recalled, "but what was amazing and eye-opening and professionally super-helpful was understanding how people from these different disciplines can come to the same problem with three very different perspectives, and how they are trained to do that." Ever since, he has advised HBS students to "go across the river, so to speak."
As an alumnus, he sees how that passion carries over into caring that the entire Harvard community continues "to do well and advance during these tough times." Leading Whistle means that he is steeped in the digital business world, and he has been impressed by the HAA's ability to essentially "adopt this whole new digital communication, doing two years of digital transition in two months" in response to the pandemic. Given an uncertain future in terms of remote working and learning, West said that any near-future HAA meetings will be virtual, and that new avenues of communication among alumni and schools across the University are being explored. "The silver lining is that we are sort of leaning into the new digital world in a new way," he added. "It will be an interesting year. It's not what I planned when I signed up for this but, ironically, because of my background, I'm well-prepared for it."