Harvard Squared | Staff Pick
Painterly Dances, Danceable Paintings
March-April 2021 [2]
The Chinese American artist Shen Wei is perhaps best known as principal choreographer of the spectacular opening ceremonies at the 2008 Olympics in Beijing. In Scroll Painting, [6] his dancers performed across the stadium floor as a constantly changing, LED-lit ink-and-wash-scroll depiction of China's evolution from ancient to modern times. The moving bodies became brushstrokes, color, and paint: a visual medium transformed into live action.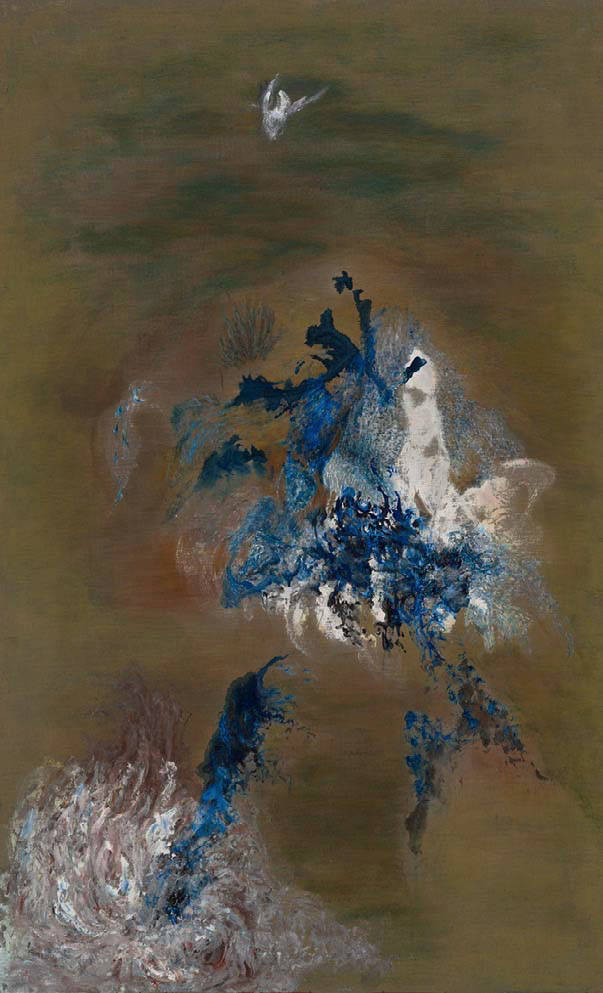 Photograph by Stewart Clements
A formally trained Chinese opera performer and 2007 MacArthur Fellow, Wei is an artist whose paintings, films, and dances are visual and performative while speaking to the crux of mind, body, and spirit. Wei "focuses on discovery—the unfolding of a surprise, a new way of thinking about the forms of energy in the body and in nature that brings with it the understanding that everything is connected," notes Pieranna Cavalchini, co-curator of "Shen Wei: Painting in Motion," at The Isabella Stewart Gardner Museum [7] through June 20.
It's the first North American exhibit to unite his interdisciplinary artistry, from abstract paintings and images from Scroll Painting and other works, to sketches, writings, and photographs that elucidate his process and evolution as an artist. It also features his films, including Passion Spirit, commissioned by the Gardner in 2019. Although an online version of the exhibit is available, the museum was expected to reopen on February 1 (following pandemic closures). Ideally, the works should be seen directly: Wei's art is about the pan-cultural spiritual dimensions of energy, movement, and experience.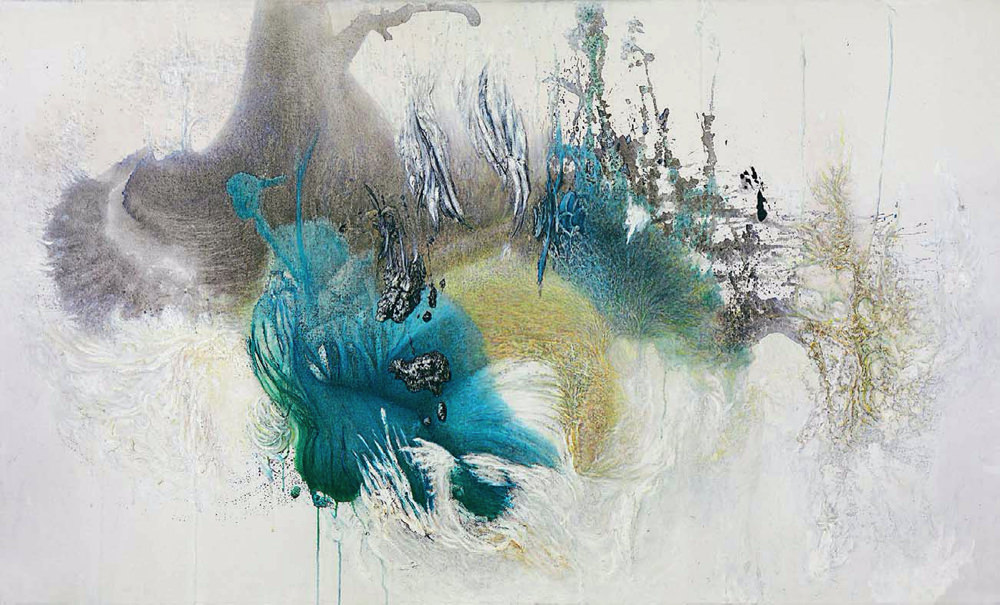 Photograph by Inès Leroy Galan
To foster such connections within its viewers, the museum also offers a recorded guided meditation to accompany Wei's monumental Untitled Number 8 (2013-14). The painting, 20 feet wide and 14 feet high, features gradations of white, black, and brown to evoke a fluid, mythical landscape in which environmental features—mountains, skies, waterfalls—seem to regenerate the longer one looks. This dreamscape amalgamates formal Chinese landscape painting with the drips and splats of twentieth-century abstract American art, as the exhibit reveals. All told, the luminous imagery seems both threatening and beatific. The recording's mellow-toned guide, India Clark, suggests that viewers engage in "non-judgmental" observation: "allowing everything that enters your perception to be welcome as it is….Light and dark. Shape and texture. Trust your eyes and follow curiosity. Notice what feels heavy and what appears to be floating."
Carry that openness to Wei's more nuanced Reflecting Elements series, created in 2019 and 2020. The sepia-toned paintings were inspired in part by Wei's reading of Dante's The Divine Comedy; they also depict rhythms and textures of the churning natural world, projecting a sense of the climactic forces around us. Yet these works are not menacing: even Wei's most cataclysmic-seeming vision, Untitled Number 1, offers places of respite and hushed grace.
The works that most readily connote movement on the canvas akin to individualistic dancing, and mark Wei's first integration of color into his paintings, are in the Suspension in Blue series. These oceanic, atmospheric images were created during a break in 2018 from his work with Shen Wei Dance Arts (the modern-dance company he founded in 2000). In these canvases, Wei conveys "contemplative, ethereal imagery that seems almost weightless," the exhibit text notes. "Here, blue and white strokes ascend against a colored expanse, as if we are witnessing a celestial transfer of energy." Across his work, that hope for the transformative power of movement feels fresh and alive.