New Ancient Sculpture
Abstract forms that span millennia
From the windows in his studio, sculptor James Dinerstein '69 can look out at Newtown Creek, the thin waterway separating Brooklyn from Queens. The dozen or so works inside the studio occupy an in-between space, too: they are postwar abstractions that have an archaic solidity and heft. 
Beckoning (2008), for example, near the back of the room, gestures dramatically in three or four directions, as if about to fly apart. On closer inspection, though, the sculpture is quite substantial, its pale, ghostly form composed almost entirely of concrete. An older piece, Solitary Figure (1995), cast in bronze, stands in a corner like a sentry, yet looks ready to march out the door and off into Brooklyn. Dinerstein (dye-ner-steen) loves ancient art, including Egyptian pieces and especially the archaic Greek statues of male and female human figures, kouroi and korai. He marvels at what he calls the "stilled and vital presence" in their stone bodies.
Twentieth-century art, from Pablo Picasso's Cubism to Anthony Caro's Constructivism, also appeals to him. At St. Martin's Art School in London, he studied with Caro, the English sculptor who famously assembled his art from scraps of industrial metal. "The structural language of ancient art and modern abstraction are commonly seen as antipodal to each other," Dinerstein says. Caro's sculptures were about the relationships of their different parts to each other, not about the parts themselves. The inner life of ancient sculpture (its expressive plasticity and modeling of a solid mass) "hasn't been a part of abstract sculpture in a long time," Dinerstein says. "My new work tries to bring them together in a successful unity." He doesn't see any point in making sculpture if he can't use physical material in a way that makes his art seem almost alive.
---
Dinerstein's style, marrying korai and Caro, has won him acclaim in the New York Times and solo exhibitions. In 2008, the Poetry Society of America chose him to inaugurate its Studio Visits program, sponsoring a reading in his studio by former American poet laureates Louise Glück and Robert Pinsky. As part of the program, Bass professor of English Louis Menand wrote an essay on Dinerstein's work, comparing it, at one point, to sculptor David Smith's, and likening one Dinerstein piece, Sudden Inclination (2007), to an aging Frank Sinatra sitting on a stool. "Formally, they are abstract, but the shapes are vaguely figurative," Menand wrote. "[T]hey seem archaic and modernist at the same time. In other words, they are original" (the full text appears at www.jimdinerstein.com). The sculptor himself feels that he is indeed breaking new ground: "I can't think of quite anyone who's doing sculpture in this way," he says. 
Dinerstein's latest works, the Newtown Creek Series, have all begun as skeletons of steel rebar and wire mesh. The sculptor then takes ordinary, sand-based patching cement (faster drying and yet more plastic than its stone-based, sidewalk cousin) and layers it over the armature from the bottom up. "The way I work cement, it's pliable," he explains. "At some point it's almost like clay, and then it's hard like stone. I can go back and forth; it's additive." As he adds more and more concrete to the frame, Dinerstein imagines the sculpture growing out of itself--each layer he adds opens new possibilities, while closing others. "These massive walls of cement are conceived as wholly plastic, through and through," he explains. "They wind up having a calligraphic freedom of movement, a fluidity of forming, that doesn't fit with the everyday notion of how cement behaves." In this way, the material helps shape the finished work.
Until about six years ago, bronze was his medium. He switched to concrete partly because the bronze was too expensive, and partly because the actual metal pouring had to be done elsewhere. (He used a foundry in Trenton, New Jersey.) Dinerstein prefers molding his material by hand, and, perhaps surprisingly, finds the concrete easier to work with than either clay or bronze. For a few days after he applies the concrete, he can still shape it with metal scrapers designed for clay. But the concrete's toughness also allows him to carve an array of incisions, channels, and reliefs into the surface of each sculpture. Bronze is too hard to cut this way; clay would simply fall apart. After the rough shape of the sculpture hardens completely, Dinerstein uses diamond-coated files to add the final accents. 
A single piece takes a few months to complete, but his style took years to develop. At Harvard, Dinerstein studied both ancient and modern art, and took life-drawing classes in the basement of Adams House. During college, he met his wife, architect Lia Gartner '69, who earned her professional degree at Columbia while Dinerstein studied in London. After completing his work there, the Brooklyn native returned to New York City and began the experiments in material and form that have culminated in his newest, concrete sculptures.
Artists, he believes, "find their voice by absorbing everything of history they can and smelting it down in their imagination, then coming out with their own language." In his mind, the Newtown Creek Series expresses both antiquity and modernity. "I would need several lifetimes," he says, looking over his work, "to realize the possibilities that are inherent in these things." 
You might also like
The Crimson springs a major upset.
Harvard officially installs Claudine Gay, its thirtieth leader.
A half-dozen symposiums feature Harvard research on AI, climate change, inequality, and more
Most popular
A profile of Harvard's thirtieth president
Life decisions en route to Massachusetts Hall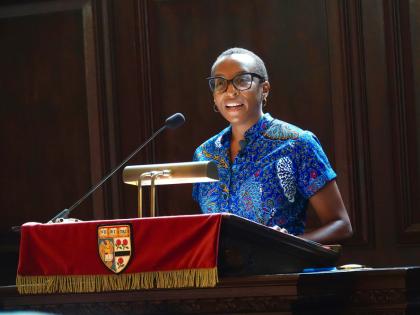 President Claudine Gay's first semester-opening Morning Prayers
More to explore
A test can identify these productivity-boosting personnel.
Ancient history professor studies coins, ceramics, and Zelda.
Anwar Floyd-Pruitt's wildly profuse art