News
Breathing New Life into "The Eyesore on Church Street"
6.27.18
Rendering courtesy of Promontorio/Merge Architects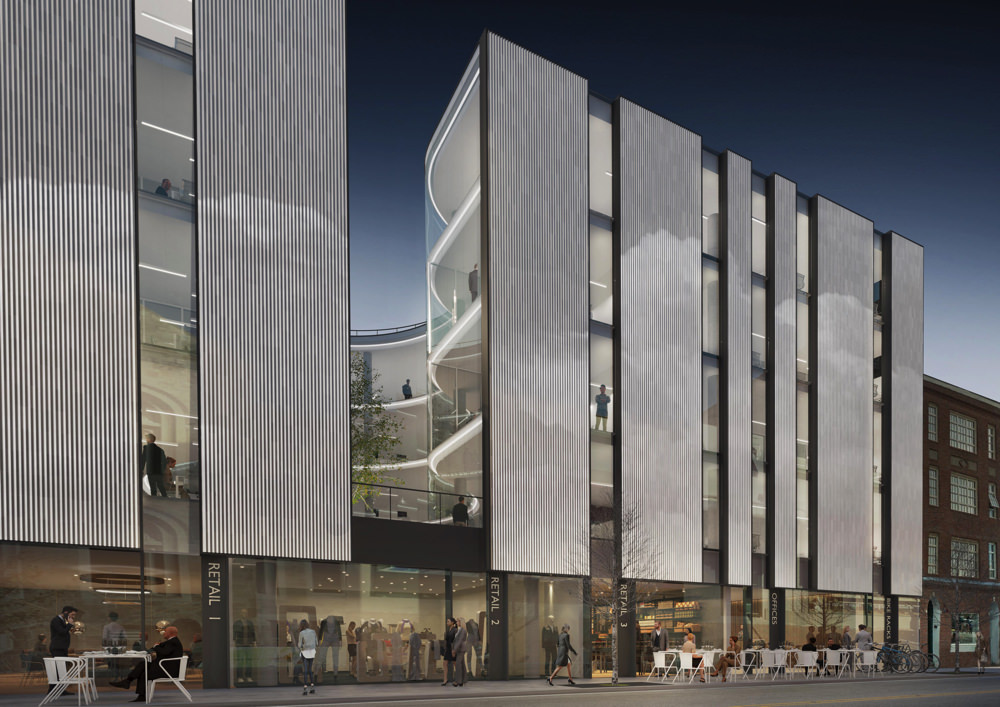 Rendering courtesy of Promontorio/Merge Architects
Rendering courtesy of Promontorio/Merge Architects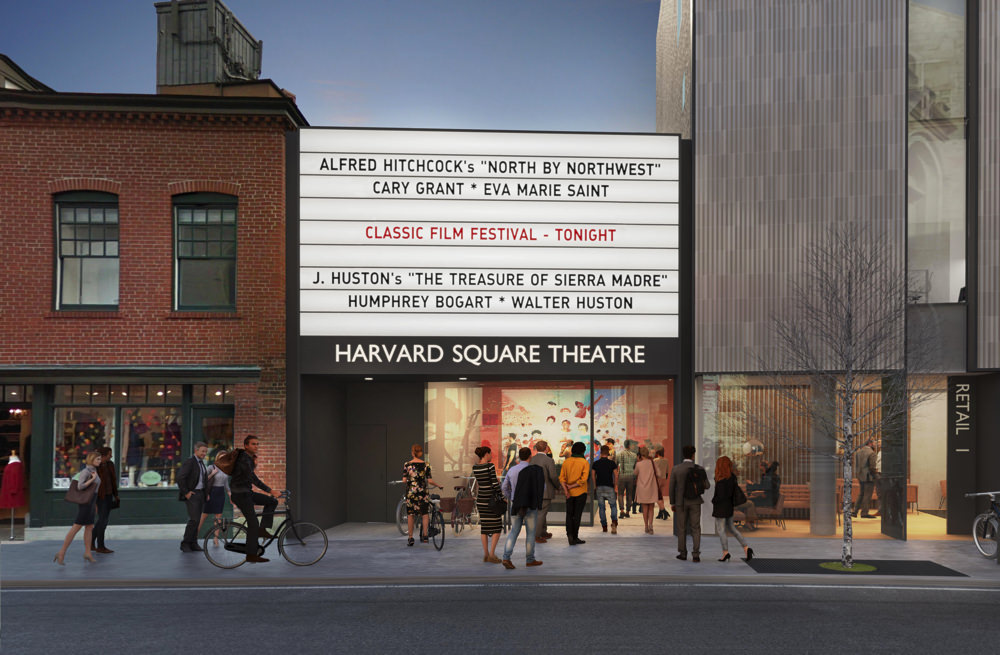 Rendering courtesy of Promontorio/Merge Architects
Yesterday evening in a meeting open to the public, Cambridge business owners and residents gathered around a projector at the back of Beat Brasserie in Harvard Square to learn about the future of 10 Church Street.
The redesign process for the long-vacant theater space has been anything but sudden. After Gerald Chan, S.M. '75, S.D. '79, purchased the building in 2015, his team shared initial design concepts for a proposed joint office, retail, and revitalized theater space at a May 2017 public meeting, the only other public meeting about the site. Nathan Wong, project manager for Chan's firm Kirche LLC, developer and owner of the property, said, "We have a proven track record in Harvard Square. We're proud of what we've done here." Wong's firm is behind residential and retail buildings like 115 Mount Auburn Street, the apartments and Blue Bottle coffee shop at 40 Bow Street, the Capital One Cafe at 24 J.F.K Street, and Harvard Square restaurants including Parsnip and Night Market.
According to renderings by architects from Merge Architects in Boston and Promontorio in Lisbon, Portugal, once construcction is complete, the movie theater marquee will be the first thing visitors will see on Church Street. The plan includes an below-ground theater with a ground-level lobby. Three retail spaces of about 5,500 square feet will also be at ground level below four stories of office space totaling 36,000 square feet. Although the added offices and retail will increase traffic to the Square, the plan does not include any space for car parking—instead, the architects emphasized ample space for bike parking.
After presenting a broad overview of the project, Paulo Martins-Barata, founding partner at Promontorio, shared three design objectives that shaped his firm's approach: "We needed to bring back retail to animate Church Street, bring back a modern theater to Harvard Square, and include a world-class office building." Martins-Barata emphasized the need to bring "air and light" back into Church Street, and also mentioned the challenges of working around the nearby shop Mint Julep, and neighboring Club Passim. The plan intends to "celebrate the entrance of the theater" and differentiate it from retail and office entrances. The new Harvard Square Theater will be operated by Capitol Theatre, which also operates Somerville Theater in Davis Square.
Elizabeth Whitaker, founder and principal of Merge Architects and assistant professor at the Graduate School of Design, said that the new structure will aim for an LEED Silver certification and will have solar panels on the roofscape. She also described a glass-lined interior courtyard on the structure's second level that will be visible from both the street and office spaces. As for the cinema, Whitaker shared early renderings of two theaters, one seating 100, and the other seating 150 guests. She said that the theater operator will likely apply for a liquor license for its concession stand.
Perhaps the most controversial part of the presentation came toward the end when two architects from Basel-based firm iArt shared renderings the structure's exterior. "We wanted to create a world-class office building that wasn't just glass. That doesn't have much to do with Cambridge," said Martins-Barata. The proposed façade, which Wong described as "stunningly simple but powerful," will be entirely covered by terracotta tiles embedded with concealed LED displays, which will include rotating, programmable color and monochromatic displays. 
To convey that the space would not take on an unwelcome Times Square-like appearance, Anthony Galluccio, a law partner at Galluccio & Watson, LLP, emphasized that a Cambridge city ordinance prohibits advertising or "direct light" on building exteriors. "We think this falls in neither of those two categories," he said. Instead, he presented the LED façade as a "community engagement tool," and proposed that local school children might learn to code and perhaps project some of their own artwork and creations onto the side of the building. "We're feeling out the logistics," he said.
Denise Jillson, director of the Harvard Square Business Association, asked whether the theater might also serve as a community programming space for live music or for other local businesses to attract foot traffic. Jillson also asked about opening up more of the roofscape (the majority of which is currently mechanical, according to the design plan) for community use, citing the popularity of the modest rooftop bar space at Felipe's Taqueria on Brattle Street.
When asked about how long the project might take and how long Church Street might be a construction zone, the project team said it could take anywhere from 18 to 24 months, depending on when the work begins. That won't happen overnight. Kirche LLC will first need to secure a certificate of appropriateness from the Cambridge Historical Commission in September, plus a number of other special approvals from the city's planning board.
"We took a while to get started, which gave us a chance to hear all of your concerns," said Galluccio.