John Harvard's Journal
Admissions on Trial
The lawsuit that could determine the fate of affirmative action
Harvard's undergraduate admissions process was on trial in October and November, in a federal case that could ultimately change the shape of college admissions nationwide. At issue is whether the College's "holistic" admissions practices—which evaluate students not only for grades and test scores, but also for personal traits such as character—discriminate against Asian-American applicants. But the trial also provided the plaintiff, anti-affirmative-action group Students for Fair Admissions (SFFA), a platform to publicly dissect other Harvard practices that weren't directly challenged in the case, including preferences for athletes and for children of donors and alumni. Such policies have been widely examined before—but the trial proceedings revealed new details about their use, and brought them under renewed public scrutiny.
The lawsuit, originally filed in 2014, is organized by SFFA's founder and president, Edward Blum, a well-known political activist and opponent of affirmative action, who previously initiated Fisher v. University of Texas. In that case, ultimately decided in 2016, the Supreme Court upheld the university's policies in a ruling specifying that college affirmative-action programs must be tailored narrowly and show that they accomplish a specific goal, and also that colleges must prove that race-based admissions policies are the only way to meet diversity goals.
The SFFA case was heard in Boston's federal courthouse by U.S. District Judge Allison Burroughs, who is not expected to issue a ruling for several months; Harvard and SFFA will file additional documents in the case in December and January, and provide additional arguments in February.
Burroughs has already dismissed SFFA's claim that race should not be a factor in college admissions, deferring to Supreme Court precedent on the issue; instead, she will rule more narrowly on whether Harvard's admissions process discriminates against Asian Americans. Nevertheless, the legality of affirmative action may be considered by a higher court if the case is later appealed, as it may well be. Blum may anticipate a favorable audience, given the new majority on the Supreme Court, which he hopes will rule the use of race in admissions unconstitutional. Last summer, the U.S. Department of Justice withdrew Obama administration guidelines on the use of race in college admissions, and filed a statement of support for SFFA in the case. All the other schools in the Ivy League, plus nine other private universities, have filed a joint friend-of-the-court brief this summer defending the use of race in admissions.
On the trial's first day, the courtroom was packed with journalists and members of the public, reflecting intense interest in elite institutions' admissions, and strong public feelings about the consideration of race in their decisions. The plaintiffs argued that affirmative action was not at issue in the trial: "The Supreme Court has held that race can be used in a narrowly tailored way to unlock the benefits of diversity in education," argued SFFA attorney Adam Mortara. Instead, he said, SFFA aimed to prove that white students were given an advantage over better-qualified Asian-American applicants through ill-defined "personal" ratings that invited implicit bias and discrimination: "Harvard is pushing down Asian Americans on this all-important, subjective 'personality' rating." Asian-American applicants on average perform better than whites on other measures used by the admissions office—academic and extracurricular—he said, but they receive substantially lower personality scores.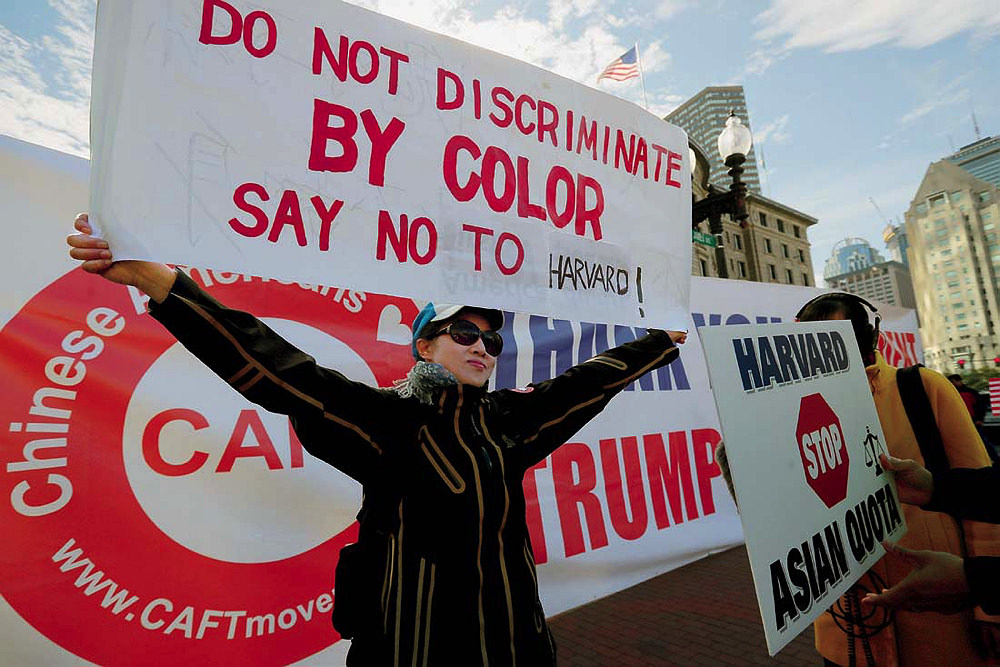 Photograph by Brian Snyder /REUTERS
Mortara also argued that University officials have long known about the "statistically significant penalty on Asian Americans applying to Harvard." Reports by Harvard's Office of Institutional Research in 2012 and 2013, which were included in court documents filed by SFFA last summer, found that Harvard's admissions process had "negative effects" for Asian Americans. University officials have said those reports were "preliminary and limited."
In the University's opening statement, William F. Lee '72, Harvard's lead lawyer in the case (and senior fellow of the Harvard Corporation), argued that SFFA's claims of discrimination were unsupported; that Harvard's admissions process has been upheld as exemplary by the Supreme Court in the 1978 case Regents of the University of California v. Bakke (by using race only as a "plus" factor, and evaluating each applicant as an individual); and that diversity is central to the University's educational mission. Applicants' "personal" ratings, he said, were determined by information conveyed to admissions officers through sources like teacher and guidance-counselor recommendations. He also stressed that race is never the sole or determining factor in an applicant's admissions decision: "Instead, the evidence will confirm that, as permitted by the Supreme Court, race is considered as one factor among many in the Harvard admissions process; that when it is considered, it is considered flexibly; and that it is always used as a 'plus' factor."
In the weeks that followed, University officials—including former president Drew Faust, College dean Rakesh Khurana, director of admissions Marlyn McGrath, and others—provided testimony about the goals, processes, and priorities of the College's admissions system. Faust said that "there is no place for discrimination of any kind at Harvard," and stressed that one of her top priorities had been to improve access to Harvard for groups not previously represented—for instance, through the financial-aid initiative that makes attendance free for undergraduates whose families earn less than $65,000.
SFFA, meanwhile, used Harvard's internal admissions data and emails to highlight the disparities in admission rates among different groups and the preferences given to applicants with ties to the University. The "Dean's Interest List" and "Director's Interest List," for example, include applicants linked to notable donors and alumni, or who are of special interest otherwise. Court documents showed that such applicants made up about 9 percent of the College classes of 2014 through 2019, and were admitted at a rate of 42 percent (compared to the College's current overall admission rate of less than 5 percent). The connection between these policies and the question of discrimination against Asian-Americans is not straightforward—but they were likely intended by SFFA to cast doubt on the fairness of Harvard's admissions process overall.
Throughout the trial, SFFA's and Harvard's arguments relied on conflicting testimony from two expert witnesses: for SFFA, Peter Arcidiacono, a Duke economist who analyzed admissions data and concluded that Harvard's process discriminates against Asian Americans through its use of a personality score for applicants; and for Harvard, David Card, a Berkeley economist who concluded that the data show no evidence of discrimination. The economists' models differ in a few key ways: Card's includes applicants' "personal" scores, while Arcidiacono's does not, because SFFA believes the scores are arbitrary and illegitimate. Card's model also includes "ALDC" applicants: students who are recruited athletes, legacies, relatives of major donors, or children of faculty or staff members, while Arcidiacono's does not. Because admission rates for these groups are dramatically higher than for other applicants, SFFA argues, they essentially go through a separate admissions process.
Another area in which SFFA and Harvard had opposite interpretations of the same set of facts was the recent increase in the number of Asian Americans at the College. Mortara argued that beginning with the admissions cycle for the class of 2019, coinciding with the time the lawsuit was filed, "the Asian penalty [went down] substantially"—Harvard began admitting a higher share of Asian-American students. "Why is that? That's because when Harvard knew that someone was going to be looking into what's going on, they dialed down the Asian penalty. This is powerful, circumstantial evidence of discrimination." Lee later forcefully refuted that claim: "From the class of 2006 to the class of 2019, the percent of Asian Americans in the admitted class increased from 16.5 percent to almost 21 percent—an increase of approximately 25 percent....Last year—for the class of 2022—Asian Americans were almost 23 percent of the admitted class. The idea that being sued by SFFA is the reason these numbers have gone up is simply not true."
Whatever the outcome of the trial and its subsequent appeals, the case has produced wide-ranging discourse about what the point of a college-admissions process ought to be, and what criteria are legitimate in achieving it. Watson professor of law Jeannie Suk Gersen has contributed regular commentary to The New Yorker on the subject. As SFFA did, she compares Harvard's current admissions policies with its efforts to limit the number of Jewish students enrolled in the 1920s. "[O]ne outcome of this month's trial," she wrote in October, "has been to heighten awareness of implicit racial biases. And, win or lose, Harvard's Asian problem, recalling the experience of Jews, will be a piece of the social history of an American minority group on its way to eventual, if not always enthusiastic, acceptance."
Elsewhere, students and other observers have argued that SFFA has used discrimination against Asian Americans to obscure its real aim in the case: to dismantle affirmative action and harm the disadvantaged groups who benefit from it. "[R]ecognizing that racism can affect how Asian Americans are perceived in college admissions cannot, and should not, be a referendum on the entire structure of race-based admissions policies," argued Elyse Pham '22 in The Harvard Crimson, in one of several op-eds by students on the subject. The questions of race, identity, deserts, and fairness that have been amplified by the trial are sure to live beyond the litigation.