The Comic-Book Storyteller
Graphic novelist Amy Chu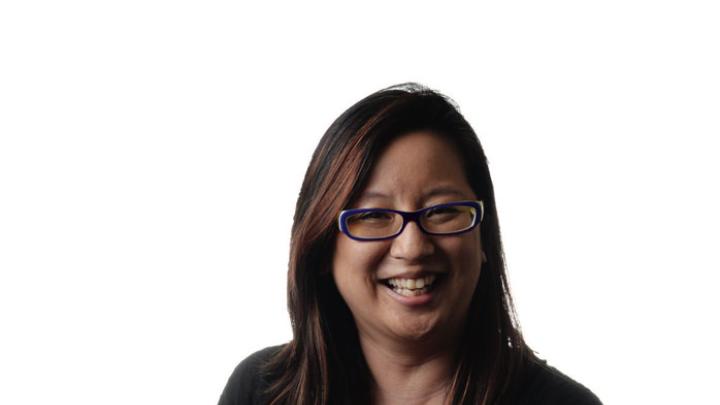 Watching Amy Chu, M.B.A. '99, stride through Midtown Comics in Manhattan's Times Square is like watching a queen visit the heart of her realm. The staff know her, of course. She looks up a few graphic novels by writers she knows, then heads upstairs to search for some of her own back issues, breezing past posters of characters she's written for DC and Marvel: Wonder Woman, Deadpool, Red Sonja, Poison Ivy, Green Hornet.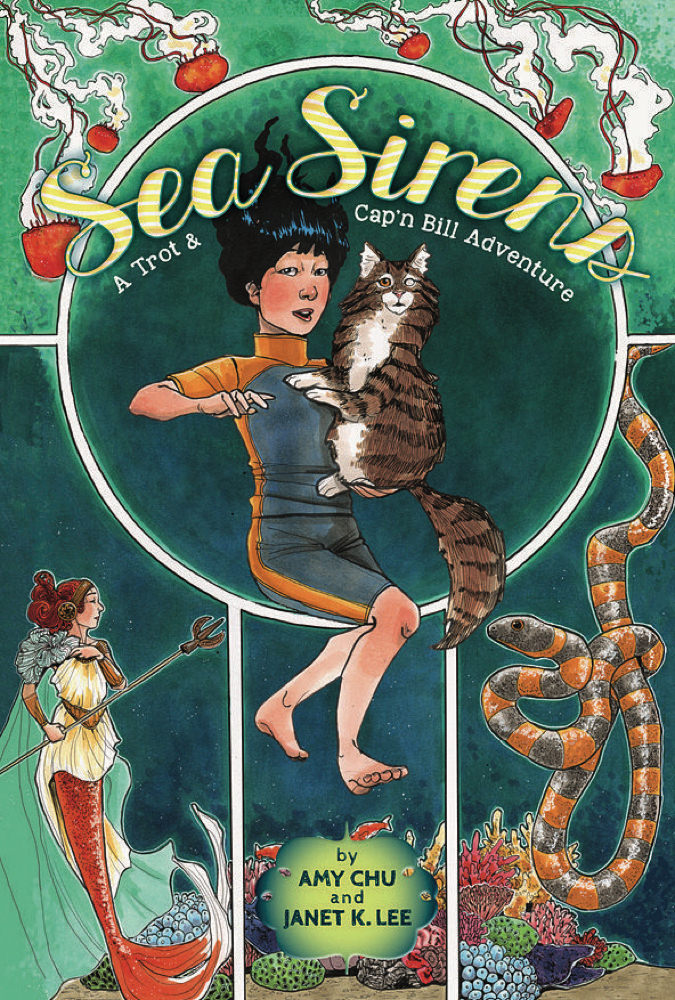 Sea Sirens
Image courtesy of Amy Chu
At 51, Chu is an established comics writer, working for the biggest publishers on some of the biggest titles in the business. She's living any comics nerd's fondest childhood dream. It just was never her dream. As a kid, Chu hadn't wanted to be comic-book writer—or any kind of writer. She certainly never planned on telling stories about antiheroes in spandex or metal-bikini-clad warrior babes for a living.
In fact, before 2010, the closest she'd come to writing a comic book was creating a Microsoft PowerPoint presentation in her old life as a business consultant. "It's not the same," she says now. "No one says, 'I was so moved by your PowerPoint presentation.'" But perhaps there were clues to Chu's destiny in her early life. Born in Boston, she went to high school in Iowa, an experience she now describes as "fairly traumatic." Chu was nerdy and shy and one of the only Asian kids in town, and her dream was to play soccer. Only one problem: her school didn't have a girls' team. When the school district forbade her from trying out for the boys' team, Chu's parents sued and won under Title IX. She joined the boys' team. But the first time she stepped onto the field to play, the opposing team walked off en masse—forfeiting the game as a political statement, rather than face a female opponent.
She remembers the experience as mortifying. But it stood her in good stead when she eventually made it to Wellesley College, where she completed a double degree in East Asian studies and architecture, in a joint program with MIT. "You sue under Title IX," she jokes. "That's a really great thing to get you into a women's college."
At Wellesley and MIT, Chu was more in her element than in the mostly white Iowa town she'd left behind. "I'd never seen so many Asians," she says. "Suddenly I'm actually popular. I can actually be invited to parties." At one party, she met the future writer and business consultant Jeff Yang '89, then a Harvard undergraduate. Chu had founded a literary journal for Asian-American students at Wellesley, and Yang was editing a student publication at Harvard. "His whole thing was, 'Let's start a real magazine, an Asian-American magazine for the Asian-American population,'" Chu recalls.
The result was A. Magazine, a periodical Yang and Chu co-founded with two other friends. They bootstrapped the publication by throwing parties for Asian Americans in New York. "If we'd stuck to the parties, we would have made a ton of money," she says. (As it was, the glossy publication lasted for a dozen years and had several hundred thousand readers at its height.)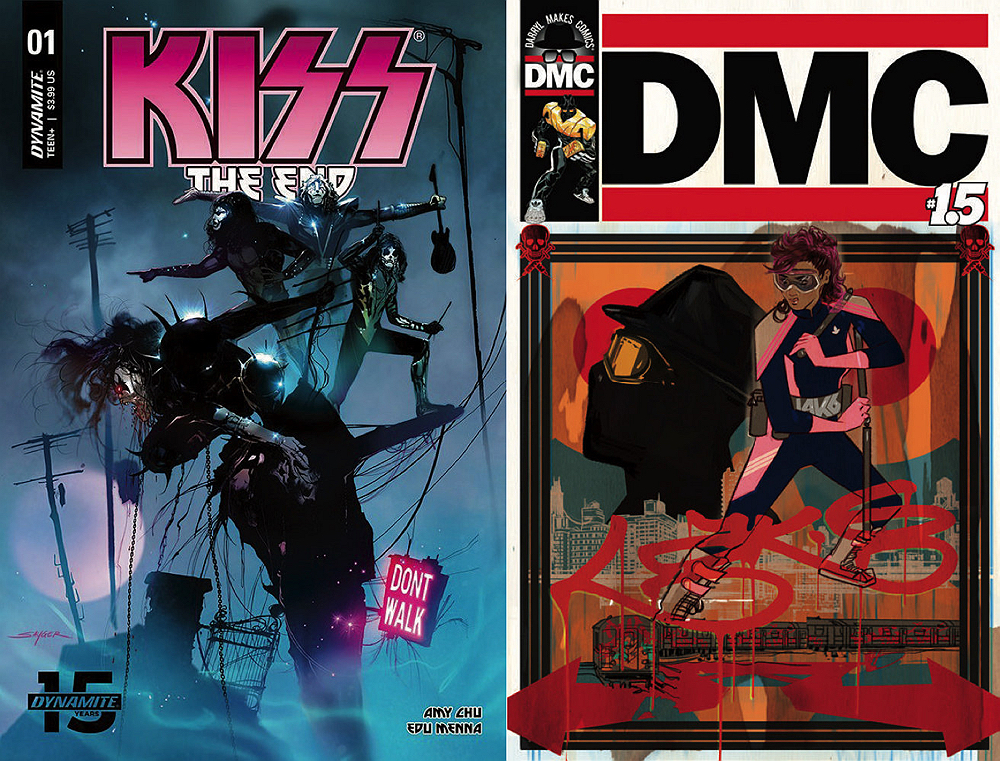 "End of the Road"
Images courtesy of Amy Chu
After graduation, Chu tried several different jobs, including running an arts nonprofit and—through a chance encounter at a fundraiser—running the Macau tourism office in Hong Kong (despite not speaking Cantonese). By 1999, she says, "I thought for whatever reason I should get a business degree" and applied to Harvard Business School, "just to get it out of my system."
She enjoyed her time there ("It was awesome, actually," she says. "I was pleasantly surprised.") and became a management consultant, specializing in biotech firms. That might have taken her to retirement, if she hadn't run into an old friend at Harvard's first-ever Asian-American alumni summit in 2010.
Filmmaker and television writer Georgia Lee '98, M.B.A. '09, wanted Chu's help with a startup idea she had: a comics imprint for books aimed at girls. She knew Chu had helped found A. Magazine and wanted her to handle setting up the business.
To Chu, it seemed like a low-cost venture. "Let's do it," she said. She threw herself into research, buying and reading comics for the first time and taking a class on writing comics.
It was immediately clear that the class was not a place where Chu fit in: like the soccer scene in Iowa in the 1980s, "Lo and behold, it's all dudes," she recalls. "I didn't even know if Wonder Woman was DC or Marvel; they're arguing over Martian Manhunter."
The first assignment was a five-page story. Chu turned in a tale about a female cabdriver/mercenary in a dystopian metropolis who is hired to rescue a hostage named Abby (the twist: Abby is actually a cat). When she turned it in, something she calls "mind-blowing" happened: the instructor loved it. "A little light bulb went off," she recalls. "I could actually be semi-decent at this. People are having a reaction to something I made up."
Lee and Chu launched Alpha Girl Comics in 2011, but Chu kept writing. The following year she self-published her own book, Girls Night Out and Other Stories, a collection of short comics, and started promoting it at conventions and comics stores around the country, which eventually led to professional writing jobs. Soon she was being entrusted with legacy characters at the two biggest comics publishers, DC and Marvel—characters like Ant-Man, Deadpool, even KISS. (Yes, the band. Yes, they have a comic book.) No matter what character she's writing, Chu's comics are marked by a focus on human quirks and diversity. In her Red Sonja holiday special, for example, the Hyrkanian warrior takes a whirlwind tour of the many holiday traditions represented in New York City.
Her work is not all heavy metal and superheroes. Chu's first full-length graphic novel, Sea Sirens, drawn by Janet K. Lee and being published this June by Random House, is the story of a Vietnamese-American girl who tangles with an undersea world of mermaids and sea serpents.
It's an unusual thing to start a new career at 45, let alone one as talent-driven and difficult as comics writing, let alone to thrive at it. But Chu says every twist and turn in her own story has contributed to her current career; on her LinkedIn page, her bio says simply: "I tell stories."
"I don't think I could have done this when I was 23," she says, heading out the door of Midtown Comics with a stack of fresh books in her hand. "I wouldn't have been good at it."
You might also like
The Crimson springs a major upset.
Harvard officially installs Claudine Gay, its thirtieth leader.
A half-dozen symposiums feature Harvard research on AI, climate change, inequality, and more
Most popular
A community letter as the new administration begins
Solving legal challenges at MoMA
More to explore
A test can identify these productivity-boosting personnel.
Ancient history professor studies coins, ceramics, and Zelda.
Anwar Floyd-Pruitt's wildly profuse art