News Briefs
Putting the A(RT) in Allston
On February 25, the University announced that the $12.5-million ArtLab, an interdisciplinary art-making and performance space, was preparing to open, and that curator and arts professional Bree Edwards, formerly director of Northeastern University's Center for the Arts, had been appointed inaugural director of the 9,000-square-foot facility. A temporary structure that can be relocated from North Harvard Street and repurposed after a decade or so, it represents an initial academic arts commitment in Allston—complementing the community programs operated by the Harvard Ed Portal nearby, on Western Avenue. As such, it is a tangible sign of Allston ambitions broader than those associated with the billion-dollar engineering and applied sciences complex now under construction on Western Avenue and expected to open for the 2020-2021 academic year. (A fuller report on the ArtLab appears at harvardmag.com/artlab-preview-19).
Much more news in this vein issued three days later, when Harvard disclosed that the affiliated American Repertory Theater (ART), based at the Loeb Drama Center on Brattle Street, in Cambridge, since 1980, would relocate to a new Allston theater/performing-arts venue, catalyzed by a $100-million gift from David E. Goel '93 and Stacey L. Goel.
Although the University announced that the ART would continue to present performances at the Loeb "for several years while plans develop"—including further fundraising, project design, and regulatory approval—the Goels' philanthropy enabled President Lawrence S. Bacow to announce "one of our most exciting projects to advance the arts at Harvard." He noted that "the new space we envision will be a magnet for artists and audiences, as well as students, faculty, and staff.…We are so grateful to the Goels for their commitment to nurturing and connecting knowledge through one of humanity's most enduring mediums."
David Goel, co-founder and managing general partner of Matrix Capital Management Company LP, a hedge fund, described a "versatile theater space that can be reshaped as appropriate to express and share the abundant ideas originated by the College, the American Repertory Theater, and Harvard's community already at home in Allston—and connect them through music, dance, theater, debate, lectures, conferences, and dialogue in any format." Part of the gift will also support updating the Loeb (built in 1960) and helping accommodate the Faculty of Arts and Sciences' need for enhanced performance spaces.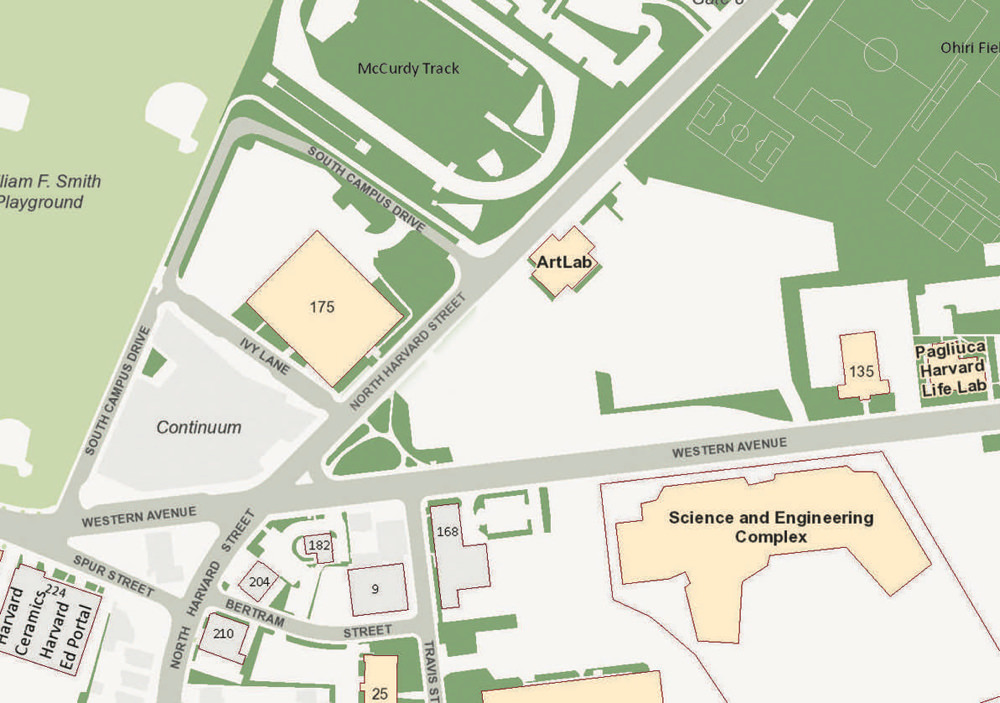 Perhaps the likeliest site for the new theater is 175 North Harvard Street, across from the ArtsLab's temporary location and now home to low-rise buildings and a parking lot. It lies between the outdoor track (south of the Stadium) and the Continuum apartment and retail complex, developed on Harvard property, at Western Avenue. In the 2012 University master plan approved by Boston, the area was slated for a proposed new basketball arena and mixed-use structure that might accommodate graduate-student housing. The existing arena, Lavietes Pavilion, has since been renovated, and faculty and student housing appears likely elsewhere on Harvard's Allston holdings. But given the convenient site and ability to construct multistory facilities there, a multi use complex incorporating the new ART theater probably should not be ruled out.
Read a complete report at harvardmag.com/art-allston-19.
A College Path to Dual Degrees
When the faculty of arts and sciences (FAS) voted in February 2018 to eliminate undergraduate advanced standing on the basis of Advanced Placement and similar tests (see News Briefs, March-April 2018, page 22) for the classes enrolling in the fall of 2020 and thereafter, it struck blows for educational equity and quality. Students from lower-income communities and under-resourced high schools often lack access to AP classes, effectively putting advanced standing at Harvard out of reach, and faculty members have also become aware that AP courses differ in intent and rigor from introductory College offerings—so they determined not to grant Harvard credit for such work. A student enrolled in the College, the reasoning went, ought to get the full benefit of a Harvard liberal-arts education.
But that decision appeared to foreclose an option that appeals to some of Harvard's best applicants and students: making use of advanced standing to bypass some requirements and redeploy that time to enroll in graduate-level courses and complete a master's degree alongside the bachelor's. Professors from physics and computer science have cited that option as particularly attractive to some of the most promising potential matriculants in their own and related fields—where a faster track to advanced academic work, or an associated career, is a powerful lure. Several sciences-related programs permit undergraduates to apply for the concurrent A.M./S.M. option (ranging from applied math to physics and statistics), as do five fields in the humanities (from comparative literature through German and linguistics) and one in social science (history of science).
At its February 5 meeting, FAS heard a follow-up committee report proposing a mechanism for concurrent degrees, absent advanced standing. It would enable students "capable of very advanced work" to apply to earn a master's as they completed their full bachelor's degree curriculum, within the four years in residence. Committee chair Karen Thornber, professor of comparative literature and of East Asian languages and civilizations, outlined a mechanism whereby qualifying students would be permitted to double-count three of the eight four-credit classes required for the master's degree. Thus, to earn both, a student would pursue the typical College curriculum of four four-credit courses per term (for eight semesters), while also completing a fifth, graduate, course in five of those semesters—presumably beginning in the second semester of sophomore year, after committing to a concentration.
Critics said that five semesters of five courses would encourage, or even require, students to game the system, managing their academic load by seeking out easier undergraduate offerings, or denying themselves valuable research or laboratory experiences. Others suggested that the proposed course-counting ignored the fact that graduate-level offerings are, by design, more demanding, so students should be allowed to take their master's degree requirements and double-count them all for undergraduate credit.
When the motion came back to the faculty on March 5 for a decision, Thornber advanced an amendment—Solomonic or pragmatic—reflecting some of the prior debate: it creates a procedure for concurrent bachelor's and master's degrees in which four of the rigorous courses required for the latter degree could be double-counted for bachelor's credit—meaning dual-degree candidates would have to shoulder five courses during just four semesters. She also presented data showing that nearly half of undergraduates during the past five academic years have taken more than the required number of courses.The faculty was satisfied, and in its collective wisdom enacted the new program for ambitious students who wish to apply to earn concurrent Harvard degrees. 
You might also like
The first in a series of public conversations about Harvard and the legacy of slavery
How to encourage free speech and inquiry on campus
A new play at the A.R.T. provides a modern take on ancient mythologies   
Most popular
Strong hockey seasons end in the NCAA tournaments.
Andrew Crespo '05 connects the law to real life.
Brief life of a formidable anthropologist: 1903-1991
More to explore
A test can identify these productivity-boosting personnel.
Ancient history professor studies coins, ceramics, and Zelda.
Anwar Floyd-Pruitt's wildly profuse art