News
Allston ArtLab Prepares to Open
2.25.19
Harvard's new, $12.5-million ArtLab, envisioned as an interdisciplinary center for creativity and innovation on the University's Allston campus, is undergoing "final preparation" to begin hosting activities in the next several months, according to a University statement today. (A formal opening celebration will take place this fall.) The new facility's inaugural director is contemporary art curator and arts professional Bree Edwards, who has served as the director of Northeastern University's Center for the Arts.  
The 9,000-square-foot facility is located on North Harvard Street across from the University's outdoor track, one block over from the billion-dollar science and engineering building now rising on Western Avenue. It joins an "innovation" cluster that includes the iLab, the Pagliuca Life Lab, and the Launch Lab, a workspace for startups launched by University alumni. The ArtLab, envisioned as a temporary structure with a 10- to 15-year horizon at its current location, will house experimental performance space as well as art and recording studios, a workshop, and offices, and will be open to students and faculty members from across the University.
The facility, which will be overseen by the Office of the Provost, includes spaces for exhibitions, screenings, rehearsals, experimentation, and other types of collaboration. "People often do not understand that artists actually do research," said Lori Gross, associate provost for arts and culture, "and that is an incredibly important message to convey to the Harvard community and beyond. The ArtLab can become a place for exploration and experimentation."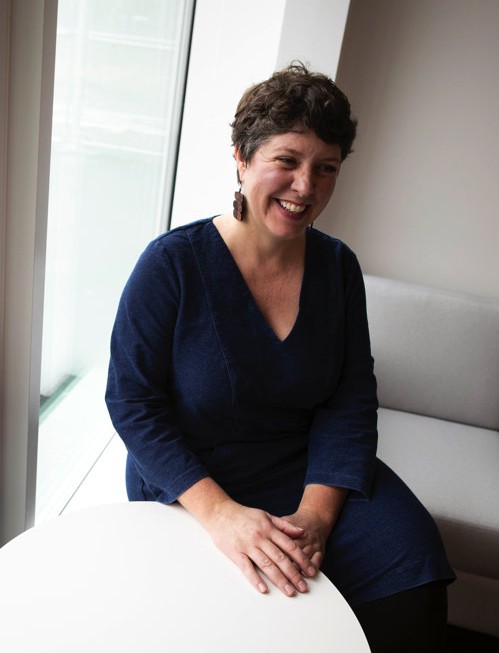 Photograph by Stephanie Mitchell/Harvard Staff Photographer
At Northeastern, Bree Edwards oversaw performances and gallery exhibitions, an artists-in-residence program, as well as arts scholarship and community engagement. Previously, she served as program director of the University of Houston-based Mitchell Center for the Arts; from 2004 to 2006 she was curator of public programs at the Asheville Art Museum in North Carolina. She holds a master's degree from the Center for Curatorial Studies at Bard College, and a bachelor's in photography and social ecology from Goddard College, where she studied art, culture, and social change at the Institute for Social Ecology.   
"Throughout my career I've been seeking to be involved in the process of making new work with a range of artists working in different media," Edwards declared in the University announcement. "There are so few places to show works in progress at Harvard and in Boston in general, which makes the ArtLab truly unique and exciting." Echoing Gross, she added: "It's about making the hidden process visible."
The ArtLab concept traces its origins to a 2008 Report of the Task Force on the Arts that recommended Harvard "create a Hothouse to encourage arts-related collaborative projects." In a 2017 interview with this magazine, arts and humanities dean Robin Kelsey emphasized that "the dream for Allston is not to turn it into an engineering and science ghetto. The idea is to have a diverse range of intellectual, social, cultural activities taking place on that campus." He also noted that, for the arts community, "there is something freeing about that new geography" on the other side of the river, which lacks allegiances to any existing campus arts fiefdom.
Read the University announcement here.