Explorations and Curiosities | Explorations
Provincetown in the Off-Off Season
Just enough art, culture, good food—and conversation—"to keep you fully engaged"
J
anuary in Provincetown can't promise the carnival sizzle of summertime. But with the population whittled to around 1,000, and only 20 or so restaurants and bars open, the tip of Cape Cod offers, instead, "a wonderful, quiet romance," says David Drake, artistic director of the Provincetown Theater—and no need to cope with the Commercial Street throng. 
The theater itself hosts play readings, a weekend of "24 Hour Plays," and The Mosquito Story Slam. Elsewhere, there are also art exhibits, films, a smattering of live-music performances, free community classes, and cozy lodgings for intrepid visitors. "And if it snows?" Drake adds. "It's Disney—ridiculously beautiful."
The natural drama of the ocean and the historic heart of the town are on full, bare-bones display. If the wind isn't threatening to blow you down, it's wonderful to bundle up and walk on the jetty and the beaches, or take some of the trails in and around the Cape Cod National Seashore. "You could be the only ones enjoying some of the most beautiful coastlines in the world," says year-round resident Mike Miller, founder and publisher of the community media hub ptownie. There's "a running joke in town that 'Hey, I'll see you at the Stop & Shop with your pajamas and slippers on.' And I hate to say it—but it's true!" he adds, laughing. "The supermarket is a very social place in January and February."
Stopping to chat in the frozen-food aisle, in a community with so many creative people, can prove surprisingly illuminating. But, he assures, there are other, more formal activities and "just enough going on to keep you fully engaged—if you want to be."
Ptownie's Seasonal Guide highlights "year-round heroes"—the establishments that help keep the town's fiery, artistic spirit alive during the fiercest months—plus communal gatherings that mitigate that otherwise ghostly feel of the Outer Cape, when the weather and remoteness can make it seem as if you are the last person left on earth. "We are so grateful to those people and places that stay open during the time we need them most," Miller reports, so "you know that if you want to have human interactions, you can always go in and have lunch at Far Land Provisions." The corner store, deli, and full-scale bakery produces all food on site, and is a convivial spot, with several tables, during the winter. 
Breakfast and brunch are also served—all day—at Chach, a bright, homey diner-ish place; try the Mexican green chili omelet and a side of hand-cut fries. Get eggs Florentine, brioche French toast, and Portuguese flippers (sugar-topped fried dough) at Liz's Café, Anybody's Bar—a warm, stylish neighborhood restaurant with mismatched vintage touches, antique tables, oil paintings, and a polished bar made from an actual dory—but know that you might want to return for dinner of "New American" fare, like refined versions of fried chicken and meatloaf with mac and cheese. 
Miller also points to evenings of live music at Tin Pan Alley, a restaurant, piano lounge, and slinky bar—and to trivia night at the eclectic Provincetown institution Napi's Restaurant. Stained-glass windows, salvaged woodwork, paintings, sculptures, and tchotchkes reflect layers of Provincetown's artistic soul. It's a prime place to hunker down with any imaginable variation on the martini and a plate of Russian oysters (topped with sour cream and black caviar). Otherwise, the menu is fairly traditional: cod amandine, mushroom ravioli, and a rich bouillabaisse.
On Mondays, Miller suggests attending (or participating in) the "Coffeehouse at the Mews." The Mews Restaurant & Café, another Provincetown mainstay, has a dining room right on the bay, with views of Long Point Lighthouse—and a very lively cocktail bar. Coffeehouse co-hosts singer-songwriter Peter Donnelly and Mews owner and radio/television personality Ron Robin open the mic at 7 p.m. for a professional performer, and a cadre of other singers, musicians, comedians, and writers. Anyone wanting to share artistic modes of personal expression is welcome. 
"About 25 percent are truly novices," Miller reports, "50 percent are just plain nice—and 25 percent are fantastic. You never know what or who you are going to see. It's like a local talent show. One woman is in a wheelchair, she's got to be 90-something, and she comes in with her son, and they wheel her up, and she sings. She is delightful."
One of the best aspects of Provincetown in the winter, he adds, is just that: engaging in homegrown activities, and taking the opportunity to "really get to know the locals, and hear all the stories about the place, because every other time of the year, they are busy here." To delve into Provincetown's illustrious history, and its identity as a longtime arts colony and vibrant haven and community for gay people, pull up a stool at almost any watering hole—like the Governor Bradford, Porchside Bar, Old Colony Tap, or the Little Bar at the A House—and talk to people, he suggests.
The protected harbor has historically sheltered boats and visitors from the elements—and nurtured creative spirits. By the mid 1700s, Provincetown was an established fishing community that grew exponentially, following the American Revolution, into a prime commercial port, with a large Portuguese population. In November 1898, however, the Portland Gale struck the coast and destroyed wharves and other fishing infrastructure, effectively wiping out the industry, prompting area leaders to rethink and rebuild the local economy through tourism. The influential Cape Cod School of Art—the nation's first outdoor school of figure painting—was founded in 1899, and the town was soon attracting artists, along with performers, intellectuals, and other bohemians, notably from Greenwich Village. The New York-based Provincetown Players produced two seasons, mounting shows at a fish house on the town's Lewis Wharf. The second season, in 1916, featured a debut play by a young writer named Eugene O'Neill—later hailed as the father of modern American drama. 
Fast-forward to the 1960s, when Provincetown saw an influx of hippies, head shops, and free-wheeling lifestyles, and then to the 1970s, when it became home to a growing gay population, such that in 1978 the Provincetown Business Guild was established to promote gay tourism.
Learn more about local history at the Provincetown Public Library. It's housed in what was originally an 1860 church, and has since been an arts center and the Heritage Museum, before the town overhauled the interior and opened the library there in 2005. The grand and airy space has sunlit nooks for reading and writing, and displays of items from the heritage collection. A half-scale model of the Rose Dorothea, an "Indian head" schooner (the original boat was built in 1905 at a shipyard in Essex, Massachusetts), stands stalwart in the children's room. The library is a vital community resource; check the website for public events. 
Anyone can also join in Winter Wednesdays (February 5-March 25), a program of free, drop-in classes sponsored by several town agencies. Last year, classes ranged from woodworking and cake-decorating to drumming, Humphrey Bogart Movie Nights, and a very well-attended series of candid, open-ended discussions on "The Art of Dying." The classes bring people together to learn something new. combating the urge to stay home alone and hibernate. "I learned to sew last winter!" Miller says. "It's like going to summer camp again."
 The Provincetown Theater ends its official production season with the December 20-22 performance of "Townie Holiday Extravaganza," but the free "Winter Play Dates"—full-length readings of new works—start on January 28 (and are held every other Tuesday—February 11, 25; March 10, 24; April 7). Author, playwright, and educator Gary Garrison, former executive director of The Dramatists Guild of America, leads the effort, organizing writers and readers from Cape Cod, Boston, and New York City. There's a Q & A with the playwrights following each reading, and a cash bar in the lobby.
Also on tap, during President's Day weekend (February 14-16), are the "24 Hour Plays." Licensed under the New York City-based 24 Hour Play organization, these impromptu productions are written, directed, staged, and performed, in a flurry of intensive collaboration, from Friday to Sunday. Typically, a few props—like a pair of fog glasses, a bucket, and a blow horn—must be incorporated into the play, Drake explains: "So these tend to be comedies and they're fun, and the quality is varying—but that's all part of the fun of it." 
The Mosquito Story Slam, started about seven years ago, is a live event and podcast produced by Boston-based filmmaker and educator Vanessa Vartabedian. It will take place at the Provincetown Theater every second Saturday from January through April. Story themes are announced in advance, and on the night of the performance, participants sign up at 6:30 p.m., and start slamming a half-hour later. "There are no judges, no prizes," Drake says. "Just 'come on down' when your name is called."
Before or after any show, head to restaurants and bars. Closest is Fanizzi's Restaurant by the Sea—more like in the sea, separated by pilings. Sit at the large, well-stocked bar or in the dining room; meals center around traditional Italian-style entrées, like chicken parmigiana. The place provides its own theater during a storm, or when the waves are running high, and the ocean churns right outside, or water slams against the windows. 
Mac's Fish House, as implied, is all about fresh seafood—from swordfish curry and lobster fra diavolo to fried scallops and sashimi. It tends to hold "foodie evenings and specials," Miller notes, "like $10 noodle-bowl nights and wine-pairing dinners." But The Canteen—walk-up counter, wooden tables, and basic nautical décor—has, arguably, the best lobster roll in town, along with crispy Brussels sprouts, fish and chips, a meatball melt, and falafel salad: something for everyone, and all cooked fresh, with care. For finer dining and more traditional classics, like caesar salad, lemon chicken, and beef stroganoff, head to the Landing Bistro & Bar, at the Pilgrim House hotel.Events and entertainment are also planned this winter, which makes rolling into bed afterward easy.Nearby, the Provincetown Brewing Company, launched in 2018, hosts "One Man's Trash/Another Man's Treasure" Wednesday movie nights, to be enjoyed with the brewery's canned, and rotating draft, beers, and pub fare. Don't resist the chicken sandwich with bacon, blue cheese, garlic aioli, pickled onions, and arugula on a ciabatta roll—along with fresh juices and smoothies, salads, and the giant Bavarian pretzel (for two).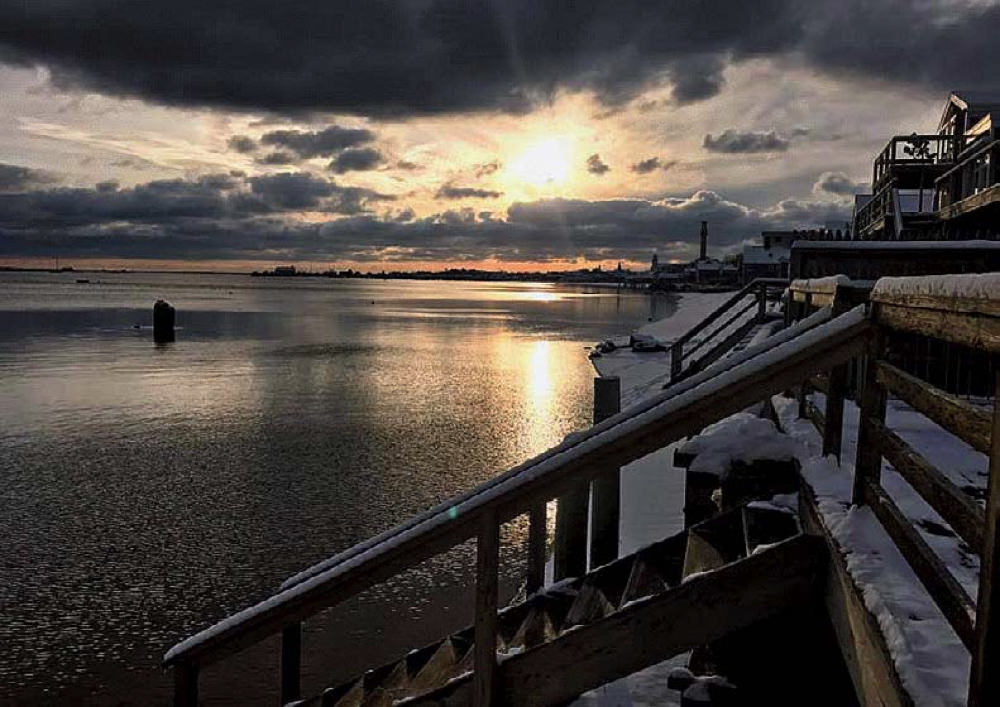 Photograph courtesy of Fanizzi's Restaurant by the Sea
Films, from art-house wonders to mainstream Hollywood hits, are also screened year-round at the intimate Waters Edge Cinema, operated by the savvy curators of the Provincetown Film Society. Local radio stations WOMR and WFMR host "Thursday Night at the Movies"—classic 16-millimeter and 8-millimeter reel-to-reel films dating to the 1930s, some talkies and some silent, with occasional musical accompaniment.
Another bright light of winter is the Provincetown Art Association and Museum, where rotating exhibits through March offer works from its 3,000-plus permanent collection, including recent gifts. Starting January 10 (with a popular "opening night" reception on January 24), the museum spotlights works by visual artists from around the country who are completing 2019-2020 residencies at Provincetown's Fine Arts Work Center. The nonprofit center helps keep the local arts vital, and each season selects 20 emerging artists and writers for seven-month fellowships. It also hosts its own winter series of readings and solo exhibitions of fellows' work, along with events with other guests artists and writers. "Energetic and intimate," says Lydia Marie Hicks, the visual-arts fellowship coordinator, these gatherings are "an exciting way to see the future of the art and writing worlds unfold." Check the website for schedule details. 
Varying accommodations are open in January and February. Besides Pilgrim House, ptownie's Miller cites the Aerie House, Anchor Inn Beach House, Benchmark Inn, Revere Guesthouse, and Gifford House. The historic, ornately decorated Land's End Inn offers romantic tower rooms with water views, daily wine receptions, and hosts the Cape Cod Songwriters Retreats (the next one is March 2-6). Another lovely choice is the smaller Carpe Diem Guesthouse and Namaste Spa (although it is closed the last three weeks in January). The Eben House and Stowaway re-open for the 2020 season on February 1, and both the Crowne Pointe Historic Inn (and its Shui Spa) and Crown and Anchor follow suit on Valentine's Day weekend. Note that many of Provincetown's usual spas, wellness centers, and massage studios are not officially open, visitors can always find bodywork professionals and recommendations through the Provincetown Community Space on Facebook, Miller explains.
The off-off season best suits city dwellers seeking a slow-moving, peaceful time, anyone immersed in creative projects, those who want to sit by a fire and read a book—and people eager to get outside and enjoy the volatile weather. "There are only about a thousand local people here, but they are some of the most interesting people you will ever meet," he adds. "That's what's amazing about this place. There's all this beauty—and people who appreciate that beauty, and art, and acceptance, people who appreciate everyone for their misfit qualities."