Montage
Finding Other Streets
Photographer Mark Erickson on the Vietnam he never knew
Mark Erickson '94 has lived only one life, thus far, but he's considered another one—photographically. It's the life on display in Other Streets, a 2019 collection of photos he took while studying in Vietnam as a Harvard student.
Born Đỗ Văn Hùng in Saigon in 1972, Erickson was one of more than 3,000 Vietnamese children—some orphans, some not—transported to the United States during Operation Babylift in 1975. Adopted and renamed by a New York couple, he grew up in Buffalo and Rochester, in all-white communities. His earliest memories come across like an album of all-American boyhood: tract homes and sidewalks, learning to ride a bike with help from his big brother, wandering the local woods, and hiking and playing along a nearby creek. He rarely gave his Vietnamese heritage much thought. Nor did American media and culture provide much encouragement.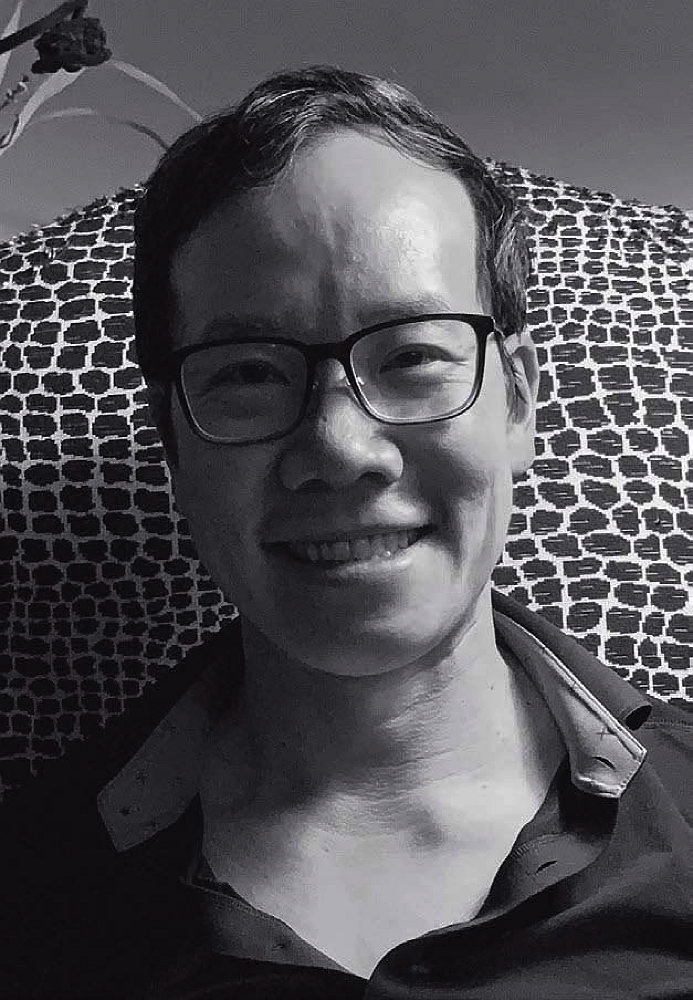 "I was definitely a product of that time. Looking back, there definitely was not the emphasis or concern of today on whether you want to call it diversity or multiculturalism, or even cultural awareness," says Erickson, who makes his living in banking and finance and works avocationally as a street photographer. "I probably thought about Vietnam as much as other American teenagers did": through films like Apocalypse Now, Platoon, and Full Metal Jacket. "But those are all obviously American films from an American perspective, and all the characters in those films are American. And as an American, I identified with them."
He thought more about his birth country after meeting fellow Vietnamese students in college. "I was in the community-service program they had at Harvard, teaching English as a second language. So I met real Vietnamese refugees who had just arrived in America." Originally focused on a pre-medical program, he switched to East Asian studies midstream. At the time, Harvard had one of the nation's very few Vietnamese professors of Vietnamese history, Hue-Tam Ho Tai; she became his academic adviser.
In need of credits, Erickson enrolled in a documentary photography seminar. (He already had experience taking photos and developing prints in a darkroom built by his brother in their family's basement.) The seminar functioned more like an apprenticeship. Small classes of 10 were taught by visiting, practicing artists like photographers Chris Killip and David Goldblatt, two men whose own work documented everyday life in 1980s working-class Britain and South Africa under apartheid, respectively. He calls his work with them his "first real, deep, in-depth introduction to documentary photography." He picked up other influences along the way: Robert Frank, Josef Koudelka, Sebastiao Salgado, and Bruce Davidson.
As his East Asian studies progressed, Erickson increasingly felt the incongruity of studying Vietnam without ever having been there. He persuaded then-department chair Peter Bol, Carswell professor of East Asian languages and civilizations, to support his study-abroad plans ("I think he was moved by my own personal story"), and boarded a plane in the fall of 1993. Vietnam and the United States had not yet normalized relations, so he had to fly to Bangkok, to acquire a student visa from the Vietnamese embassy to study in Hanoi as a foreign national. For the next six months Erickson took courses in Vietnamese at the University of Hanoi and spent his free time shooting the images that appear in Other Streets, which he self-published last year. The book was a few decades in the making, in part because, at the time, the idea didn't even occur to him. "I only had one intention," he says: experiencing Vietnam for himself.
His photo equipment was minimal: a manual Pentax camera, three lenses, and a bag of film. He rode a fixed-gear bike everywhere, snapping both urban and rural street scenes. The unforgiving limits of 24 shots per roll of film and no darkroom demanded discipline and a keen eye. He drew from his training with Killip and Goldblatt, especially their most important lesson: before snapping the shutter, make sure the picture in the viewfinder is one you want.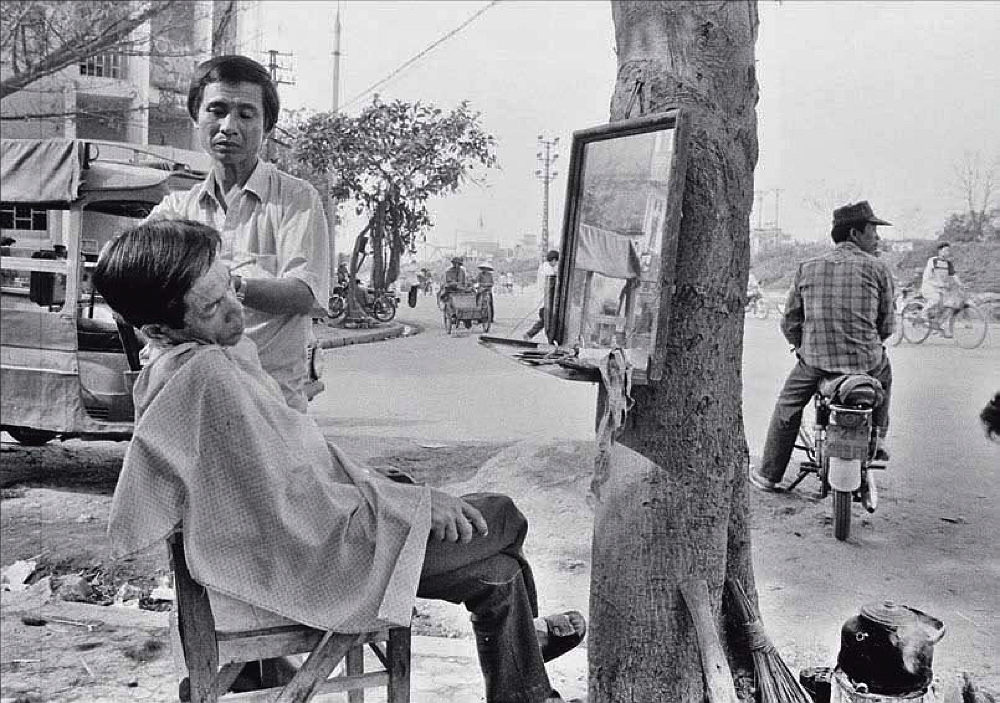 Photograph by and courtesy of Mark Erickson
The photos in Other Streets provide a flicker of a glimpse of a time and place few people consider, and even fewer remember. Erickson favors lush chiaroscuro renderings of Hanoi, Hue, Da Nang, Ho Chi Minh City, and elsewhere. He always sought consent before snapping pictures, but even the posed shots have an easygoing naturalness and sense of immediacy, despite the passage of decades. Sugar-cane sellers, children playing badminton in the street, students with their square leather backpacks, vendors selling goods along the sidewalks, a barber giving a shave outdoors, with a mirror hanging from a nail in a tree—all these images give a real sense of what it was like to walk those streets.
What was it like to return to a place he couldn't remember—where he was, in a sense, a familiar stranger? "As a minority, being in a place where you're technically the majority felt very, very different," he explains. "Although I'm not the first person to say it, in America I feel very Vietnamese, but in Vietnam I felt very American. Culturally, I wasn't Vietnamese at all and my language skills were very poor. But people were curious about me and friendly."
The book's title was inspired by a quote from another artist who experienced a cultural shift at a young age: Japanese-British author Kazuo Ishiguro, who once declared, "There was another life that I might have had, but I am having this one." "That kind of struck me," Erickson says. "I guess that's how I conceived of Vietnam and the people I was interacting with: that, had I not been in this very small group of people airlifted out of Vietnam at the very end of the war…this is what my life could have been like."
In reviews and interviews about the book, the word "nostalgic" often comes up. "I can see why people would use that adjective," he says, "but for me it's a little odd because it's 'nostalgic' for something I didn't even know about." When he shares the images with Vietnamese and Vietnamese-American audiences, though, the nostalgia is real, and unmistakable. People often are moved to tears. "Most Vietnamese in America are refugees, so they came here literally with the shirts on their backs," he says. "And besides bringing a few treasured photographs, mainly of their ancestors, most have no photographic record of their growing up or their lives in Vietnam." For some of those people, he thinks, the book is "in some ways a substitute family album."
Erickson's current project, photographing Vietnamese refugees and immigrants, has inspired a future one. He's in touch with several contemporary Vietnamese writers, and envisions a new series of photographs of Vietnamese ­American life intertwined with first-person essays. "That's a work I'd like to bring to light not only for myself, but also for the community."