Montage
"We're All Animals"
Shelby Meyerhoff's liminal, liberating body painting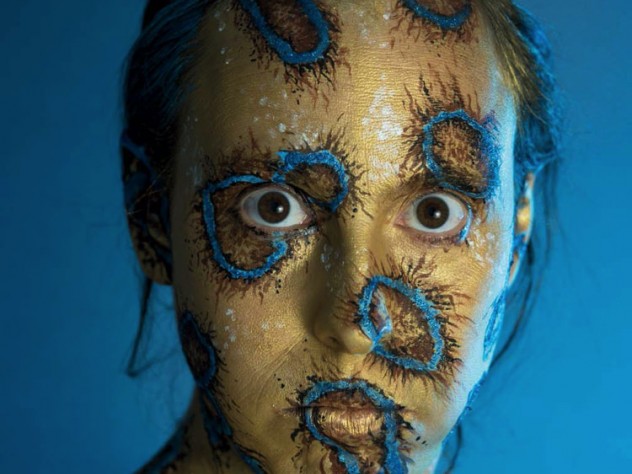 Photograph courtesy of Shelby Meyerhoff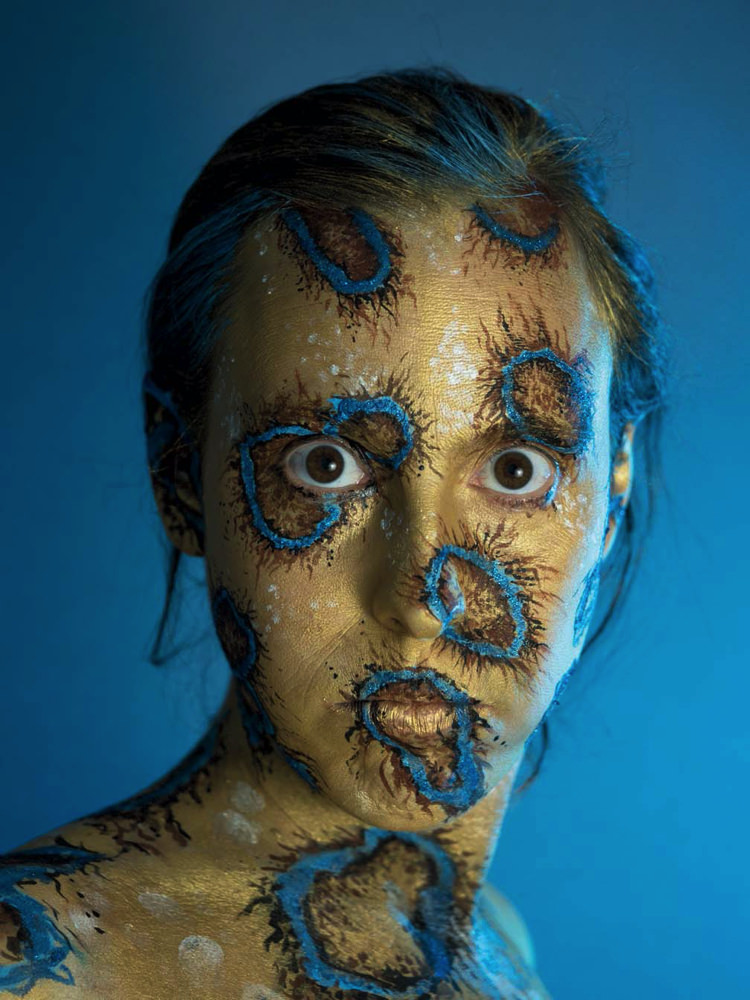 Photograph courtesy of Shelby Meyerhoff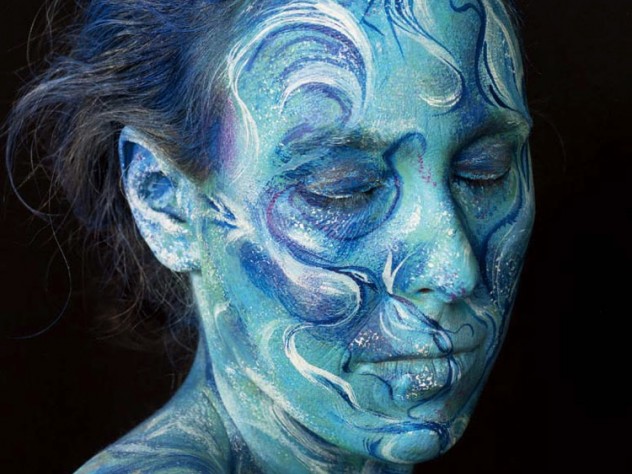 Photograph courtesy of Shelby Meyerhoff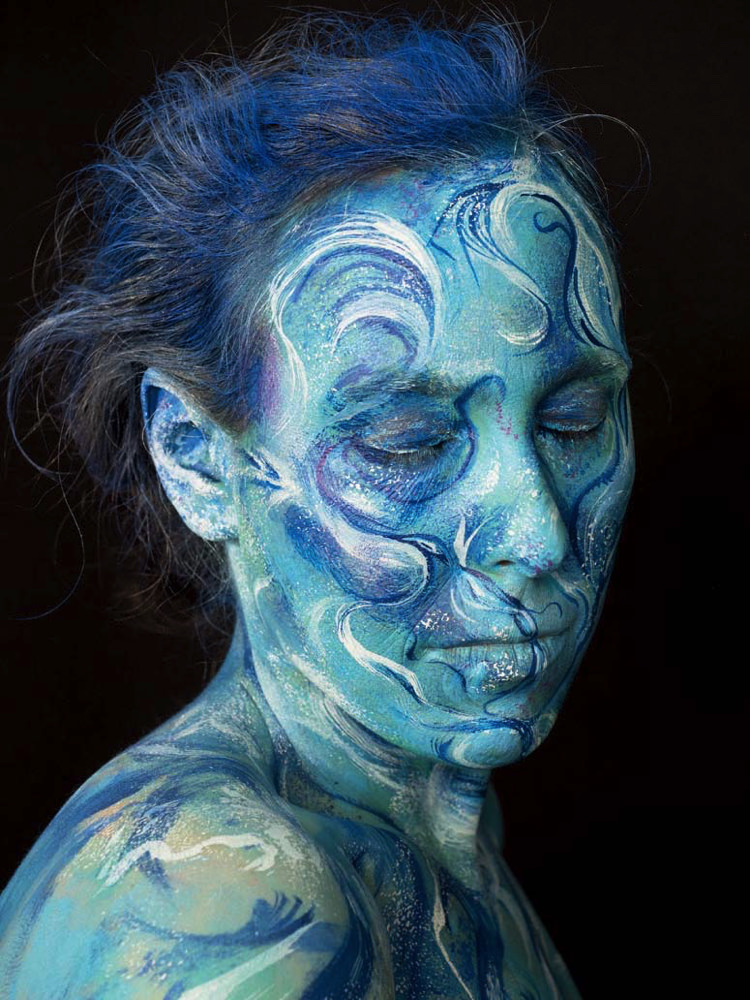 Photograph courtesy of Shelby Meyerhoff
What catches the eye first are the artist's own eyes: in her blue jay's straight-ahead stare, the affable alertness of a mallard drake, the closed-lidded stillness of an owl butterfly. For her self-portrait photographic series Zoomorphics, Shelby Meyerhoff '03, M.Div '06, covered in body paint from the chest up, transforms into elements of the natural world. As a blue-ringed octopus, she is guardedly observant. As a sunflower, she winks playfully while yellow petals radiate outward from her open iris.
It is a deliberate act of camouflage. In the artist's statement that accompanied Meyerhoff's solo exhibition last fall at the Griffin Museum of Photography in Winchester, Massachusetts, she talked about slipping out of gender, finding freedom from the cues and constraints of being a woman: "Getting dressed always feels like pretending," she wrote. Layering herself in body paint, paradoxically, felt less like artifice. She elaborates: "You can cast off the assigned meanings that a hairstyle has, or a facial expression, and go toward something more natural and elemental, almost surrealist."
There's a larger disappearance at work, too. Meyerhoff recalls sitting alone in a meadow during a long-ago vacation and somehow dissolving into it. "And I realized, maybe this feeling doesn't have to be only a once-a-year thing," she says. In 2014, she and her husband moved to a home near the Middlesex Fells, beyond Boston, and she began walking its trails nearly every day, observing the birds and insects, watching for larger mammals, studying the plants and flowers. A Unitarian Universalist who has worked for church-affiliated environmental conservation and human-rights organizations, Meyerhoff likes the idea of a hybrid artistic creation that is both human and nonhuman. "There's a reason I can make my face look so easily like a blue jay," she says. "We're all interconnected; we're all animals, fundamentally."
Meyerhoff came late to professional artwork. She arrived at Harvard expecting to concentrate in English literature, but shopping week led her to a comparative religious ethics class. "It was fascinating," she says. The class introduced her to world religions, and also framed the moral dilemmas that theologians and ordinary people faced in the years after the Holocaust. "It was religion, but also history and politics, and some literature, too." That course became the gateway to a concentration in religious studies, sharpened by her participation in campus activism. "This was all right around 9/11," she says. "And the more I got into activism, the more I felt like, in order to live with the hurt of the world and to understand my own role in it, I needed a community that was spiritually grounded." Her junior year, she joined the Unitarian church, and after graduation enrolled at the Divinity School with plans to become a minister. But she quickly realized "I was not meant for congregational ministry—I was 23 and not mature enough yet." She found her way instead to political advocacy in Unitarian Universalist nonprofits.
And then in her mid thirties, she began thinking seriously about a career in the arts. She'd been painting and drawing since childhood: "It was something that always made me feel a kind of peace. Now I know the word is 'flow.'" For years, she had been taking courses in graphic design, painting, and cartooning. She bought a set of body paints for fun, thinking it might be a way to take part in community festivals, offering face-painting to children—and then began painting herself daily to practice. "Instead of using designs from books, I would try to make things up based on what I was seeing out in nature," she says. She posted daily photographs of her transformed self to social media. "Like, 'Here's my selfie—I'm a Jack-in-the-pulpit today,'" she says. "And people got the joke—it required no explanation."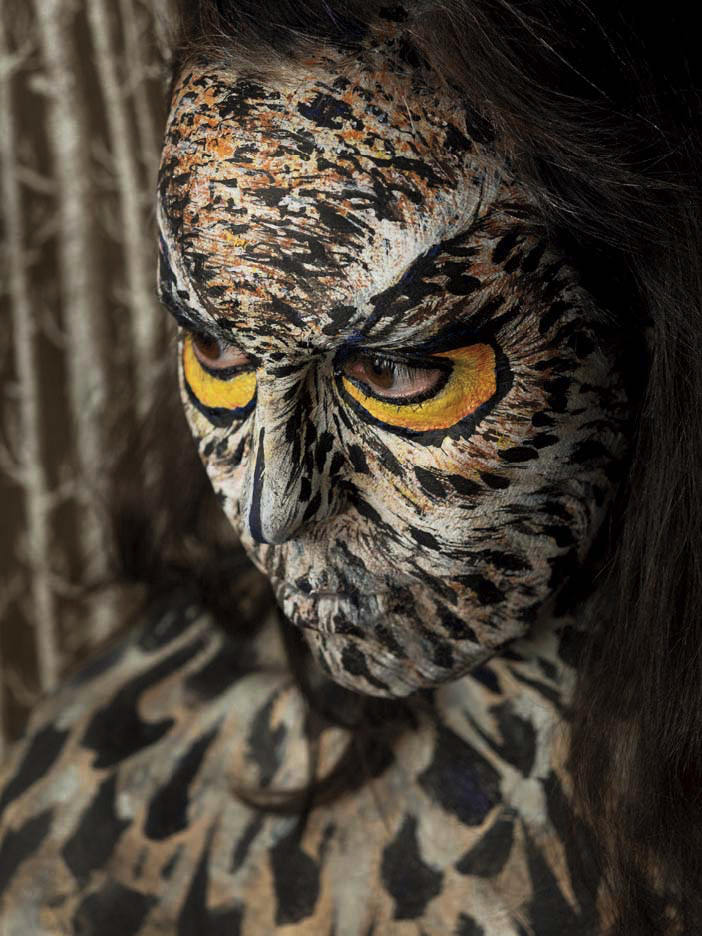 Photograph courtesy of Shelby Meyerhoff 
An arts course on illustration helped convince her that body painting could be a fine art. "I realized that I love face and body painting and I love taking pictures of myself and instead of trying endlessly to steer myself toward something more conventional, I should go deeper and push Zoomorphics to a different level."
Each body painting and photo shoot takes up to eight hours to complete—"And I know I won't be eating during that whole duration; that's why flow is so important," she says. Using two facing mirrors for guides, Meyerhoff sometimes works from images of the plant or animal she's creating, but the brushwork is mostly done freehand, layer upon layer of dense color. "When you first start working, you're always so careful and precise with the brush, and often those marks are the least interesting," she says. "It's only after, like, three hours that you loosen up and start painting more freely," so she usually waits to paint the eyes and mouth—the most expressive parts. "One of the most interesting things is trying to flatten the planes of my face to match the circular marks on the blue-ringed octopus or the great horned owl," she says. "To create the optical illusion of continuity, so that the face disappears." Modeling for the camera afterward "is tricky—it's very hard to fake it, because the signals to the viewer about how you're feeling at that moment are so subtle: the creases around the eye, or the way the forehead is scrunched….you have to get into a mood that's playful but also intentional."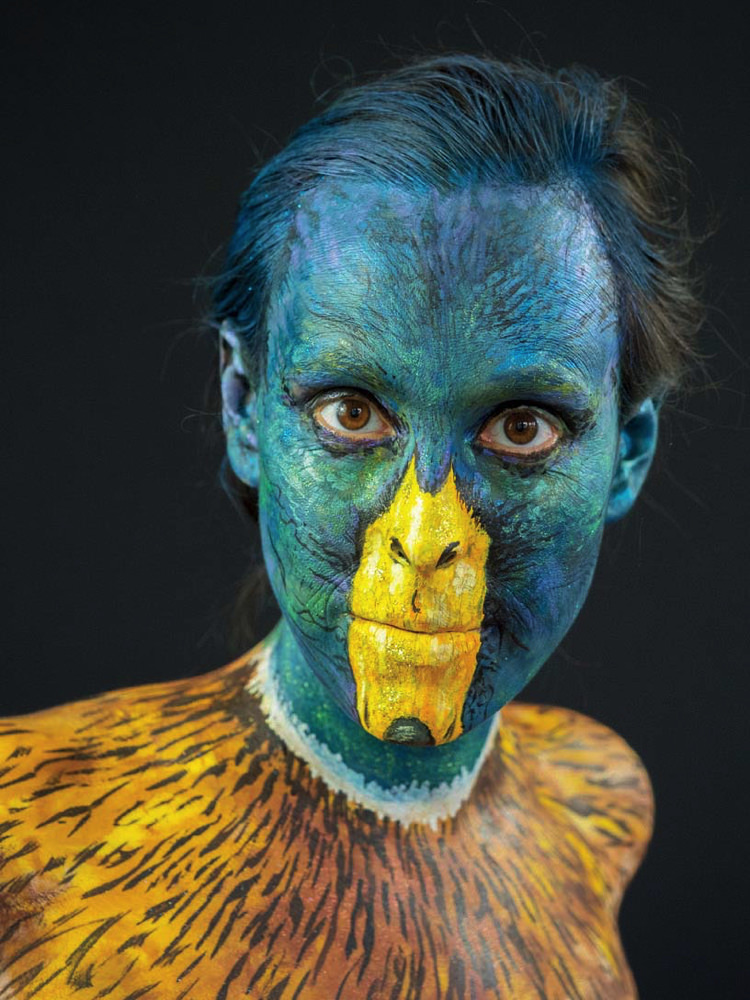 Photograph courtesy of Shelby Meyerhoff 
Some viewers have noticed an "uncanny valley" quality to some of her work—an eerie effect similar to that evoked by robots that look almost (but not quite) human. "In religious studies, we would call it liminality," she says. "Betwixt and between." That's a concept that connects with her environmental work as well. Meyerhoff grew up in a forested neighborhood near Baltimore, and has led outdoor education classes with children, teaching them about their connection to the natural world. Zoomorphics ponders that same question. She recalls a famous essay by the late cultural critic John Berger, "Why Look at Animals?" "He was saying, 'Isn't it ironic that we're making all these images of animals at a time when our actual relationship with animals has become so distant?'"
Meyerhoff has also experimented with liminality—and ephemerality—in her most recent works. Paper Playroom is a photographic series documenting the sculptural shapes she and her two-year-old daughter made with painted and crumpled paper bags during long summer days stuck at home during the pandemic. She doesn't keep the sculptures, and it's important to her that they're made from recyclable material. "They exist as art because of the way the light is hitting them, and the shadows it creates," she says. "It isn't really one fixed object that's being photographed; it's more like it's in transition. That's something that interests me with both of these series—with Zoomorphics, too, it wasn't about, like, 'I made this creature'; it was, 'I've become this creature.' "