Montage
Experimental Magic
Jazz composer Phillip Golub and the art of making magic
It's not the sabbath, but something is going on inside St. Anne & the Holy Trinity Episcopal Church in Brooklyn Heights. Among those in the pews are a young man in a bright yellow beanie, an elderly woman with a butterfly tattoo on her shoulder, a girl with maraschino-cherry-red hair, and another in black pants that appear to have been made from a tarp.
Beneath the stained-glass windows, in place of an altar there's 29-year-old experimental jazz composer and pianist Phillip Golub '16, seated at a piano. He looks at the 13 musicians stationed in unexpected spots around the church: the saxophonist on the left balcony, the clarinetist in front of the deacon's seat, the theremin player beside a stone pillar. "Alright, should we get started?" he asks, and with that, his composition, "Filters," billed as a four-hour "meditative, resonant, contemplative, hypnotic, long-durational sonic experience," begins.
A "hypnotic long-durational sonic experience" might sound like an insufferable drum circle at Burning Man, but Golub's composition is far from it. It consists of five "loops," or one-minute musical cycles, each repeated many times to form a movement. The loops' harmonic structures change every time they're played because the instrumentalists have the choice to switch to different melodic lines and enter and exit the loop as they wish. The goal, Golub says, is to facilitate "individual expression. I don't want to just hear a violin. I want to hear the person behind the pitch."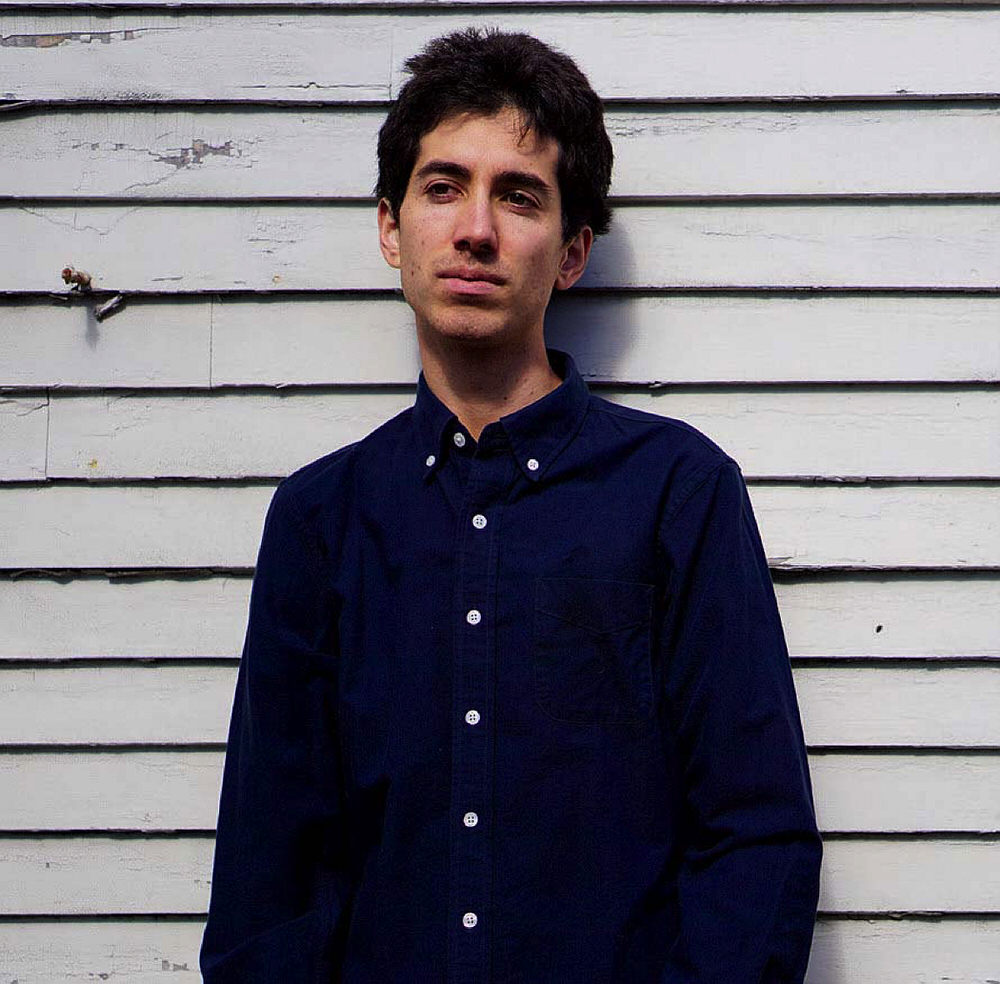 Photograph by Marena Lin
Golub's musical influences mingle together in "Filters," from the ars subtilior music of medieval France (a harmonically and rhythmically complex blip in early music history) and spectralism (a compositional aesthetic based on the physical properties of sound, particularly timbre) to Thelonious Monk.
The effect of more than a dozen instrumentalists forging their own paths through Golub's score is strange and magical. The chords pull apart and come back together again all at once, like a movie switching from slow-motion to regular speed. It gives rise to spontaneous musical events, like the delicate ending of the first movement when only the piano and strings decided to play, or the startling weirdness of the theremin entering the loop with its timbre somewhere between a boy soprano's singing voice and an ascending flying saucer.
A large-scale production like "Filters" is a big moment for Golub, who mounted the piece thanks to a New York City Artist Corps grant. Much of his time is spent working as a pianist and accompanist and writing commissioned pieces, which have been performed in venues like the Broad Stage in Los Angeles, Merkin Hall in New York City, and the Milton Court Concert Hall in London. "The reality of being an artist in the twenty-first century," Golub says, is that his livelihood is a hodgepodge: composing, certainly, but also sometimes tutoring, dog-walking, or playing keyboard in unexpected places. When we meet at a Turkish restaurant near his house in Brooklyn (called Zaytoon, the Arabic word for "olive," and coincidentally, the name of Golub's dog), he mentions that he and 30 other musicians have been hired to create a "soundscape" the next day at the Staten Island Museum.
Before he was composing, Golub was a grade-schooler noodling around on his family's piano in Pacific Palisades, a Los Angeles suburb where Sunset Boulevard meets the Pacific Ocean. He'd take a Bach minuet from his piano lesson and switch the key, make it minor, change the time signature, or alter some notes. He found jazz through his film composer father's record collection and was struck by its simultaneous individuality and collectivity. "In jazz," he says, "you're in a band, but you're also an individual. You can hear each player's personality."
In high school, Golub was named one of the Los Angeles Philharmonic's four young composer fellows, where he homed in on a composition career. "I was composing before that, but I didn't think of myself as a composer," he says. "I finally felt licensed to pursue this thing." When it came time for college, he applied only to joint liberal-arts and music programs, ultimately selecting the joint five-year Harvard/New England Conservatory degree. "I never really thought I'd do anything besides music," he says, "but I wanted to do some other things, first." Between graduating Harvard with an A.B. in English and finishing his M.M. in jazz performance from NEC, he moved to London and earned an M.M. in music composition from the Guildhall School of Music & Drama.
Shortly before the pandemic, the band he formed at NEC, Tropos, released a well-received, mostly improvised album, Axioms // 75ab, which included original compositions and interpretations of pieces by Anthony Braxton, an experimental composer/saxophonist known for blurring the line between composed and improvised music.
Lockdowns squashed the band's tour plans, but Golub was fortunate enough to spend the pandemic working with two jazz legends: Wayne Shorter and professor of the practice of music esperanza spalding (who does not capitalize her name). Serving as the musical dramaturg on their opera, …Iphigenia, Golub saw the production through its early days to its debut last fall in Boston (see harvardmag.com/spalding-iphigenia-21). With the opera now on tour, Golub is working on a series of not-yet-published compositions.
"Imagine there's a mural here," he says, pressing his palm flat against the exterior wall of that Turkish restaurant. "But now," he sweeps his hand across the brick, "imagine there's graffiti on top of that mural. And like, that's the piece I'm working on."
Using everything from Bach to "Rudolph the Red Nose Reindeer" as jumping-off points, his latest project "graffities" on top of the foundational piece so that, improbably, listeners can clearly hear both Golub's musical voice and the voice of the original composer. This dialectic "shouldn't be physically possible, because there can't be two universes at the same time," he says. "But music can give you two streams of information simultaneously. No other art form can do that."
His goal in all his work is "to create things that are magic," Golub says. "Music should do things that you thought were impossible, whether it's emotionally or in the music itself." Opening up his scores to improvisation is one way to create magic, but he says, "Magic can also be very planned, like a great magician knows exactly what they're going to do to divert your attention over to this hand so they can do the thing in their sleeve on that hand. Magic can be spontaneity, but it doesn't have to be."
But even if he's trying to create magic, Golub doesn't romanticize the artistic process. He chafes against the "bourgeois fantasy" of the genius composer who locks himself away for weeks at a time to create a masterpiece. For Golub, it's about carving out time to compose between tutoring sessions or piano gigs, and then having the discipline to come back later and pick up where he left off. "The real magic happens," he says, "not through waiting for the perfect moment or for the juices to flow, but through fighting every day to make it all happen anyway."