Brevia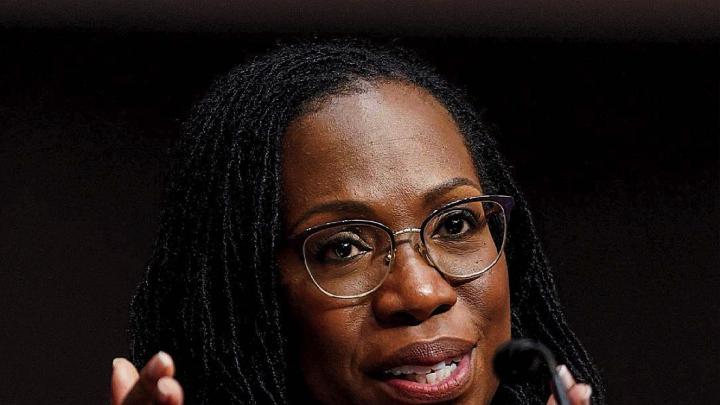 Associate Justice Jackson
As this issue went to press, Ketanji Brown Jackson '92, J.D. '96, was awaiting the U.S. Senate vote on confirming her appointment to the Supreme Court, succeeding Stephen G. Breyer, LL. B. '64 (profiled in "A Workable Democracy," March-April 2017, page 48), for whom she clerked in 1999-2000. Jackson is a judge on the U.S. Court of Appeals for the D.C. Circuit. More parochially, she is an elected member of the Board of Overseers. Accordingly, she let it be known during her confirmation hearings that she would recuse herself from the Students for Fair Admissions lawsuit challenging the College's admissions procedures; the Court is scheduled to hear the plaintiff's appeal of the case, which could result in a ban on considering race in admissions, during its term beginning this October.
Unmasked
Effective March 14—in keeping with Commonwealth, Boston, and Cambridge guidance, and two years to the day since campus closed as the pandemic emerged—Harvard moved from mandatory to optional indoor masking. Masks are still required within healthcare facilities and on University shuttles, and the College strongly recommended continued use of masks within undergraduate residences, common spaces, and dining rooms. Undergraduates remained on a thrice-weekly virus-testing regimen through March 28, to catch any COVID-19 outbreaks among students returning from the spring-break week. In a further sign of confidence the Harvard Gazette reported that President Lawrence S. Bacow—who has been scrupulous about coronavirus precautions on behalf of the community, and personally, given his immunocompromised status and early COVID infection—had resumed travel; he appeared on a panel at Imperial College London during a spring-break business trip to that city.
Corporation Successor
Tracy Pun Palandjian '93, M.B.A. '97, has been elected to the Harvard Corporation, the University's 13-member fiduciary goerning board, effective July 1. She succeeds retiring senior fellow William F. Lee, who completes a dozen years of service on June 30 (see opposite page on the senior-fellow succession). Palandjian is a former member of the Board of Overseers and chair of the Harvard Alumni  Association's nominating committee; learn more at harvardmag.com/palandjian-elected-22.
Welcome, Class of 2026
The College has offered admission to 1,954 of 61,220 applicants—3.2 percent—as the pandemic era of standardized-test-optional applications continues. As the term bill for tuition, room, board, and fees increases 3 percent, to $76,763 (before any aid), Harvard will be free of charge to entering students from families with annual incomes below $75,000, up from the current threshold of $65,000. Details are available at harvardmag.com/2026-admissions-22.
Something(s) Silver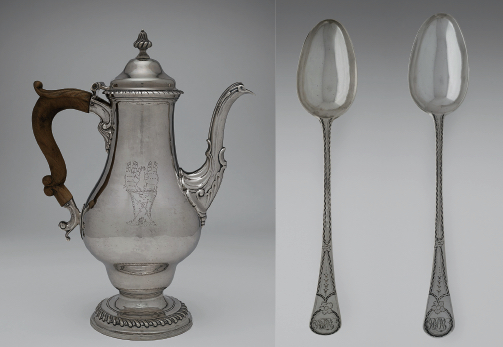 Photographs courtesy of Harvard Art Museum/©President and Fellows of Harvard
The Harvard Art Museums' silver collection has been significantly augmented by the gift of 21 works of eighteenth-century American silver, crafted in Boston, New York, Philadelphia, and Trenton. The gift, from the late Daniel A. Pollack '60, LL.B. '65, and Susan F. Pollack '64, J.D. '67, includes a pair of 1786 serving spoons by Paul Revere Jr., a soup ladle and small salver by the pioneering Jewish silversmith Myer Myers, and an apple-shaped teapot from c. 1745 by Joseph Richardson Sr., for prominent Quakers Hannah and William Logan, as well as a coffeepot by Richardson's sons, Joseph Jr. and Nathaniel, who trained with their father in Philadelphia— the first works by the Richardsons in the museums' collections.
Aid Enhancements
Harvard Divinity School, which offers aid equivalent to 75 percent of tuition, full tuition, or tuition plus a living stipend, will increase the latter for those eligible to $12,000 in the next academic year, up from $8,000 for international and undocumented students and $9,000 for domestic ones.…Yale Divinity School upped its aid program to cover full tuition and fees next  year, but still seeks funding for stipend support. Separately, Yale Law School initiated full tuition and fee aid packages for its students with the greatest need—an estimated 45 to 5o students with family income below the federal poverty line and with assets below $150,000.…Emory announced that it will replace loans with grants and scholarships for undergraduates receiving need-based aid, starting this fall—doubling the number of students relieved of loan obligations to 3,300.…And Princeton increased its 10-month doctoral-student stipends by about 25 percent from a range of about $30,500 to $34,800 to a new range of $38,000 to $42,000: a meaningful boost during a time of inflating living costs—and graduate-student unionization at Harvard, Columbia, and elsewhere. Harvard stipends vary by program and duration, but according to the new University-union contract, they average between $38,500 and $42,600 for 12-month periods (which have to be pro-rated to adjust to Princeton's 10-month figures).
AAAS Honorands
The American Association for the Advancement of Science has selected six faculty members as fellows, honoring their efforts in scientific discovery and its application to society: Hopi Elisabeth Hoekstra, professor of organismic and evolutionary biology and of molecular and cellular biology (see "Of Mice and Mating," March-April 2018, page 15); David Parkes, the Colony professor of computer science (see "Developing Data Science," May-June 2017, page 27); Joseph Bonventre, Levine professor of medicine; Dan G. Duda, associate professor of radiation oncology; Paula I. Watnick, associate professor of pediatrics; and Marcia Castro, Andelot professor of demography.
Schools' Spirits
With endowments robustly fortified, leading research institutions are rolling out new programs and schools. Down Mass. Ave., MIT announced an institute-wide Academy for Design. Funded by the T.H. Chan family's Morningside Foundation (the naming benefactors of Harvard's public-health school), the $100-million center will support design thinking and collaboration across MIT's engineering, science, management, computing, and architecture and urban planning faculties; it will reside within the School of Architecture and Planning.…To the west, Yale, in the middle of a $7-billion capital campaign, is launching its Jackson School of Global Affairs, upgraded from an institute, this fall; injecting $250 million of endowment funds into its medicine, nursing, and public-health faculties, and  making the latter a freestanding, separate school (out from under the medical-school umbrella); and, as Harvard did in 2007, separating its School of Engineering and Applied Science under its own dean. The Bulldogs' SEAS will add 30 ladder-faculty positions to its current 92, and the Faculty of Arts and Sciences 15 in data-intensive disciplines; the two faculties will share a new physical science and engineering facility, scheduled to open in 2027—the largest building investment in Yale's history.
Looking for Leaders
Post-pandemic, several long-term New England higher-education leaders have announced plans to step down, creating multiple vacancies at the same time. After more than a decade of service, MIT's L. Rafael Reif will step down at the end of 2022. Tufts University's Anthony P. Monaco will conclude his presidency at the end of the 2022-2023 academic year; he succeeded Lawrence S. Bacow, now Harvard's president, in 2011. Dartmouth's Philip J. Hanlon will also finish his presidency in 2023, ending a decade-long run. And as previously reported, Amherst's president Biddy Martin (a Harvard Corporation member) finishes 11 years in office this summer. It promises to be a busy time for search committees—and academic executive recruiters. 
On Other Campuses
Having exceeded its $3-billion goal, Brown has increased its capital-campaign target to $4 billion.…As it expands its undergraduate enrollment, Princeton, which resumed accepting transfers in 2018, will double such admissions to between 25 and 35 yearly, aiming to attract more students from "first-generation, lower-income, military or community college backgrounds," beginning with the cohort entering this fall.…The Yale Daily News reported that that university is phasing out the Sackler name from two endowed professorships and a research program, in response to the family-controlled Purdue Pharma's association with the national opioid-addicition crisis.…Separately, citing its principle that "Fossil fuel producers should not undermine but support accurate climate science and accurate public communication about fossil fuel products, climate science, and  climate change," Yale has ruled that its endowment may no longer make investments in Chevron or Exxon.
Nota Bene
Holberg Honor. Pforzheimer professor of science and technology studies Sheila Jasanoff, of the Harvard Kennedy School, has been awarded the 2022 Holberg Prize, accompanied by a $675,000 honorarium. The award is among the highest honors conferred in the humanities and social sciences. It recognizes her research at the intersection of science, technology, law, and policy.  Previous honorands include Walmsley University Professor Cass Sunstein ("The Legal Olympian," January-February 2015, page 43) and Cogan University Professor Stephen Greenblatt.
Sloan Scientists. The Sloan Foundation has conferred 2022 research fellowships on 118 promising early-career scientists, including four Harvard faculty members, each of whom receives $75,000 in flexible funding to advance her or his research: Roger R. Fu, assistant professor of earth and planetary sciences; Erin E. Hecht, assistant professor of human evolutionary biology ("The Brain-Behavior Link," July-August 2020, page 9); Julia A. Mundy, assistant professor of physics and applied physics (see harvard.mag.com/quantum/phd-21); and David Y. Yang, assistant professor of economics. 
Miscellany. Clint Smith, Ph.D. '20, won the National Book Critics Circle award in nonfiction for How the Word Is Passed, on coming to terms with the history of slavery. Read the review by Drew Faust, president emerita, "Getting Close to the Past" (November-December 2021, page 57).…Thomas professor of government and sociology Theda Skocpol has been elected a fellow of the American Academy of Political and Social Science. Read about her work in "Citizen Scholars" (September-October 2014, page 24).…Kelvin Dinkins Jr., former general manager of the Yale Repertory Theater and assistant dean at Yale's Geffen School of Drama, has been appointed executive director of the American Repertory Theater; he will serve as co-leader with Bloom artistic director Diane Paulus.…Priscila Coronado, J.D. '23, has been elected president of the Harvard Law Review, the first Latina to hold the post.…Heinz research professor of environmental policy John P. Holdren has been awarded the National Academy of Sciences' Public Welfare Medal for his career combining science and service; he was science adviser to President Barack Obama (see harvardmag.com/climate-solutions-15).…. Lisa J. Kewley, who studies star-forming and active galaxies, has been appointed director of the Harvard and Smithsonian Center for Astrophysics, with some 800 staff members, effective July 1. She comes from ASTRO 3D, an Australian research center, and a professorship at the Australian National University, and was a CfA fellow from 2001 to 2004.…Harvard Law School has appointed Stephen L. Ball, J.D. '10, dean of students. He was most recently senior vice president at Wells Fargo, where he focused on diversity, equity, and inclusion issues.
You might also like
Toward another apartment complex on Harvard-owned land
Stepping down after 30 years of University service
Harvard researchers seek to empower individuals to steer their own careers.
Most popular
A new election could take place as early as next fall. 
In the Woodberry Poetry Room, a landmark audio collection waits to be heard.
Lincoln offers rich history, nature trails, local food, and art.
More to explore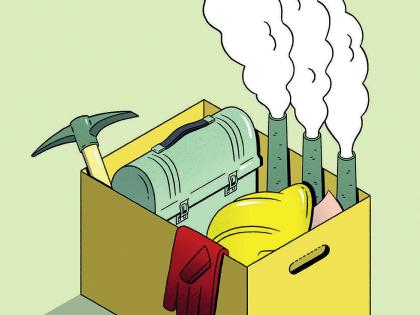 Expect massive job losses in industries associated with fossil fuels. The time to get ready is now.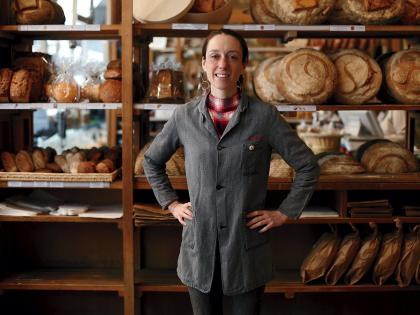 A third-generation French baker on legacy loaves and the "magic" of baking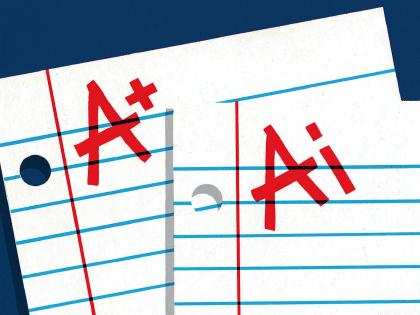 Generative AI can enhance teaching and learning but augurs a shift to oral forms of student assessment.