Raising Her Voice
Singer-songwriter Reid Parsons on the irreplaceable instrument
For many years, Reid Parsons '15 didn't think of her voice as something to be trained. It was always just there, a natural part of growing up with her musical family in Vermont's Mad River Valley: singing "little ditties" with her grandmother, learning as a child to harmonize with her older sister. Her father was a harmonica player, and on road trips, he would pass the time by leading the children in a kind of call-and-response. "He'd play something on the harmonica, and we would mimic it back to him," Parsons says. This would go on for hours. "Looking back, it was really helpful for developing my ear."
Now a singer-songwriter based in Burlington, with a talent for melody and a voice that somehow sounds both delicate and durable, Parsons will release her first full-length album this year. Like all her work, it's a blend of styles. Her tastes have always ranged widely: folk, bluegrass, jazz, blues, Americana, a little rock, neo-soul. In fifth grade, she joined the school band and, on a lark, chose the saxophone as her instrument. "It had a lot of keys and looked complicated," she remembers. "That was the main reason." But it remained her primary instrument for years, influencing the bluesy, soulful style she'd later develop. "The first time I played a blues progression, I distinctly remember what a huge moment it was," she says. "It was a genre that kind of put words to the general discomfort and lack of ease that had always been with me." She started listening to early female blues singers like Bessie Smith and Ella Fitzgerald ("'Rocks in My Bed' completely blew my mind") as well as faster, hard-driving musicians like Stevie Ray Vaughan.
At 13, Parsons began writing songs. In high school, she sang in musicals and a cappella groups and fell into competitive slam poetry. "It's so musical," she says. "The adrenaline you get from freestyling is unmatched." At some point, she inherited—and learned to play—her Scottish grandfather's bagpipes, adding Celtic music to her roster of influences.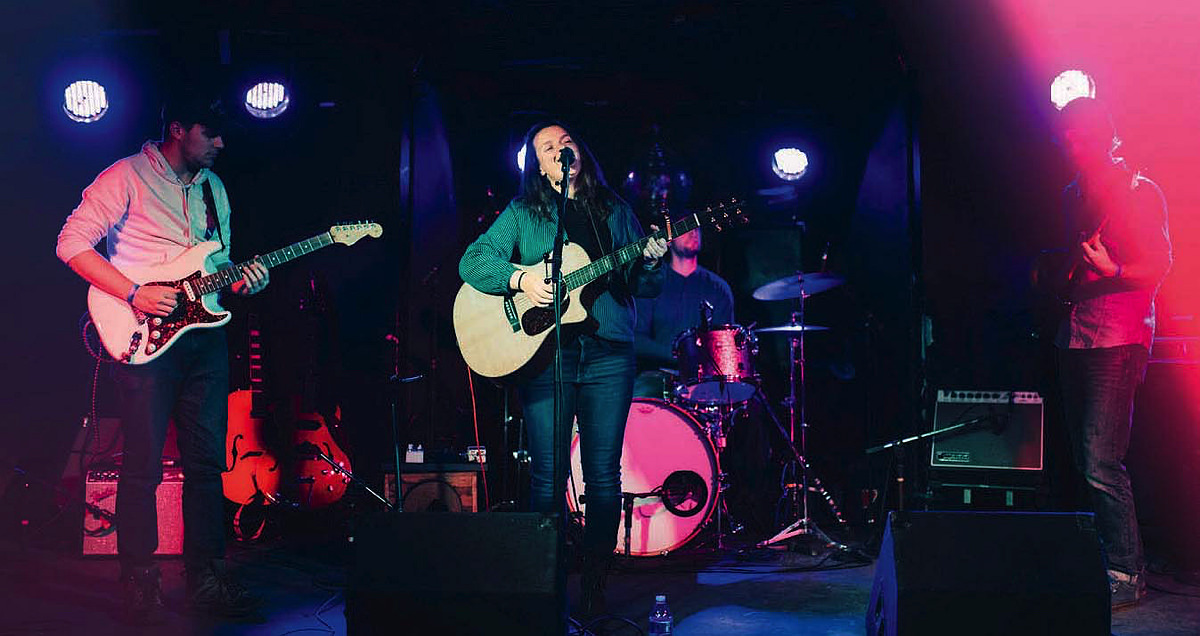 Photograph by Katie Palatucci
As a freshman at Harvard, where she concentrated in music and anthropology, Parsons joined The Nostalgics, a soul and Motown band, and the following year she sang with the a cappella Harvard Opportunes. She worked for The Harvard Crimson as a photographer covering sports and the arts—a job that also became part of her musical education. "I saw so many concerts for free," she says. "I got to be in the front row for some of my biggest idols at the time." She spent a semester studying songwriting at Berklee and interned with Compass Records in Nashville, where she began gathering the threads of what would become a senior thesis on the blurred lines of genre in Americana and bluegrass music.
And then, Parsons lost her voice. Her junior year, she developed vocal nodes: calluses on the vocal cords caused sometimes by overuse or a genetic anomaly or, in her case, by acid reflux—"basically, burning my vocal cords." Suddenly, she couldn't sing; when she spoke, her voice rasped. It was a devastating feeling. With treatment, nodes can heal, but the recovery takes effort. "I had to choose to either just not sing again, or to take care of my body and not drink alcohol or eat pizza or have caffeine, which is brutal to ask of a college student." Still, she did it. Twice a week, she traveled into Boston for vocal therapy. After months, things started to improve. "I also started treating my voice like an actual instrument, practicing and training it, giving it more respect," she says. Parsons developed an ability to control her pitch more strongly than before the damage, and she gained new agility in moving up and down the octaves. "Faster runs, basically," she says, "which has allowed me to experiment more with melody." (One reviewer memorably described her voice as being "like an elevator shaft—nimble, with a natural reverb." There's something warm in the way it pours across the notes.)
Once recovered, Parsons threw herself ever deeper into music. She spent the fall after graduation in Paris, studying immigrant Muslim musicians on a John Knowles Paine fellowship from Harvard. Two years later, she won a songwriting contest, which funded the first of her two EPs: a self-titled release in 2018, and a heavier, harder-rocking follow-up in 2021 called Northern Blood. A bluesy thread carries through all the songs, which alternate from darkness and hardship ("Charlie," about a troubled young man, evokes the murder ballad tradition, and in "Can't Find the Ground," her voice repeatedly climbs and crashes as she sings, "When I look at you, I start to drown") to playfulness and joy (the high-flying harmonies in "Addison," about not quite making ends meet; the gorgeous and flirty languor of "Sugarcane").
Parsons's songwriting usually arrives in a deluge. A bit of melody or a lyric will pop into her head while she's in the shower, or the car, or out for a walk: "Sometimes I'll roll over in the morning and I'm humming a song that I can barely make out, that maybe I heard in a dream." In those moments, she sits down with her guitar and records maybe 10 iterations on her phone, one after another. "And then I'll play it back immediately," listening for what sounds redundant, too catchy, or too complicated. Then she'll churn out another draft, and then another, and usually within 30 minutes, the verse and chorus crystallize into finished form. "I believe in the theory of musicians being the vessel for some bigger spirit," she says. "There's no way to force it, and sometimes you have to wait for that creative jolt. But you have to be writing and practicing in order to be ready."
Parsons's forthcoming album emerged from that process, and from the forced isolation and intimacy of the pandemic. When COVID-19 shut down live music, the community she had relied on as a touring performer vanished overnight, a loss that reminded her of how it felt to be without her voice in college. Simultaneously, though, her relationship with her partner deepened and grew. After a yearlong songwriting hiatus—during which Parsons's day job at a sustainable farming and food-delivery organization intensified—she wrote most of the album's songs during a blindingly intense few weeks. "I had dammed up a lot of emotions and then was able to sit with them," she says. There's plenty of blues in the new songs, as well as light and dark: "Finding beauty in the mundane turned out to be a huge theme."
One song, "Where Are You Now," even features a droning echo of her grandfather's bagpipes. "That Celtic style of music is so good at tugging out the loneliness you can sometimes feel sitting behind your sternum," she says. "I mean, if you're going to do one thing, you might as well make something beautiful out of the sorrow."
 This article appeared in the January-February 2023 print edition under the title "Lost and Found."
You might also like
The first in a series of public conversations about Harvard and the legacy of slavery
How to encourage free speech and inquiry on campus
A new play at the A.R.T. provides a modern take on ancient mythologies   
Most popular
Brief life of a formidable anthropologist: 1903-1991
First-years Ngozi Musa and Gabby Thomas help set the pace for track and field.
A negative investment return and annual spending reduce the endowment's value 5.1 percent.
More to explore
A test can identify these productivity-boosting personnel.
Ancient history professor studies coins, ceramics, and Zelda.
Anwar Floyd-Pruitt's wildly profuse art