Harvard Begins Search for Engineering Dean
Claudine Gay announces the advisory committee for successor to Frank Doyle.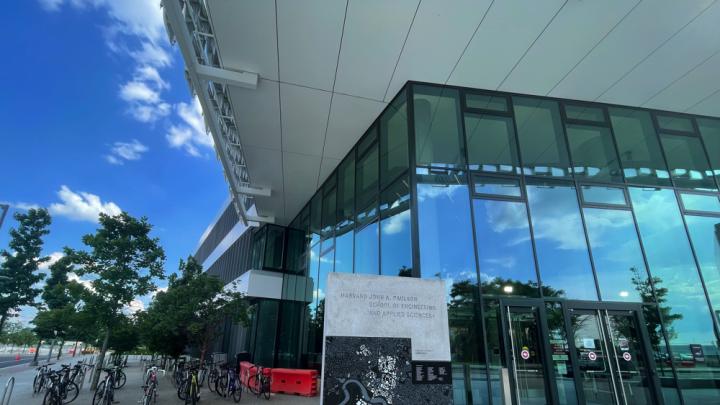 Acting in her continuing capacity as Faculty of Arts and Sciences (FAS) dean, Claudine Gay, the University's president-elect, has initiated the search for a successor to School of Engineering and Applied Sciences (SEAS) dean Frank Doyle. He announced in December that he would depart at the end of this academic year to become provost at Brown University. (President Lawrence S. Bacow and Gay are presumably collaborating on searches for new divinity and public-health deans as well, and a new vice president for finance—and Gay must also identify her FAS successor.)
On February 2, Gay invited community comments and suggestions on the SEAS search, and unveiled a 13-member academic advisory committee:
Stephen Chong, McKay professor of computer science

Thomas R. Eisenmann, Stevenson professor of business administration

Jenny Hoffman, Clowes professor of science

Sham Kakade, McKay professor of computer science and professor of statistics

Frank. H. Keutsch, Stonington professor of engineering and atmospheric science and professor of chemistry and chemical biology

Jennifer Lewis, Wyss professor of biologically inspired engineering and Yu professor of arts and sciences

Na Li, McKay professor of electrical engineering and applied mathematics

Vinothan N. Manoharan, Wagner Family professor of chemical engineering and professor of physics

David Mooney, Pinkas Family professor of bioengineering

Elie Tamer, Berkman professor of economics

Gu-Yeon Wei, Case professor of electrical engineering and computer science

Sarah M. Whiting, dean of the Graduate School of Design

Robert J. Wood, Harry Lewis and Marlyn McGrath professor of engineering and applied sciences
The cohort is interesting in several respects. Representation from Harvard Business School and the Graduate School of Design may reflect the relationships formed as each partnered with SEAS in new master's degree programs (a combined program with HBS, and the master's in design engineering with GSD). Eisenmann is faculty chair of Harvard Innovation Labs and faculty co-chair of the Rock Center for Entrepreneurship and the joint M.S./M.B.A. program—all points of contact between HBS and SEAS, newly relocated in Allston across Western Avenue from the Business School.
Among the faculty members, Sham Kakade is co-director of the new, enormous Kempner Institute, which explores artificial and natural intelligence and will be a major focus of future research in SEAS and elsewhere across the University. Jenny Hoffman, a physicist, is a materials scientist who works on the behavior of electronics in exotic materials, with multiple potential applications. Robert Wood is a key member of SEAS's cohort of robotics experts, as is Gu-Yeon Wei. Jennifer Lewis and David Mooney both have made important breakthroughs in bioengineering. Even Elie Tamer, an econometrics specialist who studies industrial organization, has an undergraduate degree in electrical engineering.
In the broad reach across these and other fields of focus within SEAS, the faculty group might be said to represent both its present and its future. The largest current cohort of faculty members is clustered in and around the computer sciences, which may be perceived as a relative strength. The larger aggregate representation on the advisory committee of faculty members in other fields—ranging from atmospheric science and bioengineering to chemical engineering and robotics—may point to planned, or hoped-for, growth in those fields and emerging ones.  
You might also like
The Crimson springs a major upset.
Harvard officially installs Claudine Gay, its thirtieth leader.
A half-dozen symposiums feature Harvard research on AI, climate change, inequality, and more
Most popular
A community letter as the new administration begins
Solving legal challenges at MoMA
More to explore
A test can identify these productivity-boosting personnel.
Ancient history professor studies coins, ceramics, and Zelda.
Anwar Floyd-Pruitt's wildly profuse art