John Harvard's Journal
Brevia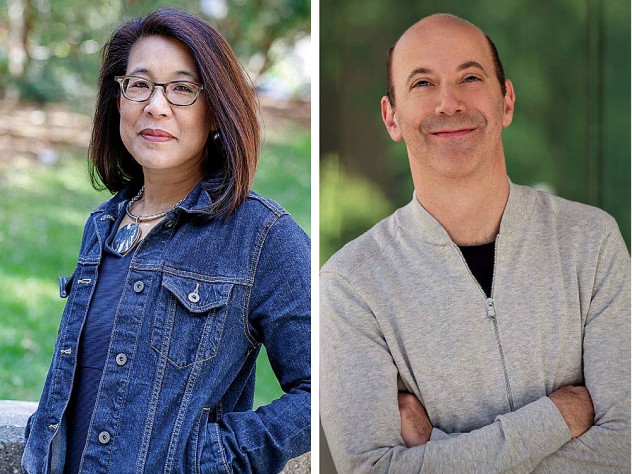 Erika Lee and Jesse Hoffnung-Garskof
Photograph at left by Lisa Miller and photograph at right by Leisa Thompson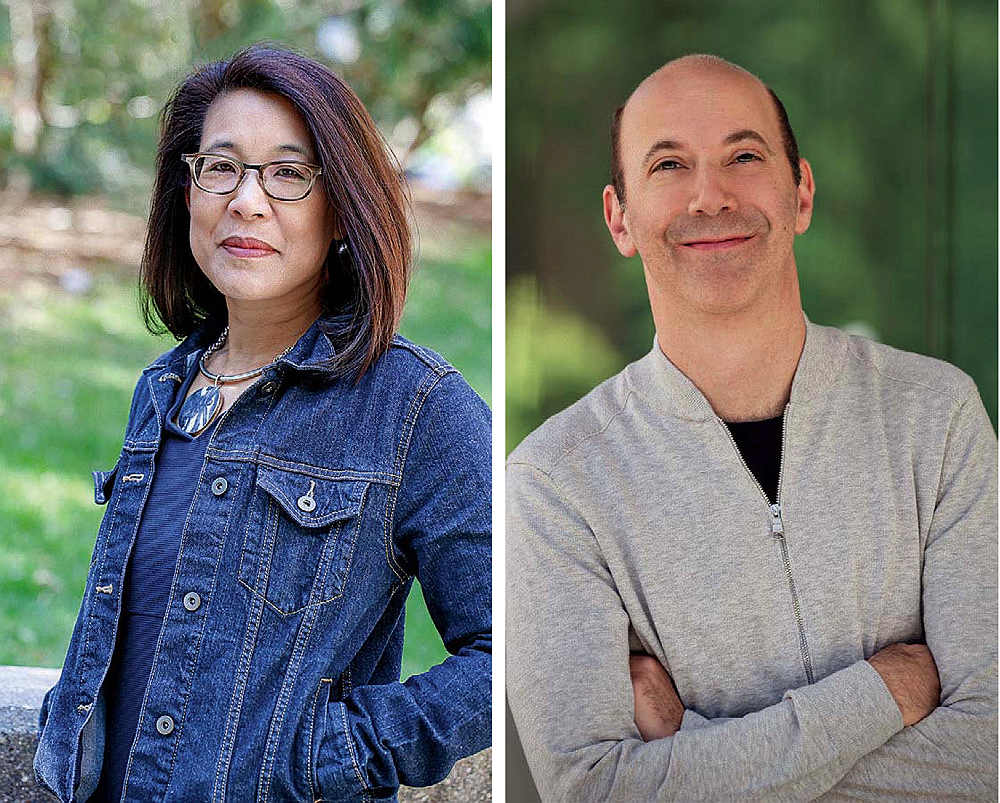 Erika Lee and Jesse Hoffnung-Garskof
Photograph at left by Lisa Miller and photograph at right by Leisa Thompson
Ethnicity Appointments.
Erika Lee has been appointed Bae Family professor of history, effective next July, and Jesse Hoffnung-Garskof has been appointed professor of history (but both will be on leave for a year from the date of their appointments)—the second and third senior-faculty positions in the new field of ethnicity, indigeneity, and migration. They join Taeku Lee, who was previously appointed Bae Family professor of government. Erika Lee, professor of history at the University of Minnesota, directed its Immigration History Research Center. Hoffnung-Garskof, who comes from the University of Michigan, specializes in LatinX studies and international migration. 
Radcliffe Roster
Among writers, artists, and scholars from around the world, the Radcliffe Institute for Advanced Study has named the following University affiliates 2022-2023 fellows: Christina L. Davis, Reischauer professor of Japanese politics; Lisa I. Iezzoni, professor of medicine; Susan A. Murphy, Mallinckrodt professor of statistics and of computer science; Laura Weinrib, Fishman professor of constitutional law; and Melanie Matchett Wood, professor of mathematics. Graduate student fellows, who are completing their dissertations or have recently done so, are Alexander W. Cowan, Rebecca C. Horwitz-Willis, Leah E. Gose, and Jonathan Karp.
Doctoral Directions
The federal Survey of Earned Doctorates reveals that of 19,500 Ph.D. recipients in 2020 who had accepted jobs in the United States (out of a total cohort of 55,000 people who earned research doctorates that year), slightly less than 40 percent were working in academia—down from 51.5 percent in 1990. The share of those working in industry nearly doubled, to 40 percent. In all fields, the share of Ph.D. recipients moving to postdoctoral appointments (useful for building a research career, but limited in duration and often relatively ill-paid) increased by about 12 percentage points, to more than 38 percent, during those three decades.…According to the American Academy of Arts and Sciences' Humanities Indicators Project, the number of humanities doctorates, which peaked at 6,010 in 2015, declined 9 percent to 5,483 in 2020.
Slave Images
The Massachusetts Supreme Judicial Court has ruled that Tamara Lanier, a descendant of Renty Taylor and his daughter, Delia, enslaved people who were photographed in 1850 at the request of Harvard's Louis Agassiz, can sue the University for emotional distress. But the court decided that the ownership of the images, which Lanier had claimed, properly remains with Harvard. For background on the images and the litigation, see harvardmag.com/agassiz-faces-20 [5].
On Other Campuses
Bolstered by its current capital campaign, Dartmouth has removed loans from all undergraduate financial-aid packages; heretofore, only students from families with incomes of $125,000 or less who qualified for need-based aid received loan-free packages. The shift will reduce the debt burden for the affected families by an average of $22,000 over four years.…Bowdoin became the seventh school (joining Amherst, Dartmouth, Harvard, MIT, Princeton, and Yale) to make international admissions need-blind.…Echoing Yale Law's February announcement, Stanford Law School in May unveiled a full-tuition scholarship for students whose family income is below 150 percent of the poverty line.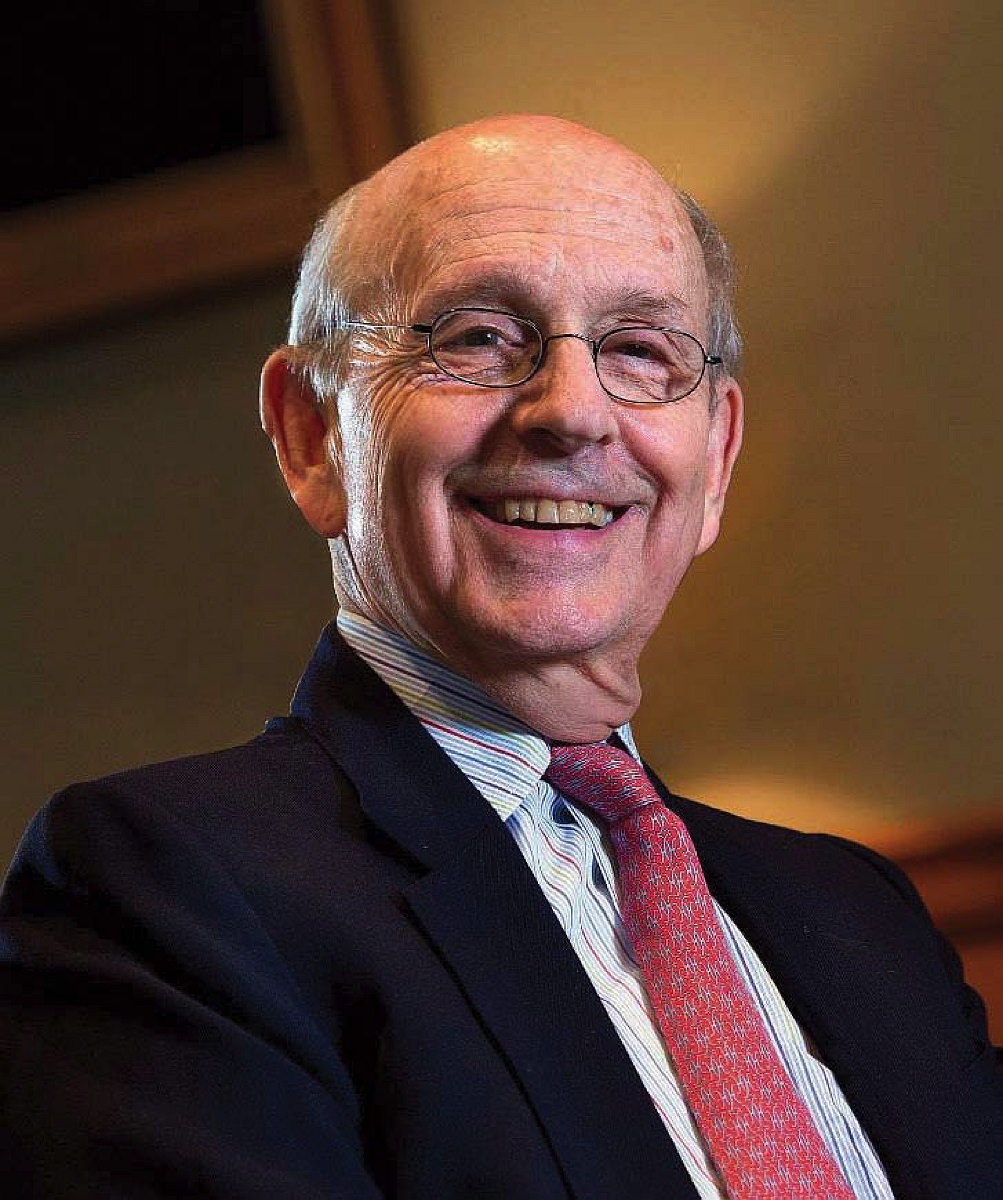 From SCOTUS to HLS
Having retired from the Supreme Court, Cambridge resident Stephen G. Breyer, LL.B. '64, is returning to Harvard Law School, where he has previously taught, as Byrne professor of administrative law and process. (Justice Breyer was profiled in "A Workable Democracy," [6] March-April 2017, page 48.)
Washington Watch
Amid rising tension between the United States and China, and political interest in taxing or regulating university endowments, U.S. Rep. Gregory F. Murphy (R-North Carolina) has drafted the "Protecting Endowments from Our Adversaries Act." It would impose a 50 percent excise tax on holdings in entities sanctioned by the U.S. government, deemed detrimental to national security or foreign-policy interests—for example, by enabling surveillance of citizens, imprisoning Uyghurs, or abusing human rights (and now, supporting the Russian invasion of Ukraine). Endowments of at least $1 billion would be covered. Murphy queries Harvard, Yale, Duke, and a dozen other institutions about their holdings.…Separately, Inside Higher Ed reported that Harvard continues lobbying efforts to eliminate the tax on university endowments, enacted in 2017—or to reduce the tax rate on institutions that use endowment income to provide financial aid to low-income students.
Notable Gifts
Loyola University Chicago received a $100-million gift, the largest in its history, to fund full scholarships and support services for black, Latino, first-generation, and other historically underrepresented students. The donors, John Schreiber, a 1968 alumnus and current trustee, and Kathy Schreiber, hope to anchor a $500-million restricted scholarship endowment.…The Stavros Niarchos Foundation gave $75 million each to Rockefeller University, to study infectious pathogens of global concern, and Columbia University, for genomic research on psychiatric disorders.
Nota Bene
Kavli Prize laureates. Among the 11 recipients of the Norwegian Academy of Science and Letters' 2022 Kavli Prize are Bullard professor of pediatrics and neurology Christopher A. Walsh, recognized with three other researchers for neuroscience discoveries, and Flowers University Professor George M. Whitesides, recognized with three others for his contributions to nanoscience. Each group of honorands shares $1 million.
Faculty honorands. Among the Harvard faculty who received honorary degrees this past summer are Fletcher University Professor Henry Louis Gates Jr. (Cambridge); Kemper professor of American history Jill Lepore (Yale; read a review of her [7]These Truths [7], September-October 2018, page 65); Cowles professor of sociology Orlando Patterson (also Yale; profiled in "The Caribbean Zola," [8] November-December 2014, page 43); and Tarr professor of molecular and cellular biology Joshua R. Sanes (Hebrew University).
Native American ascent. Kelli Mosteller has been appointed executive director of the Harvard University Native American Program. She had been executive director of the Citizen Potawatomi Nation Cultural Heritage Center in Shawnee, Oklahoma, and a tribal historic preservation officer for the Citizen Potawatomi Nation. Joseph P. Gone, professor of anthropology and of global health and social medicine, remains HUNAP's faculty director.
Math and science. Gade University Professor Barry C. Mazur has been awarded the International Mathematical Union's 2022 Chern Medal for his lifetime of work. Half the $500,000 honorarium is to be donated to organizations chosen by the medalist; Mazur is emphasizing organizations that focus on mathematical education for youngsters.…Maeder professor of engineering and applied sciences Conor Walsh has received a 2022 Blavatnik National Award for Young Scientists, which comes with $250,000 of unrestricted support. He was honored for his work in robotics (the subject of the May-June cover story, "The Medical-Robotics Revolution" [9]).
Leverett leaders. Leverett House faculty deans Brian D. Farrell, Lehner professor for the study of Latin America, and Irina P. Ferreras, a curatorial assistant at the Harvard Herbarium, stepped down in June, after four years of service. Eileen Reynolds '86, M.D. '90, and Daniel Deschler, M.D. '90 have been appointed interim faculty deans. She is chief of general internal medicine at Beth Israel Deaconess Medical Center; he practices head and neck surgery at Massachusetts Eye and Ear Infirmary. Both hold teaching appointments at the medical school.
By the books. Francke professor of German art and culture Jeffrey F. Hamburger, a scholar of the history of the book, was awarded the 2022 Gutenberg Prize of the International Gutenberg Society and the city of Mainz for his research corpus. "Illuminations" [10] (September-October 2016, page 22) highlighted an enormous exhibition of medieval and Renaissance manuscripts that he co-curated.
Rankings dropout. After a Columbia professor critiqued the accuracy of the data the university submitted to U.S. News & World Report for its annual ranking of colleges, the institution has decided not to submit information for this year's beauty contest. Columbia ranked second last year. For a critique of the rankings system, see "Aiming for Excellence" [11] (July-August, page 55), which reviews a book on the subject by Colin Diver, LL.B. '68.
Miscellany. The Harvard Crimson, entering its 150th year, has announced it will reduce print publication to one day weekly, while emphasizing daily online service.…The Harvard Kennedy School has established the James M. and Cathleen D. Stone Program in Wealth Distribution, Inequality, and Social Policy. It encompasses doctoral students working on income and wealth inequality, policy research, and public events.…Harvard College reported an 83 percent-plus yield (acceptance of offers of admission) for the entering class of 2026—in line with results during the past three years.…Harvard Medical School has begun a new master of science in media, medicine, and health; it offers "an evidence-based multidisciplinary storytelling and arts-driven curriculum focusing on health interventions," with tracks in film, nonfiction, podcasting, or design. According to the Association to Advance Collegiate Schools of Business, more full-time M.B.A. students were enrolled in online programs than residential ones during the pandemic-affected 2020-21 academic year, a first.…The Richard K. Lubin [M.B.A. '69] Family Foundation has endowed new Scholar Awards at the Dana-Farber Cancer Institute, creating four-year fellowships which provide $150,000 grants each of those years to promising young physician-scientists to launch their research careers. Four new Lubin Scholars will be funded annually.…Brock Reeve, founding executive director of the Harvard Stem Cell Institute, retired effective at the end of June.…Corporation member Timothy R. Barakett '87, M.B.A. '93, a former hedge fund manager, has been appointed to the board of directors of Harvard Management Company, which oversees investment of the endowment and other University financial assets.…Rabb professor of anthropology and professor of psychiatry Arthur Kleinman, who began his research career in Taiwan in 1968 and extended it into the People's Republic of China in 1979, has been elected as Honorary Academician of Academia Sinica, in Taipei.