Tastes and Tables
The Eating Is Easy
A summer sampling of Massachusetts countryside restaurants
Summer in New England is a time to relax, eat well, and have some fun. Restaurants, from the eccentric to the refined, offer the chance to do just that, while showcasing local produce and products in verdant settings.
Cantina 229, on five pastoral acresin New Marlboro, is a beautiful post-and-beam barn-style space with glass walls. Eat inside or out. Picnic tables sit on the grass, where "kids run around and visit the pigs, and free-range chickens come right up," says Emily Irwin, who opened the restaurant last year with her chef-husband Josh Irwin. Lawn toys—Frisbees, horseshoes, and "corn hole" gear (a.k.a. bean-bag toss)—help foster schmoozing within a gustatory crowd that often includes the Irwins' parents and friends. The menu has an Asian twist, thanks to Josh Irwin's year of traveling in India, Thailand, and China. Korean bibimbap and pa jun, a pancake filled with leeks, scallion, and chives, are mainstays, along with a hefty cheeseburger topped with grilled onions and turmeric pickles. Tuesdays are Taco Night. (Entrées $15-$28; 413-229-3276)
To the west, past Great Barrington, is the lovely John Andrews Farmhouse Restaurant, set on a homestead site dating to the late 1700s.There are three small dining rooms, a tight-knit bar, and a simple terrace with views of woodlands, perennial gardens, and old stone walls. Chef/owner Dan Smith follows a locavore ethic, cooking whatever's freshest, with no showboating about it. One night that was Wolfe Spring Farm's asparagus (grown in nearby Sheffield). Crisp and tasting of minerals, it was tossed with organic greens, tart chèvre, and toasted pistachio nuts. The roast chicken breast entrée, faintly sweet with a perfect garlic confit, came with fennel and a handful of polenta fries. The restaurant sits just four miles from Mount Washington State Forest: go for a hike there, or a trip to Bash Bish Falls, before tucking in for drinks and dinner. (Entrées $28-$38; bar menu, $13-$25; 413-528-3469)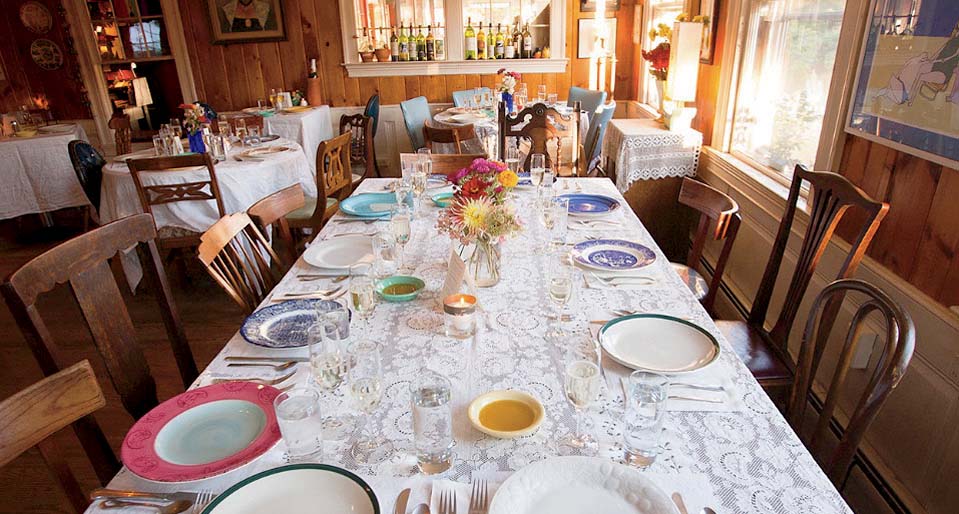 A glimpse of the Dream Away Lodge's charming country eclecticism
Photograph courtesy fo Dream Away Lodge
Back toward Boston, in the town of Becket, is the un-pigeonhole-able Dream Away Lodge. For 90 years, this magical spot on the edge of the October Mountain State Forest has attracted fine artists, musicians, showpeople, and anyone else devoted to the creative spirit. In 1997, the restaurant was bought and re-birthed by trained actor and "theater-maker" Daniel Osman. There are live bands, art shows, and performances—of cabaret, poetry, and plays. The oft-changing menu, devised by veteran Berkshires baker and chef Amy Loveless, is a tasty mix of basic, affordable fare (burgers, mac and cheese, spinach salad) and more elevated entrées (tarragon chicken, seared scallops, rack of lamb). It tends to fill up, especially on weekends, so call for a table. "My thought is that when driving into the middle of the forest for dinner, you should always make reservations," Osman says, with a good laugh. And avoid using GPS to find this gem: real directions are on the website. (Entrées $12-$28; 413-623-8725)
Perhaps even more casual are the wood-fired BBQ stand and new Stone Cow Kitchen and its brewery, at the Carter and Stevens Farm in Barre. "It's nontraditional because the menu is always changing," says Molly DuBois, part of the fourth generation to run this spectacular 1,000-acre hilltop farm. "Last week we did tacos with our own micro greens, and at the brewery we grow our own ingredients for the beer as well." The restaurant, open until 6 p.m., serves a range of salads, soups, and sandwiches, but the real draw seems to be the BBQ shack. People travel for the farm's own grass-fed beef burgers and hot dogs, smoked ribs and chicken, and piles of hot, hand-cut French fries. Meals are served outside every Friday and Saturday evening in July and August. And sometimes there's live music. (BBQ menu, $2.99-$16; 978-355-4940)
Enter The Oregon Club, and step back into an older, more relaxed era. On a summer evening, diners can sit at an outdoor table on a country road in the Ashland Town Forest and look out at a peaceful green field across the street. Eating and drinking also happen indoors in cozy rooms (where a fireplace crackles in winter). Although only five minutes off Interstate 90 (near Framingham), the restaurant's ambiance recalls a 1920s roadhouse, which is exactly what it was in 1922 when Giuseppe Briasco founded the Briasco Inn, a rooming house and speakeasy that served spaghetti and steaks. Now rechristened The Oregon Club, the menu offers well-prepared homey classics (chopped salad, steak, lamb shanks) plus its signature spicy mushroom soup. (Entrées, $18-$28; 508-875-9030)
Far more orchestrated is the dining experience at Just Right Farm, in Plympton, on Boston's South Shore. Up to 36 diners may arrive as early as 6 p.m., tour the gardens, and sip drinks before being ushered into a tasteful wooden structure in which the walls are all screens, at 7 p.m. A five-course, prix-fixe menu is served; dining takes about three hours. The $140 per person tab, paid in full when the reservation is made, does not include tax, tip, or booze. But patrons can bring their own; the menu goes online a few days ahead.
"We are an authentic, 300-year old Cape house on a 10-acre farm with ash trees you can't reach around," says Kimberly Russo. She owns the property with her husband, Mark, a veterinarian, and runs the restaurant with Elaine Murphy and Marilyn Browne. "We grow 80 percent of the produce we serve," she adds, "which is started from seeds in our greenhouse." She also constructed the 10-foot-long ash tables shared by all during what she thinks of as a large "dinner party." A chocolate tart often concludes the meal. The trio serves it, taking time to talk with guests before bidding them good night. Diners stroll back along a tree-lined way to their cars, and if it's clear, the stars are shining bright overhead. (781-936-5330)