Montage
"Theater Is Church"
Playwright Katori Hall on the joy—and trauma—of black life
In one scene of Katori Hall's The Hot Wing King, the characters sing all of "Never Too Much" by Luther Vandross—and each night at New York's Signature Theatre, large segments of the audience joined in.
"Luther Vandross is a musical icon for black people and they know all the words, so I gave black audience members a gift, something they could sing along to," says Hall, ART '05, who also wrote the book for Tina: The Tina Turner Musical, which played on Broadway earlier this year. "For the white people, it's a learning experience and they can enjoy this beautiful moment."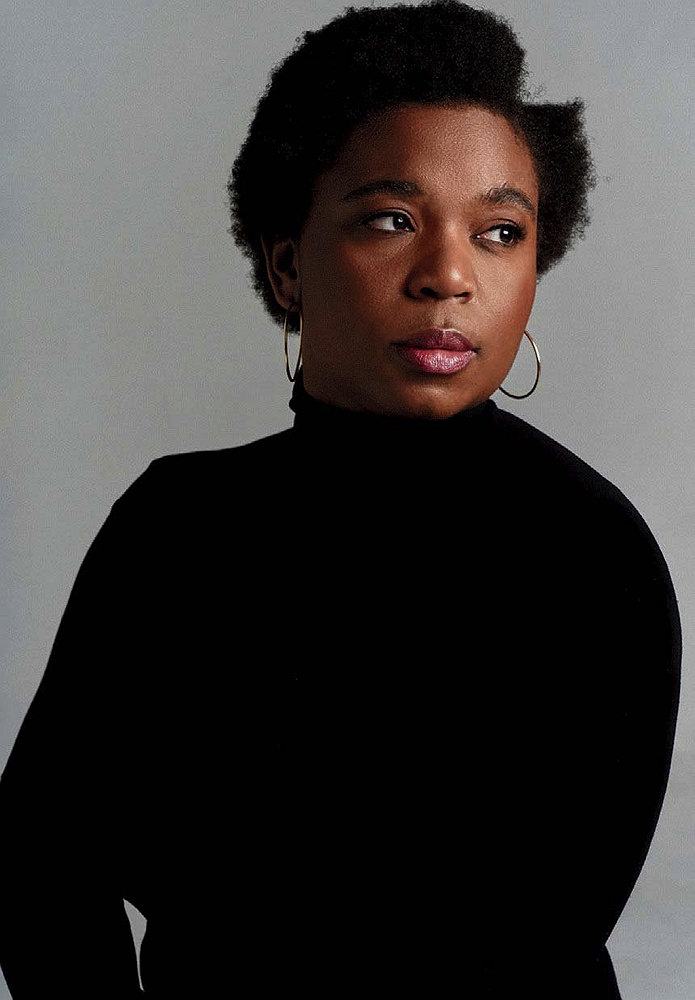 Playwright Katori Hall
Photograph by Dian Zhao
The song represents more than that, though. Singing together is a ritual central to black identity, says Hall—from the cotton fields to church to rap concerts. "If I am telling the story about how black people have been resilient in this country, I have to use the healing power of music because that is how we've been able to honor the mother tongue that was snatched away from us," she says. "With music we are able to retain some of how we communicate with each other."
In The Hot Wing King, Cordell Crutchfield is living in Memphis with his boyfriend, Dwayne, having left behind a wife and two sons to start a new life; the couple are prepping Cordell's masterful recipes for the city's annual hot-wing festival with friends when Dwayne's nephew arrives, portending trouble.
In one sense this is very much in line with her earlier work. Hoodoo Love, Hurt Village, and The Mountaintop (which recounts the last night of Martin Luther King Jr.'s life) are also set in her hometown of Memphis, while Tina Turner, who played on Beale Street in the 1960s, grew up only an hour away. "I'm very much committed to putting the city of Memphis on the map," Hall says. "It's known for a lot of things not to be proud of, like the murder rate or the percentage of people who are obese—you can go online for the stats," but she sees a city of resilient strivers: "People who pull themselves up by their bootstraps even when they don't even have a bootstrap."
But The Hot Wing King is lighter and looser than her earlier Memphis plays—which are haunted, often angry—not to mention two others set in Rwanda. "With this play, I wanted to embrace the articulation of black life and not necessarily black trauma, so the piece is infused with joy and love and jokes," she says. "I did not set out to make a comedy, but I saved space for people to laugh—black audiences laugh out of recognition, so there's a lot of moments that feel like, 'Oh that's my brother, or 'My momma used to say that.'"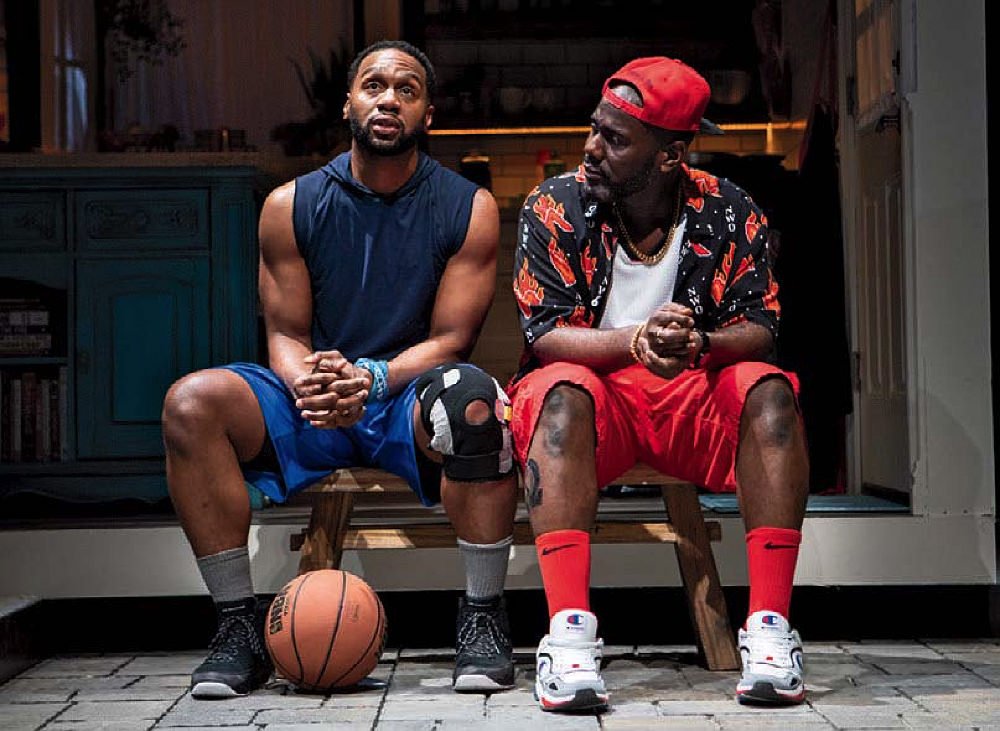 Toussaint Jeanlouis (left) and Nicco Annan as Cordell and Big Charles in The Hot Wing King
Photograph by Monique Carboni
Hall herself bursts with positive energy. Even home-bound in New York during the coronavirus closure, trying to write and care for her two children, ages 6 and 3, she frequently lets loose with a "Yaaay!!!" or laughter that leaps through the phone, cutting through the social distancing. "She's one of the most generous people I've ever encountered," says Hot Wing King director Steve H. Broadnax III. (They became friends in 2016 when he directed The Mountaintop.) "She's very collaborative and open to ideas. She's a joy to be around."
Hall has never lost sight of her original mission—to populate the theater with stories about and roles for African-American women—even while expanding it. "Storytelling creates a feeling of empathy, which to me can be the beginning of social change," she says. She is keenly aware of what it means to be marginalized in America: her grandmother shared stories of life as a sharecropper, and even though Hall's childhood in her school's gifted program was different, she was often the only black student in classes. When she became high-school valedictorian, the school changed its tradition of having the valedictorian lead the graduation procession and instead had students line up alphabetically.
As an undergraduate in Columbia's acting courses, Hall couldn't find many scenes for young black women. She decided to write them herself, but says she felt snubbed in her first playwriting course, when the professor and students who were white reacted coldly to her Southern, black, rhythms and language.
It was while earning a master's degree at Harvard's American Repertory Theater (A.R.T.), that she discovered African-American voices in the theater—and her own. Plunging into the plays of Suzan-Lori Parks and Lynn Nottage inspired and shaped her, and the A.R.T. also offered other "truly life-changing exposure," like a trip to Russia to learn the Stanislavski acting method and see how serious acting can be respected. "It's not about 'likes' or your following, it's about using your skin and lived experience to become another person," she says. "I'm a better writer because of it. I understand what actors need to be able to create and feel fulfilled."
She finished writing Hoodoo Love at the A.R.T. That launched her career after it was selected by the Cherry Lane Theatre Mentor Project. Nottage, a two-time Pulitzer winner whose 2016 play Sweat explored the unraveling of a Pennsylvania factory town, was her mentor. Hall "was ambitious in the most wonderful way," Nottage recalls. "She had a plan, a level of focus and drive, which led her to where she is now. The Hot Wing King shows a marvelous evolution in her craft as she negotiates new tones and genres and tells expansive stories of women and now men of color."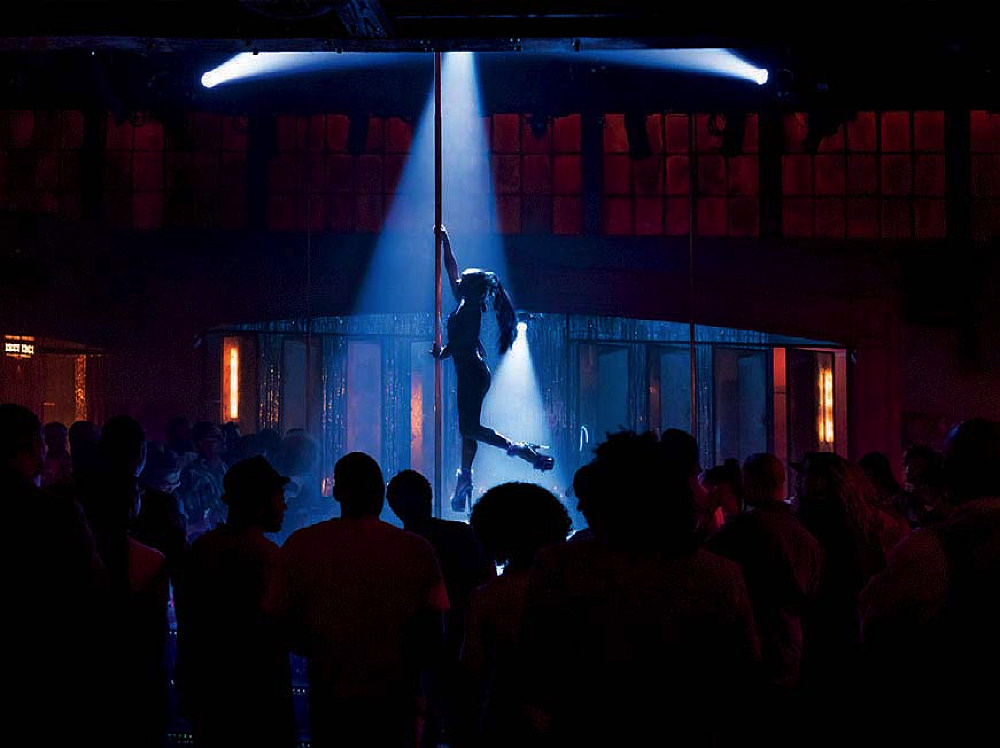 Hall adapted her 2015 play Pussy Valley, about four women in a Mississippi strip club, into the television series P-Valley.
Photograph courtesy of Starz Entertainment LLC
Indeed, while Hall started out focused on black womanhood, she now aims to portray all black life: "Even the marginalized folks within a marginalized community," she says, referring to Hot Wing's gay men or the strippers in her 2015 play Pussy Valley. "I want to poke into the cracks and crevices that even the larger black community wouldn't necessarily feel comfortable with. I am digging into all of these characters I have wanted to honor all of my life."
She's also taking these characters to a broader audience, turning Pussy Valley into the Starz series P-Valley. A sprawling and intricate deconstruction of race, class, gender, the politics of beauty, and the business of desire, it needed the breathing room television allowed. Hall was surprised and "honored" to be given the reins, knowing how few black women are showrunners, especially considering her lack of television experience. "It's extremely scary," she says—but she's hoping for more.
Though The Hot Wing King closed early due to the pandemic, Hall is now in discussions to turn that into a series as well. "Yeeeeeees," she exclaims, excited to expand the characters' lives but also to put Memphis on the screen in a positive light.
Yet Hall cannot imagine leaving theater behind. It's the place where she can create the worlds and tell the stories she wants, the ones she believes can change America. "I do think theater is church. It is a space we gather in—the people on stage are our pastors for that moment and they're up on a pulpit and they are preaching a kind of story," she says. "I am spiritual. But while I don't go to church every Sunday, I do go to theater every Saturday."