Harvard Squared | Curiosities
Our Masked Selves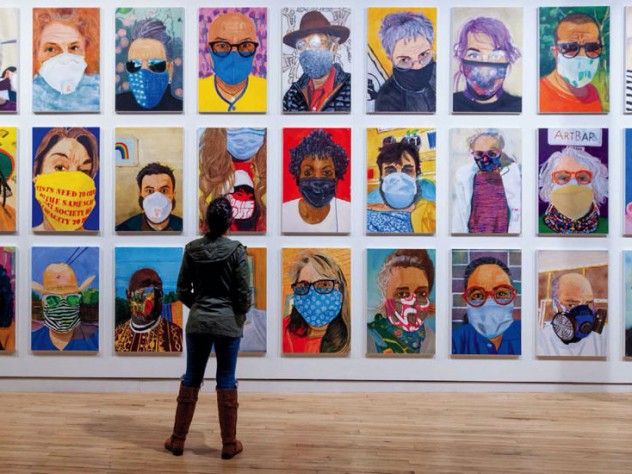 Nielsen's portraits reflect the early experiences of real people striving to protect themselves from COVID-19 and respond to the new pandemic-era.

Photograph courtesy of MASS MoCA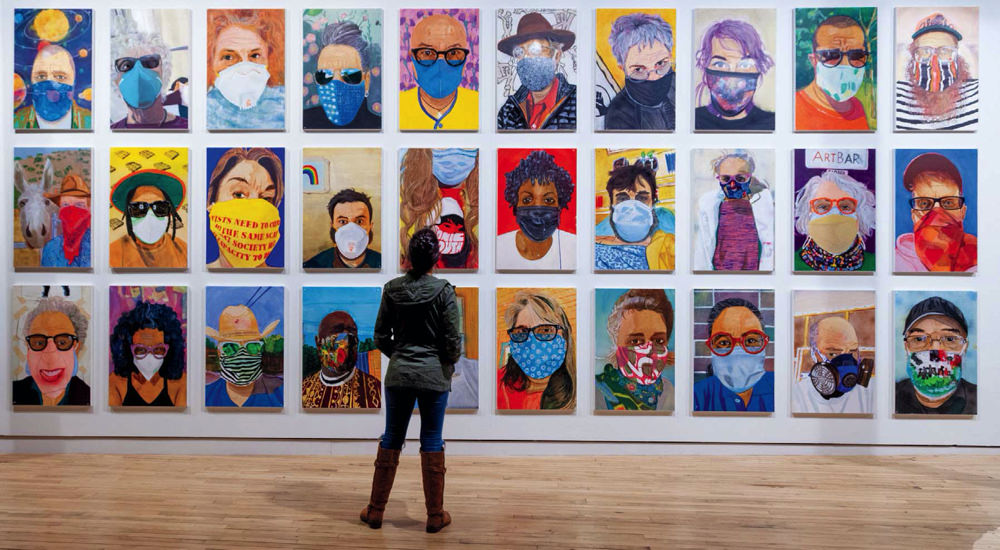 Nielsen's portraits reflect the early experiences of real people striving to protect themselves from COVID-19 and respond to the new pandemic-era.
Photograph courtesy of MASS MoCA
In the early days of the COVID-19 pandemic in the United States, amid spreading fears and sheltered isolation, Los Angeles artist Richard Nielsen painted a colorful portrait of himself in a mask. Soon, he was painting friends and family members in their masks, by way of cell-phone-snapped selfies they sent to him. When he texted a few portraits to his friend Denise Markonish, MASS MoCA's senior curator and director of exhibitions, she also sent back a mask-wearing selfie, which he turned into a painting, too. Their two circles of friends and colleagues soon became part of a growing community of Nielsen-painted portraits, 49 of them now on display in "This is Not a Gag," at the North Adams museum through 2021. "Working with Richard created a shared experience and conversation, a collective, especially as we each were having our own private experiences," says Markonish, whose masked face is among those exhibited. "When everything seemed so uncertain, this was an incredible, playful thing to do. It brightened things."
The larger-than-life-sized portraits are displayed in a Zoomlike grid, Markonish explains, and not only because that was how many people were actually communing, echoing the mediated social distance. The design also reflected the strict parameters through which people were viewing each other—on screens and behind masks.
Subjects chose their own face coverings and backgrounds, but Nielsen didn't always adhere to realism: he freely changed up colors, textures, and contexts. But what's amazing, Markonish says, "is that if you know the person depicted, you recognize them immediately through their eyes. He did not mess with anyone's eyes. It was eerie how he embodied the person that way." The portraits also project a shared life that's interconnected; they're rendered so their subjects could represent anyone passed on the street, in a park, or the supermarket.
The man in a fedora with a mask of Keith Haring-like chalk-white skulls on a black background is MASS MoCA founding director Joe Thompson. His background is a painting by artist Kim Faler, another portrait subject, who appears alongside the portrait of her three-year-old daughter, June. Artist Christine Wertheim is pictured with a sprawling octopus mask evoking the science/art project Crochet Coral Reef—a response to the catastrophic devastation facing marine life—she created with her twin, Margaret (who's also portrayed in the exhibit). Nielsen's own portrait features his probing blue eyes and bushy brows bounded by a green cap and large aspirator. The paintings reflect his focus on printmaking and photography, and background in lithography and etching. "The first self-portrait he made came after he saw his own face reflected in the Plexiglass barrier at a gas station," Markonish reports. "The project started organically, a response to something that was happening right here, right now. It was just an authentic way to understand our moment."