Harvard Squared | Explorations
The Places You'll Go
Art, science, sports—and fanciful holiday lights—in the Connecticut River Valley
What links Friendly's Ice Cream, the Merriam-Webster dictionary, and the Indian motorcycle? Where did the Game of Life, M1 rifle, and Dr. Seuss originate? Here's a hint: it's also where the game of basketball was invented during a harsh New England winter to help manage "a rowdy class" of aspiring executive secretaries. That's right: Springfield, Massachusetts.
"Springfield was an amazing hub, and a very popular, prosperous place, as a result of the American industrial revolution, and saw so much innovation and entrepreneurship, especially during the mid-to-late nineteenth century," says Kay Simpson, president and CEO of the Springfield Museums, [6] a complex of five institutions clustered around a serene quadrangle in the heart of the city.
At the confluence of Connecticut River tributaries, the city has historically been a locus of trade, agriculture, and transportation—first for Native Americans, then the colonists, then the industrialists. Its modern identity as an engineering and gun-making capital stems from the 1777 establishment of an arsenal, which is now a national historic site (see page 12J). "The armory attracted skilled laborers and spawned this amazing manufacturing activity," Simpson explains. The Smith & Wesson Arms Company was founded in the city, as were early companies that made bicycles, motorcycles, cars, planes, and tires. Children's author-illustrator Theodor Seuss Geisel was born there, and Milton Bradley developed his line of games and educational toys.
"People have preconceived notions of Springfield as a city, which I think is unfortunate," Simpson says, "because we know that a lot of people come, especially with the opening of the Dr. Seuss museum as a gateway in 2017, and are basically floored, not imagining that there is this whole complex campus here with very diverse exhibits and a tremendous amount to see."
The collections of the five Springfield Museums alone can occupy visitors for days: The Amazing World of Dr. Seuss Museum, Springfield Science Museum, George Walter Vincent Smith Art Museum, Michele & Donald D'Amour Museum of Fine Arts, and Lyman Merrie Wood Museum of Springfield History—something to interest everyone.
The Amazing World of Dr. Seuss Museum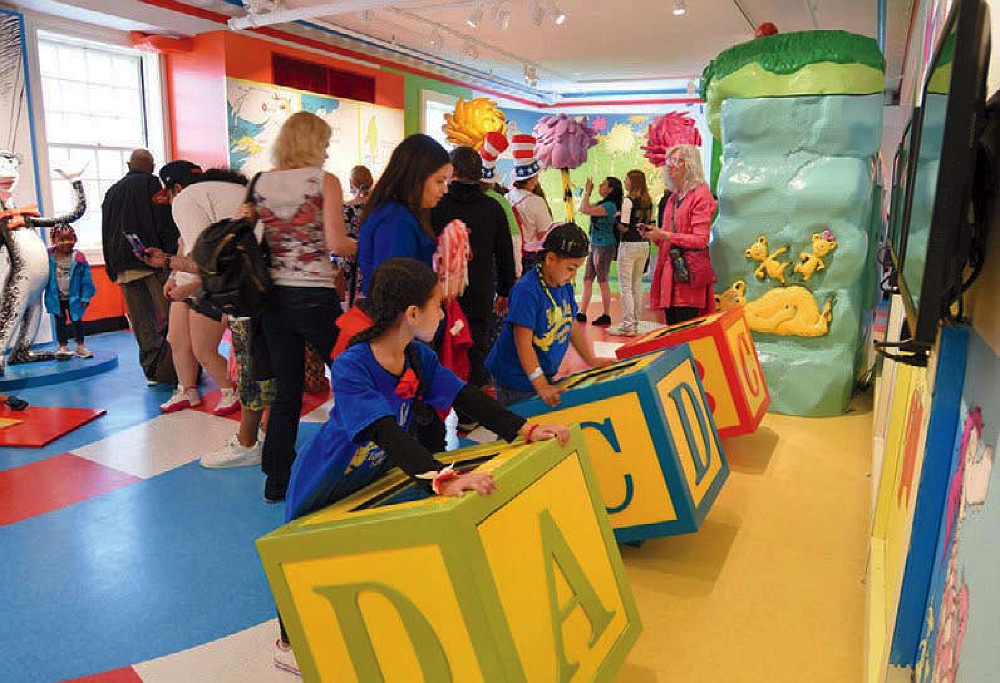 Photograph courtesy of Springfield Museums
Walk through these doors into the pictorial life of young Theodor Seuss Geisel. Murals, vintage photos, and rhyming texts in English and Spanish explain how the artist grew up on Fairfield Street, near Springfield's zoo and Forest Park, where his father was the long-serving superintendent of parks and recreation. Other childhood landmarks, like his German-immigrant grandparents' bakery and brewery, and the library and school where he learned to read and draw, surfaced in many of Geisel's 60-plus books. Through graphics and a table-top maze game, the museum links those extant buildings to his imagination—and to the daily lives of Springfield's children.
Throughout the first floor, life-sized statues of cartoon-colored Seussical characters—from The Cat in the Hat, Horton Hears a Who! The Lorax, Yertle the Turtle, and Oh, the Places You'll Go—fill dynamic play and literacy-learning spaces, and his whimsical illustrations are writ large on the walls. Geisel was already a professional illustrator when, amid public concerns over flagging literacy and the dullness of traditional Dick-and-Jane reading primers, he was challenged to create fresh materials. Limited to 325 words that a grade-schooler would know, Geisel, a clever neologist, also saw phonics as central to learning, created The Cat in The Hat in 1957, which launched his famous series of beginning-reader stories.
From the 1940s until his death in 1991, Geisel lived in a converted two-bedroom observatory tower in La Jolla, California. The museum features his recreated studio and living room using family furnishings and artifacts: books, art supplies, sculptures, and a stuffed dog, Theophrates, that stayed by his side from age two to 87.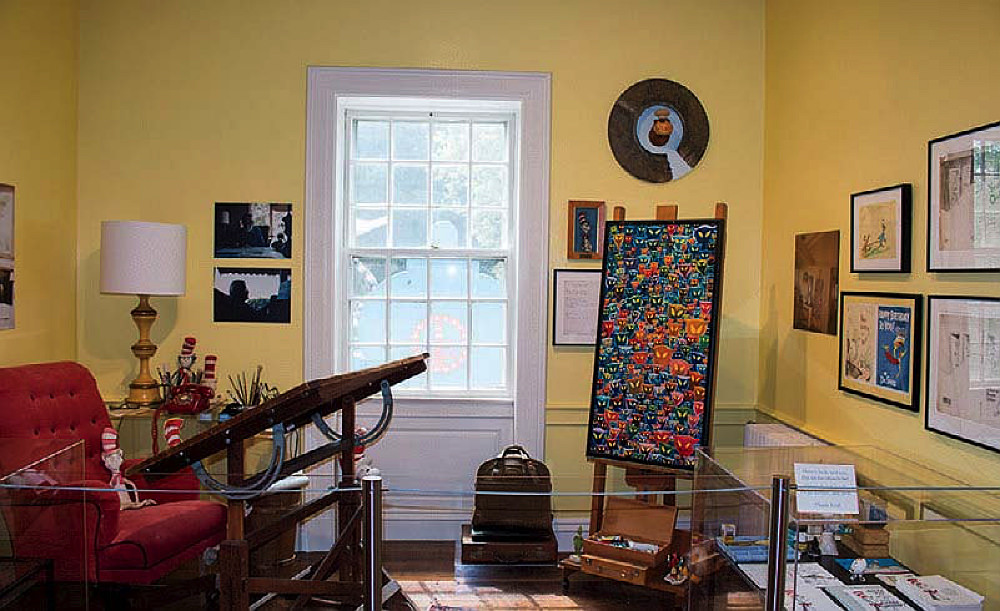 Photograph courtesy of Springfield Museums
Last year, the museum publicly supported Dr. Seuss Enterprises' removal of six books from publication, including two centered around childhood landmarks, And To Think that I Saw it on Mulberry Street and If I Ran the Zoo, amid controversy over the depiction of characters. The shrieks of joy and laughter coming from children and adults roaming the exhibits are proof the museum takes playing and learning seriously—and wants to hear from young people. In the Oh, the Places You'll Go section a sign invites visitors to write down a goal or desire, or a dreamed future occupation. The plexiglass box was crammed with answers written by kids, like: "More catz," "I wish I Had a Bunny," and "no covid."
Springfield Science Museum
An eclectic mix of old and new educational displays, the museum fosters STEAM learning and features natural history, from the dinosaur hall, live-animal exhibits, and wildlife dioramas. For interactive science, head to the Smithsonian-affiliated Spark!Lab space. Staff are on hand to prompt kids and adults through wind-tunnel experiments, building mini-wheeled vehicles and electronic circuits. "This is a completely hands-on innovation space, where people get to learn and play together," notes Karen Fisk, the museums' director of marketing and communications strategy. A new exhibit featuring a facsimile of the International Space Station is opening in phases: this winter, explore the air-lock portal. Meanwhile, the refurbished Seymour Planetarium—dedicated in 1937, when it was one of only five in the nation—has reopened, with daily programs and monthly observatory nights. Digital displays are blended with use of the Springfield-made "star ball" invented by Chicopee, Massachusetts, brothers Frank and John Korkosz: it's the oldest, still operating, American-made projector in the world.
Head to the museum's lower level for turtles, frogs, salamanders, and a boa constrictor. Swimming in one of the tank are endangered shortnose sturgeon, a species "making a comeback on the Connecticut River," Fisk says. "It's fun to have these wildlife ambassadors so people can understand them better." Ditto for the 15 historic and artful dioramas upstairs, featuring wildlife (taxidermy) from across the globe: they were "the virtual reality for the time," Fisk notes: where else can one see exotic animals up this close?—"and they stay still."
Anyone will also enjoy "Gingerbread Under the Sea" (November 26 to January 2), the annual exhibit of dozens of hand-baked structures by regional residents and chefs. "This is a really popular community event," says Fisk. "And the whole place smells wonderful."
George Walter Vincent Smith Art Museum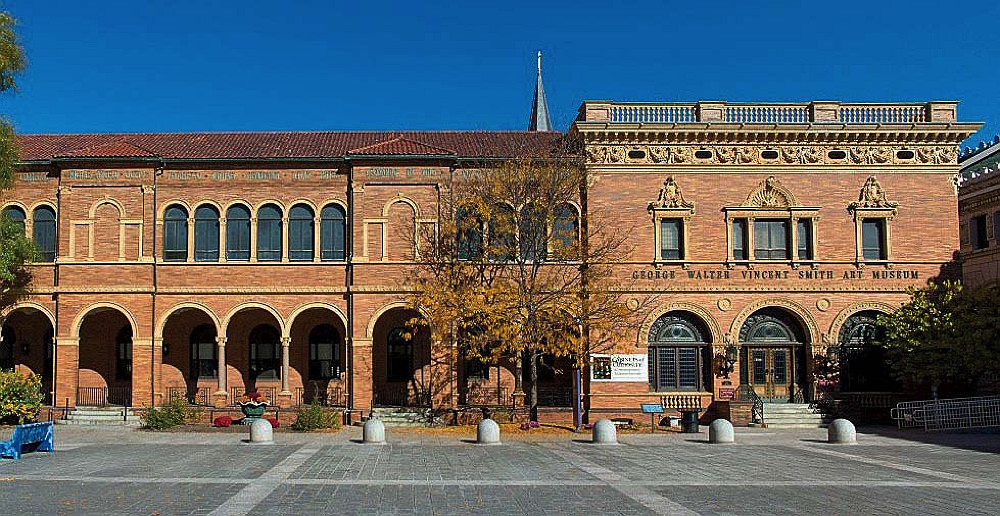 Photograph courtesy of Springfield Museums
Explore this museum, the first built on the quad, as much for its architectural elegance as for its eclectic contents. The Italian palazzo-style structure, with two dozen Tiffany & Company stained-glass windows, was built in 1896 to hold the donated collections of Smith and his wife, Belle Townsley Smith, pioneering art connoisseurs. Downstairs, take in the cases of ornate Japanese arms and armor, along with lacquer, ceramic, and bronze works, and the centerpiece, adorned with crystals: the keyaki wood and silver Shinto Wheel Shrine (1790-1805) created by Genso and Gensuke Komatsu. The adjacent hall is packed with nineteenth-century plaster casts: replicas of Greco-Roman and European classical statues including the rare gothic framed altar at the Basilica of San Frediano, in Lucca, Italy. Originally used as teaching tools before students could readily travel to see the masterworks—they are now fine art in their own right.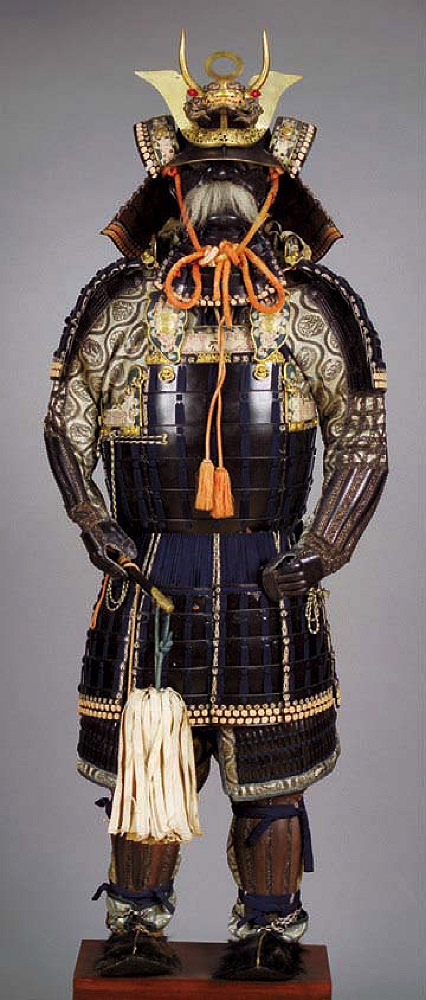 Photograph courtesy of Springfield Museums
Upstairs, galleries highlight antique Middle Eastern carpets, decorative objects from China and Japan—stop at the collection of intriguingly expressive ivory-carved netsuke—and a hall of American landscape paintings. The place feels frozen in time, with art and architectural elements working in tandem. The Smiths donated their collection, but city residents and patrons raised money for the building, Simpson explains: "The people of the city valued the idea of investing in arts and science and history and really worked hard to create this cultural complex."
Michele & Donald D'Amour Museum of Fine Arts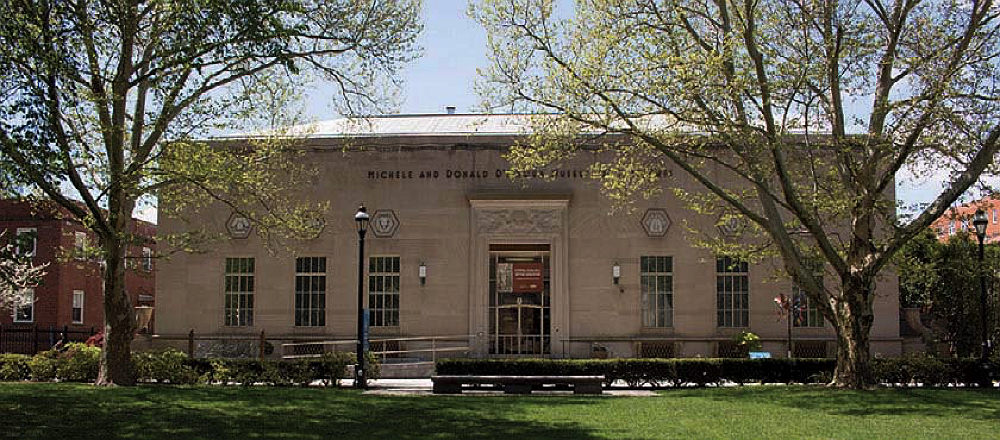 Photograph courtesy of Springfield Museums
Built in 1933, this Art Deco structure with marbled interior has a grand central staircase and soaring salon-style galleries. Diverse European and American works from the permanent collection are on display, from the medieval-era to contemporary art, and space is devoted to rotating exhibits.
Don't miss this winter's main art show: "Ai WeiWei: Tradition and Dissent" (through January 2). Long critical of Chinese authoritarianism, the artist's work reflects traditional materials, techniques, and forms reconfigured and re-imbued with new political symbolism. The 12 animal-sign portraits in Zodiac (2018), made of LEGO® bricks, is a continuing re-invention of Chinese canonical works, in this case the bronze animal heads that once circled the Zodiac Fountain in Yuan Ming Yuan, the old summer palace, in Beijing. Surveillance Camera (2010) evokes a monument-like commemorative status, demonstrating power and control, and was chiseled out of marble pulled from the same quarry used to build the mausoleum of Mao Zedong. Spread across the gallery floor, shiny black porcelain globules in Oil Spills (2006) target tanker disasters and industrial pollution while also invoking the pre-modern environmental destruction caused by the Chinese porcelain industry. More recent works in the exhibit focus on Ai Weiwei's response to the pandemic. His 2020 documentary Coronation, using footage taken by Wuhan residents, reveals the early days of the viral epicenter, and his German studio has produced surgical masks bearing his designs—as in the museum-displayed Masks (2020)—to raise money for human-rights organizations.
Lyman Merrie Wood Museum of Springfield History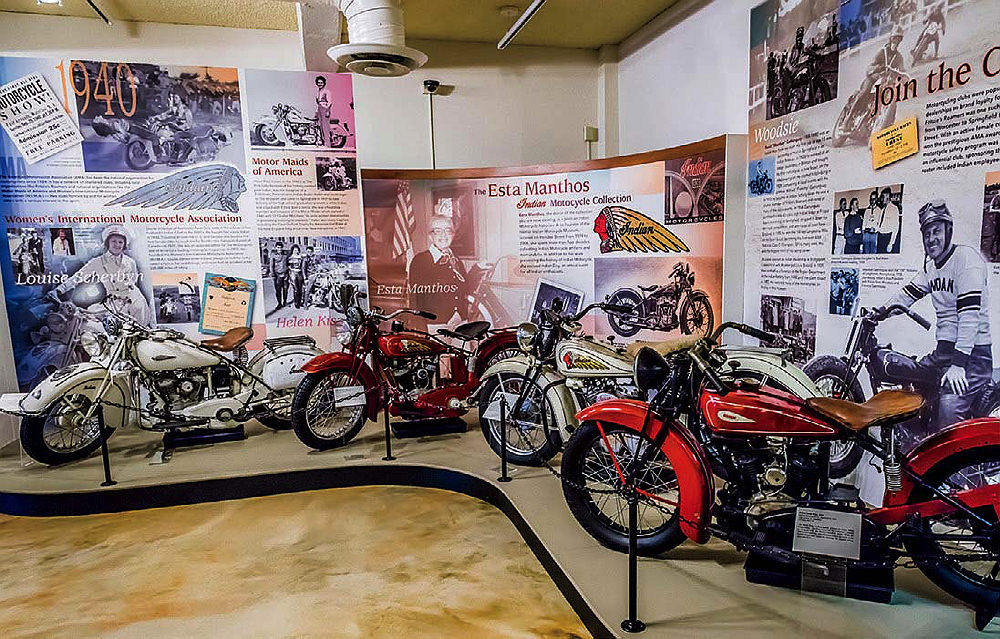 Photograph courtesy of Springfield Museums
The maze of exhibits here—Indian motorcycles, Rolls-Royces, firearms, board games, trollies, shampoo, tires, ice cream, and more—highlight an age of tangible products tied to American ingenuity and enterprise.
Look for the replica of the 1893 Duryea Motor Wagon, the nation's first successful gas-powered vehicle, built by Springfield brothers Charles and Frank Duryea (a later version won America's first auto race), along with the exhibit that traces the evolution of bikes-to-motorized cycles built by the Springfield duo George M. Hendee and Oscar Hedstrom, which led to the Indian motorcycle series produced in the city from 1901 to 1953.
Following World War I, the British Rolls-Royce company opened its first American plant in the city. Check out the 1928 emerald-and-mint green Rolls-Royce Phantom I, which was among the nearly 3,000 Phantoms and Silver Ghosts that rolled off the Springfield assembly line. The city's rise as a gun-making capital is explained, along with 150 featured weapons, including Smith & Wesson's first gun, the Model 1, and range of Civil War-era and World War I and II rifles.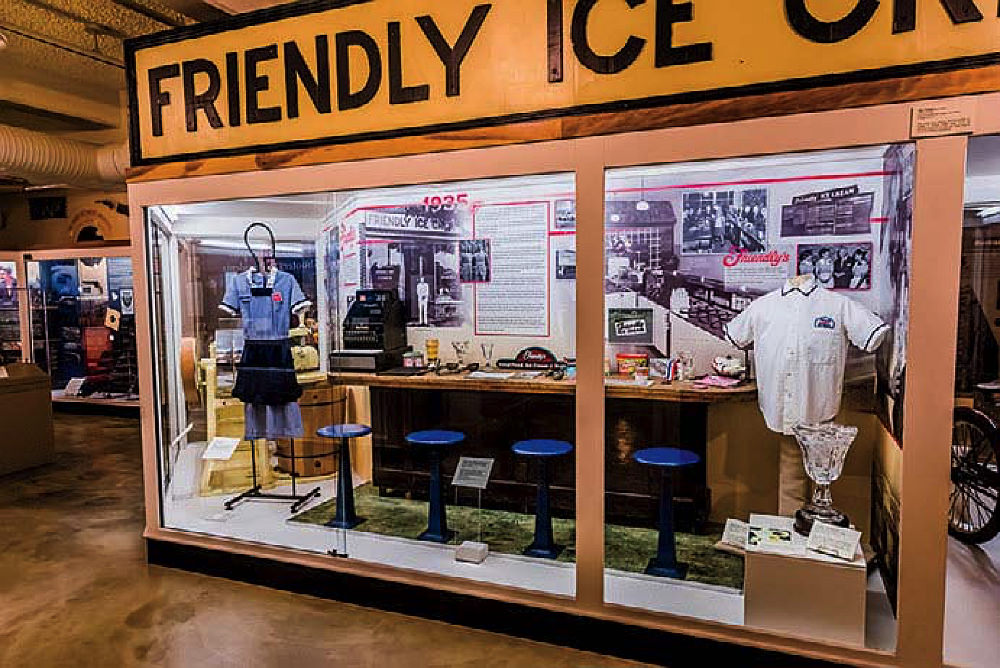 Photograph by Stan Tess/ Alamy stock photo
The list of "Springfield firsts" goes on. "The Merriam-Webster dictionary was founded here, in 1847 (and is still here)," Fisk reports, as were the adjustable monkey wrench, patented vulcanized rubber, and Breck shampoo. A fun display recreates an early Friendly Ice Cream shop (later called Friendly's)—with original stools, countertop, cash register, waitress uniform, and ice cream scoopers—and explains how enterprising brothers S. Prestley and Curtis Blake, at ages 18 and 20, borrowed $547 to buy a freezer, opened for business in 1935. That kind of entrepreneurialism permeates Springfield history, as does the spirit of playful inventiveness. The museum celebrates Milton Bradley, a Maine-born mechanical draftsman who moved to Springfield and opened the state's first color lithography shop in 1860, created the Checkered Game of Life (precursor to the Game of Life), and became "the father" of Ameican board games.
Constructive play is exemplified at Springfield's Naismith Memorial Basketball Hall of Fame. Canadian-American physical educator James Naismith, a teacher at the city's YMCA International Training School (now part of Springfield College), was facing a formidable winter and a "rowdy class," according to his resumé, when he came up with a vigorous physical game that relied on accuracy and physical finesse (versus brute strength) to occupy his students. The sport's popularity quickly spread and by 1896, the first intercollegiate basketball game was held. The hall of fame chronicles this history, and proffers a full-sized, domed court for visitors to play on, along with interactive exhibits, iconic game jerseys and memorabilia, and commemorative displays related to more than 400 inductees.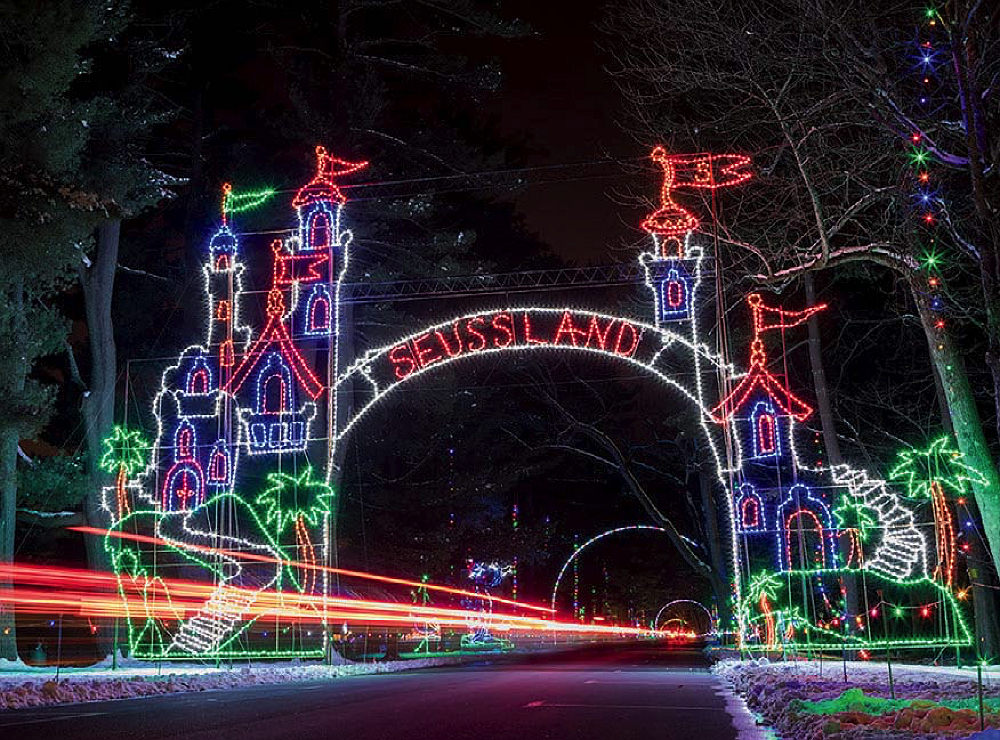 Photograph courtesy of Bright Nights
At the end of a day filled with art, science, Dr. Seuss, and hoop history, head to Forest Park for the twenty-sixth annual Bright Nights event purely for the fun of it (November 24-January 2; advanced ticketing required). The 400-plus displays, lit with more than 675,000 LED bulbs, depict Springfield and other themed scenes, like the North Pole Village, Seuss Land, Toy Land, the Garden of Peace, and even an animated Game of Life spinner. Thousands of vehicles line up yearly to make this three-mile pilgrimage. "This brings pride to the city because it's inter-generational," says Judy Matt, president of the privately funded Spirit of Springfield: "People who came here with their parents as children, now bring their own kids. If we did not do Bright Nights, there would be a lot of unhappy people."