Harmonic Progression
Composer Robert Kyr embraces peace, love, and nature.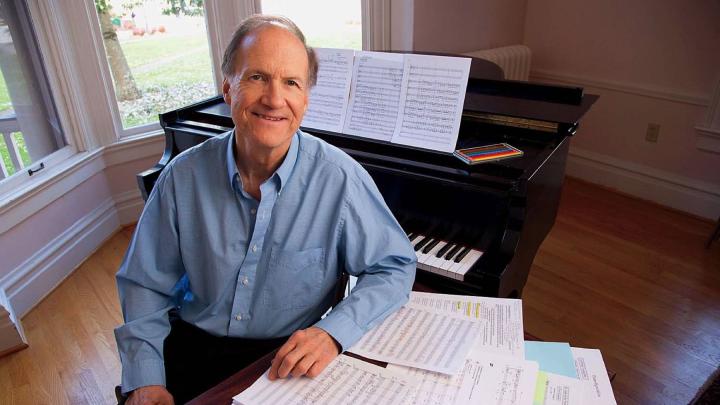 There are so many places to begin with composer Robert Kyr. Like here: "I grew up in a family where the scars of war were very much with us," he says. His father had served in the South Pacific in World War II; his uncle had lost a leg in the Italian theater. And his mother, working for the Red Cross, had been one of the first to see the death camps after they were liberated. As an administrative assistant to the American military, she walked through room after room with officers, taking shorthand on the atrocities that had happened in each one. Then she wrote up a classified report and never talked about it again, until one day out of the blue when her son was 16. "She spoke for about 20 minutes and then fell silent, and we sat there for what felt like an eternity," Kyr, JF '81, Ph.D. '89, remembers. "And then she said, 'I just had to tell you, because I thought that someday you might do something with this.'" 
Or one could begin in 1969, when the Cuyahoga River in Cleveland caught fire. Sparks from a passing train ignited oil-slicked floating debris, and smoke and flames engulfed the water. It wasn't the first fire on the Cuyahoga—a polluted river in an industrial city—but it was the most publicized, and for Kyr, a high-school junior on the West Side who had recently joined a student environmental-outreach group, it was "a five-alarm bell." 
Or maybe here is the place to begin: with Kyr at the piano. He'd been banging on the keys since he was two or three, and began taking lessons—and composing songs—at 10. At age 11, he started playing pieces from Notebook for Anna Magdalena Bach, a collection of music that the Baroque master wrote for his wife. "The first time I heard Bach was through playing those little pieces and his 15 two-part inventions," Kyr says. "I kept returning to them again and again because they spoke to me in a way that no other music ever had." Or ever would. 
Now 64 and a professor of composition and theory at the University of Oregon, Kyr is one of the most prolific composers of his generation. Some days he spends as many as 14 hours composing (it helps that he sleeps only four hours a night). He's written 12 symphonies, three chamber symphonies, three violin concerti, a piano concerto, and too many choral works to count: cantatas, oratorios, a passion. Patient, tender, emotionally complex, and easily approachable, his music draws on Western medieval, Renaissance, and Baroque styles—Bach is his lodestar—as well as Eastern traditions, especially the Balinese gamelan.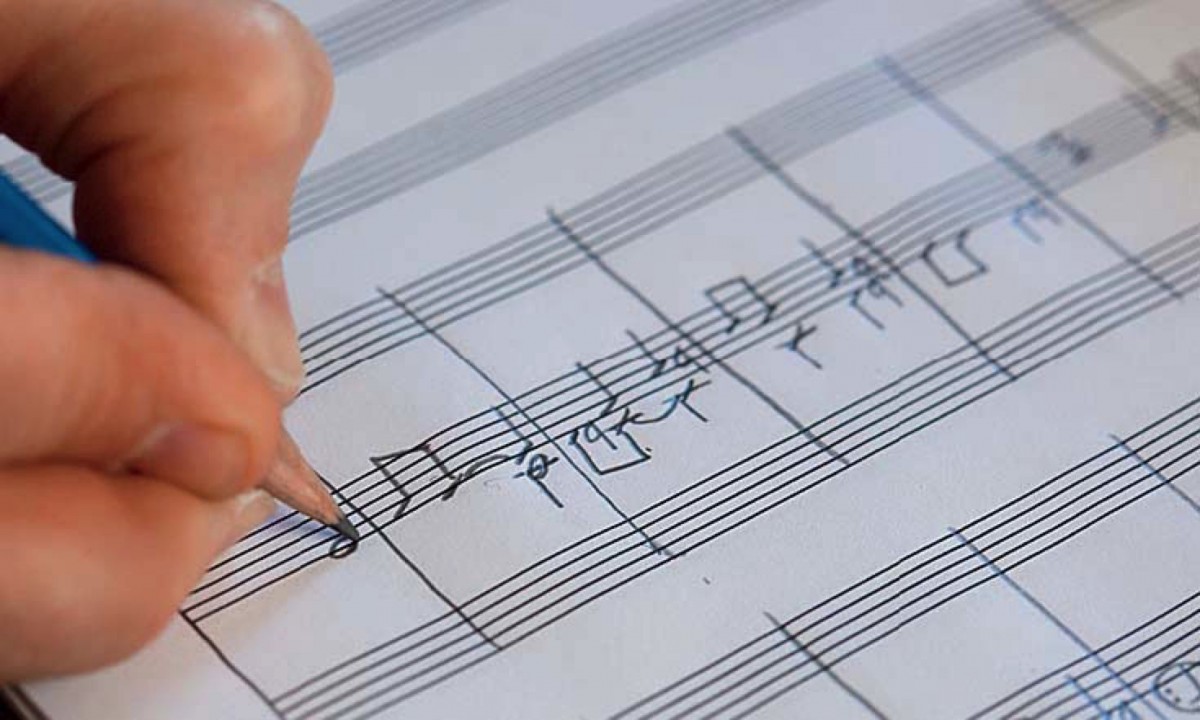 Photograph by Kelly James Photography
His oeuvre orbits broad themes planted deep since childhood: peacemaking, environmental concerns, love, compassion, forgiveness. That long-ago conversation with his mother influenced his 2012 work "The Unutterable," which featured a narration of Paul Celan's poem "Death Fugue" as part of a three-month Holocaust remembrance project in Austin. Elsewhere, he has integrated testimony from witnesses and survivors of violence: the 2005 symphony "Ah Nagasaki: Ashes into Light," sung in both Japanese and English, commemorated the sixtieth anniversary of the atomic bombing with performances in Nagasaki and its American sister city, St. Paul. More recently, "Waging Peace," a five-movement work, emerged from 400 pages of written accounts by residents of Baton Rouge, a city torn by crime and conflict. 
Kyr's home in Eugene sits 1,000 feet up from the valley floor, surrounded by 70-foot trees. Deer roam the yard and hawks fly overhead. "I live in a forest," he says. "When I look out the window, I don't see neighbors. The architecture of the Pacific Northwest is trees." Many of his works celebrate nature and call for its preservation. For his 2007 oratorio, "A Time For Life," he wrote a choral text weaving Native American prayers, songs, and chants with Eastern Orthodox hymns and Old Testament verses; the symphony "Yosemite: Journey into Light" combined photographs and video of the national park with Kyr's music. 
As much as anything else, Kyr's work is guided by spiritual exploration. His family didn't attend church—his father was raised Catholic, his mother Lutheran—but when his parents died in 1981, he found himself exploring religions from around the world. "I discovered that I'm interfaith," he says. "I celebrate with people of all faith backgrounds." Since 1993 he has spent about eight weeks each year at Christ in the Desert Monastery, a Benedictine abbey in the gorgeous and remote wilderness of a New Mexico mesa canyon: "My spiritual home." During solitary hikes along the Chama River, he composes music "internally" and then returns to the monastery to write deep into the night. There he created one of his most spiritually searching works, "Songs of the Soul," a 47-minute cantata venerating and responding to music by Bach and three Renaissance composers. Its companion cantata, recorded by the Grammy-winning vocal ensemble Conspirare, is "The Cloud of Unknowing," which takes its title and part of its text from a fourteenth-century guide to contemplative prayer. 
This past year, he helped launch the Harvard Choruses New Music Initiative, a program for undergraduates. He mentored seven students through a seven-month process that ended with a performance of their finished musical works by a professional chorus, the Antioch Chamber Ensemble. (He is mentoring a new group this spring.) He also led a workshop for Radcliffe Choral Society and Harvard-Radcliffe Collegium Musicum members that culminated with the creation of "In the Name of Music," which was premiered in November at Sanders Theatre. "I wanted to engage the singers in the process of writing the text, so that they would ultimately be singing about a theme that deeply concerns them," Kyr says. When he asked them what issues concerned them most, their answers had a common thread: the transformative power of music.
It's a common thread for him, too. He sees music as a form of storytelling. At the end of a long interview comes a reference to Bach's "St. Matthew Passion," a soaring, opera-like oratorio. "For me," he says, "it expresses how each member of the human family experiences the suffering of the passion in his or her own way, regardless of one's faith background." The story Bach was telling was one with human resonance: suffering and loss, decisions that relate to our own life and death. "Bach takes us on the journey of the passion, which reflects our personal relationship to suffering, and ultimately, the triumph of life over death."
You might also like
The Crimson springs a major upset.
Harvard officially installs Claudine Gay, its thirtieth leader.
A half-dozen symposiums feature Harvard research on AI, climate change, inequality, and more
Most popular
A community letter as the new administration begins
Solving legal challenges at MoMA
More to explore
A test can identify these productivity-boosting personnel.
Ancient history professor studies coins, ceramics, and Zelda.
Anwar Floyd-Pruitt's wildly profuse art