Explorations and Curiosities
Birthing a Legacy
A few days after President John F. Kennedy '40, LL.D. '56, was assassinated on November 22, 1963, crowds flooded a tree-lined block in the Boston suburb of Brookline. A simple outdoor memorial service took place in front of 83 Beals Street, where Kennedy, a beacon of hope and progress for a young, baby-boom generation, had spent the first three years of his life.
Now a National Historic Site, the modest home is still a point of pilgrimage, and is open for guided tours from May 5 through Columbus Day. This year, May 29 marks the hundredth anniversary of Kennedy's birth; to celebrate, the National Park Service has planned a day of music, cake, and guest readings of his iconic speeches (e.g., his inaugural address, "Ask not what your country can do for you, but for what you can do for your country"), along with an evening "1960s Birthday Party" with music, dancing, and food. Special centennial activities will continue throughout the season, and the home will be open for a wreath-laying ceremony, "JFK Remembered," on November 22.
To receive curated picks of what to eat, experience, and explore in and around Cambridge from the editors of Harvard Magazine follow Harvard Squared.
Kennedy's parents, Joseph P. Kennedy '12 and Rose (Fitzgerald) Kennedy, both hailed from political families and moved to the Colonial Revival home as newlyweds in 1914. Four (of their ultimately nine) children lived there before the family moved in 1920 to a bigger home nearby, and then to Riverdale, New York.
The future president was born in his parents' upstairs bedroom. The bed is there, above it a minute copy of a Renaissance-era painting of the Madonna and Child. (Rose Kennedy was a devout Catholic.) He soon joined his older brother, Joseph Jr., in the small nursery down the hall that's decorated by a strip of wallpaper featuring marching drummers; Kennedy's christening gown hangs next to his white wicker bassinet. The girls, Rosemary and Kathleen, shared a separate bedroom. Downstairs, the dining room is set with family china, and the boys' silver porridge bowls sit on a pint-sized table. The kitchen has a coal-fed stove, a soapstone sink, and a bean pot used for Sunday suppers.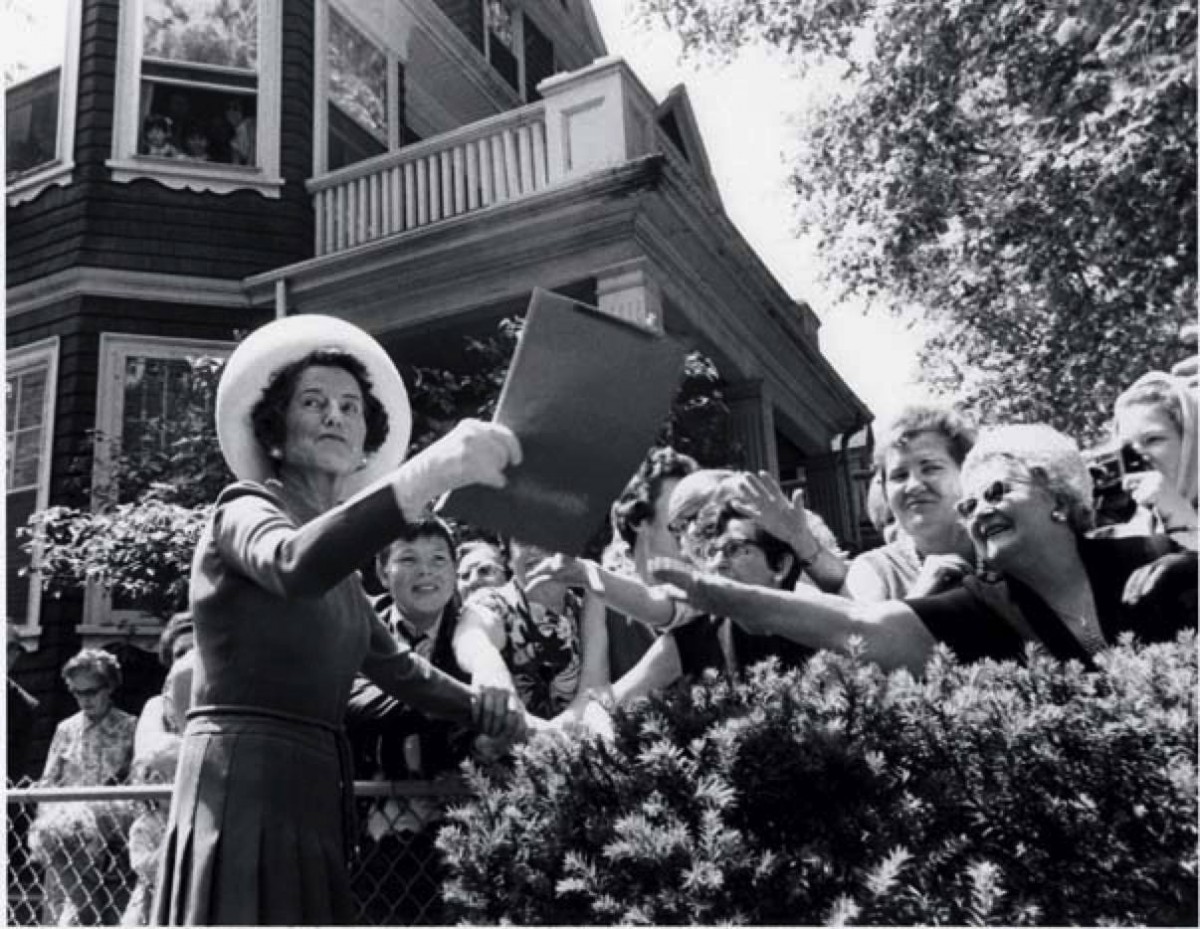 Much at the house now appears essentially as it did in 1917. The family bought back the property in 1966, and Rose Kennedy restored the interior using their own furnishings, housewares, personal belongings, and photographs. For the dedication of the historic site in 1969, she made a series of audio recordings that can be heard during the tours, piped into the rooms. By that time, another son, Robert F. Kennedy '48, who served as his brother's attorney general, had also been assassinated, and all four of the children who had lived on Beals Street were gone. Joe Jr. '38, a U.S. Navy lieutenant, died in World War II, Kathleen died in a plane crash, and Rosemary, born with cognitive disabilities, lived in an institution. "We were very happy here," Rose Kennedy says in the recording, reflecting on those early days. "We were enthusiastic and optimistic about the future."