Montage
Weekend Rock Stars
For two Harvard siblings, studying and songwriting went hand in hand.
In August 2012, Jocelyn Arndt '17 and her brother, Chris '18, played a rock concert in front of approximately six people—including their parents and a couple of hot-dog vendors. The performance was set to be one of the last of their careers. In a year, Jocelyn would be at college; having a band would be infeasible.
"We were just like, 'Oh yeah, fun time's over,'" Chris said.
But among the handful of people there that day was David Bourgeois, co-owner of a small production company near Albany. He couldn't believe it; the two teenagers performed in a glorified beer tent as if they were in front of a crowd of thousands. Jocelyn's soulful voice—which has drawn comparisons to Fiona Apple and Janis Joplin—and raw intensity were stunning to see from a 17-year-old. Chris played highly technical guitar riffs in an understated, bluesy way. The two had even written some of their own songs, sprinkling them between somewhat obscure pop and rock selections from the '80s and '90s.
After the concert, Bourgeois met with both of them and their parents. If they wanted, he told them, Jocelyn and Chris could make it as professionals.
"I remember going home and being like, 'I never thought of music as something that could be a job,'" Jocelyn said. "It seems too fun to be a job."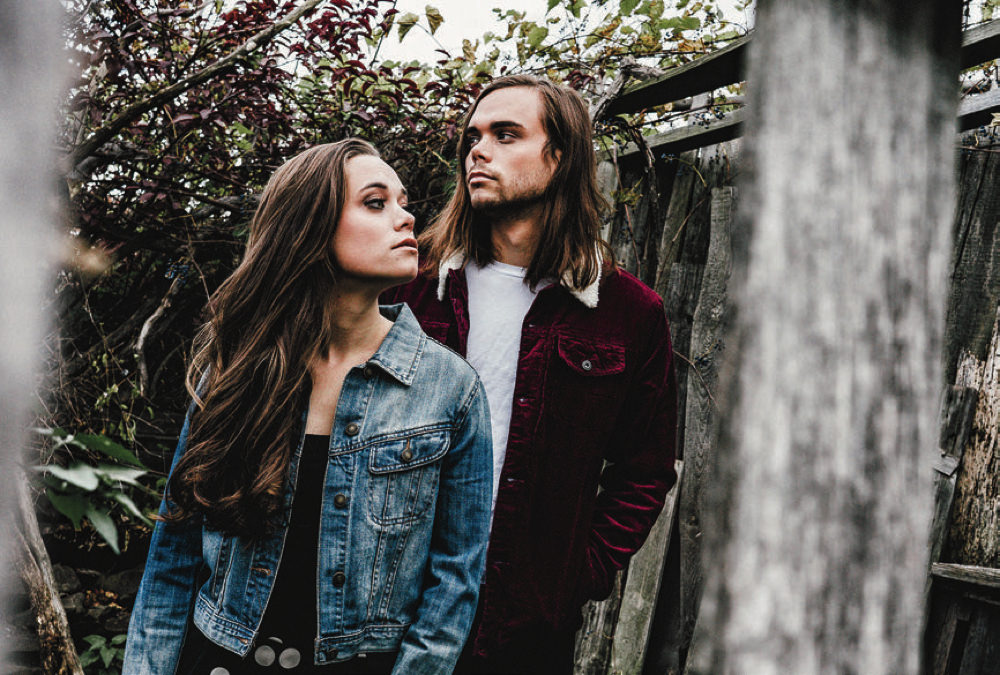 Photograph courtesy of Shore Fire Media
The Arndts had started playing music in elementary school—separately at first, taking turns in the family's music room. When that proved burdensome, their parents suggested they just learn the same songs so they could practice together, Jocelyn on voice and keys and Chris on guitar. Within a couple of years, they performed Led Zeppelin's "Stairway to Heaven" for a small talent show in Fort Plain—their hometown in rural upstate New York. By high school, they had become local rock stars. Classic albums were always playing at home. "The Arndt household has a steadfast rule: we can't have dinner without music playing in the background," Jocelyn said. "Growing up, Chris and I would take turns picking the soundtrack before dinner….We both took it very seriously."
Still, before hearing from Bourgeois, the two thought their musical careers would end after high school. Their parents were both teachers. It just seemed like they'd "go to college and then have college jobs," Chris said.
The December following their beer-tent performance, Jocelyn was accepted at Harvard. A month later, she and Chris signed a record deal with Bourgeois. The group, called Jocelyn & Chris Arndt, would be filled out by a rotating cast of two or three studio musicians, with Bourgeois on drums. Jocelyn knew that moving to Cambridge wouldn't shake her music resolve, even though her brother was four-and-a-half hours away and writing songs required long-distance correspondence. Every weekend during the semester, she returned to Albany to rehearse and tour. "It worked, I think, because we kind of thought that we could make it work," Jocelyn said. "People at Harvard are pretty hardcore about everything, so I don't know if my commitment seemed any crazier than the next person's."
A year later, Chris joined her at Harvard. They put the finishing touches on Strangers in Fairyland, their first studio extended-play record, and took a Greyhound bus out of Boston every weekend to gig around the East Coast. The proximity made it easier to write songs ("Usually really late at night," Chris said) and plan tours.
Easier, of course, is relative. During a typical week they'd leave campus on Thursday, travel for nine or 10 hours on a Friday, perform a show that night, travel another nine or 10 hours on Saturday, perform another show, and lug themselves back to campus on Sunday. Longer breaks meant more elaborate tours. Weekend homework was done in cars, trains, and hotel rooms between performances. Once, when a Chinese final was scheduled during a tour, Jocelyn went to her professor's office a day early, completed the test, walked to the T, got to South Station, took a bus to Albany, and got on the road.
Their time in college has matured their songwriting. Chris, who concentrated in computer science, deals more heavily with the harmony and mixing side and Jocelyn deals more with lyrics and melody. Their sound has developed into something that Jocelyn—a former English concentrator—can't quite describe. Chris suggested "Indie blues rock" or "Alternative blues rock" as rough approximations. Bourgeois called it "some new breed of millennialized authentic alternative rock."
Either way, it's unique. Their newest album, The Fun and the Fight, is their most cohesive yet. You might even guess they're siblings just by listening. Chris's rhythm guitar playing is almost voice-like, weaving through and echoing Jocelyn's emotional vocal lines, which can be upbeat one minute and sorrowful the next. On stage, Jocelyn often seems in a near-trance. Chris, also lost in the music, is a more serene presence.
Today, Chris said, they feel like everything they're doing has a little more weight and significance. Their concert crowds, which often include both teenagers and baby boomers, give a pretty good indication of their musical range. On the music-streaming site Spotify, the group reaches just short of 50,000 listeners a month. On February 28, they performed on NBC's Today Show, their highest profile performance to date. It's hard for them to imagine that just a few years ago, they were pulling all-nighters to finish homework assignments between sets. "I know either one would've been a big deal for us, and for our parents, too," Jocelyn said. "I can't believe it when we look back."